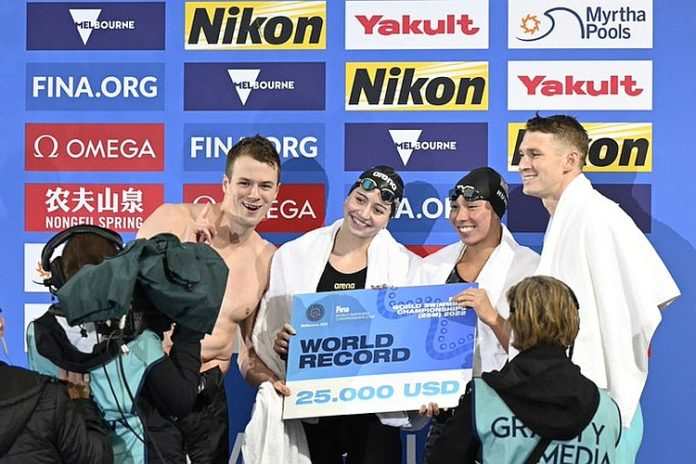 ★ The Sports Examiner: Chronicling the key competitive, economic and political forces shaping elite sport and the Olympic Movement.★
★ Enjoying our coverage? If so, please consider a donation to help cover technical costs for 2023. Thank you for your support. ★
★ To get The Sports Examiner by e-mail: sign up here! ★
≡ THE 5-RING CIRCUS ≡
1. FIFA World Cup: France holds off Morocco, wins 2-0
2. Autopsy: Grant Wahl died of an aortic aneurysm
3. Ukraine's Zelensky rails against Russian participation at Paris 2024
4. Tokyo Olympic athlete injury rate in line with prior Games
5. Olympic champ Jorgensen back to triathlon
Defending champion France is headed back to the FIFA World Cup championship match after a 2-0 win over a game Morocco team that dominated possession and had multiple chances to score, but could not get a goal. It was the first time in the tournament that France posted a shutout, and Les Blues will play Argentina on Sunday for the title. An autopsy on popular football writer Grant Wahl showed that he died due to an "undetected ascending aortic aneurysm" according to his wife, who gave appreciation for his rapid return from Qatar to FIFA and U.S. authorities. Ukrainian President Volodymyr Zelensky protested the International Olympic Committee's continuing discussions on finding a way to return Russian and Belarusian athletes to international competition in view of Russia's invasion of Ukraine. He called for Russia's "complete isolation" in international affairs, including sports. A study led by the IOC found that about 9.15% of athletes competing at the Olympic Games in Tokyo in 2021 suffered injuries of some type, in line with prior Games, and that a very low level of illness was seen, affecting only about 3.9%. The most injury-prone sports were boxing and BMX racing. Rio 2016 Olympic women's triathlon champ Gwen Jorgensen announced she is returning to the sport after trying distance running. But she will be concentrating on making the U.S. Mixed Team Relay squad for Paris, not competing in the Olympic-distance triathlon as she did before.
1.
FIFA World Cup: France holds off Morocco, wins 2-0
The expectation was that France, with its offensive weapons, would control its semifinal with Morocco and need to hold off speedy counterattacks from the Atlas Lions. The game turned out to be exactly the opposite, but the French prevailed anyway, 2-0.
Morocco had possession to start the match, but as soon as the French touched the ball, a shriek of disapproving whistles explored from the overwhelmingly pro-Morocco crowd of 68,294 in the Al Bayt Stadium.
The wall of whistles did not deter the French, who found some magic in the fifth minute. A lead pass broke the Moroccan defense and striker Antoine Griezmann was racing down the right side and crossed the ball into the middle. That led to a shot by striker Kylian Mbappe that was blocked, then a second shot and the rebound popped out to the left, where defender Theo Hernandez rose and sent a left-footed shot on a bounce that raced past keeper Yassine Bounou and a defender and into the net for a 1-0 lead. It was only the second goal scored against Morocco in the tournament and the first an opposing player!
The game was surprising end-to-end, with Morocco forward Hakim Ziyech making French keeper Hugo Lloris lunge for a shot that went just wide in the 17th, and then France roared back and all-time goal scorer Olivier Giroud hit the left post with a drive, also in the 17th. Mbappe's shot in the 36th was saved and came back to Giroud in the middle of the box and he missed wide to the left.
Off a corner in the 44th, the ball bounded to the left and defender Jawad El Yamiq sent a brilliant bicycle kick to the goal, touched by Lloris and then hitting the left post and bouncing away.
Morocco had 56% of possession in the half, but the French had nine shots to five, and the lead. Being down a goal required Morocco to play the most offense it has shown in the tournament and they had excellent opportunities, but could not convert.
The second half was all-Moroccan pressure from the start, as they swarmed the French zone, with the French counter-attacking when available, a complete reversal of Moroccan play in the tournament up to this game.
Dangerous run after dangerous run challenged the French defense, but then the French erupted, with a clearance after another desperate defensive stand. The ball moved into the Moroccan zone, played by Mbappe to substitute striker Marcus Thuram to his left, who dribbled in and gave it back to Mbappe in the middle of the box. Five defenders closed in, but Mbappe swung to his right and closer to goal, then his pass was deflected right to a charging Randal Kolo Muani, who entered the game just seconds before. Muani finished with the right foot and it was 2-0 for France and a place in the final.
There was a wild exchange in front of the French net at 90+4, with midfielder Azzedine Ounahi pivoting near the endline, up to the French goal, then having his shot blocked, spinning in front of the goal where he had another shot blocked and finally to sub striker Abderrrazak Hamdallah right in front of goal, whose shot was blocked and then cleared.
But the French defense held, however precariously – its first shutout of the tournament – and moves them a step closer to being the first repeat champions since Brazil in 1958 and 1962. Morocco ended with 61% possession and had 13 shots to 14 for France, but on the scoreboard, it wasn't that close.
Morocco will face Croatia in the third-place game on Saturday, while the title game comes Sunday with two two-time winners, Argentina and France.
2.
Autopsy: Grant Wahl died of an aortic aneurysm
Soccer writer Grant Wahl's wife, Dr. Celine Gounder, posted a notice on Wahl's Substack site on Wednesday, which included:
"Grant arrived home Monday, December 12, and this transition was handled with the utmost care and sensitivity. This was an international matter that required coordination from multiple agencies domestically and internationally, and there was full cooperation from everyone involved. Our sincere gratitude to everyone involved in repatriating Grant, in particular the White House, the U.S. Department of State, FIFA, U.S. Soccer and American Airlines.
"An autopsy was performed by the New York City Medical Examiner's Office. Grant died from the rupture of a slowly growing, undetected ascending aortic aneurysm with hemopericardium. The chest pressure he experienced shortly before his death may have represented the initial symptoms. No amount of CPR or shocks would have saved him. His death was unrelated to COVID. His death was unrelated to vaccination status. There was nothing nefarious about his death."
She told CBS News, "It's just one of these things that had been likely brewing for years, and for whatever reason it happened at this point in time."
A memorial service is being planned.
Wahl was covering his eighth World Cup in Qatar and had obtained medical assistance on 5 December after complaining of a cold and then feeling even worse. He was told he probably had bronchitis and felt better after getting some antibiotics and cough syrup, but collapsed at his press tribune seat near the end of the Argentina-Netherlands quarterfinal game on 9 December. He was given immediate medical attention and taken to a hospital, but did not revive.
3.
Ukraine's Zelensky rails against Russian participation
at Paris 2024
In response to the Declaration of the Olympic Summit, in which the International Olympic Movement and other leaders of the Olympic Movement agreed to explore avenues to return Russian and Belarusian athletes as neutrals to international competition, Ukrainian President Volodymyr Zelensky replied to IOC President Thomas Bach with disdain.
Zelensky protested that Russian Olympic Committee President Stanislav Podznyakov was invited to the event, noting that "since February, 184 Ukrainian athletes have died as a result of Russia's actions." And he added:
"One cannot try to be neutral when the foundations of peaceful life are being destroyed and universal human values are being ignored.
"A just response to such actions can only be the complete isolation of the terrorist state in the international arena. In particular, this applies to international sporting events."
The IOC asked for International Federations to ban Russian and Belarusian athletes since the February invasion of Ukraine, but has repeatedly said it needs to find a way – at some time in the future – to bring the world together through sport.
Most federations have complied, but some sports – notably cycling, judo and tennis – have allowed Russians and Belarusians to compete as neutrals. The International Boxing Association, whose President is Russian Umar Kremlev, is suspended, but is allowing Russians and Belarusians to compete in national uniforms and colors.
4.
Tokyo Olympic athlete injury rate in line with prior Games
A study published Tuesday in the British Journal of Sports Medicine showed that injuries affected 9.15% of athletes attending the Games and that 3.9% fell ill during the Games period.
The project was led by the IOC's Medical and Scientific Department, which tracked 11,315 athletes at the Games, using reports from National Olympic Committee medical teams and visits to the Olympic Village Polyclinic and other medical sites operated by the Tokyo organizing committee.
The reporting included only about 53% of the NOCs, so the figures are likely somewhat understated, but all medical encounters with the Tokyo medical teams were recorded. The highest incidence of injury came in:
● 27.1% in boxing
● 27.1% in BMX racing in cycling
● 22.2% in BMX Freestyle in cycling
● 21.0% in skateboarding
● 18.5% in handball
The lowest injury rates were in diving, road cycling, rowing, open-water swimming and shooting, all less than 2%. After adjusting for participation levels, "there was no
difference in overall injury incidence between women" and men. Women had a higher risk of injury than men in artistic gymnastics, but lower in softball (vs. baseball) and in boxing.
Most of the injuries were minor, with 44% impacting the athlete for less than a day, but 24% for 1-7 days, 11% from 8-28 days and 9% for even longer. Also, the story showed that 58% of injuries came during competition, 34% during training and 7% during warm-up or cool-down periods. BMX cycling had more than 10% of injuries keeping riders out for more than a week.
The overall injury picture for Tokyo – just over 9% – was similar to that seen at Rio 2016 (8%), London 2012 (11%) and Beijing 2008 (10%).
The extensive anti-Covid procedures in Tokyo not only prevented any impact from the pandemic, but also helped to keep overall illness rates down:
"The overall incidence of illness (3.9 illnesses per 100 athletes) was the lowest we have recorded in the Games; lower than in PyeongChang 2018 (9.4), Rio 2016 (5.4), Sochi 2014 (8.9), London 2012 (7.2) and Vancouver 2010 (7.2)."
The highest illness rates:
● 7.8% in open-water swimming
● 7.7% in artistic swimming
● 7.4% in skateboarding
● 7.4% in karate
● 7.3% in triathlon
● 7.3% in athletics
There were no illnesses recorded for athlete in 3×3 basketball, mountain biking and
modern pentathlon.
There were 78 incidents of heat-related illness, a great concern going into the Games, but 88% suffered no time away from their sport.
5.
Olympic champ Jorgensen back to triathlon
"I'm coming back to triathlon."
That was Rio 2016 Olympic champ Gwen Jorgensen of the U.S., announcing on YouTube on Tuesday that she is returning to the sport after a dalliance with distance running. However:
"Don't get too excited, though. I'm not doing long-course, which is what you guys, a lot of you want me to do. …
"What I'm really excited about is Mixed Team Relay. I wasn't able to do that at the 2016 Olympics, it wasn't an event at the Olympics yet, so it's now an Olympic event and I was super inspired at Tokyo, watching Team USA get a silver medal in the Team Relay, so that is what is really motivating me to come back to triathlon."
Jorgensen, now 36, is a mother of two sons as well as a two-time Olympian, finishing 36th in London in 2012 (partially due to a flat tire in the cycling segment) and then won gold in Rio in 2016. She also won two World Triathlon World Championships titles in 2014 and 2015. She left triathlon to return to distance running, logging a best of 2:36:23 at the 2018 Chicago Marathon, a 10,000 m best of 31:55.68 in 2018 and a 5,000 m best of 15:08.28 in 2021. She finished ninth in the 2021 Olympic Trials 5,000 m, but did not finish in the 10,000 m.
Jorgensen added, "each individual does a super-short triathlon that takes like 20 minutes total. It's super-fast, super-quick. I'm also getting older and a lot of times they say that you lose your speed when you get older, but I think that's a myth and I want to prove that wrong."
The Mixed Team Relay joined the Olympic program in Tokyo and has two men and two women who each compete in a 300 m swim, 6.6 km bike segment and 1 km run, before tagging off to a teammate. It's far shorter than the individual Olympic triathlon, which starts with a 1,500 m swim, then a 40 km bike segment and a 10 km run. Jorgensen has no illusions about her prospects:
"The Olympics are coming up really quick and the timeline is super-short. There is a qualifying event in August of 2023 and for me to even get on that start line is going to be super-difficult, so I'm probably going to be forced to race earlier than I'd like to, before I'm fit and before I'm totally ready, but I've just got to dive in and get it started."
≡ WORLD CHAMPIONSHIPS ≡
● Swimming ● The second day of the FINA World Short-Course (25 m) Championships in Melbourne (AUS) was a good one for the U.S., with three golds and a world record, one of two set on the evening.
The U.S. record performance came in the first event, the Mixed 4×50 m Medley, with veteran star Ryan Murphy on backstroke, then Nic Fink on breast, Kate Douglass on fly and Torri Huske on anchor, finishing in 1:35.15. That crushed the 1:36.10 from the Netherlands from 2010. Italy won silver (1:36.01) and Canada took the bronze (1:36.93).
Murphy, the 2016 Rio Olympic winner in the 100-200 m Back events, then came back to win the men's 100 m Back in a meet record of 48.50, moving to no. 2 on the all-time (short-course) list. Italy's Lorenzo Mora was well back in second at 49.04. It's Murphy's sixth career World Short-Course gold.
After winning six medals (3-0-3) at the 2022 FINA (50 m) Worlds, sprinter Torri Huske won her first individual Worlds Short Course gold, tying with Canadian star Maggie MacNeil in the women's 100 m Fly final in 24.64. China's Yufei Zhang was third (24.71); Claire Curzan of the U.S. tied for fifth in 24.92.
Australia continued its strong meet in front of the home crowd, with Lani Pallister winning the 800 m Free to go along with her 400 m Free gold on the first day. She touched in 8:04.07, ahead of Erika Fairweather (NZL: 8:10.41), who was second in the 400 m Free, and Japan's Miyu Namba (8:12.98). American Leah Smith was fourth (8:14.24) and Jillian Cox sixth (8:20.95).
Kaylee McKeown, Australia's 100-200 m Backstroke gold medalist in Tokyo, won the 100 m Back in Melbourne in 55.49, just ahead of teammate Mollie O'Callaghan (55.62). The U.S.'s Curzan tied for the bronze with Ingrid Wilm of Canada (55.74 for both); American Isabelle Stadden was eighth in 57.20.
Australia got a third gold and another world relay record in the women's 4×200 m Freestyle, finishing in 7:30.87 – with Pallister on anchor – erasing the Dutch mark of 7:32.85 from 2014 and way ahead of silver winner Canada (7:34.47). The U.S. quartet of Alex Walsh, Hali Flickinger, Erin Gemmell and Smith was third in 7:34.70, with Gemmell's leg of 1:52.23 the fastest of the night.
Brazil's 42-year-old Nicholas Santos won the men's 50 m Fly title in a meet record of 21.78, for his sixth career Worlds Short-Course gold and 12th overall, in what he says will be his final race. He was the clear winner, ahead of Noe Ponti (SUI: 21.96) and Szebasztian Szabo (HUN: 21.98).
The meet continues through Sunday.
● Weightlifting ● Qatar and Egypt triumphed on day nine of the IWF World Weightlifting Championships in Bogota (COL), and the U.S. won its first combined-weight medal of the competition.
In the women's 76 kg class, Egypt's Sara Ahmed swept the field, winning the Snatch (113 kg), Clean & Jerk (148 kg) and the combined total at 261 kg. It's her second career Worlds medal after a silver at 71 kg in 2018. American Mattie Rogers, won her fourth career Worlds silver in her third different weight class, finishing second in all three lifts, at 109 kg (Snatch), 138 kg (Clean & Jerk) and 247 kg (Combined). Rogers previously win silvers at 69 kg in 2017, 71 kg in 2019 and at 76 kg in 2021. Korea's Su-hyeon Kim was third (245 kg).
Tokyo Olympic 96 kg champ Fares El-Bakh (QAT) moved up to 102 kg for the 2022 Worlds and made only three of his six lifts, but that was enough to win. He completed two Snatch lifts with a best of 174 kg for fifth and only took one attempt in the Clean & Jerk, but lifted 217 kg for second in the event and first overall with 391 kg. It's his first Worlds gold, after a 94 kg bronze in 2017 and silvers in 2019 and 2021 at 96 kg.
Just one kg back was Iran's Reza Dehdar, the 2019 bronze winner, at 490 kg; he topped the Snatch competition at 177 kg. Armenian Samvel Gasparyan was third (389 kg); Americans Wesley Kitts and Ryan Sester finished eighth (379 kg) and 14th (368 kg), respectively.
The championships continue through Friday.
≡ PANORAMA ≡
● Athletics ● A letter from World Athletics chief executive Jon Ridgeon (GBR) issued Monday (12th) informed all national federations that for performances to qualify for the 2023 World Athletics Championships in Budapest (HUN), the competition in which they are held must be listed on the World Athletics Global Calendar.
The requirement, approved by the World Athletics Council, begins with meets on 1 March 2023 and after, for which Global Calendar status must be applied for 60 days in advance … meaning 1 January for a meet on 1 March of next year.
So, for example, for the Texas Relays, coming on 29 March, for marks to count at that meet for Worlds qualifying and world rankings, it must be applied for by 29 January 2023. It does not apply for meets which are already a part of the World Athletics Continental Tour or the Diamond League.
But it does apply to U.S. collegiate meets of all kinds, and the various smaller, springtime invitational meets held in Florida, California and elsewhere. Naturally, there is a fee – $25 – and access to the Global Calendar must be coordinated by national federations, meaning USA Track & Field in the United States.
PoleVaultPower.com's Becca Peter sounded the alarm on Twitter, noting in a thread,
"Major changes are coming to the @WorldAthletics ranking system, and we are at risk of the majority of track meets in the United States not counting for rankings or qualifying."
● Football ● A security guard at the 2022 World Cup in Qatar has died, after a "serious fall" at the Lusail Iconic Stadium in Doha.
John Njau Kibue, 24, from Kenya was injured on 10 December, according to the organizing committee, falling after the Argentina vs. Netherlands quarterfinal:
"We regret to announce that, despite the efforts of the medical team, he sadly passed away in hospital on Tuesday 13 December, after being in the intensive care unit for three days."
The company that Kibue worked for at the event, Al Sraiya Security Services, has not contacted the family, according to Reuters. It's the fourth reported death at the FIFA World Cup so far; the other three were news media, from the U.S., Britain and Qatar.
¶
The 7 December incident at a Brazilian team news conference in which a cat which jumped on the dais and was dropped by press officer Vinicius Rodriguez to the stage apron has been followed by a lawsuit against the Brazilian Football Confederation (CBF).
The National Forum for Animal Protection and Defense of Brazil and other animal-rights organizations announced the action, asking for a fine of one million Reals (~$189,437 U.S.), a public apology and a program to train CBF staff in environmental protection and animal care.
The federation said Wednesday that it had no knowledge of a filing.
¶
A joint report from the National Women's Soccer League and its players association concerning player abuse within the league found widespread problems:
"The NWSL has increased efforts to eradicate misconduct, embraced greater accountability, and experienced a cultural shift regarding behaviors that are no longer tolerated.
"However, there is substantial work to be done. To that point, during this investigation, the Joint Investigative Team received reports of ongoing misconduct at more than half the League's clubs."
In addition to problems previously reported at clubs in Chicago, Louisville, Portland and Washington, D.C., issues were noted at the North Carolina Courage, Houston Dash, OL [Seattle] Reign, Orlando Pride and NY/NJ Gotham FC.
Recommendations included, "strengthening anti-harassment policies, developing and enforcing guidelines that address appropriate interactions between club staff and players, developing and implementing trainings that reflect and address player and staff experiences, coordinat[ing] with clubs and U.S. Soccer to improve and centralize hiring practices, enhance[d] reporting and investigation procedures and prioritiz[ing] DEI initiatives to create a more inclusive environment for all players and staff."
¶
You can receive our exclusive TSX Report by e-mail by clicking here. You can also refer a friend by clicking here, and can donate here to keep this site going.
For our updated, 951-event International Sports Calendar for 2022-23 and beyond, by date and by sport, click here!