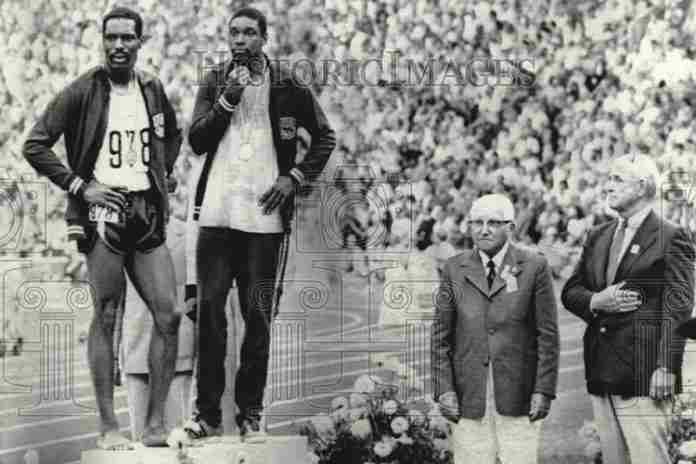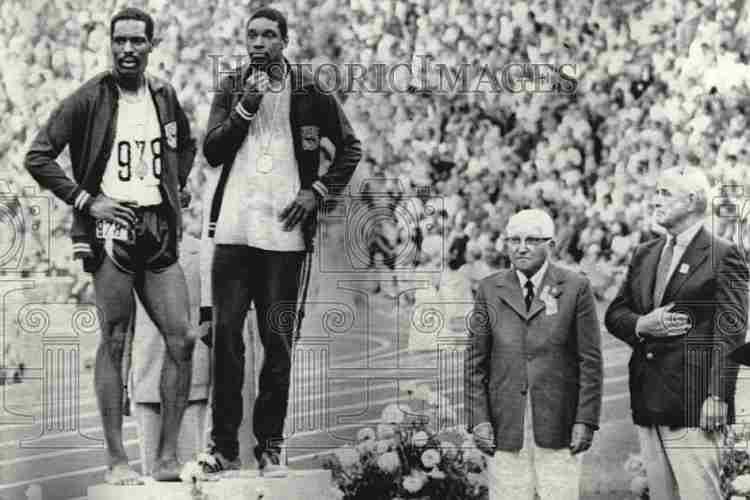 ★ The Sports Examiner: Chronicling the key competitive, economic and political forces shaping elite sport and the Olympic Movement.★
★ Enjoying our coverage? If so, please consider a donation to help cover technical costs for 2023. Thank you for your support. ★
★ To get The Sports Examiner by e-mail: sign up here! ★
≡ THE 5-RING CIRCUS ≡
1. FIFA World Cup: Argentina out-classes Croatia, 3-0
2. U.S. World Cup playoff broadcast ratings up 84%!
3. Russian national gymnastics coach lies about USA gymnastics stance
4. IOC ends 50-year ban on Vince Matthews, but nothing more
5. U.S. 400 m star Randolph Ross suspended for three years
The expected FIFA World Cup semifinal battle between Argentina's offense and the Croatian defense was in fact a display of Argentine power as Lionel Messi scored on a penalty and assisted brilliantly on one of two goals by Julian Alvarez during a convincing, 3-0 win in Doha. France and former colony Morocco will play in the second semifinal today. Through the round-of-16 and the quarterfinals, the combined English (FOX) and Spanish (Telemundo) broadcast coverage has drawn big audiences, with the playoff-match average at 8.65 million, up just about 84% over the group-stage average of 4.71 million. The Russian news agency TASS ran two amazing stories on Monday, claiming that the U.S. Olympic & Paralympic Committee supports Russian re-entry into international competitions as neutrals, a complete mis-representation of comments by USOPC Chair to reporters during a Monday briefing. The Russian national gymnastics coach claimed USA Gymnastics supports this position, which was flatly refuted by the federation's spokesperson. The International Olympic Committee acknowledged that it will allow the accreditation of Munich 1972 men's 400 m champ Vince Matthews at a future Olympic Games, effectively rescinding the lifetime ban placed on him and silver medalist, the late Wayne Collett, after their medal-ceremony protest. Current U.S. 400 m star Randolph Ross, a member of the gold-medal-winning Tokyo Olympic 4×400 m relay, was suspended for three years as a result of three "whereabouts" failures in April and June of this year; he will be eligible again in mid-2025.
1.
FIFA World Cup: Argentina out-classes Croatia, 3-0
The 2018 World Cup runner-ups, Croatia, presented a disciplined, difficult defense that had only conceded three goals in five matches at the Qatar World Cup. But with inspired play from superstar striker Lionel Messi and running mate Julian Alvarez, two-time champs Argentina scored three in the first 69 minutes of Tuesday's semifinal, and won, 3-0.
The game started tense, close and physical, with neither side getting consistent penetration, and like so many times before, it changed in an instant, with Messi involved.
A long lead pass down the middle of the field found Alvarez one-on-one on goal vs. Croatian keeper Dominik Livakovic in the 32nd minute. Alvarez's pop-up shot was cleared by defender Dejan Lovren, but Livakovic clobbered Alvarez with his right leg, bringing him down for a clear foul, a yellow card and a penalty.
The penalty taker, of course, was Messi and he buried the shot with a left-footed missile into the top right corner of the net for a 1-0 lead in the 34th. It was Messi's fifth goal of the tournament and his 23rd penalty conversion for his country in 28 tries.
Alvarez, however, wasn't done and in the 39th, he got the ball in space just behind the midfield line and took off. He dribbled the length of the field, running straight for goal and with defender Nahuel Molina cutting in front of him – and taking the attention of two defenders – Alvarez sent a shot that deflected off defender Josip Juranovic, came back to Alvarez, then off defender Borna Sosa, bounced up to Alvarez again and he right-footed it into the goal for a 2-0 lead. It's the first time Croatia has given up more than a single goal in a game in the tournament.
Croatia had 62% of the possession, but Argentina led, 5-4, on shots and four on goal to none. And it could have been worse, with midfielder Alexis Mac Allister's header in the 42nd barely saved by Livakovic.
Argentina applied more pressure in the second half, with some good chances, and Croatia had a look at goal in the 62nd off a header from Lovren.
But the issue was fully decided in the 69th, as Messi dribbled down the right side, spun defender Josko Gvardiol around, turned the corner and then crossed the ball to the center of the field where it was met by Alvarez, who finished into the right side of the net. 3-0; game over.
The Croatians ended with 61% of possession and had a 12-7 edge on shots, but the Argentines had seven shots on goal – with three in the net – to two. Messi is now even with France's Kylian Mbappe as the tournament's top scorer with five goals.
Argentina is on to its sixth World Cup final, having won in 1978 and 1986.
¶
The second semi pits defending champion France against the surprise of the tournament, Morocco, at the Al Bayt Stadium at 10 p.m. local time on Tuesday, or 2 p.m. Eastern time in the U.S. The build-up:
France (4-1):
● Defeated Australia, 4-1
● Defeated Denmark, 2-1
● Lost to Tunisia, 1-0 (1st in Group D)
● Defeated Poland, 3-1
● Defeated England, 2-1
Morocco (4-0-1):
● Tied Croatia, 0-0
● Defeated Belgium 2-0
● Defeated Canada, 2-1 (1st in Group F)
● Defeated Spain, 0-0 (3-0 penalty kicks)
● Defeated Portugal, 1-0
It's the first time that an African team – or an Arab team for that matter – has made it to the World Cup semis. As with Argentina and Croatia, the match features the sensational French offense – keyed by World Cup co-scoring leader Mbappe (five goals) – against Morocco's defense, and its speedy counter attacks which have given its opponents fits:
France in 5 matches:
● 11-5 on goals, 78-47 on shots, 55% possession
Morocco in 5 matches:
● 5-1 on goals, 39-45 on shots, 39% possession
The one goal Morocco has given up was an own goal under pressure from Canada in the first half of its final group-stage game. So, it has not conceded a second-half goal at all across five matches, and with its counter-attacking style, has fewer total shots than its opponents (39-45), it has more shots-on-goal: 13-9.
The French are looking for their fourth World Cup final after wins in 1998 and 2018, and a 1-0 loss to Italy in 2006. No one has successfully defended a World Cup title since Brazil in 1958 and 1962, and France has never faced Morocco in a World Cup match. They have been on offense throughout the tournament – except for the Tunisia match, when many starters were rested – out-scoring opponents 4-1 in the first halves and 7-4 in the second halves. And five of its goals came after the 70-minute mark.
There is also a historical backdrop to this game, as Morocco was a French "protectorate" – colony – from 1912-56. France, using mostly backups, already lost in Qatar to another prior "protectorate" in Tunisia, which it ruled from 1881-1956.
2.
U.S. World Cup playoff broadcast ratings up 84%!
American viewers are paying much closer attention to the elimination rounds of the FIFA World Cup compared to the group stage.
Nielsen figures for English-language telecasts on FOX and broadcast and streaming totals for Telemundo's Spanish-language coverage for the round-of-16 and quarterfinal matches averaged 8.65 million viewers combined, a sterling 83.7% higher than for the group-stage combined average of 4.71 million.
The U.S.-Netherlands match on 03 December attracted a combined audience of 16.875 million, second only to the U.S.-England match (20.146 million) on the post-Thanksgiving Friday. But even after the U.S. was eliminated, audiences stayed strong for the quarters:
● 13.775 million for France-England on 10 December;
● 11.140 million for Argentina-Netherlands on 9 December;
● 9.124 million for Morocco-Portugal on 10 December;
● 7.581 million for Croatia-Brazil on 9 December.
It helps to have the English-language matches on FOX rather than FS1; the over-the-air rating have been about double what the cable channel draws.
By comparison, the France-England match approached the weekend NFL ratings, which were led by the CBS and FOX early-window games at 31.473 million combined, then the FOX late-window games at 24.028 million and NBC's Sunday Night Football at 15.757 million. The ESPN Monday Night Football match-up of New Orleans and Tampa Bay drew 11.273 million.
3.
Russian national gymnastics coach lies about USA Gymnastics stance
An astonishing headline in the English-language service of the Russian news agency TASS read:
"Russian coach says USA Gymnastics backs participation of Russia's athletes in tournaments"
The sub-head declared:
"'It's becoming ever more obvious to all figures in the world of sports that the merit of the Olympics will diminish significantly if the strongest athletes don't show for the competitions,' Valentina Rodionenko noted"
Then the story, which included three startlingly false paragraphs at the start:
"MOSCOW, December 12. /TASS/. Russia's head gymnastics coach Valentina Rodionenko on Monday said USA Gymnastics supports allowing Russian athletes to participate in international competitions.
"She made the comment after United States Olympic & Paralympic Committee Chairwoman Susanne Lyons said on Monday that Russian and Belarusian athletes should be allowed at the 2024 Olympic Games in Paris under a neutral status.
"'USA Gymnastics from the start was in favor of us taking part in international competitions,' Rodionenko told TASS. 'They thought and now think that our absence sets world gymnastics back. Now we see that people from the US Olympic committee, who aren't involved in politics, are in solidarity with the gymnasts.
"'It's becoming ever more obvious to all figures in the world of sports that the merit of the Olympics will diminish significantly if the strongest athletes don't show for the competitions. The countries that are Russia's rivals in sports are also interested in our participation. We have a lot to offer, and I'm not talking just about artistic gymnastics,' she said."
A USA Gymnastics spokesperson responded Tuesday that "USA Gymnastics has made no such statement and has taken no position regarding the participation of Russian athletes."
As for U.S. Olympic & Paralympic Committee Board Chair Susanne Lyons, she never at any time during Monday's news conference that Russia and Belarus should be allowed to compete at the Paris 2024 Games under any conditions, including neutrality. What Lyons did say was that the talks at the Olympic Summit were only conceptual. And she was clear about Russia:
"Russia has shown, I think, time and again, that they are not necessarily always following the rules that we would like to see followed, so the decisions that the Summit made this weekend are really not about allowing Russia or Belarus – the countries – to participate again. There was a lot of discussion about whether athletes who happen to have been born in those countries, and have passports from those countries, have a pathway whereby they can compete as clean [from doping] and neutral athletes going forward.
"And I think there is a fair amount of desire over time for that to be able to happen because our mission is to bring the world together in peace through sport. So prohibiting individual athletes from competing, from having the right to compete, is hard for the Movement to tolerate. At the same time, that doesn't mean that people are in any way ready to forgive and forget some of the past behavior from Russia.
"So the discussion was not about lifting any sanctions whatsoever from Russia or Belarus; those sanctions remain firmly in place, and as a reminder, those sanctions include not having any competitions in those countries, and if those athletes were to return as neutrals, there could be no display of flags, of anthems, no national colors nor country name for any participating athletes."
The false reporting in Russia of Lyons' comments about the Olympic Summit discussions and not about the USOPC's position, extended to four-time Olympic Biathlon relay gold medalist (1968-80) Alexander Tikhonov, who told TASS:
"They're proposing participation without the flag.
"If I was deciding this question, I would think it over, there is time until 2024, but without our own flag we will be humiliated, the whole world can laugh at us. If they take such a step, they understand that there is no competition without Russia, the interest of the press and TV is falling. But we still have a year and a half before the Olympics, and they want to humiliate us beforehand."
Observed: This is the more of the current Russian internal theme of "we're so important, the sports world can't do without us." No word on whether Tikhonov, now 75 and who was convicted of conspiracy to commit murder in 2007 (but received immediate amnesty), had taken (or passed) a doping test prior to his interview.
4.
IOC ends 50-year ban on Vince Matthews, but nothing more
"We can confirm that the IOC will accept any accreditation request from the USOPC for Vince Matthews for any future Olympic Games."
That's the message from the International Olympic Committee about the quiet-as-possible removal of a lifetime ban on two-time Olympic gold medalist Mathews, who was at the center of a largely-forgotten protest on the awards stand at the 1972 Munich Olympic Games.
American Wayne Collett had won the Olympic Trials men's 400 m and was the favorite coming into the Games in the men's 400 m, ahead of former UCLA teammate John Smith and Mathews. Smith suffered an hamstring injury three weeks prior to the Games and did not finish in the final. Collett, in lane three, saw Smith pull up in lane six and was affected, and Matthews – in lane two – was running the race of his life and finished with a lifetime best of 44.66 and the gold medal.
Collett, as he recalled years later, "woke up" around the final turn and surged for silver in 44.80 with Kenyan Julius Sang third. On the podium, Matthews and Collett stood together on the top step, casually, chatting during the playing of the national anthem.
There were jeers and whistling, and Matthews told Garry Hill of Track & Field News afterwards, "It's hard for Wayne or I to come to a thing like the Olympic Games, whether it's in Germany, Greece or on the moon and forget about the conditions we left at home. … No, it wasn't really a protest. Most protests are planned. The thing with Wayne and I, we just got up there and it was more or less a spontaneous thing."
Said Collett, who later was the competition manager for wrestling with the Los Angeles Olympic Organizing Committee for the 1984 Games, "I think maybe the white people, or the establishment, or whatever you want to call them, have a very casual attitude towards the blacks. They don't seem to care too much about us unless we make a little bit of noise and embarrass them." Both were banned for life by the IOC after the Munich medal ceremony, losing a chance at a second gold in the 4×400 m.
While the raised-fist salute by Tommie Smith and John Carlos on the men's 200 m victory stand in Mexico City in 1968 has become iconic, Matthews and Collett have been largely forgotten. But not by Caribbean Association of National Olympic Committees chief Brian Lewis (TTO), who wrote letters and lobbied continuously to have Matthews' ban rescinded; Collett passed away from cancer in 2010, at age 60.
Lewis said in an interview, he viewed the IOC's accession to re-admitting Matthews, but noted, "They haven't explicitly said the ban has been lifted but what they have said, you can draw your conclusions from that … [I am] mindful that the IOC and Olympic Movement is a complex network of stakeholders that in their consideration would have to take on board the legal advice etc."
Why did he pursue the matter?
"It was an injustice. It was glaring. I wondered why USA Track and Field, United States Olympic and Paralympic Committee did not take it up, but I can't answer that. I can't speak for people.
"I would hope or believe that if it were a Caribbean athlete, somebody would pick up the cause."
There is no doubt that Lewis will.
5.
U.S. 400 m star Randolph Ross suspended for three years
The Athletics Integrity Unit announced Tuesday a three-year suspension of American 400 m star Randolph Ross, the 2021 world leader at 43.85 and a gold medalist on the U.S. 4×400 m relay in Tokyo:
"This is the outcome of the Case Resolution Agreement which the AIU and the World Anti-Doping Agency (WADA) have reached with Ross after the 21-year-old admitted the ADRVs under Rule 2.4 (three Whereabouts Failures in a 12-month period) and under Rule 2.5 (Tampering or Attempted Tampering with any part of Doping Control by an Athlete) of the World Athletics Anti-Doping Rules. …
"Ross admitted to AIU representatives that he altered a system-generated email (confirming an apparent update to his Whereabouts information for the relevant period) to try and avoid a third Whereabouts Failure within a 12-month period. This third potential Whereabouts Failure took place on 18 June 2022."
Ross won his second straight NCAA men's 400 m title on 10 June 2022 in a seasonal best of 44.13, then qualified for the U.S. team at the 2022 World Championships with a third-place finish at the USATF nationals on 25 June, in what turned out to be his last race of the year.
He was not available for an out-of-competition test on 18 June, his third "whereabouts" failure since April (!), triggering a provisional suspension. His results from 18 June on – at the USATF nationals – have been nullified and he is suspended until 1 July 2025.
In a lengthy interview with Track & Field News, Ross said his planned move for a senior season at Tennessee – where his father, Duane, is now the coach – is probably off and he plans to finish his finance degree at North Carolina A&T and get a realtor's license. And as for the suspension:
"Might be better off for me in the long run. I finally get a chance to sit down. I mean these past 2-3 years have been indoor collegiate, outdoor collegiate, then post-collegiate for the Worlds, the Olympics. Basically it's been non-stop running for the past 2-3 years. This would be a good time to shut it down, take a break, and then by the time we do get back, I'll be 24. So that's like the prime age for runners? Then we'll be ready to go and we're already running 43 now, so we'll just wait to see what happens then."
≡ WORLD CHAMPIONSHIPS ≡
● Swimming ● The first day of the 16th FINA World 25 m Championships in Melbourne (AUS) got off to a hot start on Tuesday with two world 25 m records in relays and two wins for the swimming-made host country.
The first world mark came in the women's 4×100 m Free, with the Australian quartet of Mollie O'Callaghan, Madison Wilson, Meg Harris and Emma McKeon winning in 3:25.43, smashing the old mark by the Netherlands in 2014 (3:26.53). The U.S. was second with an American Record of 3:26.29 – also under the old world record – from Torri Huske, Kate Douglass, Claire Curzan and Erika Brown. Canada won the bronze in 3:28.06.
The men's 4×100 m Free followed with another record-setting performance, this time for Italy, which finished in 3:02.75,erasing the U.S. mark of 3:03.03 from 2018, with Alessandro Miressi, Paolo Conte Bonin, Leonardo Deplano and Thomas Ceccon. Australia finished second in 3:04.63 and the U.S. squad of Drew Kibler, Shaine Casas, Carson Foster and Kieran Smith won bronze in 3:05.09.
Australia's Lani Pallister won her first Worlds gold in the women's 400 m Free, pulling away from Erika Fairweather (NZL) in the last 150 m, 3:55.04 to 3:56.00. American Leah Smith was third (3:59.78), winning her sixth short-course Worlds medal and second in this event (also a silver in 2016). Erin Gemmell of the U.S. was sixth in 4:01.82.
The U.S. went 1-2 in the women's 200 m Medley, with Tokyo Olympic bronze medalist Douglass racing to an American Record of 2:02.12, the no. 2 performance in history and just 0.26 behind the world record. Alex Walsh, the 2022 World Champion, was second in 2:03.37 and Australia's Kaylee McKeown – the Olympic 100-200 m Back champ – was third in 2:03.57.
Rio 2016 Olympic 1,500 m Freestyle champ Gregorio Paltrinieri (ITA) won that event for the second time at the short-course Worlds in 14:16.88, ahead of Damien Joly, who set a French record of 14:19.62. Norway's Henrik Christiansen took bronze (14:24.08), with Americans Charlie Clark and David Johnston finishing seventh and eighth (14:33.93 and 14:35.27).
South Africa's Matt Sates won the men's 200 m Medley in 1:50.15, moving to no. 2 all-time in the event behind American Ryan Lochte's world mark of 1:49.63. Carson Foster of the U.S. won the silver in 1:50.96, just as he did in the 2021 short-course Worlds. Canada's Finlay Knox set a national record of 1:51.04 in third.
The meet continues through Sunday.
● Weightlifting ● Day seven of the IWF World Weightlifting Championships in Bogota (COL) saw a former Colombian lifter return to his old country and win a world title.
In the men's 96 kg division, Lesman Paredes – who was born in Cali (COL) and won the 2021 world title at 96 kg – changed his affiliation to Bahrain and became eligible in July. He defended his championship, but for his new country, lifting a combined total of 397 kg. Kazak Nurgissa Adiletuly won silver at 383 kg and current Colombian Jhor Moreno took the bronze (380 kg).
The women's 71 kg class saw Romania's Loredana Toma also win a second world title, but this one was five years after her 2017 victory in Anaheim at 63 kg. In Bogota, she set a world mark for the Snatch at 119 kg and was fourth in the Clean & Jerk, but still totaled 256 kg for the gold medal. China's Tiantian Zeng lifted 253 kg for second, with Ecuador's Angie Palacios getting bronze at 252 kg. American Olivia Reeves was fifth (245 kg, but a bronze in the Clean & Jerk) and teammate Katherine Vibert was seventh (242 kg).
The tournament continues through Friday.
≡ PANORAMA ≡
● Olympic Games 2032: Brisbane ● The Olympic organizing committee in Australia hired American Cindy Hook as its chief executive, selected from 50 candidates.
Hook had been the head of advisory and auditing firm Deloitte's Asia-Pacific practice and had worked in the U.S. and Australia previously. She was in Sydney from 2009 in the audit side of the practice and was the head of the company's Australian operations before moving to Singapore. She will begin work in February.
● Olympic Winter Games 2022: Beijing ● The Court of Arbitration for Sport announced an agreement by the International Ski & Snowboard Federation (FIS) that Germany's Daniela Maier and Swiss Fanny Smith would share the bronze medal in the women's Freestyle Ski Cross final.
Smith actually crossed the line in third place, but was then penalized for a foul against Maier on the run-in. The FIS Appeals Committee held up a protest by Smith – moving Maier to fourth – but the IOC had not changed the official results, with Maier as the bronze medalist.
The agreement, concurred in by the IOC, gives both women the bronze.
● Aquatics ● The new "World Aquatics" federation is the 16th international federation to use the "world" prefix, according to suoer-statistician and Olympedia co-founder Dr. Bill Mallon (USA).
In addition to the current Olympic-program federations in archery, athletics, curling, dance sport, rugby, sailing, skateboarding, taekwondo, triathlon and aquatics, there is the World Baseball Softball Confederation, World Bowling, World Croquet, World Karate, World Lacrosse, and World Squash.
Now you know.
● Athletics ● World 800 m record-holder and twice Olympic champion David Rudisha of Kenya survived a plane crash last Saturday, suffering only minor injury after the small plane with six aboard made an emergency landing shortly after take-off.
● Boxing ● The IOC has made clear that it has grave concerns, among other things, about the financial sustainability of the International Boxing Association due to its heavy financial reliance on a sponsorship of the Russian energy giant, Gazprom.
At its Congress in Abu Dhabi (UAE) last week, the IBA agreed to renew the Gazprom deal, with federation chief Umar Kremlev (RUS) bringing up the subject in his closing remarks, not as part of the regular agenda:
"Our general sponsor is Gazprom. Two years ago, we signed an agreement with them for $50 million. And this has helped us reform IBA, this has helped us settle the debts and this has helped us become independent. And thanks to this financing, we have been able to help many national federations, many athletes in participating in the world championships. This also allowed us to have prize money, both at the continental and at the world championships and also to ensure the participation of national federations that otherwise wouldn't have had the opportunity to send their teams. They turned to IBA and IBA is helping them to participate in the championships, that is thanks to our general sponsor.
"I would like to ask you the question. This year, the contract runs out; the contract was signed for two years. National federations, do you agree to extend the contract with our general sponsor, so that we would be able to continue helping? I want you hear your opinion.
"Do we have anyone who is against that? Is everyone for this? Does everyone agree to extend the contract with Gazprom? Why am I asking you? Because I only do what the boxers tell me to, what you will tell me. The most important thing for me is what your opinion is about the development of our international association, because you are the ones developing boxing. It is thanks to you that the international association exists and I want to agree [that] all my actions with you, for you to express your opinions, for us to hear you out, so that all the decisions are made with you as one boxing family."
There was no reply other than applause from the audience.
Earlier in the presentation, the IBA balance sheet as of 30 June 2022 showed reserves of CHF 4.47 million and CHF 23.64 million in total assets. The presentation on sponsorship and marketing showed on Gazprom and the newly-signed equipment sponsor Sting from Australia. IBA targets for sponsorship were shown in the categories of automotive, energy drinks and time keeping. A ring supplier is also desired.
But it appears that Gazprom is in for $25 million a year, for at least some additional years, regardless of the IOC's opinion.
● Figure Skating ● Although scheduled against NFL games at 4 p.m. Eastern time, the ISU Grand Prix Final in Turin last Sunday (11th) maintained its usual audience on Sunday, drawing 796,000 viewers on NBC, right in line with the viewing totals from each of the highlight shows from each of the prior Grand Prix events.
¶
You can receive our exclusive TSX Report by e-mail by clicking here. You can also refer a friend by clicking here, and can donate here to keep this site going.
For our updated, 951-event International Sports Calendar for 2022-23 and beyond, by date and by sport, click here!