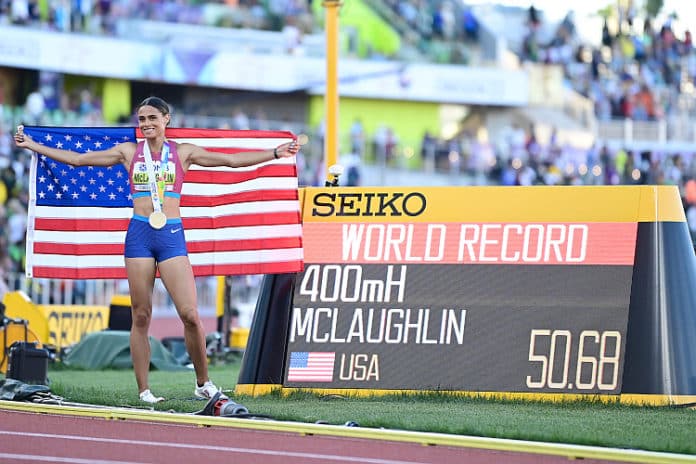 ★ The Sports Examiner: Chronicling the key competitive, economic and political forces shaping elite sport and the Olympic Movement.★
★ We need your help. Nine donors have covered 17% of our technical expenses for the first half of 2023. Please consider a donation. Thank you in advance. ★
★ To get The Sports Examiner by e-mail: sign up here! ★
Our exclusive, updated, 929-event International Sports Calendar for 2023 and beyond is now available – by date and by sport – by clicking here!
It's 2023 and the coronavirus has become – in many places – something to be lived with instead of hidden from, so look for fans to come back and competitions to heat up as the qualifying process begins for Paris in 2024. A look ahead at stories to look for this year:
10.
Can USA Track & Field expand the sport's U.S. fanbase?
The World Athletics Championships in Eugene have come and gone. Now the comments from USA Track & Field chief executive Max Siegel at a pre-Worlds news conference have center stage. Wrote Andrew Greif of the Los Angeles Times back on 18 July:
"USA Track & Field will begin a circuit of meets in five U.S. cities next summer [2023] that its chief executive, Max Siegel, likened to the Diamond League in the quality of its international fields. Los Angeles will host one meet, Siegel said, adding a desire to reach fans particularly in hotbeds such as Florida, Texas and California.
"The series is part of a strategic plan formed by USATF and backed by World Athletics to take advantage of what it has called a critical six-year window in hopes of making track and field the country's fifth-most-followed sport by the 2028 Summer Olympics in Los Angeles.
"'Whether you think we're crazy or not,' Siegel said, 'it gives us something to shoot for in terms of how they measure where track and field is in the ecosystem.' …
"Siegel spoke cautiously that it can take years and capital to build awareness and promotion. In hopes of avoiding the fate of other domestic-meet circuits that have fizzled entirely or failed to reach relevancy, he said the new version would take pre-existing events with built-in fanbases and create a 'festival-type atmosphere' around them, perhaps including a road race, to tap into its largest possible audience of casual runners."
USATF released its 2023 meet schedule on 1 December, explaining:
"As a part of the Journey to Gold, USATF will introduce the Grand Prix Series of elite gold-label events. Fans will not only get to see exciting competition from the best athletes in the world, but they will also have the opportunity to participate and engage in the sport in various events during this multi-day series. The goal is to shine a spotlight on USATF athletes, brand, sport, and culture globally."
The schedule includes the U.S. indoor national championships in Albuquerque in mid-February and the outdoor nationals in Eugene in early July. The other meets:
● 28 Jan.: Indoor/Dr. Sander Invitational (New York)
● 04 Feb.: Indoor/New Balance Grand Prix (Boston)
● 11 Feb.: Indoor/Millrose Games (New York)
● 21 May: Outdoor/Bermuda Grand Prix (Devonshire)
● 26 May: Outdoor/Distance Classic (Los Angeles)
● 27 May: Outdoor/LA Grand Prix (Los Angeles)
● 24 Jun.: Outdoor/NYC Grand Prix (New York)
The outdoor schedule also includes a throws festival at a date to be determined in Tucson, Arizona; the Prefontaine Classic in Eugene will be the Diamond League Final for 2023, to be held on 16-17 September.
All of these meets have been held before, in some form. Will this be the start of a U.S. revival of the sport as a spectator magnet? Or more of the same?
9.
Will the new mega-events in cycling and running pay off?
Is bigger better? Two federations will find out in 2023 as the Union Cycliste Internationale and World Athletics created new events that could be catalysts for their sports … or expensive duds.
The UCI is bringing together all eight of its disciplines into a massive, new, 11-day celebration of cycling to be held in Glasgow (GBR) from 3-13 August:
● BMX Freestyle
● BMX Racing
● Gran Fondo
● Indoor Cycling
● Mountain Biking
● Road Cycling (including Para)
● Track Cycling (including Para)
● Trials
The World Road Championships have been enormously popular and now the program will include 190+ World Champions in all, with 2,600 competitors in all, not to mention as many as 8,000 in mass participation events.
The budget is anticipated at ₤45 million-plus (~$54.2 million U.S.), with direct financial support from the Scottish Government, the Glasgow City Council and UK Sport. Lots and lots of visitors are expected.
World Athletics is putting together a small project, a two-day program in Riga (LAT), the first World Road Running Championships with six events:
● 30 Sep.: Road Mile for men and women
● 30 Sep.: 5 km for men and women
● 01 Oct.: Half Marathon for men and women
In addition to the elite competition, public participation will be available in all of the events, with modest entry fees from €9 for the mile to €79 for the half (~$9.60 to $84 U.S.).
Tens of thousands of runners are expected to contest the public events from as many as 100 countries. Two ministries of the Latvian government, the City of Riga and the Riga Marathon organizers are all involved in the project.
Both the UCI and World Athletics have potential blockbuster events here, but their success is hardly assured. Their success or failure will be one of the key results for both sports in 2023.
8.
FIFA Women's World Cup comes to Australia and New Zealand
The 2019 Women's World Cup in France was a huge success and established the tournament as a stand-alone mega-event and the flagship of FIFA's women's development efforts. Now comes the 2023 edition – from 20 July to 20 August – with the U.S. women trying for a third straight World Cup title.
The 2019 Women's World Cup drew 1.13 million live spectators and the television audience reached 1.12 billion worldwide and the hope is for much more in 2023. The tournament has expanded from 24 to 32 teams, same as the men in 2022 in Qatar, with 64 total matches.
The qualifying is almost complete, with three positions still to be decided in playoffs. The eight groups are headed by hosts Australia and New Zealand, plus the top six-ranked teams in the world: the U.S., Sweden, Germany, England, France and Spain. Crucially for the worldwide television audience, China has qualified and will play in Group D.
Will the tournament be an even bigger success than 2019, continuing to propel FIFA's women's program forward? Everyone expects so, especially given the wild popularity of the 2022 FIFA World Cup in Qatar. But while the time zones will be difficult, the football should be great.
7.
Who will be the world-record setters of 2023?
Beyond the questions of politics and money are the competitions and who will be the stars of the year. The new stars that no one knows about yet will be discovered, but there are some old friends who are out for more glory.
In athletics, you have to start with the athletes of the year in 2022 – Swedish vaulter Mondo Duplantis and American 400 m hurdles star Sydney McLaughlin-Levrone, both of whom set world marks at the World Championships in Eugene last year at 6.21 m (20-4 1/2) and 50.68, the first time a woman broke 51 seconds in the event.
Duplantis can clearly go higher and based on some of his clearances, is 21 feet (6.40 m) a possibility?
McLaughlin-Levrone has taken the women's 400 m hurdles to a place no one has ever been, so does she stay with the event, or perhaps take a shot at the flat 400 m, in which the world mark was set by East German Marita Koch at an unbelievable 47.60 from way back in 1985. Since then, the closest was 48.14 from Salwa Eid Naser (BRN) in 2019. McLaughlin-Levrone ran the anchor on the women's 4×400 m at the Worlds in Eugene, timed in 47.91 (with a running start). This could be epic.
American sprint star Noah Lyles moved to no. 3 on the all-time list in the men's 200 m, winning the Worlds in 19.31. Is Usain Bolt's 19.19 standard from 2009 in jeopardy?
In swimming, the 2022 season was a little strange, with a re-scheduled World Championships in Budapest (HUN) in June, followed by the Commonwealth Games in Birmingham (ENG) in July and then the European Championships in Rome in August, with athletes making choices about which, if any, they would contest.
In 2023, the World Championships in Fukuoka (JPN) will be the focus, from 14-30 July. Once again, American Freestyle superstar Katie Ledecky will duel with Australia's Ariarne Titmus, the women's 400 m Freestyle Olympic champ and now, world-record holder at 3:56.40 from last May. Titmus won the Tokyo 200 m and 400 m Frees, with Ledecky winning the 800 m and 1,500 m Frees. Both will be challenged by Canadian teen star Summer McIntosh, 16, who won the 200 m Butterfly and 400 m Medley at the 2022 Worlds and was the runner-up to Ledecky in the Worlds 400 m Free and to Titmus in the Commonwealth Games 400 m Free.
One of the stories of the Budapest Worlds was American star Caeleb Dressel, the five-time Tokyo Olympic gold medalist, who won Worlds golds in the men's 50 m Fly and the men's 4×100 m Freestyle, then contested the men's 100 m Free heats before withdrawing from the meet.
Will he come back in 2023? When? And while he was the Tokyo men's 100 m Free gold winner, he will now face a new challenge from Romanian David Popovici, 18, who won the Worlds gold in the 100 and 200 m Frees in Budapest and then set the world record at 46.86 at the European Championships.
And then there is American skiing star Mikaela Shiffrin, who has now won 80 career Alpine World Cup races, two behind Lindsey Vonn (USA: 82) on the all-time list and within striking distance of Swede Ingemar Stenmark's all-time record of 86!
6.
Commission on the State of U.S. Olympics & Paralympics starts up
The Empowering Olympic, Paralympic, and Amateur Athletes Act of 2020 formed the Commission on the State of the U.S. Olympics & Paralympics, a 16-member panel asked to review the structure, diversity, finances, goals and more, with subpoena power.
The initial bill had no funding attached and it took months to finally get an appropriation through, but that was settled in 2022 and the Commission has been sworn in and is getting to work. The members:
● Olympians (7): John Dane (sailing); Benita Fitzgerald Mosley (track & field); Nancy Hogshead Makar (swimming); Edwin Moses (track and field); Brittney Reese (track and field); Jordyn Wieber (gymnastics); Han Xiao (table tennis);
● Paralympians (3): Patty Cisneros Prevo (Para basketball); Karin Korb (Para tennis); Melissa Stockwell (Para swimming and triathlon);
● Others (6): Robert Cohen (USOPC Foundation Board of Directors); Mitch Daniels (Purdue University President); Bill Hybl (U.S. Olympic Endowment Chair and President Emeritus of USOPC); Dionne Koller (University of Baltimore law professor); Rob Mullens (University of Oregon Director of Athletics); and Joe Schmitz (former Inspector General at the U.S. Department of Defense).
At least one hearing is required by the statute; Koller and Xiao are the Commission co-chairs and will be responsible for guiding what could be a contentious discussion among members whose backgrounds include former USOPC Board members and staff members, and all-out critics of the organization.
Expect a significant look by the Commission at the activities of the U.S. Center for SafeSport, which receives $20 million in funding annually from the USOPC, and has been criticized as ineffective by some.
At the USOPC, Gene Sykes takes over as the Chair of the Board of Directors. A partner in the Goldman Sachs investment firm, Sykes earned high marks as the chief executive of the Los Angeles 2024 Olympic bid committee that ended up winning the right to host the 2028 Olympic Games. He will have his hands full right away, continuing with the USOPC's reform initiatives, but also trying to figure out how to raise more money for an organization that has plenty of National Governing Bodies asking for additional support.
Coming tomorrow: the top five stories we're looking for in 2023 will be familiar, with a lot of the unfinished business of 2022 that needs to be settled.
Rich Perelman
Editor
You can receive our exclusive TSX Report by e-mail by clicking here. You can also refer a friend by clicking here, and can donate here to keep this site going.
For our updated, 929-event International Sports Calendar for 2023 and beyond, by date and by sport, click here!