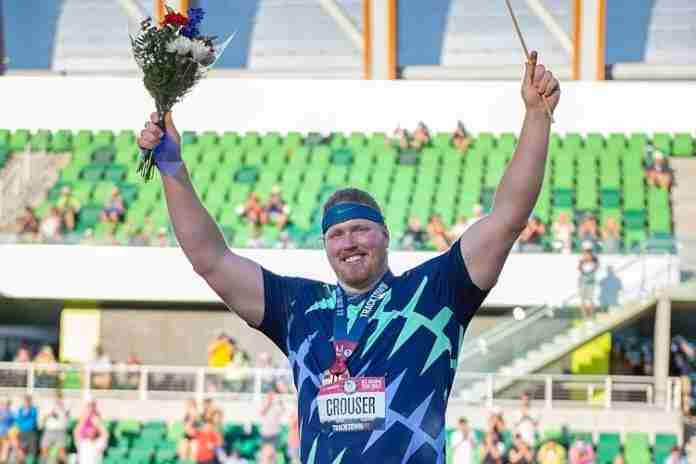 /Update: Even before the meet ended at 4:50 p.m. Eastern time, Twitter posts appeared stating that Ryan Crouser's stupendous 23.38 m (76-8 1/2) throw in the men's shot was not correctly measured and was perhaps 22.45 m (73-8), the no. 10 performance in history.
But no official confirmation was forthcoming, until 6:29 p.m. Eastern, when USATF tweeted:
"After the Millrose Games Men's shot put competition, officials found that the measuring device that was originally correctly located and calibrated, was discovered to be improperly positioned during the competition. As a result, all of the throws in the men's shot put competition have been nullified."
In other words, the event didn't happen (officially). That eliminates not only Crouser's throws, but strong marks for Payton Otterdahl and Nick Ponzio; you can see the original coverage in strikeout type below./
¶
Saturday saw the 114th Millrose Games in New York, held indoors at The Armory while it was 18 degrees F and snowing outside! But the competition was hot, with seven eight world-leading marks and one almost-beyond-comprehension world record:
● Men/800 m: 1:46.05, Bryce Hoppel (USA)
● Men/1,500 m: 3:35.50, Ollie Hoare (AUS) ~ en route
● Men/Mile: 3:50.83, Ollie Hoare (AUS)
● Men/Shot: 23.38 m (76-8 1/2), Ryan Crouser (USA) ~ World Record
● Women/1,500 m: 4:02.08, Elle Purrier St. Pierre (USA) ~ en route
● Women/Mile: 4:19.30, Elle Purrier St. Pierre (USA)
● Women/3000 m: 8:31.62, Alicia Monson (USA)
● Women/Vault: 4.75 m (15-7), Sandi Morris (USA)
The story was Crouser, who dominated the event in 2021 – winning the Olympic title and setting the world record – and compiling one of the greatest seasons ever. And he is not letting up.
American Payton Otterdahl took the world lead in the shot put at 22.01 m (72-2 1/2) in the second round, but Crouser took over one throw later with a 23.38 m (76-8 1/2) bomb onto the sprint surface in the middle of the track for the greatest throw in history! Indoors or out … ever!
And it didn't look that hard.
But it was a centimeter further than his 23.37 m (76-8 1/4) world record at the U.S. Olympic Trials last year, and also destroyed his 2021 world indoor record of 22.82 m (74-10 1/2). Crouser now owns four of the top five throws, and nine of the top 14, all-time, under all conditions. He is the only one to throw beyond 76 feet (23.16 m) and he has now done it three times: literally in a class by himself.
Crouser fouled on his first throw, then unloaded his all-time best 23.38 m, and had fouls on his third and fourth throws. He got out to a sensational 22.76 m (74-8 1/4) in the fifth round, which would have been the no. 2 throw in indoor history … except for his second-round world record, so it was no. 3 ever indoors. After a long wait for the sixth round to allow it to be shown live on television, Crouser reached a merely human 21.19 m (69-6 1/4).
Otterdahl finished second with his first-round throw, and third was former USC star Nick Ponzio, who throws for Italy and reached 21.85 m (71-8 1/4) for an Italian indoor national record.
The highly-anticipated men's 60 m had a hot finish, with 2019 World 100 m Champion Christian Coleman back in the sprints in his return from a "whereabouts" suspension. He stormed out of the blocks, just ahead of two-time Olympian Trayvon Bromell and held on for a 6.49-6.50 win, with Tokyo Olympian Ronnie Baker third (6.54) and 200 m star Noah Lyles fourth (6.62).
Jamaican Olympic finalist Christopher Taylor held off a challenge from Americans Vernon Norwood and 800 m star Donavan Brazier in the 400 m in 46.38-46.45-46.55. Tokyo Olympian Bryce Hoppel came from behind on the final straight to win the men's 800 m in a world-leading 1:46.05, passing Michael Saruni (KEN: 1:46.32) and Isaiah Harris (1:46.49).
The Wanamaker Mile was down to four in contention with four laps remaining, with Australian Ollie Hoare the leader with two laps to go. Britain's Josh Kerr took over with a lap and a half remaining, but Hoare stayed on his shoulder at the bell. Hoare sprinted past before the final turn and got home in a national record and world-leading 3:50.83, to 3:52.27 for Kerr and 3:52.83 for American Colby Alexander. Hoare crossed 1,500 m en route in a world-leading 3:35.50.
New Zealand's Nick Willis was ninth, but ran 3:59.71 to give him an astonishing streak of running a sub-4:00 mile for 20 years in a row!
New Zealand's Geordie Beamish came from fifth with a lap to go to win the 3,000 m in 7:39.50, holding off Americans Cooper Teare (7:39.61) and Cole Hocker (7:39.83).
In the 60 m hurdles, Olympic fourth-placer Devon Allen came from behind mid-way through the race and passed Tokyo teammate Daniel Roberts (7.53) for the win in 7.51.
Tokyo Olympian Aleia Hobbs came on at the end to get the women's 60 m in 7.11 over Mikiah Brisco (7.15), but the highlight was in third, as Shawnti Jackson, a junior at Wakefield High School in Raleigh, North Carolina, set the U.S. high school record at 7.18. The daughter of 400 m hurdles star Bershawn Jackson, she broke the 7.19 standard owned by Ashley Owens in 2004 and Tamari Davis in 2020.
Olympic relay gold medalist Wadeline Jonathas won her second straight Millrose Games 400 m in 52.51, well ahead of Jessica Beard (52.95). American indoor record holder Ajee Wilson looked strong in winning the women's 800 m in 2:01.38, ahead of former LSU star Natoya Goule (JAM: 2:02.14).
The women's Wanamaker Mile was a clinic put on by Elle Purrier St. Pierre, who ran away from a good field over the last two laps to win in a world-leading 4:19.30, beating Josette Norris (4:20.81) and German Konstanze Klosterhalfen (4:22.59). Olympic 800 m champ Athing Mu ran fifth or sixth for much of the race, but elected to step off the track with a lap to go.
The women's 3,000 m turned into a Alicia Monson vs. Weini Kelati race, just as at the USATF Cross Country Championships, and they ended the same way, with Monson pulling away on the final lap and getting a world leader and meet record at 8:31.62. Kelati finished second in 8:33.72, a lifetime best.
Jamaica's Britney Anderson scored an upset win in the women's 60 m hurdles, emerging at the 40 m mark and winning in 7.91, ahead of Devynne Charlton (BAH: 7.95) and Tonea Marshall (USA: 7.99).
Rio silver medalist Sandi Morris won the women's vault with a first-time clearance at 4.55 m (14-11), but continued to clear 4.65 m (15-3) and a world-leading 4.75 m (15-7). Emily Grove got second (4.45 m/14-7 1/4); Tokyo Olympic champ Katie Nageotte managed only 4.35 m (14-3 1/4) for third.
Last year's collegiate sensation, Tara Davis – now a professional – won the women's long jump at 6.59 m (21-7 1/2) ahead of Quanesha Burks (6.54 m/21-5 1/2).
The 3,000 m walks were USATF national championship events, with Nick Christie winning the men's race in 11:43.46; the women's race was a tight finish between Maria Mitcha-Coffey (13:24.73) and recent U.S. 35 km walk record-setter Miranda Melville (13:25.70).
¶
Olympic men's 400 m champ Steven Gardiner (BAH) took the world 300 m best at the South Carolina Invitational in Columbia on Friday (28th) at 31.56, crushing the 2017 mark by American Noah Lyles of 31.87.
Nathon Allen of Jamaica was second in 32.54.
You can receive our exclusive TSX Report by e-mail by clicking here. You can also refer a friend by clicking here, and can donate here to keep this site going.
For our 832-event International Sports Calendar for 2022 and beyond, by date and by sport, click here!