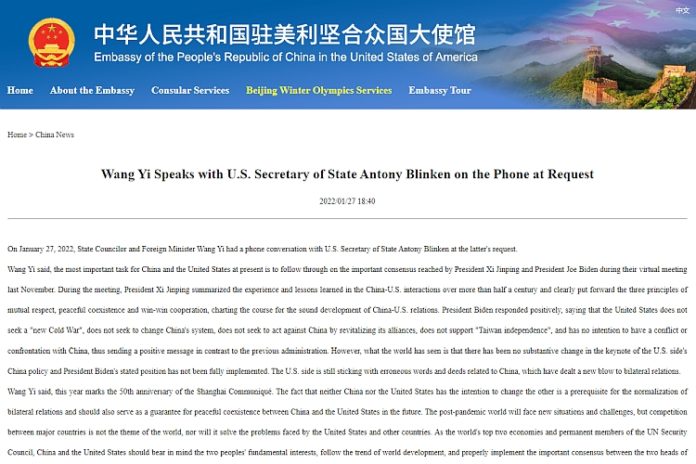 Key status updates on the urgent stories in Olympic sport:
≡ SPOTLIGHT ≡
"Wang Yi stressed, pressure will only make the Chinese people more united, and confrontation will not stop China from becoming stronger. The burning issue is that the United States should stop interfering with the Olympic Winter Games Beijing 2022, stop playing with fire on the Taiwan issue, and stop creating various anti-China 'small cliques'."
That's from a report posted by the Embassy of China in the U.S. of a telephonic meeting between Wang, the Chinese Foreign Minister and U.S. Secretary of State Antony Blinken on Thursday.
The U.S. State Department's statement on the meeting was brief, stressed the Russia-Ukraine situation and did not mention the Olympic Winter Games, so perhaps it was not the "burning issue" cited by the Chinese.
It appears the top diplomats of the two countries are far apart on a number of issues, including the importance of the Winter Games.
≡ THE 5-RING CIRCUS ≡
● XXIV Olympic Winter Games: Beijing 2022 ● The Olympic Villages for the Beijing Games have opened, with three complexes spread out to be close to the venues:
● In Beijing itself, a 2,300-bed facility has opened in the Chaoyang district of the city, close by the Olympic Park. It will mostly house ice-sport athletes and be turned into residential apartments after the Games.
● The biggest facility is the 2,640-bed Village in Zhangjiakou, serving athletes in freestyle skiing, snowboarding, biathlon, ski jumping and cross-country skiing. This is slated to be a mixed-use residential, hotel, office and retail center.
● At Yanqing is the housing for 1,430 athletes and team officials in alpine skiing, luge, bobsled and skeleton. It is also expected to be a mixed-use center after the Games.
About 2,900 athletes are expected for the Games; only about 1,300 athletes and team officials have arrived in Beijing thus far.
¶
The heavy Covid testing regimen required before teams come to Beijing is turning up positives among multiple nations:
● Norway: Heidi Weng, a star cross-country skier who owns two seasonal World Cup titles, tested positive at a training camp in Italy, along with teammate Anne Kjersti Kalva, and both must be in isolation until 3 February. The men's cross country coach also tested positive and has returned to Norway.
On Thursday, cross-country star Simen Hegsted Krueger – who won the men's 30 km Skiathlon in PyeongChang in 2018 – also tested positive in Italy, putting his Olympic participation in serious question. The cross-country competition starts on 5 February.
● Russia: In addition to figure skating star Mikhail Kolyada, bobsledders Alexei Pushkarev and Vasily Kondratenko are reported to have tested positive, as well as skeleton racer Nikita Tregubov, the 2018 men's silver-medal winner.
● Team USA: Bobsled brakeman Josh Williamson wrote on Instagram that he has tested positive on Sunday and was not on the U.S. charter flight to Beijing on Thursday:
"This has not been an easy pill to swallow. I have felt pretty helpless throughout this process, but I've also found myself laughing a bit at the situation I'm in. Isn't it ironic that after 4 years of hard work, all there is to do is sit, rest, recover and have faith? Things I struggle to do the most.
"There are later flights running to Beijing throughout the Olympics in anticipation of things like this, I just need consistent negatives to be on one. The support I received after making the team has been incredible and it has meant the world to me. I hope I get the chance to compete for you all!"
¶
The Beijing 2022 testing statistics through 27 January showed no new infections among athletes and team officials at the airport or on the daily screening tests. From 4 January when the "closed-loop management system" opened, 1,457 athlete and officials arrivals have been recorded with three total positives (0.02%); one positive has been recorded from the daily screening tests at the Villages, from 1,753 tests.
The rate is higher for all other stakeholders, including competition officials, news media and Beijing 2022 staff and volunteers: 86 positives on arrival out of 4,271 arrivals (2.0%), and 51 positives out of 556,818 daily screening tests (about 0.1%).
¶
International Olympic Committee President Thomas Bach (GER) told the AroundTheRings.com site that spectators will be allowed at the Games, including some from the "international community living here in China." Also:
"[T]he people who have arrived here and are in the closed loop, they realize that they are in a very safe environment. The nervousness is more back home and the roads to Beijing. Because there is no closed loop there and the number of cases is exploding."
He also expected to meet with Chinese tennis star Peng Shuai in the coming days, as agreed prior to the Games.
¶
A letter sent Wednesday from Republican members of the U.S. House Foreign Affairs Committee asks U.S. Secretary of State Blinken to inform the U.S. delegation to the Beijing Games about human rights abuses in the country.
The letter "reminded Blinken that the American Values and Security in International Athletics Act (AVSIA) was enacted by President Biden on Dec. 27, 2021 as it was included in the National Defense Authorization Act (NDAA) for fiscal year 2022."
That statute, §6504 of the NDAA, requires "Information on the human rights concerns present in such covered country … [and] On risks such individuals may face to their personal and digital privacy and security, and recommended measures to safeguard against certain forms of foreign intelligence targeting."
In fact, the law was passed so late that it is impossible for the U.S. State Department to comply. The main U.S. charter carrying athletes to Beijing was on Thursday (27th), one day after the letter was sent to the State Department.
But plenty of time before Paris 2024.
● Games of the XXXIII Olympiad: Paris 2024 ● France will be on the Olympic stage in less than a month, with the FrancsJeux.com site noting the Paris organizers expect to have 10 million tickets to sell for the Olympic Games and 3.7 million for the Paralympics, plus 45,000 volunteers, with recruitment to start in February 2023.
As for construction, "The athletes' village, presented as the largest single-site construction site in France, currently employs 1,400 workers" and will have 3,500 by the fall, with completion scheduled for the first quarter of 2024. The aquatic center is also well underway and expected to be finished in April 2024. The Porte de la Chapelle Arena is also on schedule, to be completed at the end of 2023 and work is just starting on the Marseille Marina, site of sailing.
● Games of the XXXIV Olympiad: Los Angeles 2028 ● One of the two Los Angeles City Council members who voted against the "Games Agreement" with the Los Angeles 2028 Olympic organizing committee has decided not to stand for re-election in June.
Mike Bonin is finishing his second term as the Council member for the 11th District, which reaches from Pacific Palisades on the north, then runs south along the Pacific Ocean and ends roughly at the Los Angeles International Airport.
He recently escaped a recall vote in his district, with his detractors focused on crime and homelessness in the area. He and Fourth District Council member Nithya Raman were the two votes against in an 11-2 approval of the Games Agreement in December.
● Court of Arbitration for Sport ● In the Olympic world, no slight goes unnoticed.
So when a comment buried in the World Anti-Doping Agency's review of its anti-doping activities at the Tokyo Olympic Games last summer criticized "the lack of anti-doping knowledge" of some of the members of the Court of Arbitration for Sport's Anti-Doping Division at the Games, a response was needed.
The Court's reply noted "such statement appears to be based on subjective assessment by an employee of the WADA legal department and has at no point been raised with the CAS ADD directly" and that "no failure in the CAS ADD proceedings in Tokyo occurred."
For Beijing, the Court asked that the WADA representatives have knowledge of CAS procedures.
Observed: Is this the right way to maintain trust in the crucial organizations? Just asking.
● World Anti-Doping Agency ● WADA posted a summary of its global testing statistics for 2021, showing an encouraging return to testing after the worst days of the pandemic:
"The latest testing figures, outlined in the tables below, show that almost 274,254 doping control samples were collected by 256 [anti-doping organizations] in 2021, compared to 168,256 samples collected by 207 ADOs in 2020 and just over 305,881 by 253 ADOs in 2019. While the level of in-competition testing remains lower than in pre-pandemic times, primarily because of fewer events taking place in 2021, the number of out-of-competition samples in the past 12 months is more than for 2019."
The 2021 statistics showed that 62.6% of all tests carried out in 2021 were out-of-competition (171,151), compared to 53.3% (163,067) of all tests in 2019. The WADA statement also enthused over the long-term storage capabilities now available through the International Testing Agency, to allow re-testing of samples as new testing methods come online, with the transport and storage costs paid for by the IOC.
A more detailed testing report will eventually show where the testing was most highly concentrated, by sport and country.
● U.S. Olympic & Paralympic Committee ● The folks in Utah want you to know that fully a third of the 2022 U.S. team – 75 of 223 – "were born in Utah, live and train full-time in Utah or were educated in Utah."
The Utah Olympic Legacy Foundation, the follow-on organization of the 2002 Salt Lake Organizing Committee, posted a detailed review of the Utah contribution to the 2022 U.S. squad, noting that 13 were born in the state and "Fifty five of the athletes live and train in Utah at least six months out of the year and 41 were educated at Utah high schools or universities."
It's an impressive total and further support for the Salt Lake City bid for the 2030 Winter Games; Salt Lake and Sapporo (JPN) appear to be the front-runners for an award which could be made this summer.
● Bobsled ● The U.S. Bobsled team includes 12 athletes, including four drivers, with the eight push athletes, and while the drivers are well known, the eight others represent a remarkable recruiting effort by USA Bobsled & Skeleton.
The women's team includes Sylvia Hoffman and Kaysha Love; Hoffman competed in basketball and weightlifting before being recruiting for the USBS team in 2018. Love ran track at the University of Nevada, Las Vegas – with a 100 m best of 11.47 in 2021 – before coming to bobsled. Both won World Cup medals this season, working with two-time Olympic champion Kaillie Humphries in the driver's seat.
Three-time Olympian Lolo Jones did not make the Olympic squad; she famously competed in the 2008 Beijing Olympic Games and but for hitting a hurdle, might have won the women's 100 m hurdle event (but finished seventh). She was part of the U.S. Olympic squad in the hurdles in London in 2012 and finished fourth. She was on the 2014 Winter bob squad in Sochi and was 10th with Jazmine Fenlator driving. At 39, perhaps the end of an eventful career?
The men's push squad includes Hakeem Abdul Saboor, Kris Horn, Jimmy Reed, Carlo Valdes, Charlie Volker and Josh Williamson, each of whom came from another sport.
Abdul Saboor was a football player at the Division II University of Virginia at Wise, was a 2018 Olympian in both the two-man and four-man, and is now part of the U.S. Army's World Class Athlete Program. Volker also played football, as a first-team All-Ivy running back at Princeton in 2018 (and a 10.56 sprinter on the track team), but Covid canceled his opportunity to go to an NFL training camp, so he found bobsledding. Reed went to the University of Maine and was also in track, running the hurdles.
Valdes, also a 2018 Olympian in the four-man, threw the javelin for UCLA, with a best of 64.91 m (212-11) in 2013. Horn also came from track & field, as a decathlete for the University of Massachusetts, winning the Atlantic 10 title in 2016 and 2017, with an all-time best of 7,417 points.
Williamson played lacrosse at Mercer and found bobsled through the "The Next Olympic Hopeful" program in 2017; as noted above, his Olympic situation has been clouded by a Covid infection.
While the U.S. men are not favored to win a medal in Beijing, the four-man crew of Hunter Church (driver) with Horn, Volker and Williamson did win one bronze during the IBSF World Cup season in Winterberg, Germany in early January.
Track & field was also a good recruiting ground for Great Britain as 11.05 ('08) sprinter Montell Douglas made the women's push squad for Beijing. London 2012 Olympic long jump winner Greg Rutherford, however, was not selected for the men's team.
● Gymnastics ● Something is not right with the USA Gymnastics case before the U.S. Bankruptcy Court for the Southern District of Indiana.
While much was made of a projected $380 million settlement with the federation and U.S. Olympic & Paralympic Committee insurers announced in December, the re-organization plan has not been declared effective.
On Thursday (27th), Judge Robin L. Moberly re-appointed Judge James M. Carr, with the order stating only that "Recent case developments require Judge Carr's reappointment as mediator, to which he has agreed." Carr had withdrawn on 27 December after working with the parties to the settlement agreement.
● Swimming ● Dutch sprinter Ranomi Kromowidjojo, who won the 2012 Olympic golds in the 50 m and 100 m Freestyles after a relay gold in 2008, announced her retirement this week.
An international-level star since 2010, Kromowidjojo – now 31 – won an astonishing total of 17 World Championships medals (3-8-6) and 28 World short-course Championships medals (14-9-5). In a retirement announcement, she wrote:
"I fulfilled my career as a professional athlete. Swimming will remain my passion, but no longer on a professional level. I have always been aware that there is more to life than professional sport and that it is part of a greater whole."
¶
The International Swimming League announced a 24-meet schedule for 2022, beginning in June and continuing through October for "regular-season" matches and playoffs from late October to early December. There is a huge break in the middle of the season from early July to late August for national championships and major Games.
The meets are slated to be held in "North America and the Asia Pacific region," with 10 competing teams once again.
● Wrestling ● USA Wrestling has expanded the international elements of the "Bout at the Ballpark" at Globe Life Field in Arlington, Texas on 12 February. In addition to the USA-Iran men's Freestyle dual meet and the Iowa-Oklahoma State men's collegiate dual, a USA-Mongolia women's dual – featuring 2016 Olympic champ Helen Maroulis – has been added, as well as at least one USA-Iran Greco-Roman bout.
In addition, a youth "Takedown Tournament" has been added earlier in the day, with the entries limited to 300 sign-ups; the entry fee will include tickets to the evening duals.
This is a pretty impressive experiment to draw fans to something new and different, placing collegiate and international competitions together, and creating a new event for youth. This is yet another way the athlete pipeline can be built.
≡ SCOREBOARD ≡
● Athletics ● The first World Athletics Indoor Tour Gold meet was on today in Karlsruhe (GER), with Ethiopia's Berihu Aregawi – the Tokyo 10,000 m fourth placer – taking the men's 3,000 m in 7:26.20, the no. 5 performance of all time. He finished his last 400 m in a speedy 59.3.
The men's vault was a battle between world-record holder Mondo Duplantis (SWE) and American K.C. Lightfoot, as both were the only ones to clear 5.89 m (19-3 3/4). Lightfoot missed three times at 5.96 m (19-6 1/2), while Duplantis passed and cleared 6.02 m (19-9) on his first try. He tried for another world record at 6.19 m (20-3 3/4), but missed three times.
French star Pascal Martinot-Lagarde won the men's 60 m hurdles in 7.54, best in the world in the early season. Olympic finalist Thobias Montler (SWE) won the men's long jump a 8.02 m (26-3 3/4). Greek Andreas Pantazis won the triple jump at 16.79 m (55-1), best in the world for 2022.
The women's 1,500 m was also a highlight, with an Ethiopian sweep led by Axumawit Embaye in a world-leading 4:02.12, just ahead of Hirut Meshesha (4:02.14) and Freweyni Hailu (4:02.66).
Emily Borthwick (GBR) and Imke Onnen (GER) both cleared a world-leading 1.91 m (6-3 1/4) in the women's high jump, with Borthwick winning on misses.
¶
In the U.S., the 114th running of the Millrose Games in New York comes tomorrow (Saturday); it will be televised in the U.S. on NBC from 2:30-4:30 p.m. Eastern time.
● Football ● The U.S. men's national team defeated El Salvador by 1-0 in its ninth of 14 CONCACAF qualifying matches for the 2022 FIFA World Cup, in 31-degree temperatures in Columbus, Ohio on Thursday night.
The American squad had most of the possession (65-35%) and an 8-3 edge in shots, but could not manage a goal in the first half, despite two good chances for striker Jesus Ferreria, whose shots went over the net both times.
The U.S. was even more aggressive to start the second half, and despite a very physical response from the visitors, finally came up with a score in the 52nd minute. A strong move by Timothy Weah into the box led to a hard shot at El Salvador keeper Mario Gonzalez, leading to a tall rebound. Ferreira got onto it with his head, and his pass skipped by U.S. star Christian Pulisic and found defender Antonee Robinson, whose left-footed shot found the net.
Two more chances came quickly, but Gonzalez saved midfielder Yunus Musah's point-blank shot in the 55th minute and then midfielder Weston McKennie could not get a header toward the goal off a corner kick in the 57th minute.
El Salvador pressed, but was too weak on the finish to threaten the U.S. severely in the final minutes. In the end, the U.S. had 63% of the possession and a 17-6 shots advantage.
Next up is a trip to face Canada, a 2-0 winner over Honduras on Thursday and leading the standings with 19 points to 18 for the U.S. That game will be played in the cold, forecasted at about 24 degrees, with possible snow. That will be balmy compared to the final game of this window, on 2 February vs. Honduras in St. Paul, Minnesota, with a projected temperature around 0 F!
≡ THE LAST WORD ≡
The worldwide communications firm BCW issued its annual ranking of International Federation social-media standing, with the International Cricket Council continued as – by far – the most followed federation worldwide.
Combining followers from the major platforms – Facebook, Instagram, Twitter, LinkedIn, TikTok and YouTube – the ICC had a total of 79,696,575, up 35% in calendar-year 2021. FIFA (football) was second at 41,082,790, up 9% for the year, with FIBA (basketball) third at 13,909,368. Those were the only federations with more than 10 million combined followers.
Next up were the big winners in 2021, the FIVB (volleyball) and World Athletics. Propelled by the Tokyo Olympic Games, the FIVB saw a 70% increase to 9,246,511 and World Athletics had a startling 101% rise to 8,135,451. The increase for World Athletics was keyed by (1) a 147% increase on Instagram to 1,832,976, (2) a 96% jump on Facebook to 2,090,947 and a sensational 3.2 million followers on TikTok, included in the survey for the first time.
You can receive our exclusive TSX Report by e-mail by clicking here. You can also refer a friend by clicking here, and can donate here to keep this site going.
For our 832-event International Sports Calendar for 2022 and beyond, by date and by sport, click here!