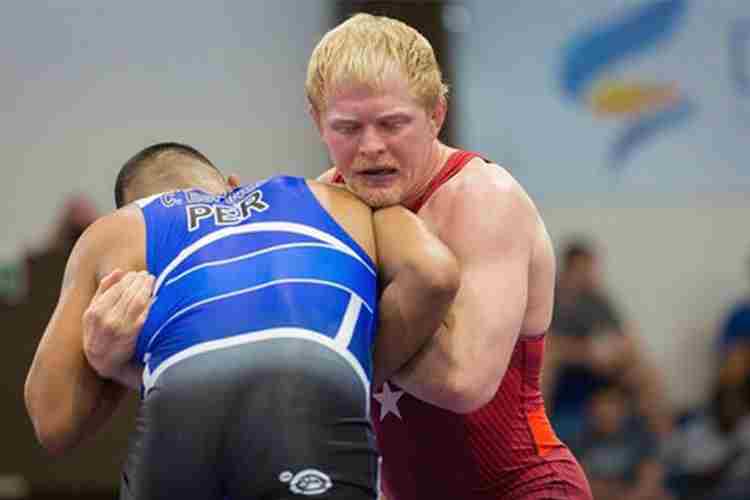 The Greco-Roman division at the 2018 Pan American Championships was a cliff-hanger, with the United States managing a 141-140 victory over Cuba, with the Cubans managing five wins in the 10 classes.
The Cubans and Americans both came away with four wins this year in Buenos Aires (ARG), but the team contest was one-sided, as the U.S. piled up points in every weight class and finished with a 205-135 win over Cuba, with Brazil third (98).
The American winners included Max Nowry (55 kg), RaVaughn Perkins (72 kg), Cheney Haight (82 kg) and Adam Coon at 130 kg. Perkins defended his Pan Am title from 2018, along with Luis Orta Sanchez (CUB: 60 kg) and Ismael Borrero (CUB: 67 kg).
This is a good sign for an improving U.S. Greco program, but it should be noted that the U.S. was 0-3 in championship matches against Cuban opponents.
Four of the 10 women's classes were also decided on Friday, with the U.S. picking up three wins, by Alex Hedrick (55 kg) and Julia Salata (65 kg), both in round-robin tournaments. The remainder of the women's classes will be decided on Saturday and the men's Freestyle will begin on Saturday. Summaries so far:
Pan American Championships
Buenos Aires (ARG) ~ 18-21 April 2019
(Full results here)
Greco-Roman
55 kg: 1. Max Nowry (USA); 2. Sargis Khacatryan (BRA); 3. Joshua Medina (PUR). (Round-robin; no final.)
60 kg: 1. Luis Orta Sanchez (CUB); 2. Samuel Gurria Vigueras (MEX); 3. Dicther Toro (COL) and Anthony Palencia (VEN). Final: Ortz d. Gurria, 9-0.
63 kg: 1. Andres Montano (ECU); 2. Ryan Mango (USA); 3. Jose Davila (PER). (Round-robin; no final.)
67 kg: 1. Ismael Borrero (CUB); 2. Ellis Coleman (USA); 3. Shalom Villegas (VEN) and Joilson De Brito Ramos Jr. (BRA). Final: Borrero d. Coleman, 11-1.
72 kg: 1. RaVaughn Perkins (USA); 2. Kenedy Moreia Pedrosa (BRA); 3. Francisco Barrio (ARG). (Round-robin; no final.)
77 kg: 1. Yosvanys Pena (CUB); 2. Kamal Bey (USA); 3. Juan Escobar (MEX) and Jair Cuero (COL). Final: Pena d. Bey, 3-1.
82 kg: 1. Cheney Haight (USA); 2. Carlos Espinoza (PER); 3. Adil Machado (BRA). (Round-robin; no final).
87 kg: 1. Luis Avendano (VEN); 2. Antonio Duran (CUB); 3. Alfonso Leyva (MEX) and Patrick Martinez (USA). Final: Avendano d. Duran, 802.
97 kg: 1. Gabriel Rosillo Kindelan (CUB); 2. G'Angelo Hancock (USA); 3. Kevin Mejia (HON) and Luillys Perez (VEN). Final: Rosillo d.. Hancock, 10-2.
130 kg: 1. Adam Coon (USA); 2. Luciano del Rio (ARG); 3. Angel Pacheco (CUB) and Edgardo Lopez (PUR). Final: Coon pinned del Rio.
Women's Freestyle
55 kg: 1. Alex Hedrick (USA); 2. Jayd Davis (CAN); 3. Elis Azerrad (ARG). (Round-robin; no final).
59 kg: 1. Laurence Beauregard (CAN); 2. Andribeth Rivera (PUR); 3. Karoline Silva de Santana (BRA). Also: 4. Kelsey Campbell (USA). (Round-robin; no final.)
65 kg: 1. Julia Salata (USA); 2. Jessica Brouillette (CAN); 3. Grabriela Pedro da Rocha (BRA). (Round-robin; no final.)
72 kg: 1. Dejah Slater (CAN); 2. Rachel Watters (USA); 3. Linda Machuca (ARG). (Round-robin; no final.)