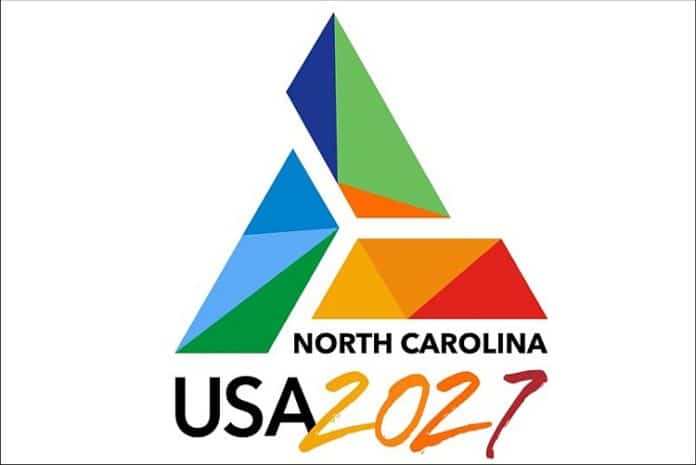 ★ The Sports Examiner: Surveying, monitoring and explaining the key competitive, economic and political forces shaping elite sport and the Olympic Movement. ★
★ Want TheSportsExaminer.com insights for your team? Yes! Click here for info on speaking, research and consulting from editor Rich Perelman. ★
★ To get The Sports Examiner by e-mail: sign up here! ★
≡ THE 5-RING CIRCUS ≡
1. North Carolina Universiade bid chief: "bid will pay dividends"
2. WADA seeking four-year ban for Russian skater Valieva
3. U.S. beats Colombia, leads Group F for FIBA World Cup qualifying
4. U.S.'s McLaughlin named World Athlete of the Year finalist
5. Qatar organizers move World Cup beer stands to less visible spots
While the North Carolina bid for the 2027 World University Games was not selected by the International University Sports Federation (FISU), bid chief Hill Carrow was fully satisfied with the effort and that the U.S. bid was considered the best on technical merit. He indicated that North Carolina would consider hosting the 2029 WUG, but will not go through another bid process like the one just concluded, and that other events could also be considered. The Court of Arbitration for Sport has begun the process of the World Anti-Doping Agency's filing for a four-year suspension of Russian figure skating star Kamila Valieva. The case will finally resolve the results of the Beijing 2022 Olympic Winter Games figure skating Team Event, in which the medals have still not been awarded. The U.S. men's national basketball squad, made up of G League players and free agents, defeated Colombia in the latest FIBA Americas World Cup qualifying game to move to 8-2 and the lead in Group F. The U.S. will still need to win at least one game in the February 2023 window to advance to the 2023 FIBA World Cup. American star Sydney McLaughlin, the World Champion and world-record-setter in the 400 m hurdles, is one of five finalists for the women's World Athlete of the Year award from World Athletics. With the FIFA World Cup in Qatar set to open on Sunday, sponsor Budweiser has been directed to move its sales stands to less visible locations at the eight stadia getting ready to host World Cup matches.
1.
North Carolina Universiade bid chief: "bid will pay dividends"
The International University Sports Federation (FISU) selected Korea's Chungcheong Megacity to host the 2027 World University Games last Saturday instead of the North Carolina 2027 bid from the U.S. But the North Carolina Bid Committee head, Hill Carrow, felt no remorse over the effort. In a Monday interview, a day after returning from the presentation in Brussels (BEL), he remained enthusiastic:
"We had a fantastic group over there, and we were very proud of the effort that went in and very pleased with the tremendous support across North Carolina that we got. There were more than 1,000 people involved in the effort, and our state stepped in more significantly than it ever has for anything like this, and our state and – I think – our country, because we represented the United States, can be very proud of the effort we put in.
"There was nothing in which we mis-stepped and maybe caused a shortfall. It was very political at the end and that's what led to the vote going the other way. But in terms of representing our country, our state and our region, everybody has nothing but pride, because it was a first-class effort, and if things had been judged on the merits, there's no doubt that we would have won."
Carrow noted the impact the University Games bid has and will have:
"An effort like this really coalesces a lot of forces that are often very disparate, and we have that in North Carolina, it looks like we have that in country and just about everywhere across. In our area, it's because there are a lot of different jurisdictions if you will. We ourselves were putting together five significant cities, five counties, we have 19 universities within the region and we had already committed to activities on 13 of them.
"So, you can imagine that those are a lot of little 'kingdoms' if you will, and for everybody to be willing to drop the provincialism and be willing to pull together, because they realize that a team is much more than the sum of the individual parts, and really represent our state and country very well. We couldn't be more proud of that. That will pay dividends.
"I've already been reached out to on some other international events, including some in our hemisphere, and they know that North Carolina brought its 'A' game, and that if anybody wants to come here, they would get our 'A' game, that we have an unprecedented array of facilities. …
"The other thing about our region is, we have it built in: we do not have to build up a gigantic workforce to stage a major event like this. Yes, we'll have 20,000 volunteers, but every single weekend in the fall and spring that's an active sports weekend, we probably have 50 significant events on across our campuses and in our communities that are put on by professionals or very experienced volunteers every one of those weekends. So, we've got that all built in already."
Carrow, a veteran organizer of major events, was disappointed by the decision of the FISU Executive Committee to ignore the measurable elements of the bid:
"If you look at the scores from their technical site visit, we aligned by far the best with FISU's long-range goals. Sustainability? We're number one in sustainability because we don't have to build a damn thing! And dormitory-wise, and dining hall-wise, we've got it all. In terms of fit with university sports, they're going to be on our campuses and be in our dining halls and dormitory facilities, they'll be on a university campus. In Germany [for 2025], they're going to be all in hotels."
The technical visit scores were not revealed publicly, but a separate source reported that the North Carolina bid had the highest total at 605, to 574 for the Chungcheong Megacity bid.
What the Koreans did have was money, as the expansion of the Chungcheong Megacity area is ongoing and the Korean bid specified that €440 million (about $454.2 million U.S.) was promised for the Games, reportedly securing 92% of the organizing committee's budget. However, the Korean project includes the building of 10 new venues, compared to none for North Carolina, and the wisdom of spending (or having to spend) perhaps $500 million on a World University Games is open to question. The North Carolina bid projected costs of $136 million, with $25 million already committed by the state and two potential multi-million dollar sponsorships that could be quickly closed if the U.S. bid had been selected.
Then there was the way in which the selection process was concluded. Said Carrow:
"We would not go through this process again. The end result, and also the way it was done at the end, was terrible, because it was the old [International Olympic Committee] thing where they bring everybody in a room, announce one winner and everybody else is just sitting there humiliated and downcast. We had our U.S. Ambassador there, we had our North Carolina Secretary of State there, we had the Mayor of Raleigh there … and that is a totally mortifying way to do it because you're in front of this whole room and they announce one winner and you're sitting there devastated, and the other side is jumping up and down. … I don't recommend that ever again for anybody.
"We told them, 'look, even if you got to another bid process, don't do it this way when you announce a winner.' Just before everything happens, call the guys who aren't going to win, off to the side, and outside the room and say, 'look, it's not going to be for you guys,' then bring the winners in and sign a document or something. …
"It's like a death in the family or something this week, trying to field all these messages and get everybody to keep their chin up."
So, what about a 2029 World University Games?
"That wasn't our preferred year, but we told them we absolutely would consider that. That's something that, you know, we know we have what it takes, we would like to demonstrate that and like the opportunity to demonstrate that, [so] that's not off the table at all.
"The bottom line is that if that were to be the case, there would not be any sort of bid process and it would be, 'hey, you're already demonstrated you've got what it takes and we're willing to work with you to just go ahead and put that in place.'
"I think the public-private partnership method in the United States is the way to go. We have the ability to offer FISU – and we did offer FISU – the ability to connect with many of our large American sponsors. We're getting ready to have a significant presence by some of the largest sponsors in the world in North Carolina. But with the United States as our territory, that's an untapped for FISU. They're not set up like the IOC with any global sponsors to speak of, and they will readily admit that. They came here and saw that we had 53 companies already involved in supporting our bid. Their leadership even made the comment, 'gosh, we'd like to have a little of that for the Games,' and I said, you'll have it if you come here, no doubt about it.
"I think the [consultative] process, which is more oriented toward professional staff working to try to secure the best possible long-term partner for these major sports events – like the International Olympic Committee is going – and as FISU was previously doing, is absolutely, 100% the way to go."
In the end, the Koreans will organize the 2027 World University Games. But Carrow has no regrets:
"We felt very, very good. There's no going back and second-guessing anything we did in our effort. We know we brought it and we know we delivered and the only upsetting factor is that didn't count enough for the win."
2.
WADA seeking four-year ban for Russian skater Valieva
The Court of Arbitration for Sport announced that it had received and is now acting on the filing by the World Anti-Doping Agency against Russian figure skating star Kamila Valieva and the Russian Anti-Doping Agency:
"WADA seeks a ruling from CAS that the Athlete committed an [anti-doping rules violation] pursuant to Article 4.1 and/or 4.2 of the RUSADA [Anti-Doping Rules], and that the Athlete be sanctioned with a four-year period of ineligibility starting on the date on which the CAS award enters into force, as well as the disqualification of all competitive results obtained by her from, and including the date of 25 December 2021, with all resulting consequences (including forfeiture of medals, points and prizes)."
Valieva's 25 December 2021 sample from the Russian national championships came back positive for the banned substance trimetazidine, but the result was not known until 7 February 2022. Valieva was initially disqualified by RUSADA, but had already competed in the Team Event, which finished earlier that day. She was initially suspended by RUSADA, then reinstated on appeal and allowed to skate in the women's Singles event by the Court of Arbitration for Sport at the Beijing Winter Games (she finished fourth).
If the WADA filing is successful, Russia would be disqualified in the 2022 Olympic Winter Games figure skating Team Event, which it won on the ice. The U.S. would be advanced from silver to gold, Japan from bronze to silver and Canada would be the bronze medalist.
The Court described the next steps as:
"In accordance with the Code of Sports-related Arbitration, the arbitration rules governing CAS procedures, the parties will first exchange written submissions and participate in the appointment of the 3-member Panel of arbitrators that will decide the matter. WADA will nominate one member of the Panel, and RUSADA and the Athlete will jointly nominate another. The third member, the President of the Panel, will be appointed by the President of the CAS Appeals Division, or her deputy."
No timetable was given for the formation of the hearing panel, the hearing, or the result. But the matter is moving forward after the passage of WADA's deadline of 4 November for RUSADA to complete its hearing, which has apparently not taken place.
3.
U.S. beats Colombia, leads Group F for FIBA World Cup qualifying
The U.S. men's national team defeated Colombia, 88-81, on Monday in Washington, D.C., to close out the next-to-last window in the FIBA Americas Qualifying Tournament for the 2023 FIBA World Cup.
The Americans had a 30-18 edge at the quarter, but only 48-41 at the half. The lead expanded to 68-55 at the end of three quarters and the U.S. held on to win by seven. Guards Langston Galloway and David Stockton had 23 points each to lead the U.S., while Colombian forward Michaell Jackson had 25 and guard Romario Roque had 24. The U.S. shot 43.5% from the floor compared to only 38.0% for Colombia.
The U.S. victory, combined with Puerto Rico's 76-68 win over Uruguay and Brazil's 102-56 rout of Mexico, leaves the Americans at the top of the Group F standings at 8-2 (18 points), followed by Brazil at 7-3 (17) and Puerto Rico and Mexico at 6-4 (16 each). The top three teams advance to the World Cup, so the U.S. will need a win in the final window next February, when it will play Uruguay and Brazil.
4.
U.S.'s McLaughlin named World Athlete of the Year finalist
World Athletics named its five finalists for its women's World Athlete of the Year, with the U.S.'s 400 m hurdles sensation, Sydney McLaughlin, on the list. The final five:
● Tobi Amusan (NGR): 100 m hurdles World Champion, and world-record setter at 12.12;
● Shelly-Ann Fraser-Pryce (JAM): 100 m World Champion (her fifth title) and 2022 world leader at 10.62;
● Kimberley Garcia (PER): Double World Champion in the 20 km and 35 km walks in Eugene;
● McLaughlin: 400 m hurdles and 4×400 m World Champion; set two world records, of 51.41 and 50.68;
● Yulimar Rojas (VEN): Triple jump World Champion both indoors and out; extended her world record to 15.74 m (51-7 3/4).
The finalists were primarily selected by the World Athletics Council (50% of the vote), with 25% from the World Athletics Family and fans (who cast 1.3 million votes).
The winner will be named at the World Athletics Awards 2022 in December.
5.
Qatar organizers move World Cup beer stands to less visible spots
The 2022 FIFA World Cup will open on Sunday (20th), and multiple reports from Qatar say that longtime sponsor Budweiser (part of AB InBev) has been required to move its sales stands in all eight stadia to less prominent locations.
Beer and other alcoholic beverages are available in Qatar, but strongly controlled. An AB InBev statement to Sky News included:
"AB InBev was informed on November 12 and are working with FIFA to relocate the concession outlets to locations as directed. We are working with FIFA to bring the best possible experience to the fans.
"Our focus is on delivering the best possible consumer experience under the new circumstances."
The Qatar organizers confirmed that the number of stations for beer purchases has not been changed.
≡ PANORAMA ≡
● Boxing ● The International Boxing Association, trying to get back onto the 2028 Olympic program, announced a 2023-28 sponsorship deal with Australian equipment maker STING. The company "will supply gloves, headguards, gauze, tapes, footwear, and uniforms for the athletes as well as uniforms for the volunteers and the IBA staff."
Although hardly a blockbuster, the agreement is significant for the IBA to demonstrate some commercial activity, especially with companies outside of Russia. Almost all of the IBA's financing since Russian Umar Kremlev was elected has come from the Russian energy giant Gazprom.
● Equestrian ● Belgian Ingmar De Vos, running unopposed, was confirmed for a hird and final term as the President of the Federation Equestre Internationale at the FEI General Assembly held in Cape Town (RSA).
The FEI financial report for 2021 was published, with the federation showing CHF 81.84 million in assets and reserves of CHF 23.1 million and another CHF 24.6 million in available but restricted funds. The FEI received $15.14 million from the International Olympic Committee in Tokyo 2020 Olympic television rights money, a key factor in showing a 2021 surplus of CHF 3.68 million after a loss of CHF 4.9 million in 2020. The FEI had revenues outside of the Olympic TV share of CHF 36.0 million in 2021, but expenses of CHF 40.8 million. (CHF 1 = $1.06 U.S.)
¶
You can receive our exclusive TSX Report by e-mail by clicking here. You can also refer a friend by clicking here, and can donate here to keep this site going.
For our updated, 951-event International Sports Calendar for 2022-23 and beyond, by date and by sport, click here!