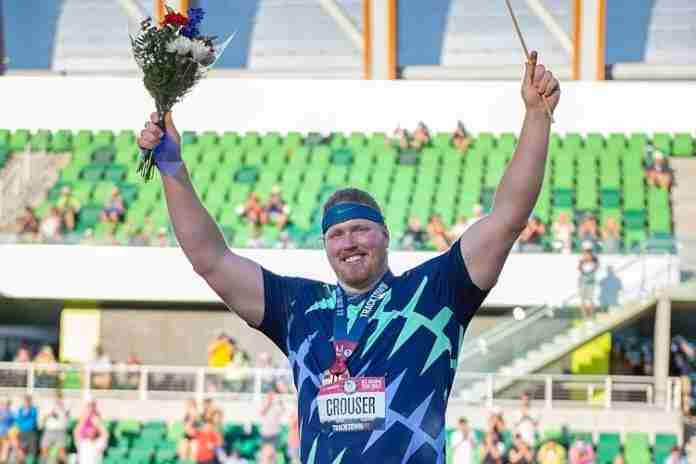 ★ The Sports Examiner: Chronicling the key competitive, economic and political forces shaping elite sport and the Olympic Movement.★
★ To get The Sports Examiner by e-mail: sign up here! ★
≡ THE 5-RING CIRCUS ≡
1. Sapporo Winter Games bid may be pushed to 2034
2. Salnikov rips IOC restrictions again; Russian divers to try Asia
3. Germany's Faeser: host nations "are not powerless"
4. Swimming: new world leads in 11 events this past week
5. Crouser thinks a 24 m (78-9) shot put is possible!
Although the pro-2030 Winter Games Mayor of Sapporo wad re-elected on Sunday, the Japanese Olympic Committee will discuss moving its bid focus to 2034 in view of continuing low support in polls about a 2030 Games bid. Russian Swimming Federation head Vladimir Salnikov again slammed the International Olympic Committee's restrictions on Russian participation, calling it a "crisis of tje Olympic Movement" and predicting his swimmers will not compete internationally this year. Other Russian sports leaders were also dubious on the prospects for 2022. German Interior Minister Nancy Faeser said it would look at refusing visas to Russian and Belarusian athletes re-admitted under the IOC's new regulations, to events being held in Germany. A statement against the IOC's scheme was posted by European fencers, which said that allowing Russian and Belarusian athletes back into competition "makes the previously noble sport of fencing morally inferior." In swimming, a torrent of national championships over the past week has created world-leading performances in 11 events, four by Japanese swimmers and three by British athletes. Several star U.S. swimmers are slated to compete this week in the Tyr Pro Swim Series meet in Westmont, Illinois that starts on Wednesday. American shot put superstar Ryan Crouser will compete twice in Des Moines, Iowa at the end of the month, including in a specially-staged, mixed-gender indoor event aimed at another world record at the 113th Drake Relays. Asked how far the shot record might go, he thought that 24 m (79-2) was possible!
● Panorama: USOPC (Team USA Community Champions announced) ●
● Errata ● Some readers saw an errant headline in yesterday's post on FIFA's suspension of financial support to the Football Association of Indonesia (PSSI). The headline indicated that FIFA had stopped financial support to itself! Nope. Thanks to reader Paul Roberts for the sharp eyes! ●
1.
Sapporo Winter Games bid may be pushed to 2034
The International Olympic Committee's hosting options for the 2030 Olympic Winter Games are getting more complicated by the day. On Sunday, voters in Sapporo, Japan, re-elected Mayor Katsuhiro Akimoto for a third term.
Akimoto, 67, has been in favor of the Winter Games returning to Sapporo, which hosted in 1972. He received 56% of the vote and told the Asahi Shimbun:
"We will once again present citizens our plan to host a clean Games in Sapporo and will continue the discussion. Eventually, we would like to proceed [with our plan] after confirming the opinions of citizens."
That sounds like a referendum on the Games might be coming, but the city's assembly rejected a vote in June of 2022. Since then, interest in the Games has fallen, thanks to continuing revelations of sponsorship and bid-rigging scandals related to the Tokyo 2020 Olympic Games and in December, Akimoto said:
"In the future we will conduct a survey of the pros and cons, not only in Hokkaido but also nationwide. We will respect the will of the people."
An election exit poll in Sapporo by the Jiji Press showed 53% opposed the Winter Games bid, with just 27% in favor and 20% unsure or refused to answer. Even among those who voted for Akimoto, only 41% were in favor, with 31% opposed.
Also re-elected was Hokkaido Governor Naomichi Suzuki, also in favor of a second Sapporo Winter Games.
On Monday, however Japan Olympic Committee President Yasuhiro Yamashita – the heavyweight judo gold medalist at Los Angeles in 1984 – said that a delay might be best, with a bid for 2034 perhaps a better target. Kyodo News reported that Yamashita was concerned about the election, which "made it clear that many local residents are concerned and anxious. It's hard to go ahead with the original bid plan without gaining people's understanding.
"We have to do things carefully. Otherwise, we can't move forward."
Yamashita said that discussions with Sapporo will begin soon.
If Sapporo punts on 2030, it leaves the IOC with no committed candidates for 2030, with Salt Lake City preferring 2034, Sapporo not sure, Vancouver without provincial support and possible candidatures from Sweden and Switzerland, both in the study stage. The decision on the 2030 host is now expected in 2024.
2.
Salnikov rips IOC restrictions again; Russian divers to try Asia
The drumbeat of anger against any restrictions on Russia – regardless of what is happening in Ukraine – continues, once again from Russian Swimming Federation (and four-time Olympic gold medalist) Vladimir Salnikov. He said on Monday:
"We are witnessing a crisis of the Olympic Movement, we can't go any further. Everything is written in the Olympic Charter, it speaks about uniting everyone in the name of peace, about the unacceptability of any discrimination. What we see now is a perversion of all the fundamental principles: everyone is equal, but we are 'more equal.'
"Political decisions are at the forefront, now there is blackmail by the leaders of countries and governments. It makes sense to gather the international sports community and ask whether sport remains a factor of unification, or it will just disappear and everyone will do something in their own corners."
As for Russian swimmers, he added:
"The decision rests with the World Aquatics Bureau, in July. It will be based either on the decision of the International Olympic Committee – which postponed the very fact of the possibility of participation in the Olympics for a longer period – or on the report of the [World Aquatics] commission. So until the end of the year, I think, through World Aquatics, we won't participate anywhere."
Also concerned was Russian wrestling chief Mikhail Mamiashvili, waiting for details from the review committee set up by United World Wrestling:
"The commission, represented by the members of the governing body of UWW, is determined to simplify the issue of admission of our athletes as much as possible. However, in its decisions, I think it will be guided by the main position of the IOC. But if this is a position in which athletes will have to sacrifice their civic honor, it will be unacceptable for us."
"If we talk about our youth under 15 and 17 years old, who were allowed to participate in tournaments, then we are still in coordination of their performances with the UWW; we need to understand the details in order to build the preparation of the team."
The situation is also grim for 2023 in diving, according to Russian Diving Federation President Stanislav Druzhinin:
"[W]e understood that it was unlikely that we would get to the World Championships in Japan, because even if we were allowed, we would have faced problems getting visas.
"This year, we have one more qualifying competition, the European Games in Poland, and we're going to miss that as well. But we have a chance to qualify for the Olympics next year if we make it to the World Championships in Qatar in February. We really expect to compete in that tournament."
Of course, there is also the possibility of competing in the Asian Games in China in September:
"We are negotiating with the Asian side, in particular with China, we will look for an opportunity to participate in their competitions. I personally plan to go to China in May, I will talk about the participation of their athletes in our competitions and our athletes in their competitions."
3.
Germany's Faeser: host nations "are not powerless"
The German Interior Minister, Nancy Faeser, said Monday that Russian and Belarusian athletes may be prevented from competing in events in Germany, regardless of what the International Olympic Committee says.
She told the Funke media group:
"Countries in which major sporting events take place are not powerless. We can influence through the visa departments whether Russians actually participate.
"If we organize international competitions in Germany, then we can act accordingly. We will always act with a clear stance here.
"Offering the warmonger Putin a propaganda stage would betray all values of the sport. It is completely unacceptable for Ukrainian athletes to face athletes competing for a country that is killing so many civilians in Ukraine."
She also noted that she was not in favor of a boycott at Paris 2024, explaining, "[W]e will harm our own athletes, who have been preparing for this goal for a long time."
¶
Also protesting the IOC's new policy to allow individual Russian and Belarusian athletes to compete as neutrals were athletes of the European Fencing Confederation, which posted a statement on the Eurofencing.info site that included:
"We, as elite fencers, part of the European Fencing Confederation would like to share our disappointment by the recent decision of the International Olympic Committee to recommend the return of Russian and Belarusian athletes to compete as neutrals to international fencing competitions.
"Ideally, sports should be free from politics and conflict. However, given the well known function of elite sports as a tool of domestic propaganda in Russia, it makes absolutely no difference whether a Russian or Belarusian fencer participates under the term 'neutral athlete'. Especially in fencing, as everyone knows, it is impossible to separate a fencer from their country of representation on the international level. …
"[A]s an indirect consequence of IOC's decision several nationalities will not be able to participate in the World Cup competitions due to their state-mandated boycotts. Especially at the beginning of the Olympic qualifier year, this could very well mean the end of a fencer's career. Allowing such makes the previously noble sport of fencing morally inferior, with long-lasting negative impact to the image of our dear sport."
This follows a 28 March petition signed by 323 fencers, asking the IOC and the International Fencing Federation (FIE) to continue barring Russian and Belarusian fencers, insisting that the new policies "would be a catastrophic error."
4.
Swimming: new world leads in 11 events this past week
A heavy schedule of national championships and selection meets has rewritten the world lists in swimming, with new world leaders in 11 events across the past week. At the top now:
Men (8):
● 50 m Free: 21.71, Ben Proud (GBR)
● 100 m Free: 47.61, David Popovici (ROU)
● 200 m Free: 1:44.83, Matthew Richards (GBR) ~ no. 18 all-time
● 800 m Free: 7:47,81, Daniel Jervis (GBR)
● 100 m Breast: 58.41, Ilya Shymanovich (BLR)
● 200 m Fly: 1:53.34, Tomoru Honda (JPN)
● 200 m Medley: 1:56.62, Daiya Seto (JPN)
● 400 m Medley: 4:07.91, Seto
Women (3):
● 100 m Free: 53.10, Marrit Steenbergen (NED)
● 100 m Breast: 1:05.89, Reona Aoki (JPN)
● 200 m Breast: 2:22.21, Tes Schouten (NED)
This does not include the sensational Canadian National Championships at the end of March, highlighted by Summer McIntosh's world records in the 400 m Free (3:56.08) and 400 m Medley (4:25.87).
Some of the top U.S. swimmers will be back in the pool this week for the Tyr Pro Swim Series stop in Westmont, Illinois. Olympic stars Bobby Finke, Lilly King, Katie Ledecky and Ryan Murphy are all entered, with Wednesday's finals streamed on the USA Swimming site, Thursday and Friday on Peacock and Saturday's finals shown delayed on CNBC.
5.
Crouser thinks a 24 m (78-9) shot put is possible!
U.S. shot put superstar Ryan Crouser already owns the world record at 23.37 m (76-8 1/4) outdoors and 22.82 m (74-10 1/2) indoors, both from 2021. But he will be trying to extend those marks at a special, free competition on 26 April in Des Monies, Iowa, attached to the 113th Drake Relays.
Crouser will be part of a mixed-team, best-combined-distances event at the Drake Fieldhouse in advance of looking for his fifth straight Drake Relays title on the weekend. NBC Sports reported Monday that his 23.38 m (76-8 1/2) record mark in Pocatello, Idaho on 18 February of this year will not be ratified because the facility was not certified to be rules-compliant and a survey done afterwards showed unspecified issues. But Crouser thinks there are even further throws to come.

During an online news conference to promote the events, Crouser explained the development of his new technique, which he calls the "step-across," but has been dubbed the "Crouser Slide":
"I'm still working on it. I saw a really, really good spread the past two weeks in training, so it has me excited for it because I think to throw a truly huge throw, I can throw farther with the step-across – or the Slide – than I can from the static. So that has me really, really excited that if I can find that 60-75 cm spread that I've been seeing in training – from a static to the Slide – then if I can add 75 cm onto 23.38 that would be absolutely mind-blowing."
That would be 24.13 m or 79-2! Asked whether a 25 m throw (82-0) is possible, he said:
"It's really hard to put a cap on it. I think that 25 is just an absolutely insane number. Even 24 is an absolutely insane number. It's tough to really say, simply because I have an idea of where I'm at, and the thing that makes it so difficult is, unlike the vertical jumps – the pole vault, high jump – where you kind of choose where you're at, you're constantly seeking that one, massive outlier.
"And I kind of look at the distances that I can hopefully be consistent at, and then every once in a while, you'll throw a throw that's 50-60 cm farther, kind of you'll have a big outlier. So, you're always chasing that one monster throw, that one massive outlier. So it's hard to really put a top on it because if I can bump that consistency up and be consistent at my PR, then hope to chase that giant monster throw that's kind of always lurking in the shadows, is that kind of keeps you going down the rabbit hole. …
"I do believe 24 meters is possible. I don't know if 25 is. When you start adding a meter on to at that distance, it just becomes kind of an astronomical, the odds of it happening just get so much slimmer and slimmer. But down the road, you're going to have somebody who's bigger, faster, stronger, more athletic than I am. That's just how the numbers go. I don't know if it's meant for me to do it, but I don't want to say it's impossible because, shoot, the athletes nowadays there are so many people that eventually somebody is going to come along that's bigger, faster, stronger, better technically than I am, than the world has ever seen.
"If anybody throws 25 meters, I'd love to be there to see it."
≡ PANORAMA ≡
● U.S. Olympic & Paralympic Committee ● The USOPC announced four winners of its Team USA Community Champions for 2022, with each to receive $12,500 grants, with another $12,500 to go to a charity of their choice. Presented in association with Comcast, the winners were chosen from among 22 finalists, chosen from nearly 100 applicants:
● Mary Cain, one of the greatest high school distance runners ever and now moving into triathlon. She founded Atalanta NYC, "a New York City-based nonprofit that employs and supports professional female runners so they can achieve their highest athletic goals while building their career skills."
● Kelsey Dickinson of the Women Ski Coaches Association, working to advance women in ski coaching. Dickinson is a biathlete and is a Gender Equity Ambassador for the International Biathlon Union.
● Tyler Merren of the U.S. Goalball National Team, volunteers with the U.S. Association of Blind Athletes, with more than 20 years of service.
● Billy Mills is one of America's most memorable Olympians, winning the men's 10,000 m at the 1964 Tokyo Games in a huge upset that is well remembered to this day. He "co-founded Running Strong for American Indian Youth to meet the critical needs of Native communities, foster cultural identity development and support Native youth in pursuit of their dreams."
This is the second edition of the awards, originated in 2021 as the Team USA Service & Hope Award. Applications for the 2023 Awards are being accepted through 17 April.
¶
You can receive our exclusive TSX Report by e-mail by clicking here. You can also refer a friend by clicking here, and can donate here to keep this site going.
For our updated, 651-event International Sports Calendar (no. 2) for 2023 and beyond, by date and by sport, click here!