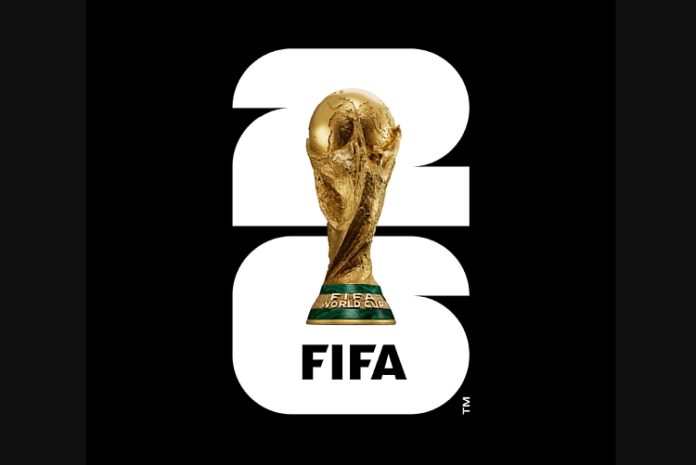 ★ The Sports Examiner: Chronicling the key competitive, economic and political forces shaping elite sport and the Olympic Movement.★
★ To get The Sports Examiner by e-mail: sign up here! ★
≡ THE 5-RING CIRCUS ≡
1. FIFA unveils logo of the 2026 World Cup, in Los Angeles
2. French Olympics minister defends 2024 ticket prices
3. Strong volunteer interest in Santiago 2023 PanAms
4. Now 2020 winner Geoghegan Hart crashes out of Giro
5. AIU provisionally suspends Kenyan star Rhonex Kipruto
The logo of the 2026 FIFA World Cup in Canada, Mexico and the U.S. was unveiled Wednesday in Los Angeles, as well as the tournament motto of "We Are 26." In Paris, the French Sports and Olympics Minister defended the event's ticket prices, but indicated the number of attendees at the Opening Ceremony would be about 500,000, with 80% watching for free. The 2023 Pan American Games organizers in Santiago, Chile, said that some 28,702 applications for volunteer positions had been received, to fill 17,000 spots for the PanAm and Para PanAm Games starting in October. At the Giro d'Italia, 2020 winner and current contender Tao Geoghegan Hart of Great Britain crashed out of the race in another wet stage won in a final sprint by Germany's Pascal Ackermann. The Athletics Integrity Unit provisionally suspended Kenyan star Rhonex Kipruto, the 10 km road world-record holder, for changes in his Athlete Biological Passport. The current list of ineligible persons in track & field has 64 athletes on it.
● Panorama: Paris 2024 (International Olympic Committee chief Bach reiterates call for all countries to participate in Olympic qualifiers) = Olympic Winter Games 2030 (French IOC member Drut says France has an outside shot to get 2030) = Russia (3: furious reaction to IWF regulations for gray uniforms for neutrals; Russian boxing coach looking to Asian Games for Paris qualifying (if available); Int'l Handball Federation confirms Russian men out for Paris 2024) = Boxing (Cuba's Hernandez defects on return from Worlds) = Weightlifting (2024 World Cup to be held in Thailand) ●
1.
FIFA unveils logo of the 2026 World Cup in Los Angeles
An elegant Wednesday evening presentation held outdoors at the Griffith Park Observatory in Los Angeles began what will be a high-energy promotional campaign for the 2026 FIFA World Cup to be held in Canada, Mexico and the U.S.
There were the obligatory videos and interviews, but FIFA President Gianni Infantino (SUI) pronounced the enormous expectations for this tournament:
"We are here to kick off, actually, what will happen in 2026, and what will happen from now to 2026. And what will happen there will be not just the greatest World Cup ever, it will be something else .. it will be beyond imagination, it will turn these three countries upside down and then back again. Forty-eight teams, forty-eight countries participating, 16 host cities, three host countries, 104 games, more than six million people watching live, the matches. Six billion tuning in from home; the world will stand still and watch what is happening here.
"So we have just witnessed the best World Cup ever, great emotions. We will witness here, in three years from now, starting from tonight, the best … but more."
The 45-minute program was streamed live by FIFA with hosts Alexi Lalas (USA) and Telemundo host Ana Jurka (HON), leading to the unveiling of the tournament logo, a stylized stack of the numbers "2″ and "6″ with the FIFA World Cup trophy in the middle. Simple, but with endless coloration and animation possibilities, and a radical departure from the more involved and culturally-reflective marks of recent, single-nation hosts.
The tournament motto of "We Are 26″ was also introduced, described by FIFA as
"a campaign that empowers people, places and communities to play an integral role in launching the FIFA World Cup 26 Official Brand. The campaign has captured portraits of faces and places that tell their own unique FIFA World Cup stories, featuring individuals and experiences that await fans in 2026 and inviting everyone to be a part of it."
Retired American women's superstar Carli Lloyd, a two-time Women's World Cup winner, told the invited guests:
"For the World Cup to be coming here, it's going to captivate our country, and it's going to allow kids to just continue to dream, and it will be the best World Cup for sure."
Wednesday night's launch is being followed by individual host-city marks to be unveiled on Thursday by the 16 sites for the tournament, in Canada (2), Mexico (3) and the U.S. (11).
2.
French Olympics minister defends 2024 ticket prices
Amelie Oudea-Castera, the French Minister of Sports and the Olympic Games, said Tuesday during a Finance Committee hearing at the National Assembly, that ticket pricing for the Paris 2024 Games is not excessive:
"We have 10% of the mass of tickets that are over 200 euros. These prices are totally in line with the pricing in previous editions of the Games and therefore, taking into account inflation, the prices are lower than those of previous editions." (€1 = $1.08 U.S.)
She also noted, as has been widely promoted, that one million tickets – 10% of the total – are priced at €24, although half of these have been reserved for municipalities which intend to distribute them to low-income residents.
Asked about high-end pricing for the Opening Ceremony (€2,700) and track & field (€900), she noted that these price points were for "exceptional moments, with exceptional athletes, who compete for the holy grail."
Oudea-Castera was also asked about the opening on the Seine, and perhaps previewed a downward revision in the total attendees expected:
"Only on the lower platforms are tickets paid for up to 100,000 people. For everything else, the gauge will be refined, it will be around 400,000, all this will be confirmed in the next few days."
That 500,000 total would be in line with the advice of the Parisian transport planners, who have insisted that no more than that can be accommodated, down from the 600,000 initially announced as a likely capacity for the sides of the river.
3.
Strong volunteer interest in Santiago 2023 PanAms
The 2023 Pan American Games will be in Santiago, Chile beginning on 20 October, with an excellent report on volunteer enthusiasm for the event.
With 17,000 volunteer positions to be filled for the Pan American and Para Pan American Games, 28,702 have applied, with 26.0% from outside the country and 74% from Chile itself. Also:
● 57% are women and 43% are men
● 68.0% or 19,517 are between 18-30 years old
● 3.2% or 927 are over 60 years old
● 56.3% or 16,169 are volunteers in other programs
● 96.9% of applicants are from the Americas (27,799)
● Also from Africa (570), Asia (186), Europe (144) and Oceania (3)
● Northern neighbor Peru (1,888) had the largest number outside Chile
The total number of applications is considered a record, up by 114 over Lima for 2019 and 5,000 more than for Toronto in 2015.
The event is massive, with 6,916 athletes from the 41 Pan American countries expected, competing in 419 events in 39 sports, with Olympic qualifying implications in 33 of them.
4.
Now 2020 winner Geoghegan Hart crashes out of Giro
Another rainy, wet stage and another contender is washed out of the 2023 Giro d'Italia.
This time it was Britain's Tao Geoghegan Hart, the 2020 champion and sitting just five seconds off the race lead at the start, who suffered badly in a crash with about 70 km to go on Wednesday's 11th stage route of 219 km to Tortona.
The stage featured two major climbs in the first 142 km and a smaller one by km 177, but then descended into the finish, with a mass sprint for the line expected. But after cresting the second big climb – the Colla di Boassi – there was a crash involving the entire Ineos Grenadiers team, including race leader Geraint Thomas (GBR) and Geoghegan Hart, plus pre-race co-favorite Primoz Roglic (SLO).
Thomas and Roglic were able to get going again. Geoghegan Hart was taken away from the scene for medical attention. He tweeted later:
"I'm devastated this is how my giro ended. Thank you all for your messages and support. I was so excited about the remainder of this race and loving every minute of it. Arrivederci @giroditalia"
The stage's expected sprint finish saw German Pascal Ackermann win in 5:09:02, just ahead of Jonny Milan (ITA), Mark Cavendish (GBR) and Dane Mads Pedersen. The first 124 riders received the same time, with Thomas in 62nd and Roglic in 95th. It's Ackermann's third career stage win at the Giro d'Italia, but first since 2019.
Thomas retained his two-second lead on Roglic, with Joao Almeida (POR) now third, 22 seconds behind the leader. Four riders on the Soudal-Quick Step team left the race after testing positive or Covid-19, as did race leader and teammate Remco Evenepoel (BEL).
Thursday's stage has another major climb, with the 1,006 m Colle Braida in the final quarter of the 179 km route into Rivoli, but other major descent into the finish, amid more weather concerns heading into the weekend stages.
5.
AIU provisionally suspends Kenyan star Rhonex Kipruto
Kenyan Rhonex Kipruto, 23, is the world-record holder in the men's 10 km road race at 26:24 from 2020, was the 2019 World Championships 10,000 m bronze medalist and now … is on suspension for suspected doping.
Kipruto was placed on the "Provisionally Suspended" list by the Athletics Integrity Unit on 11 May for "Use of a Prohibited Substance/Method (Article 2.2)" based on changes to his Athlete Biological Passport (ABP).
The Passport program is used to track changes in blood chemistry that could indicate doping activity that would not otherwise be caught during normal testing. According to The Associated Press:
"Kipruto's management company said the AIU informed Kipruto that the alleged irregularities in his biological passport dated back to late 2018, before he won bronze at the worlds and set the 10K road record. Ikaika Sports said Kipruto denied doping and the case had been 'under scrutiny for some time now.'"
The AIU lists six current or ex-Kenyans placed on suspension so far in 2023 and has 64 Kenyan athletes on the AIU's Global List of Ineligible Persons as of 1 May. Tweeted David Monti (USA), the highly-respected founder and editor of Race Results Weekly:
"Every additional Kenyan athlete who tests positive drives down the value of all Kenyan athletes as sponsors and event organizers become less inclined to work with Kenyans in general, and more fans think their performances aren't legitimate."
≡ PANORAMA ≡
● Olympic Games 2024: Paris ● No chance in position, but a re-iteration by International Olympic Committee President Thomas Bach (GER): he's all in for Russian and Belarusians to return to Paris 2024 qualifying competitions. At a ceremony in Sofia, Bulgaria to mark the centennial of the Bulgarian Olympic Committee, Bach told the attendees:
"The recommendation of the IOC is that athletes of all countries should be allowed to participate in the qualifying competitions that are already taking place. I hope that many federations will accept our recommendations. I am happy that I received support in this regard from the President of Bulgaria, Rumen Radev. He, like us, wants athletes from all 206 National Olympic Committees to be able to participate in the Olympic Games. We are working hard to unite athletes from all over the world so that they can take part in international competitions without restrictions."
Bach did not mention that the IOC's 28 March recommendations specifically asked not to allow Russian or Belarusian teams to compete and that participation only be allowed for "neutral" athletes.
● Olympic Winter Games 2030 ● France's senior International Olympic Committee member Guy Drut told the all-sports newspaper L'Equipe that the country might bid for the so-far unclaimed Olympic Winter Games in 2030.
"If we succeed, we have a small chance, a chance, to get them. If the request is made only by the Southern Alps, it will not work. We need a bid bringing together the Southern Alps and the Northern Alps."
The northern Alps area includes Chamonix, site of the first Winter Games back in 1924, 1968 site Grenoble, 1992 site Albertville, Annecy – a prior Winter Games bidder – and the Courchevel ski resort. The southern Alps include Gap and the ski resort Briancon.
● Russia ● "We view the addition of such requirements as another manifestation of the anti-Russian course dictated by the pro-Western conjuncture."
That's Russian Foreign Ministry spokeswoman Maria Zakharova, complaining about previously-unpublished regulations from the International Weightlifting Federation, which announced on 12 May that "neutral" Russians and Belarusians would be able to participate, subject to verification of their status. The TASS story, however, added:
"In particular, the rules of neutral status established that Russians will have to perform in the form of a monochrome gray color without national symbols. In addition, athletes from Russia are prohibited from speaking out in support of a special military operation [vs. Ukraine]."
Russian Weightlifting Federation President Maxim Agapitov expressed further concerns:
"It is still completely unclear to me who will be entrusted with verification of the truth of certain information contained in the humiliating and human rights-violating declaration offered to athletes and staff for signing.
"It is alleged that this will be an independent investigative agency. The proposed system of sanctions and fines looks like an attempt at the expense of Russian and Belarusian athletes to improve the financial situation of the IWF and employ orphan international officials. It seems that, in addition to the obvious discrimination, all our athletes were immediately recorded as criminals, on whom some kind of investigation will be constantly carried out."
And in keeping with the Russian line on the IOC's re-entry recommendations of 28 March, he railed against any restrictions:
"Any restrictions related to the existence of relations with sports societies that have corporate ties with the Ministry of Defense of the Russian Federation, the Ministry of Internal Affairs of the Russian Federation or similar state structures have nothing to do with the principle of equality, sports spirit and fair fight.
"This is especially surprising considering that a huge number of athletes from other countries are also employees of the military or other law enforcement agencies, but no one in the IWF comes to mind in any way to question (and even more so limit) their right to participate in major international competitions.
"In these charades, which only by some misunderstanding are now called world championships and continental championships, with obscure pseudo-independent 'investigative agencies' and in mouse-gray uniforms, Russian athletes, as far as I know, never planned to compete and do not plan to continue to do so. Those who love sport cannot betray its spirit and principles, which are designed to protect society from such phenomena."
A TASS story quoted the IWF's regulations as including (translated from the original Russian):
"Athletes and athlete support personnel must wear neutral uniforms, clothing and vestments. They must be plain, solid gray (no graphics). They must not have any inscriptions, including any abbreviations referring to Russia or Belarus, and/or any national emblems, symbols or logos, as well as any designations or designs that can be perceived as referring to the respective country or national federation, as well as any inscriptions, signs or markings that can be understood as a reference to war and its support."
Russian and Belarusian lifters who violate the conditions of neutral status at international competitions may be fined up to $5,000 by the IWF's Ethics and Discipline Commission.
¶
The IOC's recommendations for Russian and Belarusian re-entry would normally point boxers to the European Games qualifier in Krakow this summer, but the Polish organizers have said no Russians or Belarusians will compete there. On Wednesday, Eduard Kravtsov, chair of the Russian Boxing Federation Coaching Council, told TASS:
"We will keep waiting for the IOC decision regarding the team's participation in the Olympics and the qualifying procedure. I believe that we will be able to do it by participating in the Asian Games.
"However, this does not mean that we prefer the easy path, because the level of athletes in Asia is much higher when compared to Europe."
Russia may be able to compete at the Asian Games in Hangzhou (CHN) in September and October in specific sports, but the details have not been announced. Olympic Council of Asia officials have warned that Russian and Belarusian participation must not interfere with the selection of Asian athletes to the Paris 2024 Games.
¶
The International Handball Federation confirmed that Russia cannot qualify a men's team for Paris 2024, but there is still a chance for the women's team:
"About the opportunity to qualify. For the men there is no possibility anymore, [but] the women could qualify if they would be allowed to participate at the upcoming IHF Women`s World Championship and would qualify there.
"We still follow the recommendation from the IOC who decided to recommend only the comeback from individual Russian and Belarusian so far but not for team sports.
"We are in close contact with the IOC and our council will discuss the situation if anything changes."
● Boxing ● The talent exodus from Cuba continues, as the Cuban boxing federation confirmed that two-time middleweight World Champion Yoenlis Hernandez left the team on the way back from the 2023 IBA men's World Championships in Uzbekistan.
The plane carrying the team home – where Hernandez won Cuba's only gold – stopped in Panama and Hernandez would go no further:
"During his return to his homeland, on a stopover in Panama, the double world champion declined to continue his trip to Havana, which implies his break with the national team."
Now 25, Hernandez won $200,000 for his victory in Tashkent, although it is not known whether the prize money will be paid to him directly, or through his federation, in which case the Cubans might not be forthcoming with a transfer.
● Weightlifting ● The International Weightlifting Federation announced that its 2024 IWF World Cup event, a mandatory competition for lifters who wish to compete at the Paris Olympic Games, will take place in Phuket (THA) from 2-11 April 2024.
It is planned to be the last qualifying event for Paris, with continental championships all scheduled prior to next April.
¶
You can receive our exclusive TSX Report by e-mail by clicking here. You can also refer a friend by clicking here, and can donate here to keep this site going.
For our updated, 651-event International Sports Calendar (no. 2) for 2023 and beyond, by date and by sport, click here!