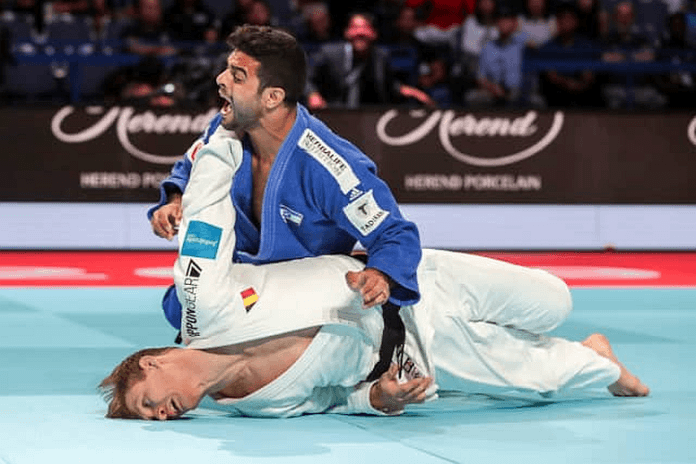 ≡ TSX DAILY ~ 29 August 2019 ≡
| 1. |  LEADING OFF: Israel's Muki wins Judo Worlds gold, but not a handshake from beaten Egyptian
The World Judo Championships in Tokyo was the stage for more drama on Wednesday, as Israel's Sagi Muki (in blue, above) won the country's first-ever men's gold medal, claiming the 81 kg class with a decisive win over Matthias Casse of Belgium.
But Muki's gold-medal performance was only part of the story, as Middle Eastern politics also heavily present. Seeded second, Muki faced Egypt's Mohamed Abdelaal – the African Championships winner – in his semifinal and won by waza-ari. The referee signaled Muki as the winner, and Abdelaal walked off the mat instead of participating in the traditional handshake between the opponents. Muki was left with his hand outstretched, but empty. Video here:
Egyptian sore loser refuses to shake Israeli judoka Sagi Muki's hand. pic.twitter.com/4HaaHjSf9Y

— farah abdo (@fafafreak) August 28, 2019
There was more politics in the play in the other semifinal, where the only Iranian entry in the 2019 Championships – reigning 81 kg gold medalist Saeid Mollaei – was taking on Casse. If he won, would Mollaei fight Muki, in defiance of Iran's unwritten rule against Israeli-Iran competitions?
It didn't matter, as Casse was the aggressor from the start, was able to obtain an armhold on Mollaei, leading to a submission. On purpose, perhaps? We will never know, and Mollaei did not have to make a choice about sharing the awards stand with Muki while the Israeli anthem played as he lost his bronze-medal match to Georgia's Lukas Maisuradze. So, too, did Abdelaal of Egypt, who lost to Canada's Antoine Valois-Fortier in his bronze-medal match.
So the medalists were Muki, Casse, Maisuradze and Valois-Fortier, with Abdelaal and Mollaei tied for fifth … and did not have to stand while the Israeli flag was raised and the anthem played at the victory ceremony.
The losses don't directly hurt the Olympic qualification chances of either Abdelaal or Mollaei, as the primary method of advancement to the Games is their world-ranking standing next year. But this will not be the last time that Muki will face either or both on the road to, or in, Tokyo.
In the women's 63 kg class, France's Clarisse Agbegnenou won her fourth World Championships title, adding to her golds from 2014-17-18 with an extra-time victory over home favorite and 2018 runner-up Miku Tashiro of Japan. Neither could score in the four-minute regulation period, so the match went into "golden score," with the first point winning.
This went on for seven minutes without a score – 11 in total – until Agbegnenou managed a waza-ari and ended the match with a third straight world title.
There's more – and additional photos – in the IJF report here.
| 2. | ATHLETICS: More details on how the Diacks fleeced IAAF sponsorship cash for themselves
Reuters filed a long report on a new, 89-page filing by French prosecutors that describes how Senegalese IAAF President Lamine Diack's son – Papa Massata Diack – was able to siphon off millions of dollars which should have been given to the IAAF as sponsorship or television rights fees from some of its major corporate partners.
Essentially, the scheme went like this:
● The IAAF's primary marketing partner, Swiss-based International Sport & Leisure (ISL), went bankrupt in 2001, and the marketing of its commercial sponsorship rights to the Japanese advertising giant Dentsu. Lamine Diack (pictured) was already IAAF President by this time.
● Dentsu turned the task of IAAF marketing over to a new company, Athletics Management & Services (AMS), which was made up of former ISL staff members.
● According to the report, "As part of its partnership, AMS came to acquire IAAF rights for some territories from Dentsu. Starting around 2007 AMS transferred the rights for some markets to Papa Massata Diack, who earned millions of dollars, much of it through commissions from AMS, securing marketing and broadcasting deals in Russia, Asia and the Middle East."
The indictment reportedly indicated that the younger Diack kept as much as $9.7 million of the $29.4 million sponsorship fee paid by Russia's VTB Bank as "commissions," far above the standard rate of 15-17%.
The French are asking questions about agreements with VTB, China Petroleum & Chemical Corp. (Sinopec), Samsung Electronics Co. Ltd. (Korea), China Central Television, and Abu Dhabi Media Corporation.
French authorities asked their Swiss counterparts to raid the AMS offices in Lucerne (SUI) in May of 2018, but nothing was done. The prosecutors have not charged Dentsu or AMS with any violations of French law, but appear to be seek more evidence for the forthcoming trial of Lamine Diack – under house arrest in France – and the son, who remains in Senegal and away from the reach of the French prosecutors.
---
Do your friends know about The Sports Examiner?
If you'd like to sign them up, just click here.
---
| 3. | CYCLING: First surprise of La Vuelta a Espana on the road to Javalambre
Major cycling events like the Grand Tours – Giro d'Italia, Tour de France and Vuelta a Espana – are usually dominated by riders from the major UCI World Tour teams. But in Wednesday's fifth stage, the final breakaway on the climb up to the observatory at Javalambre was by three riders from domestic teams that are – more or less – fillers for the field.
The first to finish was Angel Madrazo, 31, a rider for the Spanish Burgos team, who covered the 170.7 km route in 4:58:31, ahead of teammate Jetse Bol (NED), 10 seconds behind, and Jose Herrada, another Spaniard, but from the Cofidis team, 22 seconds back.
Fourth was Colombian Miguel Angel Lopez from the Astana Pro Team (a World Tour team) and despite being 47 seconds behind the winner, took the overall lead in the race, 14 seconds ahead of Slovenia's Primoz Roglic and 23 seconds over fellow Colombian Nairo Quintana.
The racing continues Thursday on a hilly course with another uphill finish and a more difficult climbing stage on Friday. More on La Vuelta here, along with preview of the two one-day races coming in Plouay (FRA) this weekend.
| 4. | GAMES OF THE XXXII OLYMPIAD: TOKYO 2020: Reflective heat coating on streets might not work?
One of the suggested antidotes to the expected high heat in Tokyo for next summer's Olympic Marathon is to place a reflective coating on the streets to lower the temperatures.
According to Asahi.com, "The government has conducted experiments on multiple occasions to examine the effectiveness of the heat-blocking pavement since four years ago and found that the road surface temperature can be lowered 10 degrees compared with asphalt."
But now a team from the Tokyo University of Agriculture claims that the coating might raise temperatures and increase the possibility of heatstroke if temperatures are above 30 C (86 F).
Their findings will be disclosed in detail at an upcoming conference; will the issue be resolved by next year … or after the Games?
| 5. | WATCH PARTY: Busy day with Diamond League finals in Zurich and the USWNT Victory Tour
If you can get the time off, Thursday is a good day for watching Olympic sport:
● NBCSN at 2:00 p.m. Eastern time: The first of two IAAF Diamond League finals, this one in Zurich (SUI) with terrific match-ups including Noah Lyles and Justin Gatlin in the 100 m, Rai Benjamin and Norway's Karsten Warholm in the 400 m hurdles, Sam Kendricks and Swede Mondo Duplantis in the vault and world-record setter Dalilah Muhammad in the women's 400 m hurdles against Sydney McLaughlin, Ashley Spencer and Shamier Little, all of the U.S. More here.
● FS1 at 7:00 p.m. Eastern time: The second leg of the U.S. Women's National Team's "Victory Tour," this time vs. Portugal in front of a big crowd at Lincoln Financial Field in Philadelphia. With more than 45,000 tickets sold, this will be the largest-ever crowd for a stand-alone friendly match for the U.S. women. The U.S. women are 7-0 all-time vs. Portugal and won 1-0 in their last match – in Portugal – last November. More here.
There's more at TheSportsExaminer.com: check out new reports on Cycling and Gymnastics.
---
---
The TSX Daily is your complimentary daily briefing on competition, news and politics in Olympic sport from The Sports Examiner, your all-in-one source for commentary, coverage and results across all 41 sports and 441 events on the program of the Olympic and Winter Games.
Access to the site is free; you can sign up here to receive the TSX Daily – issued Monday through Friday – or you can sign up your friends here.
Comments? We're happy to hear from you; add your view here … we may even publish it!