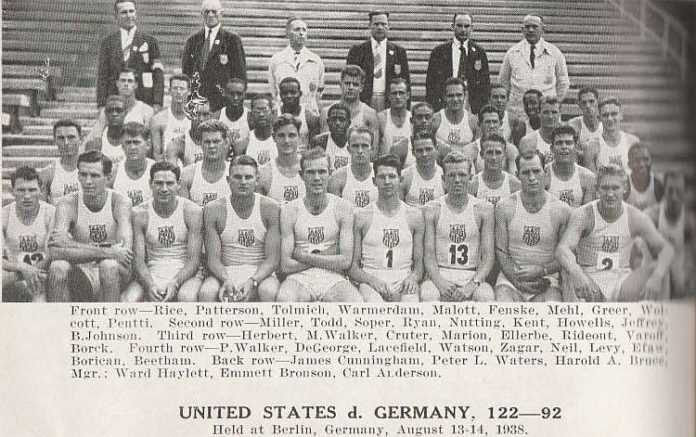 TSX HEADLINES – for Mar. 21, 2018: Everyone remembers the 1936 Olympic Games in Berlin and how Jesse Owens and other African-American stars made fools out of Adolf Hitler and the Nazis.
But did you know that two years later, the U.S. did it again?
We recount the story of the 1938 track & field dual meet between the United States and Nazi Germany, held over two days before packed houses in the Berlin Olympiastadion, with nine African-Americans on the U.S. squad. The Americans triumphed … and not by a little.
That meet still has meaning today, not only for the achievement of that U.S. team, but what it says about the future of the sport and how more attention can be brought back to it.
We details are in our Lane One commentary, plus preview and results in the Olympic world:
(1) THE BIG PICTURE: The Commonwealth Games are coming, plus 15 world indoor age-group records at the USA Track & Field Masters Indoor Nationals!
(2) FIGURE SKATING: World Championships set for Milan, with Americans Nathan Chen and Madison Hubbell and Zachary Donohue ready to go, along with Russia's Alina Zagitova and multiple PyeongChang medalists!
(3) FREESTYLE SKIING: Americans Alex Ferreira and Brita Sigourney lead the World Cup Halfpipe with one last event in France on Thursday. Can they win the Crystal Globes?
(4) SHOOTING: The U.S. Shotgun Spring Selection Meeting will choose the U.S. team for the 2018 World Championships in Skeet and Trap. Who's leading?
(5) SWIMMING: A new U.S. star in the making? Stanford's Ella Eastin wins three individual events, beats Katie Ledecky, and sets two American records at the NCAA women's championships!