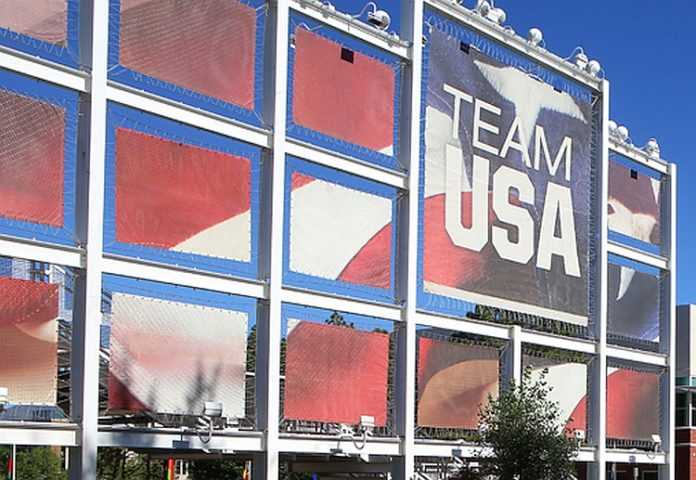 While the International Olympic Committee was re-electing Thomas Bach, the U.S. Olympic & Paralympic Committee was also busy with its own Board meetings, concluding on Wednesday.
There were no blockbuster announcements, but a steady effort to prepare for the Tokyo Games this summer and to make sure the USOPC is well positioned against talk of a boycott of the 2022 Olympic Winter Games in Beijing, China. USOPC Chair Susanne Lyons and chief executive Sarah Hirshland took questions from reporters following the conclusion of the meetings yesterday afternoon.
Noted Lyons:
"This meeting today with our Board was the first meeting with six of our new Board members, and represents a new configuration that really is based on the new governance reforms we incorporated over the past year or two.
"It has increased the representation of our athlete population and those athlete representatives are directly elected by their peer group. Athlete representation is now, in fact, well over the 33% threshold that we've now established; in fact, it's almost half of the Board. We have nine of our Board members who are Olympic and Paralympic athletes either recent or from some time past."
On Tokyo, Hirshland explained that the Board had multiple discussions:
"We heard [Tuesday] morning, directly, from one of our Tokyo-hopeful Team USA athletes, who offered perspective on the challenging training environment and continued lack of stability and certainty. And despite these challenges, our Sport team offered a very strong report on the High Performance outlook for Team USA. …
"We're feeling quite positive around the progress we're seeing here in the United States around vaccines, both in its advantage to our U.S. athletes, but also to those international athletes who may be living and training in our country right now, and we know there are always a number of international athletes, and so we're happy that the vaccine situation here is looking very positive to help ensure that the broad base of athletes may have that access sooner than we initially thought might be possible. …
"[The coronavirus] will absolutely impede on the athletes' typical experience, and that is the most unfortunate part of all of this. No one can be blamed for the fact that we are living through a global pandemic, but we all will have to make sacrifices in regard to that, and the experience of athletes and certainly anyone else who is going to be at the Tokyo Games will look very differently than it has in the past. And that's something that we're all prepared for and will continue to manage everyone's expectations around. …
"We're going to have to play to the safest common denominator to ensure that we reduce risk for everyone involved across the world and that's just the reality of the situation we're in."
Lyons was direct that the USOPC is not going to caught flatfooted on any talk of a boycott in Beijing in 2022:
"We just wanted to acknowledge that there has been a steady drumbeat of concern about the human rights situation in Beijing as well as some calls for an athlete boycott. And while we would never want to minimize what is happening from a human rights perspective in China, as a valued-based organization, we support inclusion, respect and equality for all, but I do want to state, as I did in a statement that we released earlier this month, that we do not support an athlete boycott.
"We believe that such boycotts have not been effective in the past, particularly in 1980 as we can look back to history. We believe those boycotts have only hurt athletes who've trained their entire lives for this opportunity to represent their country. And we believe this is an issue which should be addressed at the government-to-government level with China. …
"Our strategy at the moment is to ensure that there is dialogue with many of the people in Congress who are, obviously, for good reasons concerned about the human rights issues in China, but need to understand what the impact was in 1980 when we boycotted. I think there are, actually, a lot of people who understand that what was meant to be accomplished by that boycott did not get accomplished, and in fact, all that happened was the hopes and dreams of a large number of athletes just never came to fruition. …
"[Utah Senator and Salt Lake City 2002 organizing committee chief] Mitt Romney is very knowledgeable about this. He's shared his experience with a lot of his colleagues, and in large group meetings. And he's actually not alone; there are others who are also talking with their peers about other potential options, such as a diplomatic boycott vs. an athlete boycott."
Hirshland was asked about the status of the USA Gymnastics bankruptcy case – still in a court-ordered settlement conference – which is dragging on without resolution and to which the USOPC is a party:
"Let me start by saying we remain incredibly committed to finding and achieving a mediated settlement for the first and most important reason that the survivors deserve that closure and that finality. I can't comment on the likelihood of [a settlement] and will tell you we remain very much committed to being at the table doing everything we can to facilitate that outcome as our preferred outcome without a doubt.
"I can't confirm the details of the process. I can confirm that the process has remained active and that there are absolutely ongoing and active conversations occurring."
Hirshland also saluted Tom Osborne, the chief executive of the Colorado Springs Sports Corporation, who passed away on Wednesday at age 65. Osborne had been deeply involved with the U.S. Olympic & Paralympic Movement, serving on the USOC Board's Executive Committee from 1996-2000 and had been the head of the Sports Corp. since 2003.
You can receive our exclusive TSX Report by e-mail by clicking here. You can also refer a friend by clicking here, and can donate here to keep this site going.
For our 649-event International Sports Calendar for 2021 and beyond, by date and by sport, click here!