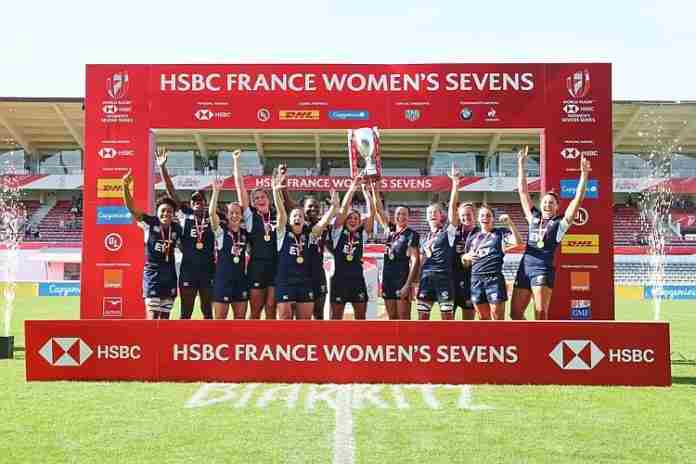 The U.S. women's Eagles made history in Biarritz (FRA), winning their first-ever World Rugby Sevens Series championship by defeating the seasonal champions from New Zealand, 26-10.
By doing so, the U.S. women finished second overall and clinched a spot in the Tokyo 2020 Olympic tournament. The Americans, Australia and New Zealand all won their groups with perfect 3-0 records, then the U.S. dispatched Russia, 27-12, in the quarterfinals.
In the meantime, Australia was upset by Spain, 15-14 and the U.S. followed up with a clear, 24-7 win over the Spanish to get to the final against New Zealand. Now winners of the season title for the fifth time in the seven-year history of the World Rugby Women's Sevens Series, the Black Ferns might have relaxed a little and the U.S. took advantage and rolled to a 19-5 halftime lead. Thanks to tries from Alev Kelter (2) and Cheta Emba.
The final was 26-10 and the first-ever U.S. women's win in the Women's Sevens Series. It left the Eagles with 100 points on the season, second only to New Zealand (110) with Canada (94) third.
The season's top scorer ended up being New Zealand star Tyla Nathan-Wong with 207 points, followed by Ghislaine Landry (CAN: 202) and Aimee-Leigh Murphy Crowe (IRL: 175). Murphy Crowe had the most tries with 35, one better than Canada's Bianca Farella.
The seven-player HSBC "Dream Team" included are Sarah Hirini (NZL), Brittany Benn (CAN), Ruby Tui (NZL), Nathan-Wong, Landry, Murphy Crowe (Ireland) and Anne-Cecile Ciofani (FRA).
This season's Capgemini Coach of the Series award was Chris Brown of the U.S., who in his first season led the Women's Sevens Eagles to their best-ever season and first Cup title. Summaries:.
World Rugby Women's Sevens Series
Biarritz (FRA) ~ 15-16 June 2019
(Full results here)
Final Standings: 1. United States; 2. New Zealand; 3. Canada; 4. Spain; 5. Australia; 6. France; 7. China, 8. Russia. Semis: U.S. d. Spain, 24-7; New Zealand d. Canada, 21-12. Third: Canada d. Spain, 19-14. Final: U.S. d. New Zealand, 26-10.
Final season standings: 1. New Zealand, 110; 2. United States, 100; 3. Canada, 94; 4. Australia, 86; 5. France, 70; 6. England, 50; 7. Russia, 48; 8. Ireland, 41 (17 teams scored).