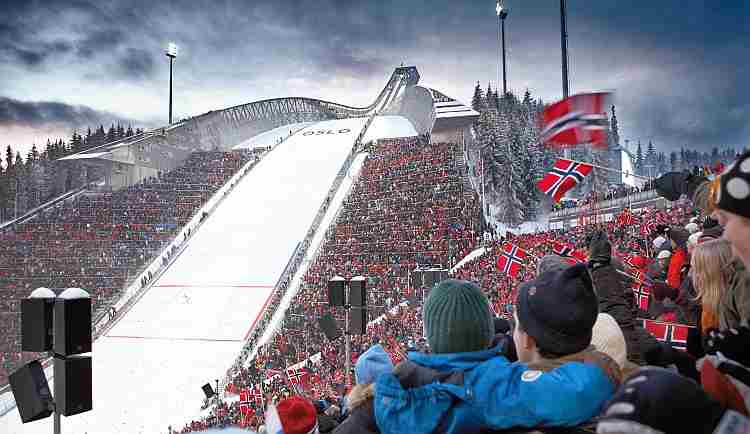 The high point of the 2018-19 seasons in Cross Country, Nordic Combined and Ski Jumping was the World Championships in Seefeld (AUT). But there are traditionalists who will point to the annual Holmenkollen Ski Festival in Oslo as the most meaningful event of every Nordic Skiing season.
First organized in 1892 (!), all three disciplines are involved
● Cross Country: Season titles still up for grabs
The FIS Cross Country World Cup has just seven events left, but the seasonal honors are hardly settled. The standings:
Men:
1. 1,134 Johannes Hoesflot Klaebo (NOR)
2. 1,058 Alexander Bolshunov (RUS)
3. 755 Sjur Roethe (NOR)
4. 670 Didrik Toenseth (NOR)
5. 657 Simen Hegsted Krueger (NOR)
Women:
1. 1,237 Ingvild Flugstad Oestberg (NOR)
2. 1,139 Natalya Nepryaeva (RUS)
3. 1,002 Krista Parmakoski (FIN)
4. 800 Therese Johaug (NOR)
5. 793 Jessica Diggins (USA)
The story of the season has been the amazing comeback of Norway's Johaug. She won three titles at the World Championships, after winning all seven of her World Cup starts in distance races. Having achieved her goals in the Worlds, will she make a run for the World Cup title? If so, she'll have to start with another 30 m Freestyle race in Oslo. She's won this race in 2013 and 2016 and was second in 2014 and 2015, so she knows the drill well.
In the men's seasonal race, Klaebo has been the best sprinter and Bolshunov the best in the distance events. After Oslo, three of the remaining six races are Sprints.
Bolshunov won the silver medal in Seefeld at the Worlds, behind Norway's Hans Christian Holund; Roethe was third.
The men's 50 km race will be on Saturday, and the women's 30 km on Sunday. Look for results here.
● Nordic Combined: How many wins this season for Riiber?
Norway's Jarl Magnus Riiber has clinched the seasonal World Cup title and has won 10 of the 18 events held so far. He won one of the two individual titles at the World Championships and is the first Norwegian to win the World Cup since Bjarte Engen Vik did it in back-to-back seasons in 1997-98 and 1998-99.
In Oslo, Riiber won this event in 2016, his only World Cup victory prior to this season. It's been won by Japan's Akito Watabe each of the past two seasons.
This year's event will be off a 134 m hill, with a 10.0 km race following, on Saturday. Look for the results here.
● Ski Jumping: Raw Air Tournament starts for men and women
The Holmenkollen 134 m hill will be the starting point for the third Raw Air Tournament for men and first for women.
Essentially a promotion for ski jumping in Norway, the men's Raw Air program includes three events – qualifying, team and individual – in Oslo for men and a prologue and individual event for women. The complete men's tournament includes 10 events for men and six in the inaugural edition for women.
The likely seasonal winners have been identified, but no one has clinched anything yet:
Men:
1. 1,620 Ryoyu Kobayashi (JPN)
2. 1,145 Kamil Stoch (POL)
3. 1,017 Stefan Kraft (AUT)
4. 963 Piotr Zyla (POL)
5. 834 Dawid Kubacki (POL)
Women:
1. 1,368 Maren Lundby (NOR)
2. 1,073 Katharina Althaus (GER)
3. 916 Sara Takanashi (JPN)
4. 866 Julianne Seyfarth (GER)
5. 596 Carina Vogt (GER)
Kobayashi has won 11 of the 22 events this far and Stoch (two wins) and Kraft (three) have been more successful in the last two months than Kobayashi. But he's still the leader and it will be hard to catch him.
Lundby has been on a tear, winning the World Championships after eight of the last nine events in the World Cup season. Only Takanashi broke up the streak, with a win at Ljubno (SLO).
There is a men's Team Event on Saturday, and the men's and women's events on Sunday. Look for results here.