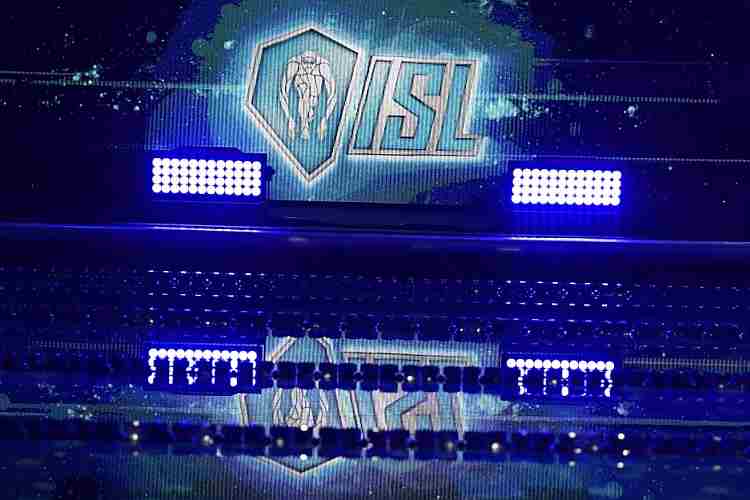 (★ THANK YOU to our 45 donors, who have covered 77% of our site costs for services for the first six months of 2022. If you enjoy this coverage, please donate here. ★)
(For our Highlights of the weekend's major competitions, click here. For coverage of the U.S.'s 5-1 win over Panama in CONCACAF World Cup qualifying, click here.)
● Plus: Russia: New U.S. sanctions include three Olympic champs who are Duma members = NCAA: Most NIL money goes to football & basketball, little to others; adidas announces massive NIL program for its 109 Div. I schools and more = Amsterdam 1928: "Fascist salute" statute removed from outside Olympic stadium = Badminton: Four Chinese players get suspended sentences for 2018 honest-effort violations = Cycling: Italian star Colbrelli recovering from "unstable cardiac arrhythmia" at Volta a Catalunya = Figure Skating: Russian Valieva re-appears, places second in all-Russian team event = Gymnastics: German gymnast Sarah Voss saluted for new, modest option to the leotard = Modern Pentathlon: PentUnited athletes group criticizes season-opening World Cup in Cairo = Swimming: Indianapolis reported to get 2024 U.S. Trials = Weightlifting: USA Weightlifting offers Atlanta venue for 2022 Worlds = AT THE BUZZER: Big memorabilia auction Saturday in Paris includes 13 Olympic torches! ●
News, views and noise from the non-stop, worldwide circus of Olympic sport:
≡ SPOTLIGHT ≡
"The war in Ukraine is a tragedy, having destroyed lives, families and homes. Many of our ISL colleagues remain trapped in Kyiv, and the conflict seems poised to continue for the foreseeable future.
"In light of this force majeure situation, we cannot, in good faith to our swimmers and our fans, commit to hosting any commercial matches in 2022. As such, we have made the difficult decision to postpone Season 4 to 2023.
"Importantly, the ISL is not going away. The League still has plans to expand our Junior League, to collaborate with the Master's swimming community, and to ensure continuity with our Clubs through non-match events."
Founded by Russian-born, Ukrainian billionaire Konstantin Grigorishin, the International Swimming League promised to revolutionize swimming with an expansive series of meets focused on soccer-style, region or nation-based clubs with an international mix of swimmers.
Now it's on hiatus. Sunday's announcement follows messaging from Grigorshin that access to funding from his usual banks has been strained (if not cut off) by the war.
The short-course league started in 2019, with eight teams and seven events from October to December, expanding to 10 teams with 13 events for 2020 and 17 matches in 2021, from August into December. A further schedule expansion from June through December was announced for 2022, but is now canceled.
More than 300 swimmers were contracted for the 10 teams, which paid salaries and performances bonuses, although some payments for prior seasons have not been made. The prize pool for the third season was reported at $13 million, and a message sent to ISL swimmers included:
"This decision has been made because we recognise that we cannot ask you to travel, train and compete on a promise alone. Rather, we must settle all of the ISL's outstanding payments to each of you before we can push forward to another Season."
This is a major development in elite swimming, which will create significant winners and losers, including in the courtroom, where the ISL and some of its swimmers have a continuing action against the international federation FINA in U.S. District Court.
≡ THE 5-RING CIRCUS ≡
● Russia ● The U.S. Treasury Department's Office of Foreign Assets Control announced last Thursday an expansive set of sanctions against Russian companies and 328 members of the Duma:
"OFAC is designating The State Duma of the Federal Assembly of the Russian Federation (the Duma) and 328 of its members for their complicity in [Russian President Vladimir] Putin's war. The Duma, which is the Russian Parliament's lower chamber, passed a resolution asking Putin to recognize [Donetsk People's Republic] and [Luhansk People's Republic] as independent states, though they are part of Ukraine."
This includes three Olympic champions: Sergey Chepikov, the 1994 Lillehammer winner of the 10 km Sprint in Biathlon; Vyacheslav Fetisov, a defenseman on the 1984 and 1988 Olympic ice hockey winners, and Irina Rodnina, a triple gold medalist in Pairs skating in 1972-76-80.
● NCAA ● Football, women's basketball and men's basketball are by far the most popular sports for athletes to get Name-Image-Likeness compensation according to a survey of clients of Opendorse, a highly popular NIL service provider.
Through the end of February, football players received 50.0% of all NIL compensation tracked by Opendorse, with women's basketballers at 18.5% and men's basketball players at 15.0%.
Then it drops way down to 2.4% for women's swimming & diving and volleyball, 1.8% for men's swimming & diving, 1.6% for softball, 1.4% for baseball and 1.0% for men's track & field and 0.9% for women's track & field.
In terms of the number of deals getting done:
1. 31.6% for Football
2. 8.8% for Baseball
3. 6.7% for men's Basketball
4. 5.6% for women's Volleyball
5. 5.4% for women's Track & Field
6. 4.9% for women's Soccer
7. 4.6% for men's Track & Field
8. 4.4% for Softball
9. 4.3% for women's Basketball
10. 2.6% for women's Swimming & Diving
Football completely skews the distribution of funding between men and women athletes: 71.7% of funds go to men in Division I, 66.7% in Division II and 69.8% in Division III. But we're not talking about all that much in most cases; average compensation per athlete was $561 per deal for Division I and just $57 for Division II and $35 for Division III.
What do athletes get paid for?
1. 33.9% for posting content to their social accounts
2. 18.3% for signing something
3. 13.8% for licensing rights
4. 11.4% for creating content
5. 3.3% for appearing somewhere
The category of "other activities" constituted 16.2%. Translation: this entire concept is in its infancy.
¶
The worldwide apparel brand adidas announced a remarkable Name-Image-Likeness program last week that it says will create a more "equitable future in sport." According to the announcement:
"With the ability to reach over 50,000 student-athletes across 23 sports and 109 Division 1 NCAA schools, the new NIL program will give eligible student-athletes of all genders the opportunity, directly with adidas, to become paid affiliate brand ambassadors. Launching in four phases over the next 12 months, the network will begin with Historically Black Colleges and Universities (HBCUs) and Power-5 conference partners in Fall 2022, scaling across all schools by April 2023."
Exactly what this means in dollars and sense was not detailed, but will be promoted by, among other things, "More is Possible" shirts provided the team members of adidas-affiliated schools.
● Games of the IX Olympiad: Amsterdam 1928 ● /Updated/A statue on the grounds of the Olympic Stadium which shows an athlete giving what appears to be a Fascist salute has been removed by the stadium authorities.
Known as the Van Tuyll monument, the figure was installed in 1928 – the same year as the Games were held in Amsterdam – and even though it pre-dates the rise of Nazi Germany by five years, it is known that the Fascist salute was originated in Italy in 1922 by Benito Mussolini's National Fascist Party.
The statue has been criticized for several years and was scheduled to be moved to a less obvious location, but the decision was challenged and is yet to be resolved in court.
(Thanks to reader Brian Russell for noting this is a statue and not a statute!)
● Badminton ● "The four players were found to have violated Article 3.1.2 of the 2017 BWF Code of Conduct in Relation to Betting, Wagering and Irregular Match Results for failing to use best efforts to win a match at the Fuzhou China Open 2018."
The Badminton World Federation issued three-month bans against four Chinese players: the now-retired Junhui Li, Jiting Li, Qiang Tan and Yuchen Liu, but suspended the sentences in favor of a two-year probationary period beginning 25 January 2022.
Junhui Li and Liu won the Tokyo Olympic silver medal in men's Doubles and were the 2018 World Champions. Jiting Li and Tan were the 2021 World Championships silver medalists.
● Cycling ● Italian star Sonny Colbrelli – the Paris-Roubaix winner in 2021 – who was second at the line in last Monday's opening stage at the just-completed Volta Ciclista a Catalunya, collapsed after the finish and had to be taken to a local hospital. His team, Bahrain Victorious, stated:
"Following the end of Stage 1 of Volta a Catalunya, our medical team can confirm that Sonny Colbrelli suffered from an unstable cardiac arrhythmia that required defibrillation.
"The cause is still to be determined, and the Italian rider will undergo further tests tomorrow at the Hospital Universitari de Girona."
Colbrelli quickly stabilized; he told La Gazzetta dello Sport, "I'm here in the hospital, resting, I don't remember anything. Only that I crossed the line, I stopped, I took the water and I collapsed. Then the emptiness, and I woke up in the hospital."
● Figure Skating ● Russian star – and 2022 European Champion – Kamila Valieva re-appeared in competitive skating at the all-Russian Channel One Cup in Saransk, a team event held parallel to the ISU World Championships in France, from 25-27 March.
The "Red Machine" team defeated the "Team of Firsts" by 145-141, with Russian stars Mikhail Kolyada (men/Red), Anastasia Mishina and Aleksander Galliamov (Pairs/Time) and Victoria Sinitsina and Nikita Katsalapov (Ice Dance/Red) winning their events.
In the women's event, Beijing gold medalist Anna Shcherbakova (Red) was the winner, scoring 259.02 to 257.51 for Valieva (Time) and 2015 World Champion Elizaveta Tuktamysheva (Time/247.86). Valieva, still just 15, won the Short Program – she was the leader at the Beijing Games after the Short Program – but Shcherbakova edged her in the Free Skate to earn the win.
● Gymnastics ● This is worth watching. The German Olympic Committee (DOSB) awarded its annual "Fair Play" prize to:
"Peter Fischer, President of Eintracht Frankfurt, who has been involved in socio-political matters for many years and has positioned himself very clearly against racism, and on gymnast Sarah Voss. At the European Championships in Basel, the gymnast made a strong statement against sexualization in sport with her performance in a body suit instead of the usual skimpy gymnastics outfit."
Prof. Dr. Gudrun Doll-Tepper, the jury representative of the DOSB and the German Olympic Association, explained:
"Unfortunately, we have to realize that the sexualization of women and girls is still a hot topic in sport. With the choice of her competition outfit, Sarah Voss gave this important topic a platform and showed all those affected a simple and effective way to defend themselves. In this way, it unfolds a radiance that goes beyond sport."
Observed: Simple, effective and not costly: the easiest path to compliance and expansion of an idea which needs to expand from gymnastics to all other sports. Brilliant and important.
● Modern Pentathlon ● While the first use of the Paris 2024 format for the sport – which still includes riding – was being used at the season-opening World Cup in Cairo (EGY), the athlete group PentUnited was busy on Twitter. A sample:
● "The @WorldPentathlon are not more important than athletes. Why are they allocated luxury treatment like VIP areas when none are given to the competing athletes. In fact, athletes were actively removed from this area as if they are an inconvenience. This is not ok."
● "Who is responsible for the sport being where it is? The buck stops at the top. This team lost our Olympic place …. Why would anyone trust them to get it back? "Enough is enough. We deserve better."
● "The problem is not riding. The problem is the UIPM. The UIPM has mismanaged riding, and they have mismanaged the entire sport for decades."
The athlete group has been pushing to retain riding in the sport, as designed by modern Olympics founder Baron Pierre de Coubertin (FRA), but the International Olympic Committee is waiting for the UIPM to present a new fifth discipline and will weigh whether to invite the sport back onto the Olympic program for 2028 in Los Angeles.
● Swimming ● The Indianapolis Star reported on Sunday that the 2024 U.S. Olympic Trials in swimming will be awarded to Indianapolis.
Reporter David Woods said a news conference will be held Tuesday, specifying the event to be held with temporary pools placed inside the Lucas Oil Stadium, the 67,000-seat home of the NFL Colts.
A custom configuration, including warm-up pools, would create a capacity of 30,000 or more, perhaps the largest-ever indoor swimming arena. The Trials were held before enthusiastic crowds in the CHI Health Center arena in Omaha, Nebraska in 2008-12-16-21, but the plan for the Indianapolis facility would allow for more than double the crowd (and the resultant revenue).
Omaha wanted the event back again, of course, and Minneapolis and St. Louis were also bidders.
● Weightlifting ● The ever-active USA Weightlifting is at the ready to help the floundering International Weightlifting Federation.
Already having offered Las Vegas as a possible site for the crucial IWF Electoral Congress in June, at which American Ursula Papandrea will be a candidate for President, USA Weightlifting chief executive Phil Andrews sent a letter to the IWF last Thursday, offering Atlanta as the site for the 2022 World Championships.
The letter notes that the U.S. has been a quality host of recent Worlds in Houston in 2015 and Anaheim in 2017, and that the Georgia International Conference Center, close by the city's massive Hartsfield International Airport, is offered as the venue.
The 2022 Worlds were returned to the IWF by China in view of continuing Covid outbreaks; USA Weightlifting envisions maintaining the early November dates for the event.
It's a good idea and once again provides new opportunities to raise the profile of a troubled sport when it needs it the most.
≡ AT THE BUZZER ≡
Another major auction of Olympic and sports memorabilia is coming from Paris-based Vermot & Associes, with 389 lots and 13 Olympic torches on offer.
More than half the lots deal with cycling, a great passion in France, but there are lots of Olympic-related items, from a set of matchboxes with pictograms from Mexico City '68 to a silver medal from the 1924 Paris Games to participant's medals from London 1908, Paris 1924, the 1956 equestrian competition in Stockholm, Winter 1960 in Squaw Valley, California, Rome 1960, Tokyo 1964 and the 1972 Winter Games in Sapporo.
The Olympic torch line-up is impressive (1 Euro = $1.10):
● 1936: Berlin, expected to bring €4,500-5,500
● 1948: London, expected at €5,500-6,500
● 1948: London, expected at €6,000-8,000
● 1960: Rome, expected at €6,000-7,500
● 1964: Tokyo, expected at €6,000-6,800
● 1972: Munich, expected at €3,000-4,000
● 1980: Moscow, expected at €2,500-3,500
● 1992: Barcelona, expected at €2,000-2,500
● 2004: Athens, expected at €2,500-3,000
● 2008: Beijing, expected at €3,000-4,000
● 2012: London, expected at €4,000-5,000
● 2014: Sochi Winter, expected at €1,800-2,300
● 2020: Tokyo, expected at €8,500-9,500
The headline item of the show is a "golden bowl" – Le Bol d'or – created for an 1894 cycling race of the same name as a promotion for a new magazine, Paris-Pedale. Created by the noted French sculptor Francois-Raoul Larche in bronze, it weighs 33 pounds and stands 15 inches high. It is expected to sell for between €18,000-20,000!
You can receive our exclusive TSX Report by e-mail by clicking here. You can also refer a friend by clicking here, and can donate here to keep this site going.
For our 832-event International Sports Calendar for 2022 and beyond, by date and by sport, click here!