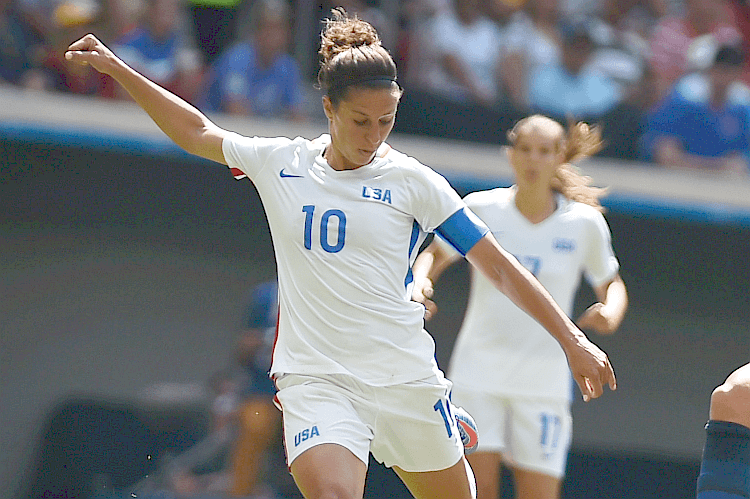 The Victory Tour is now 60% complete and the U.S. – the FIFA Women's World Cup champs – has won all three and outscored its opponents by a combined 10-0. The latest was a 3-0 win over an overmatched Portugal team on Tuesday evening.
The capacity crowd of 19,600 at Allianz Field in St. Paul was noisy from the start, but while the U.S. dominated possession, the shots did not come easily. In the 18th minute, U.S. striker Carli Lloyd missed a volley to the right side of goal off an Abby Dahlkemper pass that could easily have been the opening score.
In the 22nd minute, a terrible Portuguese clearance led to a Lloyd shot and a save by Ines Pereira, but the ball came loose in front of the goal and Pereira had to come out and save another shot from Jessica McDonald. The ball squirted to the side and with Pereira out in front after the second save, Lloyd buried it for a 1-0 lead, her 116th goal for the U.S.
As with the 4-0 loss in Philadelphia, Portugal could not keep possession even into the midfield and the game was essentially played with the U.S. on constant offense. Pereira, however, was impressive, notably in the 29th minute, where she made back-to-back saves vs. Sam Mewis and Tobin Heath.
Heath then ran into the box in the 30th minute and was tripped by defender Ana Borges, resulting in a (not very clear) penalty, which Lloyd converted with ease for a 2-0 advantage.
The half ended that way, with the U.S. controlling 63% of the possession and out-shooting Portugal, 14-1.
The U.S. continued pressing in the second half, even with multiple substitutions and Pereira was up to the challenge of a rocket from Christen Press from right in front of goal in the 52nd minute and a subsequent header from McDonald hit the crossbar.
Despite the pressure, the U.S. didn't add another goal until the 83rd minute. A Christen Press corner kick sailed right into the middle of the field and Lindsey Horan ran toward the box right in front of goal and headed the ball in, high and away from Pereira.
The final numbers showed a 62-38% possession edge for the U.S. and a 21-1 shots advantage. Pereira ended with seven saves and U.S. keeper Alyssa Naeher probably had to stifle a yawn at times.
With the victory, U.S. coach Jill Ellis equaled the records for coaching wins by the late Tony DiCicco with her 105th victory. DiCicco, the coach of the famed 1999 World Cup winners, had a U.S. national team record of 105-8-8 from 1995-99; Ellis has compiled a 105-7-18 mark from 2014-19, with two World Cup titles.
The Victory Tour has two more legs, on 3 and 6 October against South Korea.