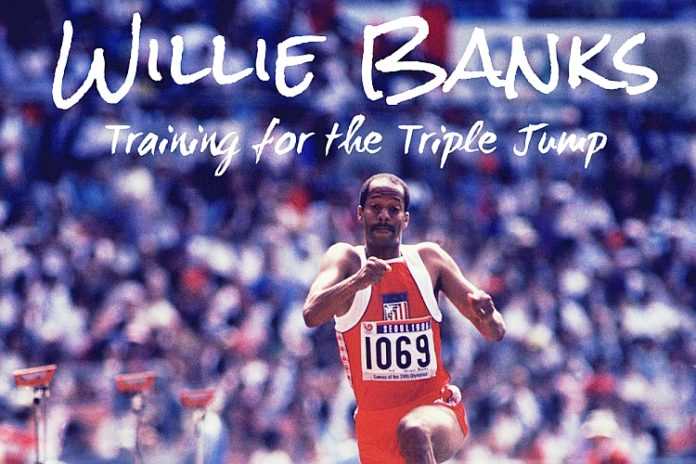 ≡ TSX DAILY ~ 9 September 2019 ≡
| 1. |  LANE ONE: Willie Banks recalled the start of rhythmic clapping in track & field
In advance of the AG Van Damme Memorial in Brussels, Belgium last Friday, the third meet Hall of Fame class was inducted, including British superstar (and current IAAF President) Sebastian Coe and American sprinter Gail Devers and triple jumper Willie Banks.
Banks, who held the TJ world record for 10 years, shared the famous story of how the tradition of rhythmic clapping for jumper started, way back in 1981.
In Stockholm (SWE) to compete in the DN Galan, he was livid that the triple jump was only going to be held once on the first-line European circuit meet and went to ask why. He was told by the head of the meet directors group – the pugnacious Andy Norman – that "you're not bringing anybody to these meets and you're not putting butts in the seats. No one is paying me [to see the triple jump] … so why in the hell am I going to have you in my meet?"
So he went out and tried to fire up the other jumpers to do something special, but to no avail. But when he got ready to jump, he was whistled at by some inebriated Swedish fans, who then mimicked his trademark three hand-claps before he started his run.
Banks jumped into the lead and as the rounds progressed, the drunks were clapping with him and so was increasing portions of the crowd. By his fourth jump, the whole place was clapping with him and he won with a meet record. He thought that was it.
A week later, he was in Lausanne (SUI) to long jump, and the crowd – perhaps mimicking what they saw in Stockholm on television – began clapping for him. Although the long jump was not his specialty, he was excited enough to reach a lifetime best of 8.11 m (26-7 1/4) and the tradition was born.
Banks is traveling everywhere these days, campaigning to be elected to the IAAF Council on 25 September, in advance of the IAAF World Championships in Doha (QAT). He wants to find new ways to bring more excitement back to the sport, and if anyone has that experience, it's him. No less than today's TJ stars said so; said American Will Claye, "We have to thank Willie Banks for everything."
| 2. | ATHLETICS: Lyles makes history at Diamond League Final, as does Simpson on Fifth Avenue
The IAAF Diamond League came to a close at the AG Van Damme Memorial in Brussels and the focus from the start was on American sprinter Noah Lyles.
Despite some stomach troubles that followed him right to the starting blocks of the 200 m, he managed a good turn and was slightly in front onto the straight. From there, no one could catch him as he won in 19.74, with season-best performances by Ramil Guliyev (TUR: 19.86) and Andre De Grasse (CAN: 19.87) in second and third.
Lyles became the first man to achieve the 100/200 m double in the 10-year history of the Diamond League, and at just age 22. There were lots of other highlights, as six of the 13 defending champions managed to win in 2019 as well:
● Men/400 m: Americans Michael Norman and Fred Kerley battled once again; this time, Norman was a little stronger down the straight and won in 44.26-44.46.
● Men/1500 m: Kenya's Tim Cheruiyot left no doubt that he is the best in the world, defending his 2018 title with a convincing 3:30.22 win, with the Jakob Ingebrigtsen  (3:31.62) and Filip Ingebrigtsen (3:33.33) sprinting to the line for second and third.
● Men/Triple Jump: Taylor and Claye put on a show, with Taylor unloading a tremendous – even if wind-aided – 17.85 m (58-6 3/4) mark in the second round. Claye managed to get out to 17.22 m (56-6), but had to settle for second. For Taylor, it was his seventh Diamond League title, equaling the record of French vault star Renaud Lavillenie.
● Men/Shot Put: New Zealand's Tom Walsh was superb in this event, held in downtown Brussels on Thursday. His 22.30 m (73-2) performance bested Brazil's Darlan Romani (22.15 m/72-8) and American Ryan Crouser (22.08 m/72-5 1/4).
● Women/100 m: Britain's Dina Asher-Smith hadn't had much luck against Jamaica's double Olympic champ Shelly-Ann Fraser-Pryce … until they met in Brussels. Asher-Smith's top-end speed was outstanding and she maintained a small lead to the finish, winning in 10.88 to 10.95.
● Women/800 m: American Ajee Wilson looked very much the part of the World Champs favorite, taking control on the final back straight and winning impressively in 2:00.24, with fellow American Raevyn Rogers flying over the last 60 m to grab second in 2:00.67.
● Women/5,000 m: Dutch star Sifan Hassan desperately wanted to beat this field, which included reigning World Champion Hellen Obiri (KEN), and she did, storming ahead on the final lap to win by more than four seconds in 14:26.26.
● Women/100 m hurdles: No doubt about it, the favorite for the World Championships in Jamaica's Danielle Williams. She outclassed this field in 12.46 and no one was close; American Keni Harrison ran 12.73 for second.
All of the favorites in the women's field events came through, including Mariya Lasitskene (RUS: 1.99 m/6-6 1/4) in the high jump; Greece's Katerina Stefanidi in the vault (4.83 m (15-10), German Malaika Mihambo in the long jump (7.03 m/23-0 3/4) and Cuba's Jaime Perez in the discus (68.27 m/223-11).
Prize money for the final was $50,000-20,000-10,000-6,000-5,000-4,000-3,000-2,000 for the top eight placers. More here.
The 39th edition of the Fifth Avenue Mile in New York was the closest ever, with both the men's and women's races decided right at the finish line:
● The women's mile came first and favorite Jenny Simpson stayed at the front and continued to push the pace, finally losing everyone except fellow American Elinor Purrier. In the final quarter, Simpson would push and Purrier would stay close, then Purrier took a small lead, but Simpson came back. In the final 35 m, Simpson sprinted hard to the tape and just managed to cross the line first in a race record 4:16.1.
Purrier finished second in 4:16.2, with Rebecca Mehra third in 4:22.0 and Nikki Hiltz fourth (4:25.4). Simpson won her eighth Fifth Avenue Mile and an amazing seventh in a row.
● New Zealand's Nick Willis was the big name in the men's race, but it looked like Britain's Chris O'Hare was going to win as he strode out to a big lead in the third quarter. Sam Prakel of the U.S. closed the gap, but Willis suddenly appeared in the final 50 m and passed Prakel and came side-by-side with O'Hare. Willis's lean at the tape was the difference as both were timed in 3:51.7. Prakel was third in 3:51.8 and Morgan McDonald (AUS) was fourth (3:52.8). For Willis, it was his fourth Fifth Avenue Mile title after wins in 2008-13-15-17.
While she waits for the final decision of the Swiss Federal Tribunal on her appeal of the IAAF female eligibility regulations, South Africa's Caster Semenya signed a deal to play football for the JVW team in her home country, to begin play in 2020.
She's not done with track, however. She tweeted that "Being a footballer doesn't mean I'm no longer a track and field athlete. Just making things clear."
The much-anticipated USA vs. Europe match in Minsk (BLR) takes place on Monday and Tuesday, but the U.S. team has had multiple withdrawals. Still, this should be entertaining, with sprinter Mike Rodgers, hurdler Jarret Eaton and shot putter Darrell Hill leading the U.S. men and Allyson Felix, hurdler Nia Ali, long jumper Brittney Reese and shot star Michelle Carter among the U.S. women.
This is a really good idea, but undercut in part due to the looming World Championships still to come in Doha. NBCSN has coverage from Minsk beginning at noon Eastern time on Monday. Look for results here.
The 2020 U.S. Olympic Track & Field Trials time schedule was released and single-day tickets are being placed on sale for the meet in Eugene, Oregon. The program begins on Friday, 19 June, has one rest day on Tuesday (22nd) and then continues through Sunday (28th).
---
| 3. | BASKETBALL: Favored Serbia stunned by Spain; U.S. plays Brazil on Monday
Based on the first round of play, Serbia was the dominant team in the FIBA men's World Cup being played in China. But they still had to play Spain.
A swarming Spanish defense held the Serbs to just 40% shooting from the field, and Ricky Rubio scored 19 points as Spain won, 81-69, to clinch its second-round group title and move on to the quarterfinals. Bogdan Bogdanovic had 26 for Serbia, but Denver Nuggets star center Nikola Jokic argued a call in the third quarter and was ejected, leading to a Spanish 12-3 run that sealed the game.
That result will have Spain playing Poland in the quarterfinals, while Serbia will face Argentina. More on the game and the future match-ups here.
The U.S. also used its defense to hold Greek superstar Giannis Antetokounmpo and his teammates to just 53 points in a 69-53 win in its fourth game of the tournament. Antetokounmpo had 15 points and 13 rebounds, but the U.S. took control of the game with a 19-8 second quarter and was never headed. Kemba Walker led the U.S. with 15 points.
The Americans will play Brazil on Monday and need to win to assure their place in the quarterfinals, as Greece and the surprising Czech Republic will play for a quarterfinal spot as well. More here.
| 4. | CYCLING: Roglic has a hold on La Vuelta; Courtney wins Mountain Bike Cross Country title
It's a busy time in cycling and the main event is the final Grand Tour of the year, the 74th La Vuelta a Espana. After a wild series of stages in which the lead changed hands for six straight days, Slovenia's Primoz Roglic took command – as expected during the Individual Time Trial in stage 10. But when the climbing came in the mountains of north Spain in stages 13 and 15, Roglic was ready and extended his lead over all of his competitors. With six stages left (out of 21):
1. 58:10:32 ~ Primoz Roglic (SLO)
2. +2:25 ~ Alejandro Valverde (ESP)
3. +3:42 ~ Tadej Pogacar (SLO)
4. +3:59 ~ Miguel Angel Lopez (COL)
5. +5:09 ~ Nairo Quintana (COL)
This isn't over, and there are three more pain-inducing climbing stages, but Roglic – who was the favorite in the Giro d'Italia, but had to abandon the race – is in an enviable position. More here.
Christine Majerus of Luxembourg won the critical fourth stage of the Boels Ladies Tour and that allowed her to claim the overall title at the race, her first Women's World Tour multi-stage-race victory.
With a sixth-place finish, Dutch star Annemiek van Vleuten retook the season lead from fellow Dutch rider Marianne Vos, with just two races left in the season.
The final stage of the UCI Mountain Bike World Cup was held in Snowshoe, West Virginia, with American Kate Courtney (pictured) trying to chase down seasonal points leader Jolanda Neff (SUI).
Courtney had looked unbeatable early in the season, but Neff had come on strong to be in position to take the 2019 title. But Courtney was strong during the Short race on Friday, placing third to 16th for Neff and then fifth in the Cross Country Olympic race while Neff was 11th. That was enough to give Courtney her first World Cup crown by a tight 1,772 to 1,742 over Neff.
Swiss star Nino Schurter had no trouble winning his ninth World Cup title and sixth in a row. He won the Short Race and was second in the XCO race to finish with 1,995 points to 1,649 for runner-up Mathieu van der Poel (NED).
| 5. | FOOTBALL: Mexico trashes U.S. men, 3-0, in East Rutherford friendly
In the 70th meeting between the United States and Mexico, it was like old times for the visitors, as Mexico broke down the American defense for a 3-0 win in front of 47,960 at MetLife Stadium.
Jesus Corona went right by two U.S. defenders in the 21st minute and his cross was headed in by Javier "Chicharito" Hernandez for the only goal of the first half. The second goal came off a sloppy U.S. clearance in front of goal and Erick Gutierrez scored in the 78th minute to essentially ice the game.
Mexico counter-attacked in the 82nd minute and Uriel Antunes sent a shot into the left corner of the goal for the final score. The U.S. had a penalty in the 88th minute, but Josh Sargent failed to convert. More here.
The American squad will try to do better on Tuesday vs. Uruguay in St. Louis.
CONCACAF adopted new rules for men's World Cup qualifying for 2022, sending the top six teams from the confederation in the FIFA World Rankings directly into the final round of its qualifying program.
This means that Mexico, the U.S. and Costa Rica are heavy favorites to qualify directly for the "Hex" as the final tournament is known, with the top three to advance to the World Cup. The teams ranked from 7-35 will play a separate tournament to nominate one team to play against the fourth-place team in the Hex for a spot in the FIFA intercontinental playoff.
| 6. | GYMNASTICS: U.S. men's World Championships team named
USA Gymnastics named its men's World Championships team, following its two-day Selection Camp in Colorado Springs, Colorado. National Champion Sam Mikulak heads the squad, which will also include Yul Moldauer, Akash Modi, Trevor Howard and Shane Wiskus, with Allan Bower as alternate. The World Championships will be in Stuttgart (GER) from 4-13 October.
In the Rhythmic World Challenge Cup in Portimao (POR), Russia's Aleksandra Soldatova won the All-Around, but Italy's Milena Baldassarri and Alexandra Agiurgiuculese won all of the individual Apparatus events. American Camilla Feeley won her first World Challenge Cup medal with a bronze in Ribbon. More here.
| 7. | ARCHERY: Ellison does it again, sweeps World Cup Final to complete career year
The favorite for the Olympic gold medal in men's archery is American Brady Ellison (pictured).
At the World Cup Final in Moscow (RUS), he dispatched Italy's surprise finalist, Mauro Nespoli, by 6-2 and finished the year as World Champion and World Cup Final champion (for the fifth time, a record) and won three U.S. titles.
Korea's Chae-Young Kang won the World Cup Final in the women's Recurve division, extending the country's streak of wins in the event to five in a row. She beat Chinese Taipei's Ya-Ting Tan, 7-1 in the final. More here.
| 8. | BEACH VOLLEYBALL: Russians confirm World Championship status; Laura Ludwig back on top
The FIVB World Tour Final in Rome (ITA) was a fascinating reflection of the men's season in which all of the attention went to Norway's Anders Mol and Christian Sorum, but Russians Viacheslav Krasilnikov and Oleg Stoyanovskiy won the Worlds in Hamburg (GER).
In Rome, the two teams faced off in the semifinals and it was the Russians winning and then taking the final in a World Champs re-match over Germany's Julius Thole and Clemens Wickler. No one can say the Russians aren't prime medal contenders for Tokyo now.
German fans didn't leave too disappointed, however, as 2016 Rio gold medalist Laura Ludwig (pictured) came back from maternity with renewed drive and a new partner and she and Margareta Kozuch won the World Cup Final over Brazil's Agatha Bednarczuk and Duda Lisboa. It's the third World Cup Final title for Ludwig. More here.
| 9. | CANOE-KAYAK: Double the pleasure for Jessica Fox and two Czechs win title in Prague
The ICF Slalom World Cup Final was a good one for the home fans in Prague (CZE), as home favorites Matej Benus (C-1) and Jiri Prskavec (K-1) won both the races and the seasonal titles. It's the third career title for Benus and Prskavec – who hadn't won a race on the World Cup circuit in three years – defended his seasonal title from 2018.
The women's races belonged, as usual, to Australian star Jessica Fox. She won both the C-1 and K-1 races and the seasonal titles for the second straight year and she now has seven World Cup titles in all, the most ever for an individual paddler.
American teen Evy Leibfarth had a rough time in Prague, but made the C-1 final and finished sixth in the seasonal standings in her first year on the circuit. More here.
| 10. | MODERN PENTATHLON: Stunning win for Belarus's Silkina, but Belaud wins second title for France
It's almost inconceivable that someone who has not been a high placer in even a World Cup could come out and dominate the World Championships. But that is exactly what Volha Silkina did for Belarus, piling up a big lead in the fencing and riding sections and then cruising home during the Laser Run. It's the second straight year that Belarus has won the women's title; last year's winner, Anastasia Prokopenko, was fourth.
The men's title went to a familiar competitor, France's Valentin Belaud (pictured), the 2016 World Champion. He was solid in fencing and perfect in riding and carried a tight, two-second lead into the Laser Run over Joseph Choong  (GBR). But Prades was much better and won easily and Choong hung onto the silver.
Belaud won a second medal, teaming with Elodie Clouvel for silver in the Mixed Relay, won by Egypt. More here.