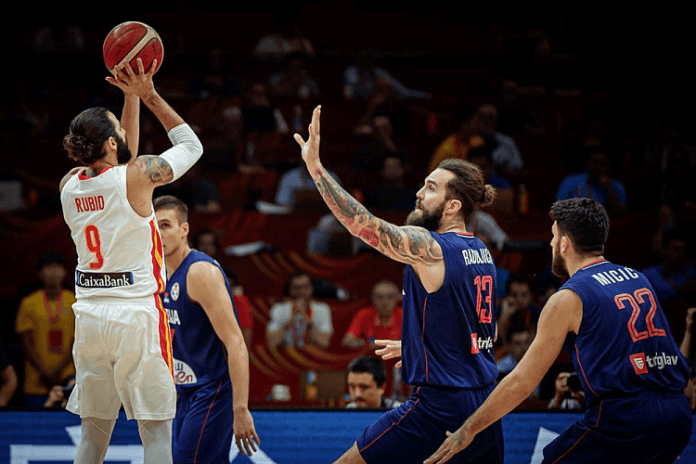 With the struggles of the U.S. team against Turkey in group play, it looked like Serbia was the team to beat in the FIBA World Cup in China. And then they got beat.
The Serbs cruised through their three group games and their first second-round match vs. Puerto Rico, 90-47 and was winning by an average score of 103-63. But against Spain, the Serb offense was no match for the Spanish defense.
Actually, Serbia came out strong in the first quarter and had a 20-13 lead. But Spain clamped down in the second quarter, taking the lead on a 13-2 run and leading 45-37 at halftime.
The third quarter was pivotal. Star Serb center Nikola Jokic (Denver Nuggets) was ejected midway through the quarter after arguing a call and Spain went on a 12-3 run to stretch its lead to 18.
Serbia got within eight points in the fourth, but the Spanish had good answers and won the game by 81-69. Ricky Rubio had 19 points for the winners, Victor Claver had 14 (and seven rebounds) and Marc Gasol had 11 and six rebounds.
Serbia shot 40% from the field and had just 52 shot attempts, but guard Bogdan Bogdanovic had 26 points on 9-14 shooting and 6-6 from the foul line. But no one else had more than eight points and the Serbs suffered their first defeat.
That game changed the complexion of the tournament and made the U.S. path harder. With Argentina defeating Poland in the other key game, the quarterfinals are coming into focus:
● 10 September: Argentina vs. Serbia
● 11 September: United States/Czech Rep./Greece vs. France/Australia loser
● 10 September: Spain vs. Poland
● 11 September: France/Australia winner vs. U.S./Czech Rep./Greece
The U.S. (4-0) plays Brazil on Monday, while the Czechs play Greece. If the U.S. wins, it's into the quarters as the winner of Group K and plays the loser of France vs. Australia. If the U.S. loses, it could get complicated, depending on who wins between the Czech Republic and Greece and by how much. It is possible that the U.S. could be eliminated with a loss (more here).
The situation in Group L is simple: the winner of France vs. Australia (both 4-0) moves on play in the lower bracket. So it's possible that the U.S. could win on Monday against Brazil and then play Australia in the quarterfinals and with a win, could get Serbia in the semifinals.
No one said this would be easy. You can see the bracket here.