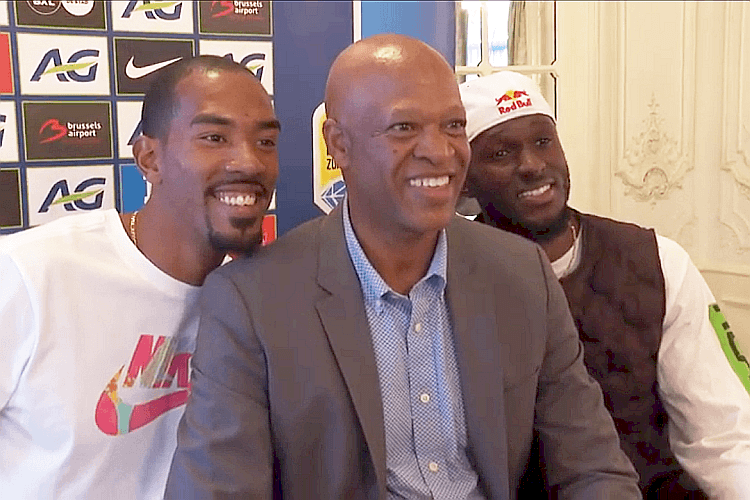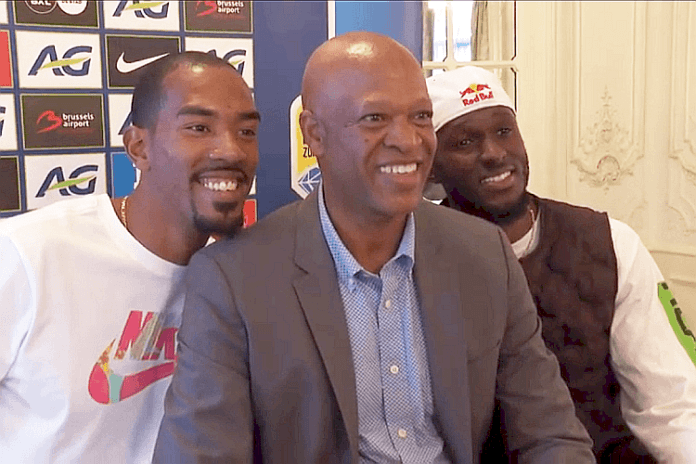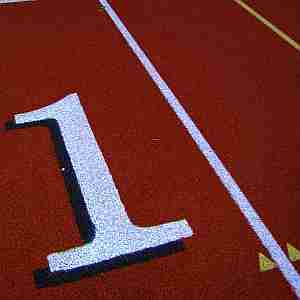 That was the headline on a feature story from the pre-meet news conference before last Friday's AG Van Damme Memorial in Brussels, Belgium, the second of the two IAAF Diamond League finals.
The session with reporters included Banks — one of three stars inducted into the meet's Hall of Fame, along with IAAF President Sebastian Coe (GBR) and sprint and hurdles star Gail Devers of the U.S. — and current triple jump stars Christian Taylor and Will Claye of the U.S.
Said Claye, the world leader in 2019 at 18.14 m (59-6 1/4), "We have you to thank for our careers. You paved the way for us, also as the inventor of rhythmic clapping."
Banks has told the story before, but he enthralled Taylor and Claye – as well as the reporters – with what he called an "abridged" version of the origin of the rhythmic clapping for long jumpers and triple jumpers that is so common today.
"So in Stockholm in 1981, I went to compete in the DN Galan, and at that time, I was expecting to have a lot of competitions throughout Europe, because I had just set an American Record and I jumped 17.58, I think it was [actually 17.56 m/57-7 1/2]. …
"So I went to the DN Galan and I had that one competition and my manager said, 'Well, you've only got one competition because they are not having any more triple jumps.'"
Banks was furious and went to a meeting of the European meet organizers and asked the head of the group, a brusque British meet director named Andy Norman, "I understand you've got six meets and you're not having the triple jump? What's going on here?"
What came next was important.
"And he said – and this just changed my life – he said, 'Listen here young man, you're not bringing anybody to these meets and you're not putting butts in the seats. No one is paying me [to see the triple jump] … so why in the hell am I going to have you in my meet? Get the hell out of here.' And I said [to myself], 'Whoa. I thought this was fun'"
No, track & field – at the professional level – is a business. Willie had learned a valuable lesson, but he also had to compete that evening in Stockholm. Just before the triple jump started, he told the other jumpers to make the event special. Well, it didn't start that way.
"The first eight guys foul. I thought I was going to die, it was so boring. So, then — foul, foul, foul – it was my turn. I took my sweats off, and there was five guys who must have been drinking too much, because they whistled at me. …
"And I waved to them. When I start, I usually start by clapping three times, shaking my fist and go. And so I clapped my hands three times, and these five drunk guys, they did the same thing. And I said to myself – 'what the?' – looked down and like, really? But I composed myself, clapped three times – they clapped three times – I ran, jumped, about 16.88 [55-4 3/4].
"And I was leading, but everybody else sucked at the time. So I came back, those guys were, like, excited, everybody fouled and it was my turn. These guys started clapping.
"They started clapping, and I said, 'thank you,' ran down and [jumped] 17 meters [55-9 1/4]. Came back; these guys were excited. Then this whole section started clapping for me next time.
"And then the whole half of the stadium started clapping for me. And it just grew. And on the … fourth jump, I put flags out near the world record and what-not. And then the whole stadium started to clap. And it was actually the fifth jump that I got ready to go, I ran down with all this clapping going on, and I jumped right near the world record.
"And I jumped up like I set the world record, and it was the greatest thing and everybody was cheering. Now I knew I had fouled – big time, I knew it, you could see it from Mars: the plasticine was everywhere – but I didn't care, I was going to take it.
"So the guy is shaking like this, raised the red flag, and I'm like 'no way!' I got down on my hands and knees, looking, of course I look up – 'you got me' – jumped up, waved, ran down. And I thought, 'you know what, distance runners always get to do a victory lap, right?' Jumpers don't get a victory lap. I'm like, 'Ha, this jumper is going to have a victory lap.'
"So before my sixth jump, I decided I was going to take a victory lap; I don't know why. I out my headphones on, I started jogging around the track, and every section I came to, they would clap, and then they sit down. It was like a wave, all the way around the track. And at the end, it was my turn. And I took my sweats off, and everybody in the stands stood up.
"And I stood at the top of the runway, and I just went [clap] and everybody just went boom! [clap] Boom! And I was like, standing on my toenails, just so excited! I ran down, took a hop, a skip and a jump and I jumped 17.57 [actually 17.55 m/57-7], right, which was [better than] the Swedish record … and the European record at the time, and I stood up and people came out of the stands, they're taking me around, they gave me the microphone – can you imagine? – … I'm talking crazy, and after that, everything kind of settled down.
"And I walked over to [Van Damme meet director] Wilfried [Meert] and all the other guys, and I was like 'So what do you think about the triple jump now?' And then we had a few more triple jumps in Europe. It was awesome.
"And I thought that was it, right? But right after that competition, I went down to Lausanne to do a long jump, because originally there wasn't going to be a triple jump … and I'm a horrible long jumper. Horrible. But, I did it. And I was jumping about – oh, I don't know – about 7 meters 60 [24-11 1/4], you know, just barely making it.
"And on my third jump, someone in the crowd said, 'Well, come on Willie,' and I turned and I was like 'what the heck?' And all of a sudden, the crowd goes boom! [clap] boom! And I'm like 'aahhh!'… zoom. I just ran as fast as I could, I jumped 8.11 [26-7 1/4], personal best, broke the Swiss record and, you know, from that meet on, everywhere I went – and I don't know where they got this from, must have been on TV – everywhere I went, this clapping followed me."
That's how it started, 38 years ago. Said Banks, now 63, a little later, "My jumps didn't make me famous, but my personality did. That didn't bother me, quite the opposite. The discipline is more than a triple jump. It's also the show around it. I lost a lot of competitions, but nobody remembers that."
Banks went on to set the world record in 1985 at 17.97 m (58-11 1/2), a mark which lasted for 10 years and still ranks no. 7 on the all-time list.
He's been a contributor to the sport and the Olympic Movement since then, serving with distinction with the Olympic Organizing Committee for the 1996 Games in Atlanta, as well as on the board of USA Track & Field.
Banks has been very visible in the last few months, including as a medal presenter at the recent Pan American Games in Lima, Peru. He's campaigning for a spot on the IAAF Council, with the elections coming up on 25-26 September in Doha, Qatar just prior to the World Championships.
Wherever he has gone, his infectious enthusiasm has made things better and he wants to bring the same inspiring presence to the IAAF, which needs it badly. He's part of a crowded field, with 44 candidates vying for 18 total positions. But for a sport which is desperate for more attention, he is someone who naturally attracts it, even from the inebriated!
Rich Perelman
Editor
If you enjoyed this commentary, sign up to receive the TSX Daily by e-mail, five days a week by clicking here. You can also refer a friend by clicking here.