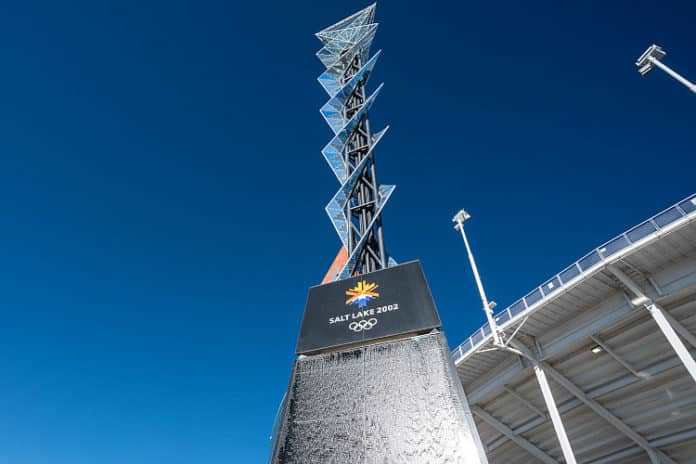 ★ The Sports Examiner: Chronicling the key competitive, economic and political forces shaping elite sport and the Olympic Movement.★
★ Wonderful! Thanks to 16 donors, we're up to 45% of our summer fund-raising goal. Please help if you can. Your support is vital. ★
★ To get The Sports Examiner by e-mail: sign up here! ★
★ Sponsored post: Fabulous Olympic memorabilia auction, with18 of 20 Olympic torches, golds from 12 Games and 900+ unused 1932 Olympic tickets now open! Click here! ★
≡ THE 5-RING CIRCUS ≡
1. USOPC hoping for "targeted dialogue" for Salt Lake this year
2. Russian NOC chief says "high time" for IOC to change
3. Italy leads Euro Games medal count at the half
4. Special Olympics World Games concludes in Berlin
5. African NOCs to sign cooperation agreement with China
The U.S. Olympic & Paralympic Committee is hopeful of having Salt Lake City essentially chosen to be the host of an Olympic Winter Games later this year, according to Board Chair Gene Sykes. The head of the Russian Olympic Committee said that it's "high time" for the International Olympic Committee to rescind its sanctions on Russian athletes and called the current recommendations "humiliating" and "unacceptable." For Wimbledon, Russian and Belarusian athletes will not be allowed to compete if they are state-sponsored. At the European Games in Poland, Italy leads the medal table at the halfway mark, with strong marks in the now-completed track & field events. The Special Olympics World Games have concluded in Berlin, with more than 100,000 tickets purchased to the events, and 18,000 volunteers involved in support operations. The Chinese Olympic Committee presented a support program to the Association of National Olympic Committees of Africa, in a proposal that will bring China closer to the 54-member body. Is this the sports equivalent of China's "Belt and Road" initiative, in which almost all African nations are already involved?
● Spotlight: From a coal town to an Olympic medal, an Olympic organizing committee and making Gatorade the world's no. 1 sports drink, all in Bill Schmidt's new book ●
● Panorama: Tokyo 2020 (Tokyo Metropolitan Government installs new regulations for major events after Tokyo scandals) = Paris 2024 (2: No alcoholic beverages in Olympic venues; poll shows French enthusiasm for the Games is down) = Fair Play (Olympic Fair Play Awards to skateboarders and U.S.'s Bowe) = Ukraine (NOC head Guttsait asked not to boycott Paris) = Basketball (French star Wenbanyama will skip FIBA World Cup) = Cycling (new tartan for UCI Worlds in Scotland!) = Football (rumors on a 2030 World Cup deal for both remaining bids?) = Swimming (USA Swimming Nationals start in Indy) = Water Polo (Krikorian says U.S. Women's World Cup win a tale of two halves) ●
1.
USOPC hoping for "targeted dialogue" for Salt Lake this year
Salt Lake City hasn't won anything yet in its effort to bring the Olympic Winter Games back to Utah, but the future looks pretty bright according to the new Chair of the U.S. Olympic & Paralympic Committee
Following the USOPC's second-quarter Board meeting, Gene Sykes told reporters on a Monday teleconference that he hopes the turning point will come soon:
"Next steps in this process include a shift from 'continuous' to 'targeted' dialogue, with the IOC, and it is our hope that will happen in the fourth quarter of this year, likely around the IOC Session in Mumbai, which is in October.
"Salt Lake City stands ready to welcome the world again in 2030 or 2034, whichever year best serves the Olympic and Paralympic Movements. The USOPC stands ready to support them in that effort. …
"We're not sure if we'll find out in October or December. We're in constant touch with the IOC to try to gauge how they are bringing their members along, and how the Executive Board is being briefed by the Future Host Commission, which is where this really sits. …
"But they are making progress and the direction we are getting from the IOC and the Future Host Commission are very encouraging. So, we're trying to make sure we share with you is our sense of enthusiasm and confidence that Salt Lake City is on the right track."
Sykes was asked about any discussions with the IOC about its questions to its Future Hosts Commission on a possible Winter Games "rotation" of hosts that would be able to offer a genuine winter experience – i.e., actual snow – in the future:
"It's still early days in this concept of a winter rotation , but the IOC and the Future Host Commission have raised the idea, so there is some discussion about this.
"I don't think we can speculate in terms of where it would go. We support the idea of investing in communities that can be Olympic hosts."
Sykes was also asked about the USOPC's position on the IOC's efforts to have individual Russian and Belarusian athletes re-enter international competitions as neutrals:
"I think I said that our position really hasn't changed. What we said is that we believe there are a lot of challenges to making sure that we respect the Olympic values and support the athletes at the same time, and therefore we've been quite measured and willing to give the IOC the opportunity to explore the possibility of understanding how Russian and Belarusian athletes or "neutral" – truly neutral [athletes] – could compete in international competition, and that has been our approach so far, to make sure we're watching carefully, and constructively engaging with the IOC to share our views."
He also pointed out that the IOC has repeatedly said that it has not made a decision on Russian or Belarusian athletes competing in Paris.
USOPC chief executive Sarah Hirshland noted that the 2023 Pan American Games are coming up quickly in Santiago (CHI), and that the USOPC would have "around 700 total athletes representing 53 sports: 35 Olympic and 18 Paralympic" at the Games. The 2023 PanAm will have dozens of events in which Olympic qualifying places will be on the line for Paris.
2.
Russian NOC chief says "high time" for IOC to change
"The humiliating conditions set in the IOC recommendations of March 28, I think, will be unacceptable for a larger part of our sports community. We still have time before the Olympics and it is high time our colleagues in Lausanne think of how to correct this situation."
That's Russian Olympic Committee President Stanislav Pozdnyakov, speaking to the Russian news agency TASS on Sunday and reiterating his insistence that the IOC's currently-promoted recommendations for returning individual Russian and Belarusian athletes to international competitions will not be accepted by Russian athletes.
He also noted the IOC's position that its recommendations have nothing to do with the eventual decision on whether to allow Russian or Belarusian athletes to compete in Paris in 2024:
"As soon as the International Olympic Committee words its position on the participation of Russian and Belarusian athletes, we will return to this matter.
"As of today, no one has invited us there, so, I think it is too early to discuss this in detail."
Asked about the most significant achievement of the Russian Olympic community over the past year, he explained:
"Today is not the easiest time for the Russian Olympic movement, but the way we rejoice at our victories, how we empathize with each other when we fail, how we keep a cheerful spirit when we are unfairly banned from sports competitions, shows that the big Olympic family is in place, and this is the most important achievement of the last year.
"I am sure that we will win the Olympics many, many more times, and reason will prevail in the minds of those people who try to ban the impossible, to prohibit a person to develop physically and mentally, that's why we are all here."
¶
Russian and Belarusian players competing at Wimbledon will not only have to be "neutral" according to the Grand Slam guidelines, but new regulations will bar those funded by the state or sanctioned companies. The BBC reported that players from these two countries:
"They cannot 'wear or be seen with any item containing an image, symbol, flag, insignia or emblem' which might indicate support for the war or the Russian and Belarusian regimes.
"Players may also not be in receipt of funding from either state, or from companies operated or controlled by sanctioned individuals."
The ban on state-funded athletes from Russia or Belarus is very much the current view of the British government, and the story noted that it was the government that is behind the tightening of the regulations
3.
Italy leads Euro Games medal count at the half
The third European Games, being held in Krakow and Malopolska (POL), has reached the halfway point, with 129 of 254 events now contested and Italy firmly on top of the medal count. Through six of 13 days of competitions, Italians have 58 medals (18-17-23) to 40 for Spain (18-11-11), 33 for France (6-11-16) and 31 for Germany (10-10-11).
The largest single sport in the Games – athletics – has concluded, with all three divisions of the European Team Championships integrated into the European Games, which may become a permanent feature.
There were some noteworthy marks, starting with Havard Ingvaldsen's win for Norway in the men's 400 m in 44.88, and Spanish star Mohamed Katir's 3:36.95 victory in the 1,500 m. Swiss revelation Jason Joseph won the 110 m hurdles in 13.12 and Italy's Alessandro Sibilio won the 400 m hurdles in 48.14.
Co-Olympic high jump winner Gianmarco Tamberi took the high jump at 2.29 m (7-6) on fewer misses from Thomas Carmoy (BEL), and Greek Olympic long jump champ Miltiadis Tentoglou won with a seasonal best of 8.34 m (27-4 1/2), now equal-5th on the 2023 world list.
Olympic champs Daniel Stahl (SWE) and Wojciech Nowicki (POL) won the discus and hammer, respectively, at 67.25 m (220-7) and 79.61 m (261-2), while 2022 European champ Julian Weber (GER) won the javelin (86.26 m/283-0).
Dutch star (and 2022 European Champion) Femke Bol won the women's 400 m in a seasonal best of 49.82, moving to no. 7 on the 2023 world list. Portugal's Auriol Dongmo, the 2022 World Indoor gold medalist, won the shot at 19.07 m (62-6 3/4) and Kristen Prudenz (GER) moved to no. 4 on the world list with her discus win at 66.84 m (219-3).
One of the "highlights" of the event was Belgium's predicament in the women's 100 m hurdles, where its entries were both injured and the team could be disqualified if it didn't run somebody. So national shot put champion Jolien Boumkwo lined up and carefully negotiated each hurdle (video), competing the race in 32.81, well behind winner Teresa Errandonea (ESP: 13.22). And Belgium was not disqualified.
4.
Special Olympics World Games concludes in Berlin
Another memorable Special Olympics World Games finished in Berlin on Sunday, with the 6,500 athletes among the 21,000 who attended the closing ceremony at the iconic Brandenburg Gate in the city center.
The organizers reported some striking statistics from the nine-day program:
● 100,000 tickets sold for competition sessions
● 4,002 medals for places 1-3 and 6,670 awards (4-8) given
● 9,000 athlete family members attended
● 3,000 trainers and supervisors and 1,100 sports officials
● 18,000 volunteers from 126 countries assisted
Perhaps most important is the little-known, but crucial Healthy Athletes screening program, which offers free medical inspections and care to athletes and team members who often have little access to quality medical facilities at home. More than 15,000 screenings took place.
The World Games is held every two years; the 17th edition is scheduled for Perth (AUS) in 2025 and then in Hangzhou (CHN) in 2027.
5.
African NOCs to sign cooperation agreement with China
Observers familiar with China's "Belt and Road" global infrastructure project, which has 147 or more countries involved in construction and economic projects backed by loans from Chinese financial institutions, will see a parallel with Sunday's announcement of a presentation to the Association of National Olympic Committees of Africa (ANOCA) by Zhidan Gao, head of the Chinese Olympic Committee. According to the post-meeting statement:
"Mr [GAO] highlighted Africa's role in the influence of the international Olympic and sports movement, underlining its rich pool of high-performance athletes and its capacity to host the biggest international events, including the Dakar 2026 Youth Olympic Games (YOG). 'This opens up the possibility of becoming the centre of the international Olympic Movement,' he said.
"The President of the Chinese Olympic Committee also pointed out that the President of the People's Republic of China attaches great importance to relations with Africa in all areas, and that 'it is only logical that I, as President of the Olympic Committee and Minister of Sport in China, should be involved in this process,' noting that there is great potential for cooperation in disciplines such as athletics, swimming and football, which are high-performance areas in Africa, and gymnastics and table tennis, which are the most successful sports in China."
The future cooperation areas, to be fixed in an agreement to be executed in September in China, will include:
"1. Preparing athletes for upcoming international events, in particular the Olympic Games,
"2. Training coaches and managers to improve governance within African National Olympic Committees.
"3. Coordination for mutual support during elections,
"4. The promotion of Olympic Values, the joint reinforcement of the fight against doping and the fight against global warming,
"5. The maintenance and development of sports infrastructures,
"6. A joint commitment, in coordination with the IOC, to strict compliance with the rules and principles of the Olympic Charter."
Observed: This is a public display of Olympic diplomacy at its highest level, working with a continental organization – ANOCA – whose members also include many ministers of sport and senior officials in African nations. Almost all African countries are already involved in Belt & Road projects with China.
It will be fascinating to see if there is a response from Europe, or the USOPC, perhaps in coordination with Canada, Mexico and others. There are many central and eastern European countries involved in some way with Belt and Road, and in the Western Hemisphere, 18 countries in the Caribbean and South America, including Cuba, Jamaica and Trinidad & Tobago.
≡ SPOTLIGHT ≡
"Growing up, I was a shy scrawny kid whose best friend and competitor was my identical twin brother, Bob. We were inseparable. We eventually migrated to sports and realized we might have a way out."
He got that one right. Bill Schmidt started life in a coal camp in Southvue, Pennsylvania, but went on to be a track & field All-American, an Olympic medal winner, a Vice President of the most important Olympic organizing committee in history and a key player in the rise of Gatorade to become the no. 1 sports drink in the world.
Told by friends, "you need to write a book," Schmidt published Southvue to Gettysvue in November 2022, telling his story. From the Pennsylvania coal country, he ended up at (then) North Texas State as a javelin thrower – and NCAA runner-up in 1970 – to making the 1972 U.S. Olympic Team, winning the U.S. Trials on his final throw. In Munich, he was only 10th in qualifying, but got to the final, standing seventh after the first round, but unleashing an 84.42 m (277-0) toss in round two that held up for the bronze medal! He was the last American to win a men's Olympic javelin medal.
He went to Tennessee for a Master's Degree, finished seventh at the 1976 U.S. Olympic Trials, won the 1978 AAU national title and was seventh again at the 1980 Trials. Enough javelin throwing.
Schmidt got into sports administration right away, becoming the sports director for the 1982 World's Fair in Knoxville and then coming west to be one of three Vice President of Sports for the Los Angeles Olympic Organizing Committee for the game-changing 1984 Olympic Games.
That led to his appointment as the Vice President of Worldwide Sport Marketing for the Gatorade division of Quaker Oats later in 1984 and through 15 years, created the dominant brand in the category, powered in part by a 1991 deal with emerging basketball superhero Michael Jordan. Schmidt is regarded as one of the pioneers of corporate sports marketing.
How did he do all this? You'll have to read the book.
≡ PANORAMA ≡
● Olympic Games 2020: Tokyo ● The blowback from the bid-rigging and sponsorship-influence scandals is being felt in new government regulations.
On Friday, the Tokyo Metropolitan Government, one of the major funders of the 2020 Olympic Games, released new guidelines for major international events, to include:
● Some organizing committee staff should be hired by the government instead of accepting loaned executives, in order to avoid conflicts of interest. The Tokyo organizers had staff loaned from ad giant Dentsu, which was at the center of the bid-rigging scandal.
● The procedure used to negotiate and sign sponsorships should be disclosed.
An NHK report noted, "Panel members said hosting sporting events has a public nature, and information disclosure is key to win the public's trust.
"They decided to introduce a disclosure framework that is in line with the metropolitan government's rules."
Tokyo will host the World Athletics Championships in 2025, as well as the Deaflympics.
● Olympic Games 2024: Paris ● The Paris organizers announced that alcoholic beverages will not be sold at any competition site for the 2024 Games.
France has a statute in place – the Loi Evin – from 1991, which controls alcoholic and tobacco policy, and "prohibits the sale of alcoholic beverages in stadiums, gyms, gymnasiums and schools, in general, in all establishments of physical and sports activities."
There have been exceptions in place for football and rugby matches, but Paris 2024 will apparently not ask for any. There will be alcohol served in hospitality areas, of course.
¶
Polling released by the Odoxa Institute last Friday showed that the popularity of the Paris 2024 Games continues to decrease in France in the aftermath of the searches undertaken at the organizing committee headquarters and that of the Solideo government construction organization.
Where 76% said in September 2021 and 69% said in last March that 2024 Games would be a good thing for France, support is down to 58%-41% now (1,005-respondent sample). However, 62% said the Games are good for jobs and for spreading France's influence worldwide. A hefty 70% are looking forward to the Opening Ceremony and 65% to the smooth running of the competitions. But there were worries:
"The 2024 Olympic Games are arousing strong fears in public opinion: 64% of French people are worried about their safety , 66% about transport and 71% about their environmental impact … and nearly a third of them even express concern about the smooth running of the events (34%) and the success of the opening ceremony (29%).
"As a result, popular enthusiasm is still very limited: 52% of French people want to follow these next Olympics, i.e. 3 points less than before Tokyo 2021."
● Fair Play ● The International Fair Play Committee presented its Fair Play Awards for Tokyo 2020 and Beijing 2022 in Lausanne last Friday on Olympic Day (23rd) in the city's new "Espace Fair-Play."
For Tokyo, the award centered around the support for Japanese Park skateboarder Misugu Okamoto, then 15 and the 2019 World Champion, who began the final round in the lead, but fell hard on a missed flip try and ended up on the concrete floor of the Tokyo Olympic Skatepark.
She was immediately surrounded by her competitors, who put her on their shoulders and carried her off to cheers. Teammate Kokona Hiraki, who eventually won the silver medal, and Australia's Poppy Olsen, who finished fifth, received the Fair Play Award on behalf of all seven skaters who came to Okamoto's aid.
American Brittany Bowe, already an Olympic speed skating medalist from PyeongChang in 2018, and assured of a Beijing 2022 start in the women's 1,000 m, gave up her place in the 500 m to allow teammate Erin Jackson – who slipped in her race and ended up third and off the team – to compete in her place.
Jackson went on to win gold in Beijing, and after a re-allocation of places, Bowe was also able to compete in the event there, finishing 16th. Said Bowe:
"Although I came out with the win in that race, I felt everything other than victorious.
"I was thinking, if there's anything that I can do to put Erin on this team, I would like to do that. If that meant relinquishing my spot to get her an opportunity to compete at the Olympic Games, that's what I would do – and that's what I did."
The International Fair Play Committee was established in 1963, and began Olympic Fair Play Awards in 2008.
● Ukraine ● Vadym Guttsait, the President of the National Olympic Committee of Ukraine, was welcomed by the European Olympic Committees Executive Committee on Sunday, during the European Games in Poland.
Guttsait is also the Minister for Youth and Sports in Ukraine, with the International Olympic Committee criticizing the country's ban on participation in events in which Russian or Belarusian athletes are present. In the EOC report:
"Noting that the Olympic qualification period is ongoing, [EOC President Spyros Capralos (GRE)] urged President Guttsait to do all he could to enable Ukrainian athletes to compete at Paris 2024, by sending full Ukrainian teams to every possible qualifying event. President Capralos also made the point that boycotting qualification events would only harm Ukrainian athletes."
● Basketball ● France is ranked fifth in the FIBA men's world rankings and is expected to be a significant contender at the 2023 FIBA World Cup that begins on 25 August. But it will be without no. 1 NBA draft pick Victor Wembanyama.
He told the French all-sports newspaper L'Equipe that he needs to concentrate on his NBA career right now:
"I've decided to dedicate this summer to preparing my body for the many events awaiting it in the coming years. This meant skipping the World Cup. It was a difficult decision, and one that required the advice of many people. But I sincerely believe it's the best one for the French team and myself. …
"There's a real risk of overload, and therefore of injury, which could have an impact on what happens next. It would be unrealistic in terms of development and unwise in terms of health.
"The French team is as central to my career as ever. I want to win every title I can with them. But to achieve that, this summer is a necessary sacrifice."
He plans to play in the NBA Summer League in July, and then rest until the San Antonio Spurs training camp begins in September.
● Cycling ● Now this is how you integrate your event with your host region, from the UCI:
"A unique tartan, designed specifically for the 2023 UCI Cycling World Championships, was unveiled in Scotland today, just six weeks before the kick-off of the inaugural event taking place in Glasgow and across Scotland (3-13 August). …
"The official UCI Cycling World Championships tartan, which is based on the colours of the UCI rainbow jersey and the blue of the Scottish Saltire flag, was designed and woven by long established weavers, Lochcarron of Scotland. They added 1,920 individual threads by hand to the loom to create the basis of the woven material. It has been approved as an official tartan by the Scottish Tartans Authority and will be listed on the Scottish Register of Tartans, which is administered by the National Records of Scotland."
The new tartan will be worn by awards ceremonies staff and – of course – is being integrated into event merchandise, which will be available beginning on Tuesday.
● Football ● Based on the announced bids, the race for the 2030 FIFA World Cup will be between four-way South American offer and a European and African bid, leading to some wild speculation on a possible deal.
The first World Cup was held in 1930 in Uruguay and a South American bid that began with Argentina and Uruguay has expanded to include Chile and Paraguay. An Iberian Peninsula bid with Spain and Portugal was expanded with Ukraine – at least symbolically – and now Morocco, one of the highlight teams of the 2022 World Cup in Qatar, and which has bid repeatedly for the event.
And so Monday's rumor, reported by AIPS Football Delegate Keir Radnedge (GBR):
"Hence speculation that, behind the scenes, the 2030 World Cup might be awarded to Spain and Portugal but with the Opening Match being staged in Buenos Aires and the eve-of-finals congress and event 'party' being awarded to Uruguay."
The decision won't be made until late 2024.
● Swimming ● The USA Swimming National Championships begin in Indianapolis on Tuesday and go through Saturday, with selection for the American team for the World Aquatics Championships on the line.
NBC has the rights to the event, but will show it live only on its Peacock streaming service, at 7 p.m. Eastern each night, from Tuesday through Saturday. A highlights package will air on NBC on Saturday at 1 p.m. Eastern and on Sunday at noon, plus a CNBC slot at 2 p.m. Eastern.
Some 634 swimmers registered to compete and the entries include 31 Olympic medal winners, including superstars Caeleb Dressel and Katie Ledecky. Results will be available via Omega Timing.
● Water Polo ● Sunday's last-minute win for the U.S. women, 12-11, over the Netherlands in the final of the World Aquatics Women's World Cup SuperFinal, was a tale of two halves, according to U.S. coach Adam Krikorian:
"I thought we played very well in the first half by playing very clean, intelligent, and we avoided putting ourselves in very compromising positions. Most importantly, we really executed our man-up situations that gave us a good lead early in the game.
"The beginning of the second half, we slipped mentally. We struggled with transition defense, defending their centers, and communicating with one another by messing up our planned match-ups. It seemed like the Netherlands were swimming downhill in the second half and there seemed to be very little we could do about it.
"However, I'm incredibly proud of the defensive stops we made towards the end of the game. We made two different seven-versus-six stops at the end of the third and fourth quarters, which is something we haven't practiced as a team. In some ways like that, we were unprepared, but this team showed the will to win and is why the match ended with us on top."
The U.S. had a 7-3 lead at half, with three goals from Maggie Steffens and extended it to 8-3 early in the third quarter. But the Dutch charged back and tied it at 11 before Rachel Fattal scored with 1:26 left for a 12-11 U.S. lead.
American keeper Amanda Longan turned away 15 shots and trapped the final throw by Sabrina van der Sloot against the side of the goal frame and preserved the win as time ran out. The Dutch out-shot the U.S. by 37-25, but still came up short.
Spain's scoring ace Anni Espar was named the Most Valuable Player, with Longan an easy choice for top goalkeeper. Steffens was the Player of the Final and Krikorian was recognized as Coach of the Tournament for leading his team to its fourth straight World Cup gold.
¶
You can receive our exclusive TSX Report by e-mail by clicking here. You can also refer a friend by clicking here, and can donate here to keep this site going.
For our updated, 651-event International Sports Calendar (no. 2) for 2023 and beyond, by date and by sport, click here!