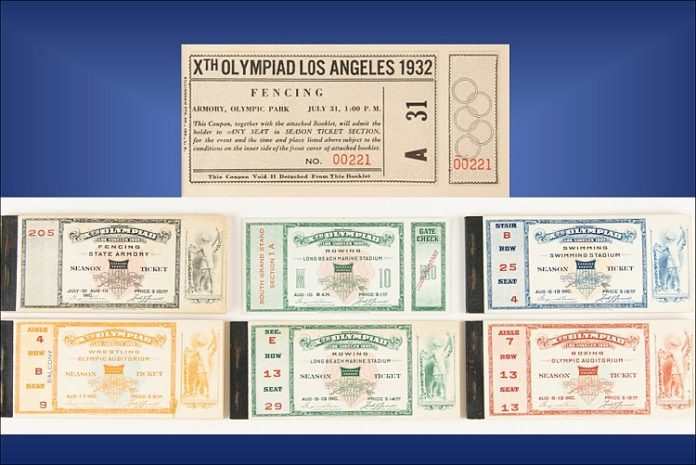 ★ The Sports Examiner: Chronicling the key competitive, economic and political forces shaping elite sport and the Olympic Movement. ★
A sponsored post by RR Auction.
If you have ever had the idea to begin a collection of Olympic stuff – medals, torches, programs, tickets and things you couldn't even imagine – your opportunity is here. The RR Auction semi-annual sale is on now and runs through 20 July 2023, with 396 lots spanning the modern Olympic Movement from Athens to Tokyo.
Perhaps the most stunning aspect of the catalog is in the 22 summer Olympic torches being offered, including examples from every Olympic torch relay except Helsinki 1952 and Montreal 1976: that's 18 of 20, all at remarkably low opening bid prices:
● 1936: Berlin: $300 starting bid
● 1948: London: $500
● 1956: Melbourne: $1,000
● 1960: Rome: $500
● 1964: Tokyo: $1,000
● 1968: Mexico City Type 2: $200
● 1968: Mexico City Type 4: $200
● 1972: Munich: $200
● 1980: Moscow: $200
● 1984: Los Angeles: $300
● 1988: Seoul: $300
● 1992: Barcelona: $200
● 1996: IOC Centennial (2): $200
● 1996: Atlanta: $200
● 1996: Atlanta: $200
● 2000: Sydney: $200
● 2004: Athens: $200
● 2008: Beijing: $200
● 2012: London: $300
● 2016: Rio de Janeiro: $200
● 2020: Tokyo: $500
One of the Atlanta 1996 torches includes a package of memorabilia from 1960 Olympic Light Middleweight gold medalist Skeeter McClure.
If you ever had the idea to open an Olympic Torch museum here's your chance!
Not a torch per se, but catalog no. 4010 is a true rarity: a 1968 Mexico City "miner's lamp," used to hold a "mother flame" that remained lit at all times in case a torch went out along the route. This was made by Honda Electronic Co. in Japan and was used to carry the flame in an airliner! Bidding starts at $500.
There are also Winter Games torches from 15 editions, all except 1948, 1952, 1960, 1964, 1976 and 1980, and include two extremely rare ones, from Grenoble 1968 – one of just 33 made! – and Albertville 1992, all again with very modest opening bid floors:
● 1956 Winter: Cortina: $1,000
● 1968 Winter: Grenoble: $10,000 (one of 33!)
● 1972 Winter: Sapporo: $2,500
● 1984 Winter: Sarajevo: $300
● 1988 Winter: Calgary: $1,000 (with torchbearer uniform)
● 1992 Winter: Albertville: $5,000
● 1994 Winter: Lillehammer: $1,000
● 1998 Winter: Nagano: $500
● 2002 Winter: Salt Lake City: $300 (with torchbearer uniform)
● 2006 Winter: Turin: $200
● 2010 Winter: Vancouver: $200
● 2014 Winter: Sochi: $200
● 2018 Winter: PyeongChang: $300
● 2018 Winter: Pyeongchang Olympic & Paralympic pair: $300
● 2022 Winter: Beijing: $300
There is also an Olympic Flame safety lamp from Sochi 2014, made in Great Britain, as item 4035 and offered beginning at $500.
Then there are the medals, including a bronze medal and original case for a second-place finisher at the 1896 Athens Games, offered at $5,000. There are gold medals – of one sort of another – from 12 Games:
● 1900 Paris: First place medals (3), $200-300 starting bid
● 1908 London: Gold medal in shooting: $1,000
● 1928 Amsterdam: Gold medal: $500
● 1932 Los Angeles: Gold medal: $1,000
● 1936 Berlin: Gold medal in hockey: $1,000
● 1972 Munich: Gold medal in boxing: $1,000
● 1984 Los Angeles: Gold medal in weightlifting: $2,500
● 1988 Seoul: Gold medal (unawarded): $1,000
● 1992 Barcelona: Gold medal: $1,000
● 1996 Atlanta: Gold medal for VIPs: $500
● 2004 Athens: Gold medal in boxing: $1,000
● 1980 Winter: Lake Placid: Gold medal in Pairs Skating: $1,000
Another collector's starter set of Olympic participation medals – 20 in all, including each Olympic Games from 1936-2016 – is offered with a starting bid of just $500. There is another set of 10 participation medals from early Games – 1896-1952 – also starting at $500.
There's even a set of three trial participation medals from the never-held 1940 Winter Games at Garmisch, Germany, starting at $1,000.
Where does this stuff come from? New Hampshire-based RR Auction President Bobby Eaton said, "we meticulously curate a diverse and eclectic range of Olympic items sourced from consignors worldwide, with a particular focus on prominent contributions from the United States and Europe.
"Our network encompasses a wide spectrum of individuals, including passionate collectors, esteemed Olympic athletes, and museums."
The auction has an excellent selection of pins available, especially from the 1932 Los Angeles Games, with official's badges, participant badges and press badges, most starting at $200.
And then there is one of the gaudiest items in the history of the Olympic Movement: the Berlin 1936 Chain of Office. These were made by the organizing committee and given to each member of the International Olympic Committee to be worn in public! Each chain has three small medallions on each side and a large bottom medal picturing Zeus. Perhaps only a handful exist today; the opening bid is a surprisingly low $1,000.
Also exceedingly rare is a Tokyo 1964 badge for IOC President Avery Brundage, in a white leather presentation box, offered at a starting bid of $1,000.
There is a huge selection of programs and regulation books from Los Angeles 1932, and a staggering collection of tickets, including a single lot of more than 900 unused tickets (!), from boxing, fencing, rowing, swimming and wresting, in fine to very  fine condition, starting at just $500. Wow.
Three autographed items from Jesse Owens are also up, and even a seat from the 1980 Olympic Center Arena – the "Miracle on Ice" venue – signed by members of the U.S. Team, starting at $500.
Another oddity is a cooper "Olympic Truce Discus" from 1934, one of five produced for the 1934 IOC Session in Athens, with an inscription in Greek that translates to "Greeks in Ancient times, organized Games in Olympia and at the same time declared truce." Bidding starts at $500.
And there are many more items, notably from the estate of the late Canadian IOC member Jim Worrall, which has been working directly with RR Auction.
RR Auction chief Eaton explained the modest opening prices:
"While there are several reasons behind starting the bidding low, one important aspect is the requirement for an initial bid to be placed before 6 p.m. Eastern time on the final day of the sale [July 20], in order to participate in our 30-minute Rule for that specific lot.
"By commencing the bidding at a lower value, we aim to engage as many potential bidders as possible before this critical deadline. This allows us to create a level playing field and encourages participants to enter the auction at an accessible starting point. Moreover, the early involvement of bidders generates momentum and fosters an atmosphere of excitement and competition.
"It's essential to note that we list lot estimates online, which are based on our evaluation of an item's market value. However, the market ultimately determines the true value through the bidding activity and the willingness of participants to pay a certain price. By starting the bidding low, we allow the market to dictate the item's worth, which can sometimes surpass our initial estimate."
It's a sensational auction, and the low opening prices allow just about anyone who wants to be an Olympic collector to get involved. Good luck!
A sponsored post by RR Auction.
¶
For information about advertising and sponsored posts, please contact us here.
You can receive our exclusive TSX Report by e-mail by clicking here. You can also refer a friend by clicking here.