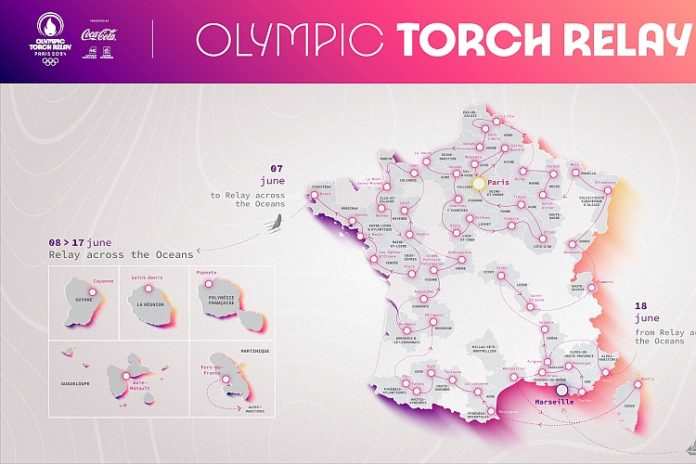 ★ The Sports Examiner: Chronicling the key competitive, economic and political forces shaping elite sport and the Olympic Movement.★
★ Thank you!: Now with 14 donors, we are at 36% of our summer fund-raising goal. Can you help? Please donate here and now. Your support is crucial. ★
★ To get The Sports Examiner by e-mail: sign up here! ★
Sponsored post: Fabulous Olympic memorabilia auction, with18 of 20 Olympic torches, golds from 12 Games and 900+ unused 1932 Olympic tickets now open! Click here!
≡ THE 5-RING CIRCUS ≡
1. European assembly asks IOC: keep Russia out!
2. Hughes, Tinch score stunning world leads in 100 and hurdles
3. Ambitious Paris 2024 torch route includes three oceans!
4. Kremlev: "life goes on for IBA," but Asian feds to bolt
5. FIFA accelerates U.S. strategy with Club World Cup
While the International Olympic Committee sees its recommendations for Russian and Belarusian athlete re-entry into international competition as a "workable pathway," the Parliamentary Assembly of the Council of Europe passed a resolution last week by 71-4 that called for a continued ban, stating that Russian and Belarusian participation "is unthinkable, would certainly be used as a tool of propaganda." Some help came from the European Fencing Confederation, which having been ordered to hold a separate championship for individuals by its international federation, banned all Russian and Belarusian participants from its events going forward. British sprinter Zharnel Hughes was the star of the NYC Grand Prix meet on Saturday, winning the men's 100 m in a world-leading 9.83, while American stars Noah Lyles (200 m), Sydney McLaughlin-Levrone (400 m) and Athing Mu (800 m) also won. At the Arkansas Grand Prix, Pittsburg State's Cordell Tinch grabbed the world lead in the 110 m hurdles with a startling 12.96! The Paris 2024 organizers announced the route of the Olympic Torch Relay for 2024, not only going all around France, but also around the world to French departments in the Caribbean, South America, the Indian Ocean and French Polynesia! International Boxing Association President Umar Kremlev of Russia said that "life goes on," but the 43-member Asian Boxing Confederation passed a motion to leave as soon as the IOC designates a new federation for boxing. FIFA named the U.S. as the site for its 2025 Club World Cup, creating the possibility that all three of its largest events will be held – all or in part – in the U.S. from 2025 to 2027, making a huge push to expand the sport's presence, which could also impact the LA28 Olympic organizers also looking for corporate support during those years, in advance of the 2028 Olympic Games.
● Panorama: Enhanced Games (new group promoting 2024 event with no doping controls) = International Olympic Committee (Hula awarded de Coubertin medal) = Archery (Ellison wins again at National Field Champs) = Athletics (U.S.'s Jasmine Todd candidate for World Athletics Athletes Commission) = Badminton (Tai thrills home crowd with Taipei Open win) = Cycling (2: Mahieu, Daudet and Shriever win again in BMX; Dygert wins two at U.S. road nationals) = Football (Gold Cup opens with 1-1 tie for Jamaica and U.S.) = Gymnastics (Mizuno takes first U.S. Rhythmic A-A title) = Judo (Japan wins seven at UlaanBaatar Grand Slam) = Skateboarding (Huston superb at Rome Street Qualifier) = Swimming (Ceccon wins three at Sette Coli) = Triathlon (Hauser and Potter triumph in Montreal Sprint) = Volleyball (FIVB maintains Russian, Belarusian bans) = Water Polo (U.S. escapes with women's World Cup Super Final win over Netherlands) ●
1.
European assembly asks IOC: keep Russia out!
During last week's 140th Session of the International Olympic Committee, President Thomas Bach of Germany called their recommendations for the re-entry of Russian and Belarusian athletes as neutrals "a workable pathway forward."
That is not the opinion of the 47-member Parliamentary Assembly of the Council of Europe, which issued a clear rebuke to the IOC last Thursday, asking that Russian and Belarusian athletes be kept out of international sport. Highlights:
● "No means can be spared to demonstrate our entire repudiation of the Russian and Belarusian leadership and regime. Politicians and public authorities must lead the way, but major organisations and institutions acting in the public and private sphere should also stand up, bringing the weight of their moral authority and renown to the public consciousness."
● "While recognising the complexity of the issues at stake, and that views may differ on the best approach, the Assembly holds that the participation of Russian and Belarusian athletes in the Olympic and Paralympic Games in the current context is unthinkable, would certainly be used as a tool of propaganda, and would de facto prevent other athletes, not least Ukrainian athletes, from participating."
● "Having taken into account all perspectives and arguments raised, the Assembly is convinced that the endeavour undertaken by the IOC to establish a set of acceptable criteria allowing for the participation of Russian and Belarusian athletes as neutral, individual competitors in the Paris Olympic and Paralympic Games cannot provide the necessary guarantees and will not constitute a response worthy of the values of human dignity and peace enshrined in the Olympic Charter."
● "Bearing in mind that Russian and Belarusian elite athletes receive State salaries and are often part of military sports teams, it seems impossible that they could demonstrate their neutrality and distance from these regimes, let alone making any declaration against the war."
● "[T]he arguments for permitting participation of Russian and Belarusian athletes on the grounds of neutrality, independence of the sports movement, and non-discrimination, do not carry sufficient weight faced with the imperative of condemning and repudiating the atrocities being committed, and of demonstrating the international community's complete and unwavering support for Ukraine as the onslaught continues."
The resolution carried by 71-4, with five abstentions.
In the opening report by Norwegian rep Linda Helleland, she addressed directly Bach's continuing reference to the IOC's "values-based recommendations":
"In dark times we need to firmly stand up for our values. And this is exactly what we are doing by calling for the ban to be maintained. The sole conceivable exception to my mind could be for those athletes, if any, who have fled Russia or Belarus and are known for their opposition to the regimes in these countries and to the war. These athletes, who have already voluntarily accepted the risk of their dissidence, deserve our greatest respect and our support; their participation could not be instrumentalised for pro-war propaganda and there would be no reason to apply to them a sanction which is there to oppose the war. Perhaps such athletes could join a 'refugee team' as has been done in the past notably during the height of the conflict in Syria."
Helleland added near the end of her report:
"What is at stake here is the preservation of peace, global stability, the safeguarding of the international legal order, the destiny of a country and the human rights of the Ukrainian people."
¶
The Assembly was backed up by a not-quite-unexpected ally, the European Fencing Confederation.
After being directly instructed by the International Fencing Federation (FIE) to create a separate European Championships for individual events after the European Games organizers in Poland refused to admit "neutral" Russian and Belarusian athletes – held in Plovdiv (BUL) on 16-18 June – the European Confederation announced Saturday that during its Congress:
"The meeting then proceeded with the two proposals from the Ukrainian fencing federation, both of which were approved. The result is that no athletes, coaches or officials holding a Russian or Belarusian citizenship and licences, are allowed to participate in competitions organised by the EFC. Moreover, following the approval of the second motion, the membership in the EFC of the Russian Fencing Federation (RUS) and the Belarusian Fencing Federation (BLR) was suspended."
No word yet from the FIE on a reply.
2.
Hughes, Tinch score stunning world leads in 100 and hurdles
The attention of U.S. track & field fans was on USA Track & Field's NYC Grand Prix on Randall's Island in New York, with a lively crowd of perhaps 4,500 on hand to see Noah Lyles, Sidney McLaughlin-Levrone and the seasonal debut of Olympic and World women's 800 champ Athing Mu.
All were winners, but Britain's Zharnel Hughes stole the show.
Now 27, he was the 2018 European Champion at 100 m and the 2022 European gold medalist at 200 m. But his 100 m best was back in 2018 and he stood 28th on the world list coming into his race in New York.
But after a reasonable start, he found gears no one else had and ran down 2019 World Champion Christian Coleman of the U.S. and rising Jamaican star Ackeem Blake and flew away from the field to win in a world-leading and national record 9.83, with a light, 1.3 m/s wind behind. Blake was second in 9.93 and Coleman followed in 10.02.
Where did this come from? Hughes thanked everyone afterwards, especially coach Glen Mills – yes, Usain Bolt's coach – as he now trains in Jamaica. Hughes now stands equal-15th all-time and no. 2 ever in Europe!
Back to the expected stars, with Lyles slightly in front off the turn and then moving away from the field in the final 60 m to win by 19.83 to 20.26 over Isaam Asinga (SUR), with +0.8 wind.
McLaughlin-Levrone used totally different tactics in her women's 400 m race, going out in a steady 23.71 – vs. the wild 22.66 at the Meeting de Paris – and came home strong, winning in a lifetime best of 49.51 over Tokyo 200 m bronze winner Gabby Thomas (50.29). McLaughlin-Levrone's time was 0.20 faster than her 49.71 in Paris, now no. 8 all-time U.S.
Mu ran stiffly for the first 600 m, seeming to work hard to stay slow, then unleashed a strong finish off the final turn to win the women's 800 m going away in 1:58.73. Sage Huerta-Klecker was second in 2:00.77, but 2022 World Indoor Champion Ajee Wilson faded badly to 11th and last in 2:07.97.
Elsewhere, 2022 U.S. national men's 800 m champ Bryce Hoppel was in total control and won in a season's best of 1:44.55 over Isaiah Harris (1:45.11). Eric Holt won a battle down the home straight with Craig Engels to win the 1,500 m in 3:37.07 (to 3:38.15).
Another reigning national champ, Daniel Roberts, won a terrific men's 110 m hurdles race against two-time Olympian Devon Allen, 13.01-13.04 (+1.6) to move to nos. 3-4 in the world this season.
In the field, the top throwing performance came from Rudy Winkler in the hammer, winning at 78.70 m (258-2), his no. 4 throw of the year so far.
The women's sprints saw Aleia Hobbs confirm that she's the U.S.'s most consistent star with a 10.98 win (+1.2) in the 100 m, and defending national champ Abby Steiner showed her 2022 finishing speed in the 200 m, running away from Tamara Clark and Jenna Prandini, 22.19-22.43-22.51 (+1.2). Keni Harrison impressed with a tight, wind-aided 12.29-12.30-12.33 win over Alaysha Johnson and Danielle Williams (JAM) in the 100 m hurdles.
Vashti Cunningham won the women's high jump easily at 1.95 m (6-4 3/4), and world leader Maggie Ewen won the women's shot at 19.68 m (64-6 3/4), ahead of Danniel Thomas-Dodd (JAM: 19.38 m/63-7) and World Champion Chase Ealey (19.25 m/63-2). Cuba's 2019 World Champion in the discus, Yaime Perez, moved to no. 2 in the world this season, winning at 67.44 m (221-3).
¶
Then there was Friday night's Arkansas Grand Prix in Fayetteville, with a stunning world lead in the men's hurdles from Cordell Tinch. The Big 12 hurdles champ for Kansas in 2019, he left and went to Coffeyville Community College and then transferred to NCAA Division II Pittsburg State – the Gorillas – this season and has blossomed.
He won the NCAA Division II title this year as a sophomore in a sensational, if wind-aided 12.87, so what would be next? In Fayetteville, he showed up and ran a lifetime best in the heats at 13.02 (+0.2) to be no. 3 in the world for 2023. In the final, he stormed away from everyone to win in 12.96 (+1.3), fastest in the world this year and now no. 19 all-time and no. 11 all-time U.S. Britain's Tade Ojora got a lifetime best in second at 13.26.
Next, Tinch will see World Champion Grant Holloway, Roberts, Allen and others at the U.S. nationals!
Not to be overlooked was the hot long-jumping from Tokyo Olympian Tara Davis-Woodhall, who won at 6.99 m (22-11 1/4), her no. 4 meet of the year, but better than all but two others in the world this season.
¶
Ethiopia held its World Championships Trials in the lower altitude of Nerja, Spain and both the men's and women's winners claimed world-leading marks on Friday.
Tokyo Olympic fourth-placer Berihu Aregawi got the men's win in 26:50.66, just ahead of Tokyo gold winner Selemon Barega (26:51.87) to go 1-2 in the world for 2023.
World Champion Gudaf Tsegay won the women's race in a world-leading 29:29.73, way ahead of Ejgayehu Taye (29:57.45) and Lemlem Hailu (29:59.15) to stand 1-4-6 on the world list.
3.
Ambitious Paris 2024 torch route includes three oceans!
Perhaps the most far-reaching Olympic torch relays ever was unveiled Friday by the Paris 2024 organizers, announcing the general route that will include stops in the Caribbean, South America, the Indian Ocean and Polynesia, in addition to France.
The route will start with the traditional lighting of the flame in Olympia on 16 April 2024, followed by a nine-day relay in Greece. The flame will be transported to France on the iconic, three-masted barque Belem, first sailed in 1896, on 27 April.
It will be received in France at Marseille on 8 May and begin a 68-day route that will reach 59 of the 96 departments of France, 400 individual points of interest and end up in Paris for the Opening Ceremony on 11 July 2024.
The Torch Relay will include trips to five overseas French departments between 9-17 June: French Polynesia, of course, with surfing to be held in Tahiti, but also Reunion Island in the Indian Ocean, east of Madagascar, French Guiana on the northeast coast of South America and the Caribbean islands of Martinique and Guadeloupe. The flame will be carried in part by the trimaran Maxi Banque Populaire XI, launched in 2021 as one of the fastest boats in the world, with possible speed of up to 50 knots!
The first 65 celebration locations were announced on Friday, with the others to be rolled out by the departments over the following weeks.
There are 10,000 torchbearers planned for the route, using 200 m segments with an average carry time of four minutes each. Of these, 3,000 torchbearers will be part of "team relays" that include 24 people, but with only one carrying the torch itself.
Each arrival point was reported to be required to pay €180,000 (~$196,803 U.S.) to have the relay come through, plus the costs of any event to be held, which eliminated some areas for financial reasons.
The Paralympic Games will have a separate relay later in 2024, originating from Stoke Mandeville (GBR), site of the precursor to the Paralympic Games in 1948. A planned 1,000 torchbearers will take the flame through France and to the Paralympic opening on 28 August.
4.
Kremlev: "life goes on for IBA," but Asian feds to bolt
A day after the International Boxing Association was expelled from the Olympic Movement, the 43-member Asian Boxing Confederation is preparing to leave it.
The ASBC posted a statement Friday which included its desire to move on:
"The ASBC believes that the Olympic Games is the most important event in the boxing world and the best competition for our athletes. The Asian Boxing Confederation supports with all of his resources the Olympic Movement and the dreams of the Asian boxers.
"The ASBC Board of Directors will call for an Extraordinary Congress to amend the Asian Boxing Confederation's Constitution allowing the ASBC to function in the current exceptional situation and align with an International Federation which is recognized by the International Olympic Committee."
That means leaving the IBA, which at its height had 211 members, and joining up with whomever the International Olympic Committee chooses to run Olympic boxing in the future.
In the meantime, IBA President Umar Kremlev (RUS) posted a message to the national federations, saying that the future with IBA is bright, including:
"I want to assure you that life goes on for IBA and all its National Federations, as well as athletes, coaches, and officials. There should be no panic or subdued spirits among us. At this moment, we should be united as never before and show our unwavering commitment to boxing. We will continue delivering what we promised in terms of more events and prize money, and more opportunities for the financial support needed for the continued development of our sport.
"I would also like to highlight that the future of boxing is in our hands, and we will continue to deliver the very best for our athletes. The IBA Head Office and Strategy Committee continue working hard to prepare a new strategic vision for the IBA and how the organization moves forward. It is to be presented to the Board of Directors for approval in the mid-July meeting in Thailand.
"During the Olympic cycle, there will be an increased amount of IBA events that shape our athletes and allow them to achieve their best results and indeed dreams. If there is no IBA and its comprehensive competition system, there will be no opportunity to develop our people. We have ambitious plans to increase prize money and to make our National Federations more sustainable and successful, we will fight for more countries to have a chance to participate and win medals at the major events."
His closing comment, was, of course, to stay affiliated with the IBA even as the International Olympic Committee will choose some other organization – likely the new World Boxing group, now in formation – to be the governor of Olympic boxing competitions:
"We remain the Home of Boxing, open for every member of our boxing family. I strongly believe that a great future lies ahead of us, and our athletes will continue to have all the necessary conditions to concentrate on their boxing pathway.
"At this critical time for boxing, unity within our community will be the key to maintained success to allow IBA achieve great things for the betterment of the boxing family.
"Thank you for your unwavering and continued support and dedication to IBA."
Observed: Kremlev and IBA's problem is serious, primarily because – except in the U.S. – governments fund their National Olympic Committees and national federations, and that money is designed to get athletes to the Olympic Games.
The ASBC move show that as soon as the IOC designates World Boxing or someone else as the International Federation for boxing, IBA's national federation affiliations will vaporize, as its competitions will be useless toward Olympic participation.
It will be fascinating to see Kremlev's promised "strategic vision" next month, which may create a new, pathway organization to professional boxing, in line with its November 2022 agreement with the World Boxing Association (WBA). That may be useful for some, but unlikely to draw governmental funds which are aimed at sending a country's fighters to the Olympic Games.
And watch for Gazprom, or one of its subsidiaries, to come back as a primary funder of Kremlev's organization.
5.
FIFA accelerates strategy to conquer U.S. market with Club World Cup
As the close of the FIFA World Cup in Qatar last December, FIFA President Gianni Infantino (SUI) told reporters he was already looking ahead to the 2026 tournament in Canada, Mexico and the U.S.:
"We are convinced that football will become the number one sport in North America, or maybe the no. 2 to start with, and with time …"
How he plans to achieve this rise in popularity, to surpass the NFL, college football, Major League Baseball, the NBA and so, is getting clearer. To borrow a basketball metaphor, it's a "full-court press."
On Friday, FIFA awarded the 32-team 2025 FIFA Club World Cup to the U.S., and left no doubt about its intentions:
"The decision was reached based on the United States' position as a proven leader in staging global events and because it would allow FIFA to maximise synergies with the delivery of the FIFA World Cup 2026, to the benefit of both tournaments and the development of football in the North American region."
European clubs Chelsea, Manchester City and Real Madrid are already qualified, as are Brazilian clubs Palmeiras and Flamengo and Monterrey and Leon from Mexico.
One can speculate that the next step will be the award of the 2027 FIFA Women's World Cup to the joint U.S.-Mexico bid, giving the U.S. three blockbuster tournaments in a row in order to maximize the catalytic impact:
● 2025 FIFA Club World Cup
● 2026 FIFA World Cup
● 2027 FIFA Women's World Cup
There are other bidders for 2027: Brazil, South Africa and a joint European bid from Belgium, Germany and the Netherlands, with the selection to be made in May 2024. Europe had the event in 2011 (Germany) and 2019 (France); it has not been to Africa or South America yet. But they can wait; the 1999 Women's World Cup in the U.S. was a pivot point for women's football not only in the U.S., but globally, and FIFA is unlikely to miss the chance to go "all-in" on advancing its interests in North America.
FIFA will also enjoy the reduced costs of not having to stand up three separate organizing committees in three separate countries. Since it organizes all of its own tournaments now, it can put together one organization to handle all three of these events, and maximize its efficiency.
Although not a specific FIFA objective, giving the U.S. major tournaments in these three consecutive years will also create pressure on the Los Angeles 2028 Olympic and Paralympic Games organizing committee and its fund-raising efforts with the U.S. Olympic & Paralympic Committee. The LA28 Games will no longer be the focus for two years beyond the 2026 FIFA World Cup, but now for just one if the Women's World Cup is placed in the U.S. and Mexico for 2027.
This will also harden the desire of the USOPC and the Salt Lake City-Utah Committee for the Games to go for 2034 instead of any thought for 2030.
¶
FIFA also said Friday it was pushing back the selection process for the 2030 FIFA World Cup a bit, to begin in the fourth quarter of 2023, with selection in the fourth quarter of 2024. The hosting requirements include a minimum of 14 stadia with capacities of at least 40,000 seats each, of which at least seven must be existing facilities.
While FIFA was irritated with the government of Indonesia for its refusal to allow Israel to participate in the 2023 FIFA men's U-20 World Cup and removed the event to Argentina – where Israel won the bronze medal – it didn't remain upset for too long. The FIFA Council awarded Indonesia the FIFA men's U-17 World Cup that will take place in November. A quick check of the qualified teams shows that Israel will not be in the field.
≡ PANORAMA ≡
● Enhanced Games ● "The Enhanced Games is organizing an alternative to the corrupt Olympic Games.
"We believe that science makes humanity – and sports – better and fairer.
"Sports, without drug testing."
That's the concept of a new event, the Enhanced Games, promising competition without doping restrictions and calling out the Olympic Movement as discriminatory for its anti-doping efforts. It's a U.S.-based effort, of course, projecting competitions in existing NCAA facilities, and mentions a "2024 Enhanced Games." According to its Web site:
"We have selected five core categories of sports – athletics, aquatics, gymnastics, strength, and combat. Whilst medals will be awarded to the best Enhanced athletes in each event, the ultimate monetary award will go to the peerless athletes who set new world records, thereby pushing the perceived limit of what we believe is possible."
Calling itself a "revolution," it asks its followers to make changes in specific Wikipedia pages to reflect "enhanced inclusive language when discussing performance therapies, and the use of performance enhancements by professional athletes." Its site also includes "7 tips on how to come out as enhanced."
No information was included on sponsors, television agreements, or the amount athletes would be paid, for competing, winning or setting records.
● International Olympic Committee ● The IOC awarded the Pierre de Coubertin Medal, established in 1997, to French historian Jean Durry and American Ed Hula, founder of Around The Rings, which he created to cover the business side of Olympic sport.
Hula, 71, had been a producer for CNN in Atlanta and later a correspondent for Peach State Public Radio when he got the Olympic bug and founded what became Around The Rings in 1992. This was the first U.S.-based news publication dedicated to the Olympic Movement, originally distributed by fax! Being based in Atlanta, Hula became a trusted source for coverage of the build-up to the 1996 Olympic Games there, and then beyond. He and his wife, Sheila Scott Hula, sold the site in May 2021; it is now part of the Argentina-affiliated Infobae news group.
● Archery ● Brady Ellison, the 2019 World Champion and three-time Olympic medalist, added another trophy with a win at the USA Archery Field Nationals in Darrington, Washington.
The Field Championships include 24 arrows on an unmarked course and then 24 more on a marked course, with rugged terrain and unsettled conditions. No problem for Ellison, a 2014 and 2016 World Field Champion, who scored 766 points to 7-6 or runner-up Matthew Nofel and 657 for Gabe Anderson.
Although records are not complete, that's at least seven National Field titles in a row for Ellison, in 2016-17-18-19-21-22-23, and he also won in 2013 and 2014!
Molly Nugent won the women's Recurve division with 665 points, over Ashley Nguyen (562).
● Athletics ● World Athletics announced the candidates for its Athletes' Commission, with the election coming during the 2023 World Athletics Championships in Budapest. There are 14 running for six spots, including Jasmine Todd, 29, a two-time U.S. World Championships team member in 2015 (100 m and long jump) and 2019 (long jump).
The field includes stars such as New Zealand's two-time Olympic women's shot champ Valerie Adams, 2014 European men's 200 m winner Adam Gemili (GBR), 2012 Olympic men's vault gold medalist Renaud Lavillenie (FRA), 2019 Worlds women's 800 m winner Halimah Nakaayi (UGA) and Chinese sprint star Bingtian Su.
● Badminton ● Tokyo Olympic women's runner-up Tzu Ying Tai thrilled the hometown fans at the Taipei Open in Taipei City (TPE) with a win in the women's Singles.
Tai, 29, won her 15th BWF World Tour tournament title and her 27th career title in the World Tour and its predecessor, the SuperSeries, with a 21-14, 21-17 win over American Beiwen Zhang. It was the fifth World Tour final for Zhang, who is now 1-4 in gold-medal finals.
The home team ended up second in three other finals, as Chico Dwi Wardoyo (INA) defeated Li Yang Su (TPE) in men's Singles, 23–21, 21-15; Wei Chong Man and Kai Wun Tee (MAS) won the men's Doubles over Ching Yao Lu and Po Han Yang (TPE), 20-22, 21-17, 21-14, and Tang Jie Chen and Ee Wei Toh (MAS) won in Mixed Doubles, 21-12, 21-8, over Hsiang Chieh Chiu and Xiao Min Lin (TPE).
Korea's Yu Lim Lee and Seung Chan Shin won the women's Doubles against Febriana Kusuma and Amallia Pratiwi (INA), 18-21, 21-17, 21-17.
● Cycling ● The third and fourth legs of the 2023 BMX World Cup was in Papendal (NED), with the men's races almost a rerun of the first two legs, in Turkey earlier this month.
In Sakarya, France's Romain Mahieu won the first round and two-time World Champion Joris Daudet won the second. So it was in Papendal, with Mahieu winning on Saturday in 34.257, ahead of countryman Arthur Pilard (34.280) and Colombian Diego Arboleda (34.749).
Then it was Daudet's turn, winning again on Sunday in 33.718 and leading another French 1-2, with Sylvain Andre, the 2018 World Champion, second, 33.718-33.818. And another Colombian, Mateo Carmona, took third in 34.343.
Tokyo Olympic champ Beth Shriever (GBR) won the first two legs in Turkey, but was stopped on Saturday by Australia's Saya Sakakibara, who famously crashed out in the Tokyo semifinals. But she got to the line first this time in 34.358, ahead of the famed Smulders sisters. Older sister Laura, the 2018 World Champion, finished in 34.854 and then Merel, the Tokyo bronze winner, took third in 35.206.
After being eliminated in Saturday's semis, Shriever was back at it on Sunday and won for the third time in four races this season, in 33.911, ahead of Sakakibara (34.149) and American Alise Willoughly, who won her third medal in this season's four races (bronze-silver-bronze).
¶
Versatile star Chloe Dygert dominated the USA Cycling Road National Championships in Knoxville, Tennessee with wins in both of the major races for women.
Dygert, 26, had won one national title before, in the Individual Time Trial in 2021, after finishing second in 2019. She doubles her title total on Thursday, winning the two-lap, 23.3 km 2023 Time Trial from the third-to-last position in 31:06.65, ahead of next-to-last rider Lauren Stephens (31:15.67) and final rider, two-time World Champion Amber Neben (31:39.54).
On Sunday, Dygert was racing to the line in a sprint finish at the end of the 109.4 km road race, just edging 2017 Tour of Flanders champ Coryn Labecki, Pan American road champ Skylar Schneider and 2021 national road champ Stephens in 3:02:30. Labecki had won the Criterium title on Friday.
It was Labecki's sixth silver medal in the road nationals in the last eight races, but she did win in 2018!
In the rainy men's Individual Time Trial, Brandon McNulty was the final rider on the three-lap, 34.9 km course and was the leader at every checkpoint, winning in 40:39.22 for his first national title. William Barta was a distant second in 42:11.61.
Sunday's men's road race saw Quinn Simmons, 22, and Tyler Williams, 28 (and third in the men's Criterium race) break away from the field, and had more than three minutes on everyone else by the end of the 11th lap. The hilly, 17-lap, 186.1 km route in and around Knoxville finally saw Simmons pull away to win in 3:53:16, with Williams 37 seconds back and Tyler Stites and McNulty third and fourth (+1:49 and +1:50). It was the first nationals medal for both Simmons and Williams, with Stites one place lower than in 2022.
● Football ● The 17th CONCACAF Gold Cup opened on Saturday at Chicago's Soldier Field, with the U.S. facing a Jamaican team that hadn't won a game since June of 2022. But this was no mismatch.
The U.S. had the early advantage, but then Jamaica struck with a thunderbolt in the 13th minute. A free kick from the right of the U.S. goal by midfielder Demarai Gray found defender Damion Lowe right in front of goal on a flying header that went to the right side of the net and past U.S. keeper Matt Turner for a 1-0 lead.
It got worse for the U.S., as Jamaica was awarded a penalty in the 29th, but Turner knew what to expect from striker Leon Bailey, saving the shot to his left. The rebound came right back to Bailey, with an open net in front of him, but he missed wide left. It was still 1-0 at half, with the U.S. enjoying 66% of possession and a 6-4 edge on shots, but no goals.
The U.S. wasn't much more offensive in the second half, and midfielder Cristian Roldan's great chance in the 71st was saved by Jamaican star keeper Andre Blake. Coach B.J. Callaghan kept sending in more subs to find more offense, and the U.S. played with more intensity in the final third.
The pressure finally worked, with Brandon Vazquez getting his second goal for the U.S. on a defensive miscue, as a shot into the box bounced off defender Dexter Lembikisa, then Lowe couldn't clear and the ball bounced right to Vazquez, who pounded the loose ball with his right foot, straight into the goal for the 1-1 tie in the 88th.
The U.S. finished with 68% possession and a 13-6 advantage on shots, but got one point out of it. The second U.S. group game comes Wednesday in St. Louis, against St. Kitts and Nevis.
● Gymnastics ● USA Gymnastics National Championships in Rhythmic, Trampoline, Tumbling and Acro, in Tulsa, Oklahoma, with Lili Mizuno taking her first national All-Around Rhythmic title.
Mizuno, 22, won the All-Around title with 253.80 points, ahead of rising star Alexandria Kautzman (246.850), Sarah Mariotti (239.750) and Jaelyn Chin (239.200). Mizuno also won on Ball (32.700) over Kautzman (32.200), on Clubs over Chin (31.650 to 31.600), and on Ribbon (31.500) over Mariotti (30.100). Kautzman won on Ball over Mizuno, 32.900 to 32.350.
Mizuno had been second in the All-Around in 2022, but was on top this time, and while she repeated as national gold medalist in Ribbon, she won her first golds in Ball and Clubs.
Defending women's Trampoline champ Sarah Webster won again, scoring 54.480 points to edge 2021 national champ Jessica Stevens (54.460) and two-time national champ Nicole Ahsinger (54.290).
Aliaksei Shostak was a clear winner in the men's Trampoline final, scoring 57.820 to finally win his first individual national title, following runner-up finishes in 2017 and 2018. Ruben Padilla, the 2017 national Trampoline winner, and 2022 World Champion in Double Mini, was a close second in 57.280, with Ryan Maccagnn third with 54.900.
● Judo ● The IJF World Tour was in Mongolia for the Ulaanbaatar Grand Slam, with 344 athletes from 44 countries and a strong performance from Japan, which won seven of the 14 categories.
In the men's events, Japan scored victories from two-time Worlds bronze medalist Ryuju Nagayama (at 60 kg), Ken Oyoshi (73 kg) and Kenya Kohara (81 kg), and from 2022 World Junior Champion Hikari Yoshioka in the women's 48 kg class, Nami Nabekura (63 kg), Shiho Tanaka (79 kg). And two-time Worlds medalist Wakaba Tomita (+78 kg).
Israel won two golds, both in significant upsets. Gefen Primo won the women's 52 kg division over Tokyo Olympic silver winner Amandine Buchard (FRA), and Inbar Lanir shocked Japan's 2015 World Champion, Mami Umeki, in the 78 kg final.
In the impressive, all-Canadian final in the women's 57 kg class, two-time World Champion Christa Deguchi defeated the 2021 World Champion, Jessica Klimkait.
Russian judoka continued to do well, with two-time European champ Mikhail Igolnikov winning at 90 kg and co-World Champion Inal Tasoev taking the +100 kg class.
● Skateboarding ● Six-time World Champion Nyjah Huston of the U.S., positively ancient in this sport at age 28, won the men's Rome Street Qualifier while 14-year-old Liz Akama of Japan took the women's division.
Huston scored 276.51 in the finals on 90.00 run and then trick scores of 92.55 and 93.96 to easily outdistance 2020 Worlds bronze winner Shirai Sora (JPN: 263.36) and Tokyo Olympic silver winner Kelvin Hoefler (259.28).
Akawa had the best first run in the field at 88.61, then scored 85.22 on her first trick and was one of only two riders to eclipse 90 points with a 90.07 on her fifth and final trick for a combined score of 263.90. That was just enough to beat Australia's Chloe Covell, the 2023 Worlds runner-up, who scored 261.43 and had the best score of the day with her 92.12 mark on her third tricks.
Yumeka Oda of Japan was third (246.38) ahead of Olympic silver winner and 2023 World Champion Rayssa Leal (BRA: 240.57).
● Swimming ● Some interesting marks at the 59th Trofeo Sette Colli – the Seven Hills Trophy – in Rome, with Italian star Thomas Ceccon taking three wins.
Ceccon, the 2022 World Champion in the 100 m Back, won the 50 m Back in 24.69, the 100 m Back in 52.86 (now no. 6 on the 2023 world list) and remained no. 2 in the world in the 50 m Fly at 22.84.
Romanian sprint star David Popovici, 18, won the 100 m Free in 48.10 (he has done 47.61 this season) and the 200 m Free in 1:45.49 (now no. 6), beating Olympic champ Tom Dean of Great Britain (1:46.86).
British sprinter Ben Proud, the 2022 World Champion in the 50 m Free, won that event in 21.68, a seasonal best and still no. 3 in the world.
Sweden's iconic star, Sarah Sjostrom, won the women's 50 m Free in 23.93; only she has been faster this season at 23.82 in May, and she won the 50 m Fly, in which she is already the world leader, in 25.25. She was second, however, to Hong Kong's Siobhan Haughey in the 100 m Free, 52.64 to 53.05. Haughey also won the 200 m Free to move to no. 4 this season, in 1:54.77.
Lithuania's now-unretired Ruta Meilutyte, the London 2012 gold medalist in the 100 m Breast, won the 50 m Breast event in 29.79, now no. 2 on the season.
● Triathlon ● The World Triathlon Series in Montreal was contested at the Sprint distance (750 m swim, 20 km bike, 5 km run) and produced a brand new winner and a second-time winner who found the top of the podium only this season.
Australian Matthew Hauser was coming off a runner-up finish from the World Tri Series in Yokohama, and true to form, stretched the field in the swim, leading out of the water. But the field caught up on the bikes, and 10 were bunched together for the run.
The field only broke up with 1,000 m to go, as Hauser sprinted away with only Brazil's Manoel Messias able to follow. Hauser crossed in 53:47 and Messias in 53:58, following up on his third in the season opener in Abu Dhabi.
Belgian Jelle Geens, the 2019 winner in Montreal, was third (58:03), just ahead of Tim Hellweg (GER: 58:04). Hauser moves up to fifth in the seasonal rankings.
Britain's Beth Potter won her first-ever World Triathlon Series title in March in Abu Dhabi, and now has her second, finishing in 58:10 to edge France's Leonie Periault (58:12).
American Summer Rappaport was third in 58:19 and led a parade of three more teammates in the top nine: Katie Zaferes in fifth (58:33), Taylor Knibb – who competed in the USA Cycling National Time Trial Championships on Thursday in Tennessee! – in sixth (58:36) and and Taylor Spivey in ninth (58:51).
Rappaport was in the lead off the bike, but the eventual top three were running together with 2 km to go. Potter made the best late push and got to the line first. The win moved Potter up to fifth in the seasonal table, still led by Americans Spivey and Rappaport.
● Volleyball ● The International Volleyball Federation (FIVB) continued its ban on Russian and Belarusian teams at its latest Board of Administration meeting, in line with the IOC 's recommendations regarding teams from those two countries. Further:
"It has also been decided not to display Russia and Belarus in the World Rankings for the duration of their non-participation at events as their ranking points remain frozen as per the decision of the FIVB Board of Administration in October 2022."
● Water Polo ● The Olympic and World Champion U.S. women's team won a fourth straight World Aquatics Women's World Cup Super Final at home with a 12-11 victory over the Netherlands at Long Beach City College on Sunday.
The Dutch had beaten the U.S., 9-8, in the second round of World Cup Games in April and had to navigate two more rounds for a rematch. The U.S. sailed past Israel, 16-6 and then out-scored Hungary, 16-10, in the semis. The Netherlands defeated New Zealand, 15-5 in the quarters and then held off Spain by 12-8 in their semifinal.
The American women got off to a fast start, with a 5-2 lead after one period and 7-3 at halftime. But the Dutch fought back with a 4-3 edge in the third to close to 10-7, and kept coming, with Maartje Keuning tying the score at 11 with 1:54 to play in the fourth.
But the U.S. went on the power play and Rachel Fattal scored with 1:26 to go to give the Americans a 12-11 lead. A last-second Dutch shot looked promising, but U.S. keeper Amanda Longen pushed it off the goalpost to preserve the win. It was that close.
That's five Super Final golds all-time for the U.S., still trailing the Netherlands with eight. It's the first medal for the Dutch women, however, since 1999! Spain won the third-place game over Hungary. 18-15. 
¶
You can receive our exclusive TSX Report by e-mail by clicking here. You can also refer a friend by clicking here, and can donate here to keep this site going.
For our updated, 651-event International Sports Calendar (no. 2) for 2023 and beyond, by date and by sport, click here!