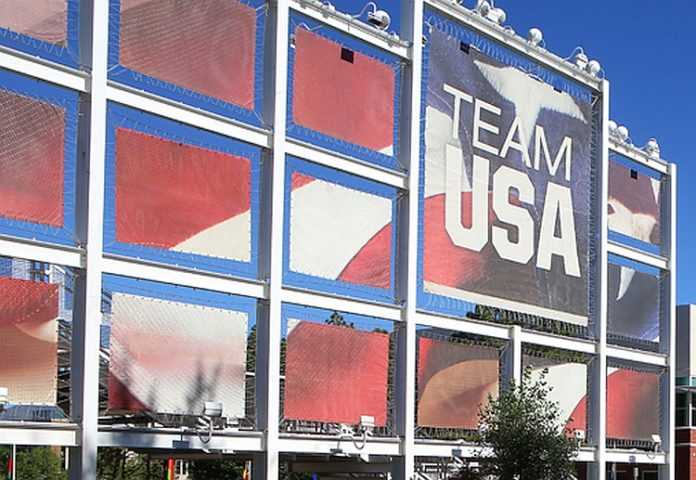 ★ The Sports Examiner: Chronicling the key competitive, economic and political forces shaping elite sport and the Olympic Movement.★
★ Wonderful! Thanks to 16 donors, we're up to 45% of our summer fund-raising goal. Please help if you can.. Your support is vital. ★
★ To get The Sports Examiner by e-mail: sign up here! ★
★ Sponsored post: Fabulous Olympic memorabilia auction, with18 of 20 Olympic torches, golds from 12 Games and 900+ unused 1932 Olympic tickets now open! Click here! ★
≡ THE 5-RING CIRCUS ≡
1. USOPC paid $148.31M to athletes and NGBs, lost $30.46M in 2022
2. World leads for Berkoff, Ress and Huske at U.S. nationals
3. Olyslagers clears world-leading 2.02 m (6-7 1/2) in Lausanne
4. Vingegaard and Pogacar favored in 110th Tour de France
5. Yamashita not optimistic about a 2030 Sapporo Winter bid
The U.S. Olympic & Paralympic Committee published its annual "Impact Report" on Wednesday, including its 2022 financial statements. Revenues were $297 million and expenses above $327 million for a $30 million deficit, due to investment losses. The USOPC paid $148.31 million to athletes in cash and services and to the National Governing Bodies, with the U.S. Ski & Snowboard Association getting the most money, in an Olympic Winter Games year. At the USA Swimming national championships, world-leading marks were turned in by Katharine Berkoff in the women's 50 m Backstroke, by Justin Ress in the men's 50 m Back, and by World Champion Torri Huske in the women's 100 m Butterfly. The Wanda Diamond League has resumed with the Athletissima meet in Lausanne, with Australia's Nicola Olyslagers taking the world outdoor lead in the women's high jump with a 2.02 m (6-7 1/2) jump in the event held in the city center. The main portion of the meet comes Friday. The 110th Tour de France starts Saturday with the first of 21 stages with recent winners Jonas Vingegaard of Denmark and Tadej Pogacar of Slovenia the favorites. The re-elected head of the Japanese Olympic Committee believes the situation for a Sapporo bid for the 2030 Olympic Winter Games is difficult, given falling levels of public support, thanks in part to the continuing revelations of scandals at the Tokyo 2020 organizing committee.
● Panorama: Paris 2024 (Estanguet says Paris 2024 not worried about police raid) = Russia (2: Czech Republic bans Russian athletes on its soil; RUSADA does 5,082 tests in first six months) = National Olympic Committees (French NOC elects UCI head David Lappartient as President) = Athletics (2: Kersee named Legend Coach; Belgium relegated in Euro Team Champs) = Boxing (Kremlev promises more money to national feds) = Wrestling (UWW unveils strategy outline for 2022-26) ●
1.
USOPC paid $148.31M to athletes and NGBs, lost $30.46M in 2022
The annual "Impact Report" of the United States Olympic and Paralympic Committee explained the wide range of activities it is engaged in, but most of all revealed a heavy emphasis on athlete services, with generally good results.
But the USOPC also lost $30.46 million in 2022.
Spending, in an Olympic Winter Games year, was down from 2021: $327.22 million vs. $346.30 million, so the problem was in revenue.
True, monies from the International Olympic Committee for the USOPC's share of U.S. television rights and TOP sponsorships was down from 2021 since payments for the Olympic Winter Games are less than those for the Olympic Games. In 2021, those payments, and USOPC domestic sponsorship sales totaled $396.48 million, vs. the 2022 total of $299.44 million. This was expected.
Contributions, a recent emphasis for the USOPC, were up. The 2021 total of $24.85 million was surpassed by 16% to $28.91 million in cash, plus another $3.79 million in value-in-kind (not called out in 2021) for a total of $32.70 million. Fundraising expenses were down slightly, from $10.45 million in 2021 to $10.35 million in 2022.
So what happened?
Investments. Where the 2021 statements showed a glossy $44.75 million in investment income, from the affiliated U.S. Olympic & Paralympic Endowment and U.S. Olympic & Paralympic Foundation, that turned into a loss of $41.62 million in 2022, a flip of $86.37 million. And there's the difference.
Removing the investment loss showed operating income of $11.16 million, instead of the posted loss of $30.46 million, on net revenues of $296.76 million. So now you know.
During the year, the USOPC made payments to athletes and to National Governing Bodies, which also paid athletes from various programs:
● $40.00 million in direct athlete payments
● $20.45 million in direct-to-athlete services
● $67.15 million in National Governing Body grants
● $20.71 million in National Governing Body services
The total was $148.31 million. The biggest winners among the NGBs included several of the winter-sport federations in an Olympic Winter Games year:
● $16.58 million to the U.S. Ski & Snowboard Association
● $9.88 million to USA Track & Field
● $7.86 million to USA (Ice) Hockey
● $7.17 million to USA Swimming
● $5.89 million to USA Bobsled & Skeleton
● $5.71 million to USA Wrestling
● $4.76 million to USA Volleyball
● $4.51 million to USA Speedskating
● $4.42 million to USA Gymnastics
● $4.17 to U.S. Paralympic Track & Field
There were additional expenditures by the USOPC itself related to its "Athlete Excellence" programs which brought the total in this sector to $183.18 million or 61.85% of the total expenses for the year.
The USOPC also paid $20.00 million to the U.S. Center for SafeSport as mandated by the U.S. Congress, and $5.16 million to support the U.S. Anti-Doping Agency.
Even with the investment losses, the USOPC is hardly a hand-to-mouth organization. It ended 2022 with assets of $864.66 million, including $321.84 million in reserves, including those with donor restrictions.
There is also a fascinating disclosure in the notes to the statements, which explained that the U.S. Olympic & Paralympic Foundation entered into an agreement in 2022 with the Los Angeles 2028 organizing committee for "fundraising rights for the LA28 Games" for $40.00 million, discounted for early payment to $35.967 million through 2027. LA28 was apparently paid $6.90 million in 2022 as the first installment, with subsequent payments due of $4.0 million in 2023 and 2024 and $7.0 million in 2025-26-27. Taken as described, this means that you will not see a donations-request program from LA28 for the organization of the 2028 Games, and the U.S. Olympic & Paralympic Foundation will be the one asking for donations to support the American team in 2028. Logical, and a nice bonus for the LA28 budget.
The USOPC's Form 990 tax return showed 561 people employed during 2022, along with 573 volunteers. The financial statements list the top 20 earners at the USOPC, who were paid – including salary, bonus, retirement and non-taxable benefits – $9.43 million, from $305,708 to $1,175,947.
¶
Beyond the financial elements, the USOPC reported on advances in athlete support and endorsements.
The Athlete Marketing Platform pilot program has had a positive, if limited impact:
● There were 1,045 athletes in the program in 2022, with 517 accepted deals that averaged $1,500 each. A total of $811,000 was paid to 277 separate athletes through the Platform.
● Some 67% of athletes at the Beijing Games 2022 had at least one personal endorsement deal, a major upswing vs. the 3% at the Pyeongchang Games in 2018.
The USOPC's personal support programs also provided direct support to more than 600 athletes through Athlete Ombuds office, and the Athlete Legal Aid effort delivered nearly 300 pro bono hours of attorney time.
A continuing priority for the USOPC has been to support American candidates for positions on International Federations. Per the report:
"We also elected five individuals to new positions at the international level – Beau Welling, President, World Curling Federation; Max Cobb, Secretary General, International Biathlon Union; Kim Rhode, Vice President, International Shooting Sports Federation; Allyson Felix, IOC Athletes' Commission and Clare Egan, World Anti-Doping Agency Athletes' Commission – and re-elected Pat St. Peter, Council, International Skating Union."
Those individuals are important representatives for the U.S. and more are needed. The selections of Welling and Cobb are especially impressive achievements.
2.
World leads for Berkoff, Ress and Huske at U.S. nationals
The important work of qualifying a team for the World Aquatics Championships continued Thursday at the USA Swimming National Championships in Indianapolis, along with the re-writing of the 2023 world rankings.
Three events saw world-leading performances, starting with the morning heats in the women's 50 m Backstroke, where 2022 Worlds silver medal winner and American Record holder, Katharine Berkoff, went to no. 1 at 27.27. That didn't last long.
In the final, Berkoff and 2022 World 100 m Back gold winner Regan Smith – already a two-event winner in Indy – were off quickly and came up almost together, with Smith taking the slightest of leads by midway. But Berkoff caught her in the final 10 m and reached for the wall first, winning by just 27.13 to 27.14, another world leader and just 1/100th off Berkoff's American Record from last year.
Gretchen Walsh, the 50 m Fly winner, was third in 27.54 and the U.S. now ranks 1-2-8 in the world for 2023. Smith moved to no. 6 all-time in the event, and still no. 2 in American history.
Then came the men's 50 m Back final, another showdown between world-record holder Hunter Armstrong and 2022 World Champion Justin Ress. Armstrong led in qualifying at 24.20, no. 2 in 2023, and had the early edge in the final.
Ress kept coming and drew even with 15 m left, then timed a perfect lunge at the wall and won in a world-leading 24.10, with Armstrong at 24.16 (no. 3). Wyatt Davis for third in a lifetime best of 24.62 (now no. 10).
The third world leader came in the women's 100 m Butterfly. Sure, World Champion Torri Huske was ready to go, but it was defending national champ Walsh who had set the American Record a night before in the 50 m Fly, and led the qualifying at 57.09. In the final, it was Walsh out hard again and leading at the turn over Huske by 0.21.
But that didn't last as Huske closed hard in the last half lap and only got the lead on the final stroke to touch in a world-leading 56.18, with Walsh now no. 2 at 56.34. Kate Douglass, already the winner of the 100 m Free and the 200 m Breast runner-up, almost made the team in a third stroke (!), finishing third in 56.43, now no. 3 on the world list. Claire Curzan, the 2021 World Short-Course bronze medalist in this event, was fourth in 56.61, now no. 7 in the world this season.
Walsh now ranks no. 4 all-time U.S. and Douglass remains at no. 6.
So many stories in the men's 100 m Fly final. Cal's Dare Rose – who finished sixth at the Pac-12 100-yard Fly in March – led the qualifying at 50.87 to move to no. 7 all-time U.S. and Tokyo Olympic champ Caeleb Dressel moved into the A final after qualifying ninth, but due to a scratch ahead of him.
Shaine Casas was the defending U.S. champ, and got out best, leading at the turn over Rose by just 0.05, but Rose charged in the middle of the final lap to win going away in 50.74, a lifetime best, no. 3 in the world for 2023, and now no. 6 all-time U.S.
Casas was second halfway home on the final lap, but 16-year-old Thomas Heilman, who was the 200 m Fly runner-up on Tuesday, kept coming and touched second in 51.19, now no. 10 in the world this season. Casas was third in 51.42; Dressel tied for fifth in 51.66.
The women's 50 m Breaststroke final saw the last two Olympic champs in the women's 100 m Breast fight it out: Rio winner Lilly King and Tokyo gold medalist Lydia Jacoby. King got the best start, but Jacoby wasn't far back and the two, racing side-by-side, were close the whole way. Jacoby got close, but King had the perfect stroke sequence to touch the wall and won in 29.77, no. 2 in the world for 2023, with Jacoby at 29.81, now no. 3, and also no. 3 all-time U.S.
The men's 50 m Breast final was a two-man race between reigning World Champion Nic Fink and super-sprinter Michael Andrew and they were neck-and-neck the entire race. Fink nursed a small advantage to the wall and had an excellent touch to win in 26.74, no. 4 in the world for 2023. Andrew was just 13/100ths back at 26.87, just 0.03 off his seasonal best.
For Fink, at 29, it's his fifth World Championships team for the U.S. A long-time teammate would get a sixth.
Carson Foster, the Worlds 200-400 m Medley runner-up last year, led the 400 m Medley qualifying and came in no. 4 in the world in 2023. But he had to deal with Tokyo Olympic champ Chase Kalisz, Tokyo runner-up Jay Litherland and Tokyo Olympic 800-1,500 m Freestyle gold winner Bobby Finke, already the 1,500 m Free winner and branching out to the Medley.
Off the start, it was Foster to the lead on the Fly leg, just ahead of Kalisz, and Foster was 1.51 seconds up on Finke after the Backstroke. But Kalisz's well-known Breaststroke speed almost gave him the lead after just the next 50 m and Kalisz was leading the field by 0.54 with the Freestyle remaining. But Foster re-took the lead by the last turn and pushed home in 4:08.14, moving up to no. 3 in the world for 2023.
Kalisz held on for second as Finke closed fast, 4:08.22 (no. 4 in 2023) to 4:09.55 (no. 5), with Litherland fourth in 4:10.74 (no. 8). Kalisz, like Katie Ledecky on Tuesday, made a sixth U.S. World Championships team, joining her, Nathan Adrian, Elizabeth Beisel, Natalie Coughlin, Ryan Lochte and Michael Phelps.
The women's 400 Medley had Alex Walsh, the Tokyo Olympic 200 m Medley silver medalist leading the qualifying, but the favorite was Katie Grimes, still just 17, the 2022 Worlds runner-up in this event and no. 3 on the 2023 world list (but also the U.S. 10 km Open Water champion this season!).
Grimes was out well, leading Leah Hayes and Walsh after the Fly leg and Grimes was up by 2.23 seconds on Walsh after Backstroke. But Walsh is a superior breaststroker and took the lead by 1.88 going into the last two laps. That wasn't enough. Grimes was much too strong, took the lead after 50 m and came home with a clear win in 4:33.80. She's already timed 4:31.81 this season, so she stays third on the world list.
Walsh was second at 4:35.46, moving up to no. 5 this season, with Hayes third in 4:38.45.
Friday's schedule has the just three events: the 400 m Freestyle – likely the 25th national title for Ledecky – and the 100 m Breast final – a triple for King? – and 100 m Back. Saturday has the women's 1,500 m Free, men's 800 m Free, the 200 m Medleys and 50 m Freestyles. Live coverage is only on the Peacock streaming service.
3.
Olyslagers clears world-leading 2.02 m (6-7 1/2) in Lausanne
The annual Athletissima meet in Lausanne, Switzerland started early with a downtown women's high jump and a world-leading performance from Tokyo Olympic silver winner Nicola Olyslagers (AUS).
She had to fight off two Ukrainian stars in two-time Worlds runner-up Yaroslava Mahuchikh and Olympic and Worlds fourth-place Iryna Gerashchenko and all three cleared 1.97 m (6-5 1/2) with Olyslagers ahead on misses. Olyslagers and Gerashchenko both cleared 2.00 m (6-6 3/4) on their first attempts, with Mahuchikh missing once and passing to 2.02 m.
Olyslagers equaled her lifetime best with a clearance on her second try, but Gerashchenko missed all three attempts and Mahuchikh missed her two remaining tries to give the Australian the win. It's the best outdoor jump in the world this season, equaling Mahuchikh's 2.02 m indoors.
The main program is on Friday, shown in the U.S. on the Peacock streaming service from 2-4 p.m. Eastern time, with a replay on CNBC on Saturday from 1-3 p.m. Eastern.
Shot put superstar Ryan Crouser of the U.S. leads the field event line-up, along with Olympic and World women's vault champ Katie Moon. Olympic gold medalists Miltiadis Tentoglou (GRE: long jump) and Neeraj Chopra (IND: javelin) are also featured and Chopra will have his hands full with two-time World Champion Anderson Peters of Grenada.
The new world-record holders in the men's two-mile – Norway's Jakob Ingebrigtsen – and Steeple – Ethiopia's Lamecha Girma – will duel in the men's 1,500 m. Ingebrigtsen won the sensational race in Oslo to move to no. 6 all-time at 3:27.95. Could this be faster?
Five women's world leaders will be in action, with Marie-Josee Ta Lou (CIV) in the 100 m, Keely Hodgkinson (GBR) in the 800 m, Sembo Almayev (ETH) in the Steeple, Jasmine Camacho-Quinn (PUR) in the 100 m hurdles and Femke Bol (NED) in the 400 m hurdles.
After being off for two weeks, the Diamond League is in Lausanne on Friday and then in Stockholm for the Bauhaus Galan on Sunday. This will air live in the U.S. on CNBC from 12-2 p.m. Eastern, as well as on Peacock.
Norway's Karsten Warholm is scheduled in the 400 m hurdles – he opened in Oslo with a startling 46.52, the no. 4 performance in history – as well as World Champions Mondo Duplantis in the men's vault, Kristjian Ceh (SLO) in the men's discus, Emmanuel Korir (KEN) in the men's 800 m, Soufiane El Bakkali (MAR) in the Steeple, Tobi Amusan (NGR) in the women's 100 m hurdles, plus comebacking world-record holder Wayde van Niekerk (RSA) in the men's 400 m.
4.
Vingegaard and Pogacar favored in 110th Tour de France
The 110th Tour de France sets off on Saturday for the first of 21 stages in the world's most celebrated cycling event, with the winners of the last four Tours set to go.
The favorites are the defending champion Jonas Vingegaard (DEN) and the winner of the prior two Tours, Slovenia's Tadej Pogacar. Both are in prime condition, with Vingegaard, 26, winning the Itzulia Basque Country in April and the Criterium du Dauphine that finished on 11 June.
Pogacar, 24, won the Tour in 2020 and 2021 and has nine career stage wins at the Tour. He has raced frequently in 2023, winning the eight-stage Paris-Nice title in March (Vingegaard was third), then taking the E3 Saxo Classic, Ronde van Vlaanderen and La Fleche Wallonne races in April and winning the Slovenian nationals in both the Time Trial and road race last week.
Mattias Skjelmose (DEN), winner of the Tour de Suisse in mid-June is seen as a possibility, along with Adam Yates (GBR), winner of the 2021 Vuelta a Espana and second at the Criterium du Dauphine. Belgian star Wout van Aert has nine career stage wins at the Tour, and has finished 20-19-21 in the last three years.
Colombia's Egan Bernal won in 2019 and is entered, but is not considered a contender this year.
One of the most compelling side stories is 38-year-old Mark Cavenish (GBR), who will retire at the end of the season, but is tied with all-time great Eddy Merckx (BEL) with 34 Tour stage wins. He last won a Tour stage in 2021, but has been in good form in 2023, winning the final stage of this year's Giro d'Italia.
The 2023 Tour will start in the Basque Country of Spain and won't reach France until the end of the third stage. This year's route is difficult:
● 8 Mountain stages: 5-6-9-13-14-15-17-20
● 6 Hilly stages: 1-2-8-10-12-18
● 6 Flat stages: 3-4-7-11-19-21
● 1 Individual Time Trial: 16
Four stages – 6-9-13-15 – have uphill finishes, plus the Time Trial tour in stage 16. The worst day would appear to be on 19 July, a four-climb, 166 km test that includes the 2,304 m Col de la Loze – a 1,700 m climb over 29 km – before finishing at the alpine resort of Courchevel.
In the U.S., the race is being shown on the Peacock streaming service, along with delayed showings on the USA Network and NBC (1 and 23 July only).
5.
Yamashita not optimistic about a 2030 Sapporo Winter bid
The 1984 Olympic champion in the Open weight class, Japan's Yasuhiro Yamashita won re-election as the head of the Japanese Olympic Committee for a third term, but cast doubt on Sapporo as a candidate for the 2030 Olympic Winter Games.
"Under the current circumstances, 2030 will be quite hard.
"The International Olympic Committee highly regards Japan's ability to manage sporting events but attaches great importance to the approval rating of each host candidate.
"Trust in the Olympics is declining. It's necessary to have a legacy that takes root and makes people think in 10 years' time or 20 years' time, it was good to host the Tokyo Olympics."
Sapporo, which hosted the 1972 Winter Games, looked like a possible winner in the race for 2030, but increasing cost estimates coupled with disclosures of sponsorship and bid-rigging scandals in the organization of the Tokyo 2020 Games have suppressed interest in another such event.
The 2030 situation is still in flux, with no ready-to-go candidate currently available. A Swedish bid that would spread the Winter Games across the country is in development; Switzerland is a possibility only, and the local bid from Vancouver – the 2010 host – has failed to attract the needed financial support from British Columbia.
Salt Lake City has a formidable bid ready to go, but strongly prefers a 2034 designation, although it would be willing to organize the 2030 Games if asked by the IOC.
≡ PANORAMA ≡
● Olympic Games 2024: Paris ● "It's the first time this has happened to us, so we were surprised. We said, 'Yes, of course, take all the information you need.'"
That's Paris 2024 chief Tony Estanguet, the three-time Olympic champ in C-1 Canoe Slalom, speaking with The Associated Press about the recent raid by French authorities at the Paris 2024 offices.
Estanguet sees the inquiry as just one more speed bump on the road to the Paris Games next year:
"I am cooperating. There will surely be other stages. We'll surely have to reply to more questions. There will be more checks right up to the end, perhaps even after the Games.
"So I am ready for that and I know that it is part of this kind of adventure. We'll be inspected intensely, criticized hugely."
The AP reported that, according to an unnamed judicial official:
"Investigators do not suspect that bribes were paid or received, drawing a sharp distinction with the corruption probes that ensnared Tokyo and Rio, the official said. Instead, two police units that fight financial criminality are investigating about 20 Olympic-related contracts – some worth less than 1 million euros – for suspected violations of French laws governing conflicts of interest, contract dealings and use of public funds, the official said."
● Russia ● The Czech Republic has banned Russian athletes and teams from sporting events held there.
The measure was introduced by Education Minister Education Mikulas Bek to ban "the participation of individual athletes and sports teams representing the Russian Federation in sports competitions and matches organized on the territory of the Czech Republic."
Czech athletes and teams are also, under the ban, not allowed to compete in any event held in Russia.
An April vote of the Czech Olympic Committee declared the COV against any form of participation of Russia and Belarus in international competitions, or in the Paris 2024 Olympic Games next year. Other governments and National Olympic Committees have adopted similar bans, notably Poland, which refused to allow any Russian or Belarusian athletes or teams to enter the country to compete in the ongoing European Games in Krakow and Malopolska.
¶
The Russian Anti-Doping Agency announced Thursday that it had collected 5,082 samples during the first half of 2023, including in 20 countries outside of Russia.
Of the 5,082 samples, 1,973 were taken in-competition, and 3,109 were from out-of-competition testing. As RUSADA continues to be suspended by the World Anti-Doping Agency, the samples were tested in seven foreign laboratories.
For comparison, the U.S. Anti-Doping Agency collected 4,894 samples in the first half of 2022 and 1,969 samples (up 11%) in the first quarter of 2023.
● National Olympic Committees ● In the latest round of elections that continue to consolidate multiple Olympic-related offices in one person, David Lappartient was elected as the new head of the National Olympic Committee of France (CNOSF).
The election followed the unexpected resignation of Brigitte Henriques in May, amid a period of turmoil within French sport. Lappartient was elected as the head of the UCI in 2017, is now a member of the International Olympic Committee and heads the IOC's liaison committee with the eSports community. He had already been a CNOSF board member by virtue of his IOC membership.
He will now serve the unexpired portion of Henriques' term, to 2025.
It's pretty unusual for one person to serve as the head of a National Olympic Committee and an International Federation, through not unprecedented. In terms of multiple offices held, Italian Ivo Ferriani currently serves as the President of the International Bobsleigh and Skeleton Federation (IBSF), head of the Association of Winter Olympic International Federations (AWOIF), head of the International Federation umbrella group Sport Accord, is a member of the IOC and because of this, is a board member of the Italian National Olympic Committee (CONI).
● Athletics ● Legendary sprint coach Bobby Kersee has been honored with the USATF Legend Coach Award for 2023, to be presented at next week's USA Track & Field National Championships in Eugene, Oregon.
Kersee is already a member of the U.S. Track & Field and Cross Country Coaches Hall of Fame for his collegiate coaching achievements at Cal State Northridge and UCLA. He has coached some of the most iconic athletes in American history, including Allyson Felix, Gail Devers, Jackie Joyner-Kersee and now Sydney McLaughlin-Levrone and Athing Mu, among others.
This the ninth edition of the USATF Legend Coach Award, selected by the USATF Coaches Advisory Committee. Kersee is the third to be honored having had a UCLA background, as did 2016 honoree Tom Tellez, an assistant coach before going to the University of Houston, and distance legend Bob Larsen (2019), the UCLA head coach from 1985-99.
¶
Further to Tuesday's post noting how Belgian shot putter Jolien Boumkwo stepped in to run the women's 100 m hurdles after both Belgian entries were hurt, SpainSports statistician Phil Minshull (GBR) explained further:
"The [Belgian] team wouldn't have been disqualified for not entering a competitor (and in Division 3 there were a number of events were various teams didn't or couldn't enter competitors) but would have got zero points. With Belgium cited for relegation, which eventually happened, every point was vital. In the end, she actually got two points after the disqualification of the Swiss hurdler in the other heat."
Belgium ended up 14th in Division 1 – by 256.5 to 250.0 for Greece – and was relegated to Division 2 for the 2025 meet. It wasn't Boumkwo's fault; she placed seventh in her regular event, the shot.
● Boxing ● International Boxing Association President Umar Kremlev (RUS) posted a message to the national federations on Thursday, urging calm and promising more money:
"We would like to stress at this point, there should be no panic amongst National Federations and Confederations. The situation has been remaining the same for several years and our position as a world-class organisation developing boxing from the grassroots has never changed."
As for finances, Kremlev asked for information first:
"[W]e are kindly asking you to indicate your sources of income from the National Federation you represent. This is important for us to understand as our Financial Support Program (FSP) must be tailored to the needs of our National Federations and Confederations.
"We are pleased to share that we have secured funds for the next 4-year cycle to support our members, and the grants given will grow from $20,000 to $50,000 in 2024, and in 2025 the sum will reach $100,000 per National Federation. We are currently in the process of selecting a commercial partner from the several proposals we have received, and we are grateful to all companies that are willing to support the sport of boxing."
Last weekend, the 43-member Asian Boxing Confederation Board agreed to propose an amendment to its constitution to allow it to affiliate with an International Federation which is recognized by the IOC, which would mean deserting the IBA. Look for more to follow.
● Wrestling ● United World Wrestling unveiled its 2022-26 strategy document, with a clear focus on specific goals:
"Over the next four years, we will put additional resources – time, money and people, towards five key focus areas: Youth Engagement, Women's Wrestling, Associated Styles, Image of Wrestling, and Digital Transformation.
"Each of these represent an area where there is tremendous opportunity for our sport."
The youth engagement effort will aim at getting the sport into more school programs – the best possible outcome – and encourage new clubs, along with making new competitions and awards available as incentives.
Promotion of women's wrestling interestingly includes a review of the "blockers stopping the growth" of women in the sport, plus developing more female coaches and trying to make the events themselves more attractive. The same consultative approach will be made to find ways to expand the non-Olympic styles, such as sambo.
Programs for improving the image of wrestling and the use of digital means both are aspirational and do not have defined programs as yet.
Observed: The 12-page strategy outline is well thought out, but short on tactics or a tool kit to allow national federations to make significant change.
Wrestling as a concept is widely understood and appreciated, and there are available, interesting options to help the sport – including innovative technologies – but the way matches are contested, scored and presented need significant revision in order to attract more attention, as well as appreciation.
¶
You can receive our exclusive TSX Report by e-mail by clicking here. You can also refer a friend by clicking here, and can donate here to keep this site going.
For our updated, 651-event International Sports Calendar (no. 2) for 2023 and beyond, by date and by sport, click here!