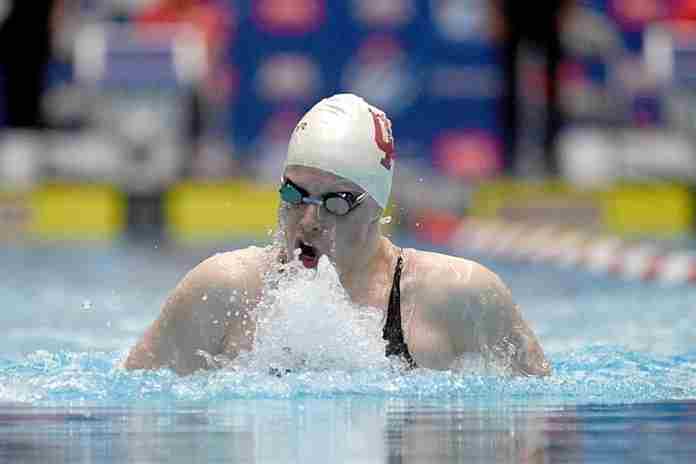 ★ The Sports Examiner: Chronicling the key competitive, economic and political forces shaping elite sport and the Olympic Movement.★
★ Getting there! Thanks to 17 donors, we're at 47% of our summer fund-raising goal. Please help if you can.. Your support is vital. ★
★ To get The Sports Examiner by e-mail: sign up here! ★
≡ THE 5-RING CIRCUS ≡
1. Ledecky, King, Smith, Foster claim three U.S. swim titles
2. Aregawi, Moon join Olyslagers with world leads in Lausanne
3. U.S. men club Trinidad & Tobago, 6-0, win Gold Cup group
4. Tour de France opens with Yates brothers going 1-2
5. Paris 2024 training site damaged in French riots
The USA Swimming National Championships concluded on Saturday with four swimmers – Carson Foster, Lilly King, Katie Ledecky and Regan Smith – each winning three events. A powerful U.S. team was selected for the upcoming World Aquatics Championships, especially on the women's side. The Diamond League resumed in track & field, with three world-leading marks in Lausanne on Friday, especially Ethiopia's Berihu Aregawi's mighty 12:40.45 win over world-record holder Joshua Cheptegei of Uganda in the men's 5,000 m. On Sunday, national hero Mondo Duplantis won the men's vault at a cold and rainy Bauhaus Galan in Stockholm, which was marred by protesters sitting in lanes on the track as the men's 400 m hurdles finished. The U.S. men's National Team crushed Trinidad & Tobago, 6-0, to win Group A in the CONCACAF Gold Cup and moves on to the quarterfinals next weekend. Striker Jesus Ferreira got a first-half hat trick for the second game in a row, the first time ever for a U.S. player. The 110th Tour de France began Saturday in northern Spain, with the Yates twins – Adam and Simon – going 1-2 in the opening stage, only the third time that's ever happened. But stage two was marred by the throwing of tacks onto the course about 20 km from the finish in San Sebastian, Spain. In France, the continuing unrest in the aftermath of the shooting death of a teenager last week included some minor damage to a new training aquatics training site built for the 2024 Paris Olympic Games.
● Panorama: European Games (2: Italy leads final medal table; German team visits Auschwitz) = Athletics (D'Amato smashes U.S. Half Marathon record) = Cycling (2: Van Vleuten in charge at Giro Donne; Schurter and Pieterse supreme in Val di Sole) = Fencing (Russian Lakhanov wins U.S. national Sabre title!) = Football (2: Iran to allow women in stadiums; FIFA provides armbands for Women's World Cup) = Gymnastics (China dominates Trampoline World Cup) = Sport Climbing (Schbuert and Garnbret win in Villars) = Water Polo (Spain wins men's World Cup SuperFinal) = Weightlifting (all new national champs for men and women!) ●
● Schedule note: Time for a break for Independence Day! Back later this week. ●
1.
Ledecky, King, Smith, Foster claim three U.S. swim titles
There were surprises, sure, at the USA Swimming National Championships in Indianapolis, but three women's stars shone brightest, winning three titles apiece, as did only one of the male swimmers.
On Friday, Katie Ledecky won her 26th national title, this time in the women's 400 m Freestyle in 4:00.45, comfortably in front of 2022 Worlds relay gold medalist Bella Sims (4:03.25) and three-time Worlds relay champ Leah Smith (4:03.85).
On Saturday, Ledecky took her third title of the meet in the women's 1,500 m Free, leading by 0.99 after 100 m and by 25 m at the halfway mark (7:44.55). She passed 800 m in 8:15.64, which would have ranked no.2 in the world in that event … only to Ledecky herself! She finished in a world-leading 15:29.64, the no. 6 performance in history. She now owns the top 15 times in history.
Katie Grimes, 17, the 2022 Worlds runner-up in this event and the 2023 U.S. 10 km Open Water champ, was second in 15:58.34 and will also go back to the Worlds in Fukuoka.
There are plenty of young stars in swimming, but 10-time Worlds gold winner Lilly King keeps on keeping on, claiming three more national titles and sweeping the women's Breaststroke events, finishing with a world-leading 1:04.75 triumph in Friday's 100 m final. That's the no. 9 performance of all time and she now has five of the top 10.
Tokyo Olympic champ Lydia Jacoby got second, 1:05.16 to 1:05.48 over Kaitlyn Dobler, now nos. 3-4 in the world this season.
And then there was Regan Smith, the four-time Worlds gold winner, taking her third title in the 100 m Backstroke at 57.71, no. 2 on the year list for 2023, beating out 50 m back winner Katharine Berkoff (58.01, no. 3), Claire Curzan (58.59, no. 5) and Olivia Smoliga (58.92, no. 7). Smith had already won the 200 m Back and 200 m Fly.
Kate Douglass was busy as the winner of the 100 m Free, second in the 200 m Breast and third in the 100 m Fly, then taking on 2022 World Champion Alex Walsh in the 200 m Medley final. Douglass moved to no. 3 in the world in the heats (2:08.29), then saw Walsh fly by in the Breaststroke portion of the final by 1.22 seconds. The gap was down to 0.38 after the Backstroke and then Douglass out-sprinted Walsh to the wall, 2:07.09 to 2:07.89, with Torri Huske third in 2:09.75. That makes Douglass no. 2 in 2023 (and no. 6 all-time) and Walsh, no. 4.
Abbey Weitzeil, 26, had been the best U.S. sprinter most of this season, but was second to Douglass in the 100 m Free. She made up for it in the women's 50 m Free final, storming to the lead and never letting up with a lifetime best of 24.00, no. 2 in the world for 2023. That's no. 2 in U.S. history by just 0.03 and she's now no. 13 all-time.
Gretchen Walsh, the 50 m Fly winner, wasn't far behind, a clear second at 24.31 for no. 6 in the world this season, with Douglass – on 45 minutes rest – and Smoliga tied for third at 24.48.
There were multi-event winners on the men's side, too. Carson Foster won the 200 m Fly and 400 m Medley, and took the 200 m Medley title, taking over on the Breaststroke leg, and winning in 1:56.19, now no. 4 in the world in 2023.
Behind him was a fight for second between world no. 3 Shaine Casas, who had not performed well all week, and Trenton Julian, a two-time World relay medalist, in lanes seven and eight. Casas was the last qualifier out of the heats, but was never out of the top three and held off Julian on the final leg to get on the plane to Fukuoka at 1:57.47, with Julian at 1:57.94.
Tokyo Olympic 800-1,500 m Free gold medalist Bobby Finke had already won the 1,500 m and forged a 2.55-second lead over Will Gallant in the first half of the 800 m Free and surged away to win by 7.76 seconds in 7:40.34, the fastest time in the world in 2023. Ross Dant, the NCAA runner-up in the 1,650 yards for North Carolina State, got a lifetime best of 7:48.10 for second, with NCAA winner (and fellow Wolfpacker) Gallant third in 7:50.75 (as he was in the 1,500 m).
Nic Fink was also a double winner, taking the 100 m Breast in 58.36 – a lifetime best, no. 2 in 2023, and still no. 7 all-time – over Joshua Matheny (59.20, no. 13), to add to his 50 m Breast title.
Ryan Held was the favorite in the 100 m Free, but ended up fifth, and needed to redeem himself in the 50 m Free final … and he did. He got out well, got to the lead and touched as the clear winner in a lifetime best of 21.50, no. 2 in the world this season. Michael Andrew, the winner of the 50 m Fly, looked good for second until the final stroke, when Cal's Jack Alexy – the upset winner of the 100 m Free – touched in 21.63 to Andrew's 21.64, nos. 4-5 on the 2023 world list. Tokyo Olympic champ Caeleb Dressel was 22nd in the heats in 22.72.
Hunter Armstrong was second in the 50 m Back to Justin Ress, but won the 100 m Back in front of 200 m Back winner Ryan Murphy, 52.33-52.39, with Ress third in 52.90, now nos. 2-3-9 on the 2023 year list.
In the men's 400 m Free, David Johnston, 21, scored an unexpected win in 3:45.75 (no. 9 in 2023) over Kieran Smith (3:46.11).
The U.S. will, once again, have a powerful team for the World Championships in Fukuoka later this month, but will face some stiff competition from Australia and a bevy of European stars. This will be fun.
2.
Aregawi, Moon join Olyslagers with world leads in Lausanne
The Wanda Diamond League had a two-week break between the Bislett Games in Oslo and Athletissima in Lausanne on Friday, then two meets in three days with the Bauhaus Galan on Sunday in Stockholm. Both were worth waiting for.
In very cool, 63-degree (F) conditions in Lausanne, the distance races benefitted, especially the spectacular men's 5,000 m. It was Tokyo Olympic 10,000 m fourth-placer Berihu Aregawi (ETH) who decided this was going to be a fast race … a really fast race. With a previous best of 12:50.05 from 2022, he took over from the pacesetters after 2,000 m and then punished the rest of the field by running the next seven laps – from 2,000 to 4,800 m – in a staggering 7:02.7:
● 60.5, 60.6, 61.0, 61.2, 60.6, 60.5, 58.5, and a final 200 m in 27.7.
Only one could stay with him: world-record holder Joshua Cheptegei (UGA), and the two broke away with two laps remaining. Aregawi was in front, but Cheptegei kept close and then two were chest-to-chest down the straight, with Aregawi winning with a final burst in 12:40.45, fastest in the world in 2023 and making him the no. 5 performer ever, with the no. 6 performance. His last 400 was in 55.7 and the last 1,600 m in 3:57.9.
Cheptegei finished in 12:41.61, the no. 7 performance ever. Ethiopians Hagos Gebrhiwet and Telahun Haile were 3-4 in 12:49.80 and 12:49.81. Fabulous.
The other world leader on Friday was Olympic and World Vault Champion Katie Moon of the U.S. at 4.82 m (15-9 3/4), making her last two heights on her third try, to beat European champ Wilma Murto (FIN: 4.77 m/15-7 3/4).
Aregawi overshadowed Olympic champ Jakob Ingebrigtsen (NOR), who ran away from a strong field in the men's 1,500 m to record his fourth-fastest race ever in 3:28.72. Ethiopia's Steeple world-record holder Lamecha Girma was second in a national record 3:29.51 and Britain's Josh Kerr was third in 3:29.64. Girma is the 44th man to break 3:30.
Elsewhere, American star Ryan Crouser won the shot at 22.29 m (73-1 3/4) and Olympic javelin champ Neeraj Chopra (IND) took a stirring duel with German Julian Weber and Czech Jakub Vadlejch, 87.66 m-87.03 m-86.13 m (287-7 – 285-6 – 282-7).
Cote d'Ivoire sprint star Marie-Josee Ta Lou won the women's 100 m in 10.88 (wind: -0.8 m/s), Olympic champ Jasmine Camacho-Quinn (PUR) took the 100 m hurdles in 12.40 (-1.4, equal-4th performance of 2023), beating world-record holder Tobi Amusan (NGR: 12.47) and American Tia Jones (12.51), and Femke Bol (NED) had the no. 3 performance of the year in the 400 m hurdles in 52.76.
Kenya's 800 m Worlds bronze winner Mary Moraa scored a big win – and moved to no. 2 in the world for 2023 – by sailing away from British star Keely Hodgkinson in the women's 800 m, 1:57.43 to 1:58.37. Australia's Mackenzie Little, fifth at the 2022 Worlds, moved to second on the world list with a win at 65.70 m (215-7).
Australia's Nicola Olyslagers had upped the world lead in the women's high jump to 2.02 m (6-7 1/2) with her win on Friday, held downtown.
¶
Sunday in Stockholm was rainy and even cooler, with 59 F temperatures, so the marks were not going to be special, but the competition was sharp.
A nice crowd came to see Swedish national heroes – and Olympic champs – Mondo Duplantis in the men's vault and Daniel Stahl in the men's discus.
Rain caused a long delay in the vault, so it continued after all of the other events had finished. The field was down to four by 5.72 m (18-9 1/4), with Duplantis clearing 5.62 m (18-5 1/4) and then passing to 5.95 m (19-6 1/4), which he made on his first attempt. That left Ernest John Obiena (PHI) in second at 5.82 m (19-1) and Duplantis moved on.
The bar went to 6.05 m (19-10 1/4) and again Duplantis had no trouble, clearing on his first try for his 65th career 6 m clearance, more than anyone else. He tried a world-record 6.23 m (20-5 1/4) to please his home crowd, but missed all three tries.
In the disc, Stahl was game, but 2022 World Champion Kristjian Ceh (SLO) took the lead at 69.83 m (229-1) in the second round and won his third Diamond League meet of the season. Stahl was a solid second at 67.57 m (221-8) with his only legal throw, from the second round.
Starting in lane eight, Norway's Karsten Warholm was in control of the men's 400 m hurdles from the start and won going away in 47.57, a time no one else has surpassed this year! Kyron McMaster (IVB) was a solid second in 48.94, but had to dodge three self-righteous protesters who sat on the track in front of the finish line and held banners across lanes one to six. Third-place Rasmus Magi (EST: 49.04) had to cross over from lane three to lane two to avoid stepping on one and fourth-place Alessandro Sibilio (ITA: 49.11) – in lane five – to have to run through a banner to get to the finish. The four other finishers had to swerve or hop into adjacent lanes to avoid stepping on the protesters.
No one was hurt and it could have been much worse. The protesters were removed after the finish, spectators booed, and it could have been disastrous. Where was security?
The men's Steeple looked promising, with the Olympic and World champ Soufiane El Bakkali (MAR) facing Olympic and World fourth-placer Getnet Wale (ETH) and they were 1-2 at the bell, but El Bakkali pushed hard with 300 m to go and won going away in 8:09.84, with Wale at 8:12.27.
The women's 1,500 m saw Ethiopia's Tokyo fourth-placer Freweyni Hailu bide her time, then explode with 300 m to go, sailing away from the field on the final backstraight and winning in 4:02.31 from countrywomen Diribe Welteji (4:02.79) and Hirut Meshesha (4:03.01).
In the women's 5,000 m, six were in contention at the bell, but Kenya's 2022 Worlds runner-up Beatrice Chebet surged with 300 m to go, had a 5 m lead into the home straight and won in a seasonal best of 14:36.52, easily beating Ethiopia's Lemlem Hailu (14:38.06). Chebet's last lap was in 59.13.
Conditions had improved for the last track race, the men's 800 m, and 2022 Worlds runner-up Djamel Sedjati (ALG) held off Spain's Saul Ordonez down the straight to win by 1:44.59 to 1:44.67.
In the men's 100 m, South Africa's 2018 African champ Akani Simbine took over in the final and won in 10.03 (wind: +1.0 m/s), clear of Britain's Reece Prescod (10.14).
Britain's Daryll Neita won the women's 200 m with an excellent straightaway to hold off 2019 World Champion Dina Asher-Smith (GBR), 22.50-22.58 (-0.6). World 100 m hurdles champ and world-record holder Amusan rebounded from her loss in Lausanne, moving away from the field after the eighth hurdle and winning in 12.52 (+0.9), ahead of Ireland's Sarah Lavin (lifetime best 12.73).
In the field, Olympic discus champ Valarie Allman of the U.S. had a tough time with the conditions, with all three throws into the netting. Two-time Olympic champ Sandra Perkovic (CRO) won at 64.49 m (211-7). Jamaica's Danniel Thomas-Dodd won the shot at 19.04 m (62-5 3/4).
Italy's Larissa Iapichino, already a Diamond League winner in Florence, took the women's long jump at 6.69 m (21-11 1/2) ahead of World Champion Malaika Mihambo (GER: 6.66 m/21-10 1/4).
New Zealand's Hamish Kerr won the men's high jump at 2.24 m (7-4 1/4).
3.
U.S. men club Trinidad & Tobago, 6-0, win Gold Cup group
The U.S. men's National Team finished Group A play in the CONCACAF Gold Cup in hot and muggy Charlotte, North Carolina on Sunday with a 6-0 rout against Trinidad & Tobago.
The American offense was in gear quickly, and got a goal in the 14th as forward Cristian Roldan raced to the left side of the box, then passed to defender DeJuan Jones at the left of the goal. He sent a cross to striker Jesus Ferreira, who brought it down in the middle of the box and then clubbed it into the net past keeper Marvin Phillip. It was Ferreira's 12th goal in his 21st national-team appearance.
In the 38th, Alejandro Zendejas found space down the left side of the box and sent a seeing-eye cross for Ferreira at the far post. Ferreira knocked it down, blasted it toward the goal and the ball bounced off of defender Sheldon Bateau and into the net for a 2-0 lead.
In stoppage time, Trinidad & Tobago defender Alvin Jones brought down Djordje Mihailovic in the box for a penalty and, of course, Ferreira took it and sent right-footed laser to the left side of the net for a 3-0 lead. That was back-to-back, first-half hat tricks for Ferreira, against St. Kitts & Nevis and Trinidad & Tobago!
The U.S. had 64% of the possession in the half, and a 7-3 edge on shots. But the game was not even that close.
Amid continued U.S. attacks in the second half, substitute midfielder Shannon Gomez got a fabulous chance in the 62nd minute, sending a left-footed rocket off the left goalpost that bounced away.
Soon after, a lead pass found substitute striker Cade Cowell suddenly one-on-two on a breakaway in the 65th minute. He deked Philip out of position, then spun Gomez around and finished with the right foot into a now-empty net for his first international goal and a 4-0 lead. A perfect diagonal pass from near the end line by sub striker Julian Gressel in the 79th gave midfielder Gianluca Busio a clear shot at goal from the middle of the box and he didn't miss for his first U.S. goal.
Substitute midfielder Brandon Vazquez got the last goal of the game at 90+4 off a Cowell through-ball that found Vazquez at the left of goal, who then sent a left-footer over the shoulder of Philip for the 6-0 final. The U.S. ended with 67% of possession and a 23-9 shots advantage. All-time, the U.S. is 21-3-4 vs. Trinidad & Tobago.
Jamaica was playing St. Kitts & Nevis at the same time, and had a 2-0 lead at half and then poured it on to win, 5-0. So, the U.S. and Jamaica both finished 2-0-1 (7 points), but the Americans won the group on goal differential, +12 to +8. They will advance to the quarterfinals that will start on 8 July; the U.S. will play on 9 July, in Cincinnati.
4.
Tour de France opens with Yates brothers going 1-2
The 110th Tour de France opened in the Basque Country of Spain on Saturday, with an unusually challenging opening stage that produced an unusual finish.
Saturday's route was a hilly, 182 km circuit in and around Bilbao, and came down to the climb up – and down – the Cote de Pike in the final 12 km of the race. This year's favorites, Jonas Vingegaard (DEN) and Tadej Pogacar (SLO), along with Victor Lafay (FRA) led the peloton, but were joined on the descent by the twin brothers Adam and Simon Yates (GBR), who then attacked.
It was Adam who triumphed over the final 500 m in 4:22:29, with Simon second by four seconds and then Pogacar 12 seconds behind, leading a group of 12, that included Lafay, Vingegaard and Belgian star Wout van Aert.
This was not the first time that brothers have finished 1-2 in a Tour stage, but it's pretty rare. Andy and Frank Schleck (LUX) were 1-2 in Stage 18 of the 2011 Tour – but 2:07 apart at the finish – and 1923 Tour winner Henri Pelissier had two 1-2 finishes with his brother, Francis.
On Sunday, it was Lafay getting the biggest win of his career, racing away in the final 1,000 m of the 208.9 km ride from San Sebastian to cross the line in 4:46:49. He was just ahead of van Aert and two-time winner Pogacar, with the top 24 riders given the same time, including the Yates brothers.
There was a security issue in the final 20 km of the stage, as tacks were thrown onto the road and damaged multiple bikes with tire punctures, or slow leaks – which can lead to a loss of control – on the final climb to the Jaizkibel. No one was hurt, but riders showed ties with as many as five tacks in them at the finish.
Overall, Adam Yates leads Pogacar and brother Simon by 0:06, with Lafay down 12 seconds and Van Aert down 16. Monday's third stage will cross into France and finish in Bayonne.
5.
Paris 2024 training site damaged in French riots
Serious rioting has continued in France following the shooting and death of Nahel M., a 17-year-old boy of Algerian and Moroccan descent, during a traffic stop in the Paris suburb of Nanterre on 23 June.
On Friday, rioting reached the northeastern Paris suburb of Aubervilliers in the Seine-Saint-Denis area and minor damage was inflicted on a new aquatics training site built for the Paris 2024 Games.
Reuters reported that, according to the state construction authority for Olympic works:
"Buses parked near the Aubervilliers aquatic centre construction site were set on fire. The facade of the building suffered very slight damage as a result."
The Interior Ministry said that 45,000 police were in place, especially in Paris, Lyon and Marseille. Arrests reached 875 on Thursday, 1,311 on Friday and about 200 in Saturday. Interior Minister Gerard Darmanin said that the average age of those arrested was 17; Justice Minister Eric Dupont-Moretti said that 30% of those arrested were under 18.
Observed: This is yet another demonstration that when it comes to planning for large events far in the future, the expected threats are often not the biggest problems. France has already been in turmoil over the Macron government's raising of the retirement pension age from 62 to 64. Now comes anger over this shooting of a teenager who was already known to police for ignoring traffic stop orders. He was buried on Saturday.
These internal pressures are much harder to control than known, external threats and the French authorities now have a new set of challenges to public safety that will inevitably be seen through the lens of possible interference with the 2024 Olympic Games.
≡ PANORAMA ≡
● European Games ● The European Games finished in Krakow and Malopolska (POL), with Italy the big winner with a sensational total of 100 medals (35-26-39), way ahead of Germany (63: 20-16-27), France (62: 17-19-26), Spain (21-17-19) and host Poland (50: 13-19-18), across 29 sports..
A total of 41 countries won medals out of the 48 who attended.
¶
European Games attendees in Krakow were only about an hour's ride from the former Nazi extermination camps in Auschwitz and Birkenau, where 1.1 million people – mostly Jews – were murdered during World War II.
The German National Olympic Committee (DOSB) – athletes and officials – made a formal visit to the site, placing wreaths at the "Death Wall," site of executions by shooting, with DOSB Vice President Jens-Peter Nettekoven signing the memorial's guest book:
"As a German delegation, we see it as an obligation not only to focus on the sport here at the European Games in Poland because of our history. In the name of German sport, we bow to the victims of National Socialism and promise that we will not be forgotten. Instead, we will do everything we can to make our contribution in and with sport to overcoming borders between people, bringing them closer together and allowing them to experience the uniqueness of human community in peace and friendship."
The Chef de Mission of the Austrian Olympic Committee – part of Nazi Germany during the war – also attended. Other delegations, including Great Britain, also visited the site to remember those who perished and those who survived and competed for their country.
● Athletics ● Former American marathon record holder Keira D'Amato became an American Record holder again with a runaway victory at the ASICS Half Marathon at Gold Coast (AUS) on Saturday, finishing in 1:06:39.
That smashed the U.S. mark of 1:06:52 by Emily Sisson from January in Houston; Sisson had taken D'Amato's American Record in the marathon with her 2:18:29 runner-up finish in Chicago last year. Said D'Amato:
"The race was perfect, its super flat, beautiful scenery, the crowds really came out and were so supportive; I just can't believe this.
"I'm just so thankful to be here and as an American I can't believe how many people said, 'go Keira' on the course and every time I heard that I just felt so powerful."
D'Amato, 38. finished two and a half minutes ahead of Australia's Leanne Pompeani (1:09:07).
● Cycling ● One of the highlights of the 2023 UCI Women's World Tour is the 34th Giro d'Italia Femminile, with nine stages this year and a streak of six straight wins by Dutch riders (and eight out of nine).
So far, the streak is in good hands. After the opening stage Individual Time Trial was canceled due to heavy rains, Annemiek van Vleuten, the 2018-19-22 winner, won the hilly second stage with an 18 km solo to forge a 45-second lead in Cecile Uttrup Ludwig (DEN) and seven others.
The third stage was a flat, 118 k m ride that produced the expected mass sprint, in which the top 118 riders received the same time. Another Dutch star, Lorena Wiebes, won the stage over three-time World Champion Marianne Vos, 36, in 2:52:33. Van Vleuten remains in the lead, now up 0:49 on Ludwig. The race continues to next Sunday.
¶
At the UCI Mountain Bike World Cup in Val di Sole (ITA), one of the sports's greatest riders added another win and a new women's star continues her emergence.
Swiss Nino Schurter, 37,owner of 14 Worlds gold medals, won the men's Cross Country Olympic race for his 35th career World Cup victory and his second this season. He dominated the race, finishing in 1:20:22, 26 seconds ahead of teammate and Tokyo Olympic silver winner Mathias Flueckiger (1:20:48) and 38 up on Vlad Dascalu (ROU).
Emerging Dutch star Puck Pieterse, 21, won her third World Cup of the season with a superb effort that finished in 1:19:49, way ahead of Martina Berta (ITA: 1:20:41). Pieterse also almost won the Cross Country Short race on Saturday, finishing in the same time (19:37) as Austria's Laura Stigger, but just behind.
In the non-Olympic Downhill finals, Canada went 1-2 in the men's race, with 2019 World Junior Champion Jackson Goldstone, 19, winning in 3:34.926, ahead of teammate Finn Iles (3:37.150). Austria's Valentina Hoell took the women's final in 4:04.440, with Swiss Camille Balanche, the 2022 seasonal World Cup champ, second in 4:10.353.
● Fencing ● The USA Fencing Summer National Championships are continuing in Phoenix, Arizona, with the Division I national titles being awarded in all weapons.
USA Fencing is allowing Russian and Belarusian athletes who have renounced the war against Ukraine to compete in this event, and Russian Tokyo Olympian Konstantin Lokhanov won the men's Sabre division, 15-13, over William Morrill. Lokhanov moved to the U.S. in 2022, after the Russian invasion of Ukraine. Still just 24, Lokhanov lives in San Diego and coaches fencing.
He had been married to Tokyo Olympic gold medalist Sofia Pozdniakova from 2020, but they divorced in 2022 when he left for the U.S. His former father-in-law is Stanislav Pozdnyakov, the head of the Russian Olympic Committee and a four-time Olympic gold medalist in fencing himself.
In the men's Epee, Samuel Imrek – the April Nationals winner – won the final with a 15-7 decision over Ayush Shah. Carlotta Ferrari won the women's Foil final, 15-11, against Charlotte Koenig.
In the women's Division I-A women's Epee, Jessica Davis won a tight, 15-14, final over Lily Papadakis to complete an unusual double. She's also the 2023 U.S. national champ in the Modern Pentathlon!
Competition continues on Monday.
● Football ● The Iranian Student News Agency (ISNA) reported Friday that women will be allowed into some football stadiums in the country. It quoted Mehdi Taj, the head of the Iranian Football Association:
"Women will be allowed into stadiums. The Supreme Council has made its decision. A working group has been appointed to carry out the project.
"The Interior Ministry, Sports and Youth Policy Ministry, the football federation and two institutions of the Ministry of Information are in the process of developing a plan for implementing the reform.
"The Gol Gohar stadium in Sirdjan, the Naqsh-e Jahan and Foolad Shahr stadiums in Isfahan, and the Ghadir stadium in Ahvaz are to be opened to female supporters. The Azadi stadium in Tehran has yet to be fitted out."
FIFA has been after Iran to allow women to attend football matches, and a major scandal erupted in 2019 when Sahar Khodayari – the "Blue Girl" – after setting herself on fire following an arrest for attending a match between her favorite team, Esteghlal FC, in September 2019 at the Azadi Stadium in Tehran.
A month later, 3,500 women were allowed in for a 2019 national team match. But access has been restricted since then; this could be changing now.
¶
FIFA announced that it is not allowing the "OneLove" armbands which were developed by European teams in advance of the Qatar 2022 FIFA World Cup to protest the host country's civil rights policies, but is providing a substitute.
Eight different armbands have been approved, each stating "Unite For" and then "Inclusion," "Indigenous Peoples," "Gender Equality," "Education for All," "Ending Violence Against Women," "Peace," "Joy, Peace, Love, Hope & Passion" and "Zero Hunger."
According to FIFA:
"With regard to the armbands, team captains will be given three options: they can wear the 'Football Unites the World' armband for the entire tournament; an armband corresponding to the theme of their choice for the entire tournament; or the armband corresponding to the theme of the specific matchday."
Said FIFA chief Gianni Infantino (SUI):
"Football unites the world and our global events, such as the FIFA Women's World Cup, have a unique power to bring people together and provide joy, excitement and passion.
"But football does even more than that – it can shine the spotlight on very important causes in our society. After some very open talks with stakeholders, including member associations and players, we have decided to highlight a series of social causes – from inclusion to gender equality, from peace to ending hunger, from education to tackling domestic violence – during all 64 matches at the FIFA Women's World Cup."
● Gymnastics ● China dominated the Trampoline World Cup in Santarem (POR), going 1-3 in the women's final, with Tokyo Olympic champ Xueying Zhu winning at 56.660, just ahead of Camilla Gomes (BRA: 56.090) and 2022 Worlds bronze winner Yicheng Hu (55.960). American Jessica Stevens was fourth (54.520).
Langyu Yan, the 2021 World Champion and Zisai Wang went 1-2 in the men's Trampoline final, at 61.800 and 60.570, beating 2022 World Champion Dylan Schmidt (NZL: 59.220) for third. American Isaac Rowley finished sixth at 56.510.
In the non-Olympic men's Synchro final, Shinya Nagata and Yasufumi Mita (JPN) won at 51.510, with Rowley and Cody Gesuelli of the U.S. third at 51.030. The women's title went to China's Zhu and Hu (48.630) with Americans Nicole Ahsinger and Cheyenne Webster second at 47.690.
● Sport Climbing ● History for Austria's Jakob Schubert at the IFSC World Cup in Villars (SUI) as he won the Lead competition for his 23rd World Cup title in all disciplines, breaking a tie at 22 with Czech Adam Ondra.
Schubert, 32, owns three World Championship golds in Lead and edged Ondra, also a three-time World Champion, 42+ to 41+, with German Alexander Megos third (40) and American Colin Duffy in fifth (37+).
Slovenian star Janja Garnbret, the top women's climber on the planet, recorded her 25th Lead World Cup win and 40th career World Cup medal across all disciplines, reaching the top in the final to best 2018 World Champion Jessica Pilz (AUT: 43+) and American Brooke Raboutou (43).
China went 1-2 in the men's Speed final, with Jianguo Long clocking 5.26 seconds, while Liang Zhang fell. American Samuel Watson finished fourth as he fell in the bronze medal against Ryo Omasa (JPN: 5.30).
Poland's Natalia Kalucka, the 2021 World Champion, took the women's Speed final over Emma Hunt of the U.S., 6.55-8.37. It's Kalucka's first World Cup win!
● Water Polo ● Two traditional powers met in the final of the World Aquatics men's World Cup Final in Los Angeles, with Spain claiming its first-ever title after a 10-4 win against Italy.
The Spanish had won the bronze medal in this event in three of the last six editions, but this was its first final. They got on top early, taking a 5-1 lead in the first period, which was 7-3 at half. A 3-1 edge in the third quarter sealed the game and there was no scoring in the fourth for the 10-4 final.
Italy won its first World Cup medal since a silver in 1999.
In the quarterfinals, Spain dispatched Germany, 18-9, and then defending champion Hungary by 10-8 in the semifinals. The Italians routed Romania, 20-2 and then faced the U.S., which had conquered Serbia, 10-9. The U.S. made it close, but Italy prevailed, 15-12, to move on to its first final since 1999.
In the third-place match, the U.S. had a 6-5 lead at the end of the quarter and 9-8 at halftime. But Hungary took control with a 4-1 third quarter for a 12-10 lead. The U.S. came back to tie with a 3-1 fourth quarter, but Hungary prevailed, 18-16, in the penalty shoot-out. The U.S. medal drought continues; its last medal was a gold in the 1997 Super Final.
● Weightlifting ● The USA Weightlifting National Championships in Colorado Springs, Colorado produced all new champions in the senior men's and women's divisions: no repeaters from 2022!
In the men's division, 2023 Pan American 61 kg champ Hampton Morris moved up to 67 kg and won at 298 kg combined, ahead of Jerome Smith (281 kg). Other winners included Gabe Chumm at 61 kg (270 kg total), Travis Cooper at 73 kg (309 kg), Edward Ginnan at 81 kg (321 kg), Brandon Victorian at 89 kg (342 kg), Layne Palm at 96 kg (334 kg), Trevor Kimm at 102 kg, moving up from the 96 kg title in 2022 (325 kg), Kolbi Ferguson at 109 kg (362 kg), and Matthew Naugle at +109 kg (337 kg).
The women's winners included Gretchen Villa at 45 kg (152 kg), Isabella Rodriguez at 49 kg (167 kg), Katelyn Kirby in the 55 kg class (182 kg), Shayla Moore at 59 kg (208 kg), Taylor Lucas at 64 kg (205 kg), Alexia Gonzalez at 71 kg (215 kg), Andrea Barrows at 76 kg (207 kg), Shacasia Johnson at 81 kg (246 kg), Sarah Barnett at 87 kg (226 kg) and Sarah Uschmann at +87 kg (230 kg).
¶
You can receive our exclusive TSX Report by e-mail by clicking here. You can also refer a friend by clicking here, and can donate here to keep this site going.
For our updated, 651-event International Sports Calendar (no. 2) for 2023 and beyond, by date and by sport, click here!