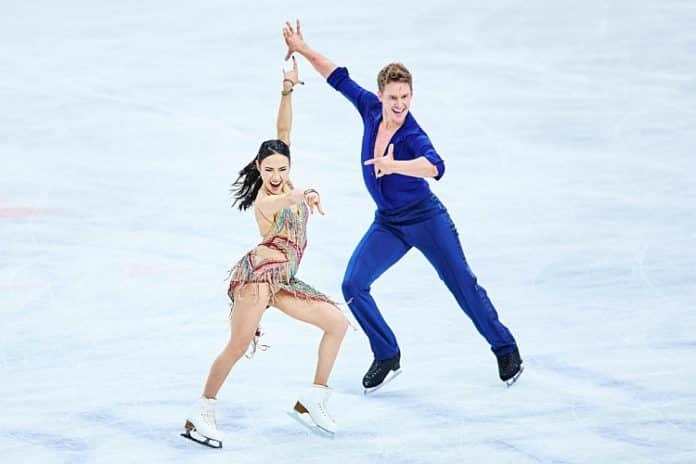 ★ The Sports Examiner: Chronicling the key competitive, economic and political forces shaping elite sport and the Olympic Movement.★
★ To get The Sports Examiner by e-mail: sign up here! ★
≡ THE 5-RING CIRCUS ≡
1. Uno and Sakamoto repeat; Chock & Bates win at Figure Skating Worlds
2. Medvedev: Russian exclusion is "politically motivated"
3. Mexico enters discussions on 2036 or 2040 Olympic Games
4. L.A. City asked to approve $18.5 million in LA28 youth funding
5. No need to worry about Paris 2024; the French can handle it!
Japan dominated the World Figure Skating Championships in front of a home crowd in Saitama, with Shoma Uno and Kaori Sakamoto repeating their wins from 2022 and Riku Miura and Ryuichi Kihara winning in Pairs. Americans Madison Chock and Evan Bates finally won a gold in Ice Dance, in their 10th appearance, their fourth career Worlds medal. Ahead of Tuesday's International Olympic Committee Executive Board meeting, former Russian President and Prime Minister Dmitry Medvedev said Russia's exclusion from international competitions was "politically motivated" and said moving to Asian competitions for Olympic qualifying was fine with him. Mexican Foreign Secretary Marcelo Ebrard presented a letter to IOC President Thomas Bach last Friday, declaring Mexico's interest in hosting the 2036 or 2040 Olympic Games. In Los Angeles, the City Council will be asked to approve $18.5 million in spending for the 2023-24 fiscal for the City's Recreation and Parks Youth Sports Program, funded by the LA28 Olympic and Paralympic organizers, with funds advanced by the IOC. A wild video from Paris shows diners at an outdoor café essentially ignoring an explosion and expanding street fire right next to them; is this proof that no doubts should remain that the Paris 2024 organizers will be cool under fire?
● World Championships: Boxing (India and China dominate women's Worlds) = Curling (Swiss win fourth straight women's World title) ●
● Panorama: Athletics (women's 35 km walk record) = Badminton (Japan wins two at Swiss Open) = Beach Volleyball (Hughes & Cheng win again on Beach Pro Tour) = Cross Country Skiing (Klaebo and Weng win season World Cup titles) = Cycling (2: Roglic wins Volta in Spain; Classics wins for Philipsen, van Aert and Laporte in Belgium) = Fencing (3: Bardenet, Kun and Szilagyi World Cup winners) = Football (U.S. men pound Grenada, 7-1) = Freestyle Skiing (Ruud and Killi sweep Slopestyle seasonal titles) = Judo (Georgia tops Tbilisi Grand Slam with three golds) = Nordic Combined (more Riiber wins, but Lampartner seasonal champ) = Shooting (China win eight at Bhopal World Cup) = Ski Jumping (Pinkelnig wins seasonal title) = Snowboard (2: wins for Banks and Noerl in SnowCross, U.S.'s Marino & Henricksen in Slopestyle) = Volleyball (eight to go to USA Volleyball Hall of Fame) ●
1.
Uno and Sakamoto repeat; Chock & Bates win
at Figure Skating Worlds
The home crowd in Saitama (JPN) was ecstatic with wins at the 2023 ISU World Figure Skating Championships for men's and women's favorites Shoma Uno and Kaori Sakamoto, both of whom made history with repeat victories.
Uno came into the Free Skate with a 104.63-100.38 lead over American teen Ilia Malinin and did not let up, posting the top score of 196.51, just ahead of Korea's Jun-hwan Cha (196.39), with Malinin third at 188.06. Uno's program included five quad jumps and although not perfect, gave him a strong score that held up for a 301.14 to 296.03 victory over Cha, who became the first Korean man to win a Worlds medal!
Malinin had six quads in his program, but under-rotated on three and ended up with the bronze medal, his first at the senior Worlds, at age 18. He said afterwards, "I'm just very grateful for the performance I was able to put out. I put so much effort and work into the last couple of weeks and I'm glad I was able to pull it off."
It's the fifth Worlds in a row for a U.S. men's medal, and Uno became the first Japanese skater to win back-to-back titles. Yuzuru Hanyu also won two Worlds golds, but not consecutively. Jason Brown of the U.S. finished fifth (280.04) and Andrew Torgashev was 21st (210.59). In Brown's four Worlds appearance, he has been seventh (2017), ninth (2019), seventh (2021) and now fifth, at age 28.
Sakamoto successfully defended her women's title, the first Japanese skater to win back-to-back women's golds. After leading the Short Program by more than 5 1/2 points, she finished second in the Free Skate to Hae-in Lee, 147.32-145.37, but finished on top with 224.61 points to 220.94 for Lee.
American Isabeau Levito stood third after the Short Program, but suffered a fall and finished fifth in the Free Skate and ended up fourth overall – in her first Worlds – at 207.65. She was passed by Belgium's 2022 runner-up, Leona Hendrickx, who also fell, but was fourth in the Free Skate and won the bronze at 207.65.
American Amber Glenn finished 12th (188.33) and Bradie Tennell was 15th (184.14).
In Ice Dance, Madison Chock and Evan Bates were poised to win, after medals in 2015-16-22, and took control in the Rhythm Dance, leading with 91.94 points, comfortably ahead of Italy's Charlene Guignard and Marco Fabbri (88.21). Even with a fall in the Free Dance, Chock and Bates won again at 134.07, with Guignard and Fabbri second again (131.64).
That gave the Americans their fourth career Worlds medal, but first gold, scoring 226.01 to 219.85 for the Italians, with Piper Gilles and Paul Poirier (CAN) third with their second career Worlds bronze at 217.88. Said Chock:
"This has been the goal of us for such a long time, and it was such an experience here in Saitama with the crowd supporting us, cheering for us. It was incredible. This season has certainly unfolded in many unexpected ways, but all paths have led to this moment. We learned lot about ourselves and what we want to achieve.
"We had to dig very, very deep many times, but I know we would not be sitting here without all this experience."
The U.S. pair of Caroline Green and Michael Parsons finished sixth (201.44) and Christina Carreira and Anthony Ponomarenko were 10th (190.10). Chock and Bates extended the streak of U.S. Worlds medals in this event to eight straight.
Japan's three wins in four events was last done in 2021 by the Russians.
2.
Medvedev: Russian exclusion is "politically motivated"
"Obviously, the fact that [Russian athletes] do not participate in competitions is the result of politically motivated decisions of sports organizations. It's a shame for them. For everyone, including, of course, the [International] Olympic Committee and its leadership.
"It's a colossal test for athletes. It's very difficult, because you get ready, get ready, and then for political reasons they cut you off. Therefore, I don't judge anyone here strictly."
That's former Russian President and Prime Minister Dmitry Medvedev, speaking to reporters on Friday, in advance of the IOC Executive Board meeting that will discuss possible re-entry conditions for Russian and Belarusian athletes on Tuesday.
Asked about Russian teams competing in Asian competitions, where they could be welcomed – on specific conditions – he was positive:
"Regarding the transition to Asian federations. If it is beneficial for athletes, why not? Somewhere it gives pluses, somewhere it gives minuses. But where the level of the Asian federation is high, we must move. If anything, we will return later or stay there.
"[Even China alone is] a worthy opponent in general in all sports. They still play hockey so-so, but I'm sure they will soon play very, very well."
One Russian official who has not warmed to comments about re-inclusion from IOC President Thomas Bach is legendary figure skating coach Eteri Tutberidze. Bach commented on the treatment of teen skater Kamila Valieva after her free skate program at a Beijing 2022 news conference on 18 February 2022:
"When I afterwards saw how she was received by her closest entourage, with such, what appeared to be a tremendous coldness, it was chilling to see this. Rather than giving her comfort, rather than to try to help her, you could feel this chilling atmosphere, this distance."
Tutberidze told the French all-sports newspaper L'Equipe:
"At that time, Kamila kept a short distance. You can't hug someone who doesn't want to, and the problem is not that she failed. On the other hand, we have no right to give up. I just asked her why she stopped competing after second element. She simply refused to fight to the end.
"In addition, the Olympic Games are a celebration, many athletes dream of being in her place. I can't stand the tantrums of athletes. After that, we sat together in the locker room for a long time. This accusation of Thomas Bach is unfair, I expect an apology from him."
As for Valieva's failed doping test in December 2021, Tutberidze told L'Equipe: "My skaters have always been clean athletes, these accusations are offensive."
Valieva's case is now in front of the Court of Arbitration for Sport.
3.
Mexico enters discussions on 2036 or 2040 Olympic Games
"I had the honor of presenting Thomas Bach, President of the International Olympic Committee, with Mexico's Letter of Intent to organize the Olympic Games in 2036-40. Mary José Alcalá, President of the Mexican Olympic Committee and 4-time athlete in the Olympic Games, was present.
"First visit by a Mexican Secretary of Foreign Relations to the International Olympic Committee in the last 55 years."
Mexico Foreign Secretary Marcelo Ebrard tweeted Friday about his visit, with Mexican Olympic Committee chief (and four-time Olympic diver) Alcala and others, to Olympic House in Lausanne and the presentation of a letter from the Mexican government that included:
"The purpose of this visit is to formally express to you and the IOC, Mexico's interest in hosting the next Olympic Games in 2036-40.
"This initiative is motivated by the historical moment that Mexico is living, in which the best values and traditions of our people have been revalued and our society has become the most participatory since many decades ago, thanks to a process of regeneration of public life, known as the Fourth Transformation."
The letter further notes Mexico's excellent sports, economic and tourism infrastructure, to put on a Games "that are successful, austere and universal, and that promote the values of peace and fairness."
It's already a crowded field for 2036 and beyond, with possible bids already signaled from Egypt, Germany, Great Britain, Hungary, India, Indonesia, Qatar, South Korea and others. Mexico hosted the 1968 Olympic Games in Mexico City.
4.
L.A. City asked to approve $18.5 million in LA28 youth funding
The Los Angeles City Council is being asked to approve an $18.465 million youth sports program for the 2023-24 fiscal year for the Department of Recreation and Parks, funded by the LA28 Olympic and Paralympic organizing committee.
This is a continuing program begun in 2020 and funded by funds advanced by the International Olympic Committee to the LA28 organizers, who in turn executed an agreement to fund Rec and Parks programs through the middle of 2028. In specific:
"The YSP supports youth participation in sport by providing financial subsidies to limit the cost of participation to not more than $10 per participant in YSP activities for all youth at prequalified City recreation centers and for all eligible youth at non-prequalified City recreation centers."
For 2023-24, funding was increased by $0.9 million; the specifics:
"Compared to the 2022-23 Project Plan, the proposed 2023-24 Project Plan:
"● Increases funding for Recreational Leagues and Classes ($152,430);
"● Provides $561,194 in funding for new pilot sports including Archery, Karate, Climbing, Triathlon, and Fencing, for a net increase in 2023-24 ($189,794);
"● Increases funding for Signature Sports including Adaptive Sports, USA Swim Team, and Kayaking offset by a decrease in Aquatics and deletion of Tae Kwon Do ($887,529);
"o Within the Signature Sports program, increases funding for Adaptive Sports and adds two new sports including Adaptive Archery and Wheelchair Tennis($363,775); and
"● Decreases funding for Other Costs including marketing, branding, outreach, and professional services from the United States Center for Safe Sports [sic] ($297,392)."
Swimming is by far the largest sport in terms of spending with $1.83 million earmarked for aquatics programs and another $1.08 million for "USA Swim Team" programs Adaptive Sport programs in archery, athletics, aquatics, basketball, equestrian, skateboarding, soccer, surfing, tennis and volleyball are slated for $841,012 in spending. Judo and surfing programs are marked for increases to $432,600 and $428,792, respectively.
The recommendations will first go to the City Council's Ad Hoc Committee on the 2028 Olympic and Paralympic Games for review and once approved, to the City Council.
5.
No need to worry about Paris 2024; the French can handle it!
OK, this isn't a prediction about the 2024 Olympic Games, really, but after seeing the nonchalant reaction to a street trash fire going on a few feet away from a café in Paris, is there any doubt the French can handle it?
Check on this 45-second video re-posted by AD.nl columnist Ben Coates on Twitter. Wow.
≡ WORLD CHAMPIONSHIPS ≡
● Boxing ● Host India and China dominated the IBA Women's World Boxing Championships in New Delhi (IND), winning four and three weight classes, respectively.
Nitu Ghanghas, the Birmingham 2022 Commonwealth Games gold medalist, won the Minimumweight class, 2022 Flyweight world champ Nikhat Zareen won the Light Fly gold, Lovlina Borgohain took the Middleweight title and 2022 Asian champ Saweety Boora won at Light Heavyweight.
That equals India's all-time best at the women's Worlds, with four wins in the 2006 Championships, also held in New Delhi!
The Chinese won three classes, and seven medals in all, the most of any country. Yu Wu won the Flyweight class, Chengyu Yang took the Light Welterweight gold and Liu Yang won at Welterweight, moving to the top of the podium after a 2019 Worlds silver.
Chinese Taipei's Hsiao-wen Huang won her second World title at Bantamweight, also in 2019, as did Beatriz Ferreira of Brazil at Lightweight (also 2019). Two fighters moved up from silver in 2022 to gold in 2023: Irma Testa (ITA) in the Featherweight division and Morocco's Khadija El-Mardi at Heavyweight.
Russian and Belarusian fighters competed in New Delhi, but did less than expected. Belarus won one bronze and the Russians, who won six medals (3-1-2) when last entered in 2019, won just three (1-1-1) with Anastasiia Demurchian taking the Light Middleweight class.
Winners received $100,000 each, with $50,000 for the silver medalists and $25,000 for both bronze winners for a total purse of $2.4 million. Some 19 national federations boycotted the event – including the U.S. and Ireland, which together won three of the 12 classes in 2022 – and Kosovo withdrew after the Indian government required that its fighter, 2022 Lightweight bronze winner Donjeta Sadiku, compete without national colors since India does not have diplomatic relations with Kosovo.
¶
There was a minor incident during the awards ceremony for Demurchian, as the first few notes of Pyotr Tchaikovsky's First Concerto were played, then stopped and the Russian anthem played. The Tchaikovsky piece had been used at the Tokyo Olympic and Beijing Winter Games in place of the prohibited Russian anthem, but somehow snuck into the Boxing Worlds.
The organizing committee apologized; said Russian coach Albert Mutalibov:
"The incident spoiled the mood, because I wanted the awards ceremony to go like everyone else, so that there would be no such mistakes. I don't know how it happened, I think that they got it out of habit. just a misunderstanding. Now they played [the anthem] and awarded the athlete again. We got our bearings, and it's good."
¶
IBA President Umar Kemlev (RUS) told the Russian news agency TASS:
"According to the results of DNA tests, we identified a number of athletes who tried to deceive their colleagues and pretended to be women. According to the results of the tests, it was proved that they have XY chromosomes. Such athletes were excluded from the competition."
No further details were provided. Russian coach Mutalibov noted:
"The procedure that the IBA has established is great, it allows you to catch unscrupulous athletes. But I want such tests to be carried out at the beginning of the tournament, and not during the competition. The representative of Algeria [welterweight Imane Khelif] has knocked out several athletes from the tournament before reaching the semi-finals."
Reuters reported that two-time World Champion Yu-ting Lin (TPE) was disqualified and lost a bronze medal at Featherweight "after she also failed to meet the IBA eligibility criteria."
● Curling ● Switzerland was looking for a fourth win in a row at the WCF Women's World Championship in Sandviken (SWE), and not only got it, but completed a perfect Worlds with a 14-0 record.
Skipped by Silvana Tirinzoni, the Swiss showed exquisite precision in the final, scoring single points in the second, fourth, seventh and ninth ends to take a 4-2 lead into the 10th, then scored twice to cap off a 6-3 victory.
Throughout the four-year win streak, Tirinzoni and Alina Paetz – a former Worlds-winning skip for the Swiss in 2015 – have been the key performers. Second Carole Howald won her sixth Worlds gold (!), including 2021-22-23 with Tirinzoni, the 2015 Worlds win with Paetz as skip and 2014-16 with Binia Feltscher as skip.
The Norwegians, skipped by Kristin Skaslien, won their first women's Worlds medal since a bronze in 2005! They finished 10-4.
The Swiss ripped through round-robin play with a perfect 12-0 record – including a 6-1 win over Norway – and finished four games up on the second-place Norwegians (8-4), trailed by Canada, Italy, Sweden and Japan, all at 7-5. The U.S., skipped by Tabitha Peterson, finished 6-6 and did not advance to the playoffs.
Sweden had to beat Italy, 4-3, to advance to the semis, but were stopped by the Swiss, 8-4. Canada got past Japan, 6-4, to meet Norway in the semis, but the Norwegians advanced with an 8-5 victory, with three points in the ninth end to break a 5-5 tie.
In the bronze-medal game, Canada – skipped by Kerri Einarson – got out to a 3-0 lead after two ends and scored in three more ends to get an 8-5 win over Sweden and 2018 Olympic gold-medal skip Anna Hasselborg. It's the second straight Worlds bronze for Einarson.
≡ PANORAMA ≡
● Athletics ● Peru's Kimberley Garcia Leon, the 20 km and 35 km World Champion from 2022, won the Dudinska 50 race on Saturday in Dudince (SVK), setting a world record of 2:37:44.
That was two seconds better than the 2022 mark of 2:37:46 by Russian Margarita Nikiforova and more than a minute-and-a-half quicker than her 2:39:16 winning in Eugene last year. Garcia Leon now owns two of the top six performances of all time.
She broke away early and won by more than two minutes over four-time World 20 km Champion Hong Liu (CHN: 2:40:06), now no. 7 on the all-time list. Ecuador's Magaly Bonilla was third in 2:46:32.
Mexico's Jose Doctor won the men's 35 km in 2:26:37, moving to fourth on the 2023 world list. Brazilian Caio Bonfim was second in 2:27:30, no. in 2023.
● Badminton ● All Asian winners at the Yonex Swiss Open in Basel, with Japan getting two.
Unseeded Koki Watanabe (JPN) scored an upset in the men's Singles final over third-seed Tien Chen Chou (KOR), 22-20, 18-21, 21-12, and Rena Miyaura and Ayako Sakuramoto got a walkover in their all-Japan women's Doubles match vs. Yuki Fukushima and Sayaka Horita.
Pornpawee Chochuwong (THA) defeated Mia Blichfeldt (DEN) in the women's Singles final, 21-16, 21-18. Second-seeded Satwiksairaj Rankireddy and Chirag Shetty (IND) defeated Xiang Yu Ren and Qiang Tan (CHN) in the men's Doubles final, 21-19, 24-22.
China did get a win in the Mixed Doubles, as Zhen Bang Jiang and Ya Xin Wei won a tense battle with Soon Huat Goh and Shevon Jemie Lai (MAS), 21-17, 19-21, 21-17.
● Beach Volleyball ● The second Beach Pro Tour Elite 16 tournament of 2023 was in Tepic (MEX), with the reunited American pair of Sara Hughes and Kelly Cheng teaming for their fourth win in the last five months!
The women's final was a re-run of the Beach Pro Tour Finals from January, with Hughes and Cheng facing 2022 World Champions Ana Patricia Ramos and Duda Lisboa (BRA). Hughes and Cheng, who teamed up for two NCAA beach titles when at USC, won in straight sets in January, but this time took the first set by 21-14, then lost the second, 21-15. They rallied for a 15-10 win in the third and another Beach Pro Tour title.
In the bronze-medal match, Tokyo silver medalists Mariafe Artacho del Solar and Taliqua Clancy (AUS) edged Valentina Gottardi and Marta Menegatti (ITA), 16-21, 21-17, 19-17.
The men's final was yet another appearance by Norway's 2020 Olympic and 2022 World Champions Anders Mol and Christian Sorum, this time against Sweden's three-time Beach Pro Tour tournament winners David Ahman and Jonatan Hellvig. 
But the Swedes were better, with an upset win in straight sets, 21-16 and 21-15.
Nils Ehlers and Clemens Wickler (GER) won the bronze-medal match, 24-22, 21-16 over Stefan Boermans and Yorick de Groot (NED).
● Cross Country Skiing ● Norway's Johannes Hoesflot Klaebo and Tiril Udnes Weng finished the FIS Cross Country World Cup as the seasonal champions after the final stop in Lahti (FIN) over the weekend.
Klaebo finished with a bang, winning the Classical Sprint on Saturday for his fifth win in a row in 2:48.58, ahead of Calle Halfvarsson (SWE: 2:49.33) and Norway's Erik Valnes (2:49.51); Norway had five of six places in the final. Klaebo won the Sprint seasonal title with 1,261 points to 907 for Lucas Chanavat (FRA).
Klaebo then finished with another win – his 19th of the season – in the Sunday's 20 km Classical Mass Start, in 44:13.0, trailed by Paal Golberg (NOR: 44:18.4) and Swede William Poromaa (44:19.0). Klaebo finished with 2,715 points to 2,243 for Golberg and 1,635 for Federico Pellegrino (ITA). American Ben Ogden was eight at 1,118.
The women's Classical Sprint was the fourth win in a row for the sudden new star in tour, Norway's 24-year-old Kristine Skistad (3:08.63), who edged Swede Jonna Sundling (3:08.76), with Weng third (3:15.18). Swede Maya Dahlqvist was fourth and wrapped up the seasonal Sprint title with 944 points.
Norway's Anne Kalva got her fourth medal of the season – and first career win – in Sunday's 20 km Mass Start in 51:04.3, ahead of Sundling (51:05.2) and Katharina Hennig (GER: 51:05.4). Americans Jessie Diggins and Rosie Brennan finished 22nd and 23rd in 52:19.5 and 52:30.2.
Weng won the seasonal title with 2,027 points, ahead of Diggins (1,867), Kerttu Niskanen (FIN: 1,840) and Brennan (1,546).
● Cycling ● The spring Classics season is fully underway in Belgium, with three races this week, won by home favorites Jasper Philipsen and Wout van Aert, and van Aert's French teammate, Christophe Laporte.
Philipsen took the 47th Classic Brugge-De Panne on Wednesday, a flat 211 km route that came down to a three-way sprint with the Belgian getting to the line ahead of Olav Kooij (NED) and countryman Yves Lampaert, all in 4:38:52. Belgium's Fredrik Frison was one second back for a 1-3-4 finish for the home team.
Friday's 65th E3 Saxo Classic in and around Harelbeke (BEL) over a hilly, 204 km course, came down to another sprint between three stars: defending champion van Aert (BEL), 17-time World Tour winner Mathieu van der Poel (NED) and Slovenia's two-time Tour de France winner Tadej Pogacar. It was van Aert getting the win and defending his 2022 victory in 4:44:59, with van der Poel second and Pogacar third. American Matteo Jorgenson was fourth, 33 seconds back.
On Sunday, the famed 85th Gent-Wevelgem in Flanders Fields was a 261 km ride from Ypres to Wevelgem, with van Aert looking for a second career win. He and Jumbo-Visma teammate Laporte broke from the field for good with 53 kg to go and forged an enormous lead, with Laporte getting the win in 5:49:39 and van Aert in the same time. Fellow Belgian Sep Vanmarcke was third, leading a pack of four in a final sprint to cross 1:56 behind.
¶
The 102nd edition of the Volta Ciclista a Catalunya had Slovenian star Primoz Roglic – three-time winner of the Vuelta a Espana – in charge from the first stage.
Roglic won the hilly first stage, then finished second on the hilly stages 2-3 and won again on the uphill-finishing stage 5 to maintain a 10-second lead going into Sunday's final ride in Barcelona. Only Belgium's Remco Evenepoel – who won stage 3 in the Alps – was close at 10 seconds behind, with the rest of the field more than a minute in arrears.
Italian Guilio Ciccone won the uphill-finishing second stage from Roglic and Evenepoel, and Australia's Kaden Groves won the sprint finishes in stages four and six.
Evenepoel tried to win it on Sunday, but Roglic stuck close and they finished 1-2 – both in 2:59:24 – giving Roglic a six-second win overall in 28:19:10. Portugal's Joao Almeida was next best, some 2:11 back of Roglic (who is also a Jumbo-Visma rider!).
Roglic has now won three Vuelta a Espanas, two editions of the Itzulia Basque Country race and now the Volta, completing a Spanish multi-stage trifecta.
● Fencing ● A busy weekend of FIE World Cup action, with American Stephan Ewart winning a bronze in the men's Epee World Cup in Buenos Aires (ARG), the first U.S. World Cup medal in men's Epee since 2019.
Ewart made it to the semis, losing to China's Minghao Lan (15-7), who then lost by 15-13 in the final to France's Alexandre Bardenet, who beat countryman Romain Cannone, 15-12, in his semi. Bardenet won his first World Cup gold since 2019, and second of his career.
Hungary beat Venezuela, 32-26, in the team final.
¶
The women's Epee World Cup in Nanjing (CHN) was a win for Hungary's Anna Kun, defeating Alexandra Louis Marie (FRA) in the final, 15-10. Kun, 27, earned her first career World Cup gold and third career World Cup medal.
Louis Marie did get a win, however, in the team event as the French defeated Korea, 45-35, in the final.
¶
Hungary got a second win on the weekend with three-time Olympic champ Aron Szilagyi winning the men's Sabre World Cup in Budapest (HUN), winning over 2022 European Champion Sandro Bazadze (GEO), 15-14, in the final.
Korea edged Germany, 45-44, in the men's team final.
● Football ● The U.S. men, playing their first match since the 2022 FIFA World Cup, had no trouble with Grenada in CONCACAF Nations League play, taking a 7-1 victory on Friday in St. George's.
The Americans had 68% of possession and a 19-7 edge in shots, taking the lead in the fourth minute on a Ricardo Pepi goal, followed up by scores from Brendan Aaronsen (20th) and Weston McKennie in the 31st.
Grenada got a goal in the 32nd minute on a Myles Hippolyte shot to cut the deficit to 3-1, but McKennie scored again two minutes later for a 4-1 halftime lead. The U.S. got three more goals in the second half, from Christian Pulisic (49th), Pepi again in the 53rd and Alejandro Zendejas in the 72nd for the 7-1 final.
The U.S. ended a nine-game winless streak in road games and set a U.S. record for most goals in an away match with seven.
The U.S. men will next face El Salvador on Monday in Orlando, Florida (7:30 p.m. Eastern) on TNT, Universo and Peacock, with a place in the CONCACAF Nations League Finals on the line. The U.S. had a 7-5 lead on points and needs a win or a draw to advance to the June finals in Las Vegas (USA)
● Freestyle Skiing ● The Slopestyle competition in Silvaplana (SUI) wrapped up the FIS Freestyle World Cup for 2022-23, with Norway's Birk Ruud and Johanne Killi taking the seasonal titles.
Ruud, the Beijing 2022 Big Air winner and 2023 World Champion in Slopestyle, finished third in the season finale, scoring 92.50 behind Sweden's 2022 Olympic bronze winner Jesper Tjader (94.25) and Canada's Evan McEachran (93.00). American Alex Hall (91.75) and Konnor Ralph (91.50) finished fifth and sixth.
Ruud finished with 360 points to 300 for Swiss Andri Ragettli and ended the season with Crystal Globes for Slopestyle and Big Air.
Beijing Olympic Big Air silver medalist Tess Ledeux (FRA) won the women's Slopestyle at 93.25, beating Sarah Hoefflin (SUI: 90.25) and Killi (89.25); Grace Henderson was the top American in eighth (72.75).
Killi medaled in all five World Cups (3-1-1) and won the seasonal title at 380 points, to 250 for Hoefflin and 205 for Ledeux.
● Judo ● A big field of 419 judoka from 61 nations contested the Tbilisi Grand Slam in Georgia, with the hosts getting three impressive second-day wins to lead the medal table.
Tokyo Olympic champ Lasha Bekauri defeated fellow Georgian, Luka Laisuradze, in the men's 90 kg final, followed by a win for 2021 World Junior Champion Ilia Sulamanidze in the 100 kg class and Gela Zaalishvili, who won for the third straight time in the Tbilisi Grand Slam +100 kg final!
Serbia scored wins in the women's 48 kg class with Milica Nikolic beating Andrea Stojadinov in an all-Serb final, and at 57 kg with Milica Perisic. Tokyo Olympic bronze medalist Anna-Maria Wagner (GER) won the women's 78 kg class. Tokyo 48 kg gold medalist Distria Krasniqi (KOS) got to the final of the women's 52 kg division, but lost to Uzbek Diyora Keldiyorova.
● Nordic Combined ● The final FIS World Cup stop in Lahti (FIN) started with another win for the unstoppable Jarl Magnus Riiber (NOR), who won his third straight World Cup race after taking both individual events at the 2023 World Championships!
Riiber finished the 130 m jumping and 10 km race in 23:58.0, trailed by Kristjian Ilves (EST: 23:59.7) and Jens Oftebro (NOR: 24:53.0).
Sunday's events saw the same podium, but in a slightly different order. Riiber won again – six in a row including the World Champs – in 24:16.8, with Oftebro second (24:18.6) and Ilves in third this time (24:22.0).
Austrian Johannes Lamparter won his first seasonal title with 1,367 points, ahead of Oftebro (1,313), German Julian Schmid (1,217) and Riiber (1,123), whose injuries prevented a fifth straight seasonal title.
● Shooting ● China dominated the ISSF World Cup in Rifle and Pistol in Bhopal (IND), winning eight of the 10 events and scoring 12 medals overall (8-2-2).
Xue Li, 23, the 2022 Worlds fourth-placer won the 10 m Air Pistol final over German Doreen Vennekamp, 17-5, and Yuting Huang, 16, won her first World Cup gold with a 16-4 win over American Mary Tucker in the final of the 10 m Air Rifle.
China also won the 10 m Air Pistol Mixed Team event, 17-11, over India, and Huang got a second gold – with Lihao Sheng – in the 10 m Air Rifle Mixed Team final, 16-2, over Hungary.
Sheng, the Tokyo Olympic silver medalist, also won a second gold in the individual 10 m Air Rifle final for men, 17-13, in an all-China final against Linshu Du. But Du, 19, also got a gold in the men's 50 m Rifle/3 Positions, defeating Hungary's Istvan Peni, a three-time World Cup winner, 16-10.
China swept the 50 m Rifle/3 Positions events with a win by Qiongyue Zhang, 16-8 in the final over Aneta Brabcova (CZE).
Vennekamp, a two-time Worlds bronze medalist, got a gold as well, winning the women's 25 m Pistol final, 30-29, over 15-year-old Ziyue Du (CHN), who won her first World Cup medal.
The men's 25 m Rapid-Fire Pistol final was another win for China, as Jueming Zhang won his first World Cup event, 35-34, over France's 2022 World Champs runner-up, Clement Bessaguet. Rio 2016 Olympic winner Christian Reitz (GER) was third (21).
India finished second on the medal table with seven (1-1-5).
● Ski Jumping ● The women's 2022-23 FIS World Cup concluded in Lahti (FIN) with the second win of the season for Japan's Yuki Ito, but with Austrian Eva Pinkelnig taking the seasonal title.
Ito scored 238.8 points for the win, with Anna Stroem (NOR) second at 237.6 and Germany's 2023 World Champion Katharina Althaus third (236.9). It was Ito's seventh career World Cup win, in her best season since 2017.
Overall, Pinkelnig finished with 1,662 points to 1,497 for Althaus, 1,281 for Ema Klinec (SLO) with Stroem fourth at 1,278.
The men will finish in Planica (SLO) next week, but on Sunday, Japan's Ryoyu Kobayashi got his third win of the season, scoring 145.9, ahead of Stefan Kraft (AUT: 141.8) and German Karl Geiger (137.0). The competition had to be shortened to one round, but Kobayashi was able to get his 30th career win, moving to no. 7 all-time!
● Snowboard ● The SnowCross finale at Mont-Sainte-Anne in Quebec (CAN) started with another showcase win for Great Britain's 2021 World Champion, Charlotte Bankes, her sixth World Cup gold in a row!
She beat Beijing silver medalist Chloe Trespeuch (FRA) and Beijing Olympic champ Lindsey Jacobellis (USA) to the line on Saturday, but had her streak stopped on Sunday. There, the win belonged to Australia's Worlds silver medalist Josie Baff – who also won the season opener – crossing the line ahead of Pia Zerkhold (AUT) and Trespeuch.
Bankes took the seasonal title, however, 723-650-493 over Trespeuch and Baff.
Canada's Eliot Grondin, the Beijing 2022 runner-up, took his first World Cup medal of the season in the men's Saturday race, beating 2023 World Champion Jacob Dusek (AUT) and Spain's 2021 World Champion, Lucas Eguibar. On Sunday, Germany's Worlds silver winner Martin Noerl posted his third win of the season, ahead of American Jake Vedder (his second medal of the season) and Grondin.
That gave Noerl the seasonal Crystal Globe with 510 points, ahead of Eguibar (436) and Grondin (399).
¶
In the Slopestyle finale in Silvaplana (SUI), American Julia Marino – the Beijing 2022 silver medalist – took her third straight World Cup gold to win the seasonal title by 313 to 153 over Japan's Miyabi Onitsuka, the 2015 World Champion.
Marino scored 87.25 on Saturday to edge Beijing bronze medalist Tess Coady (AUS: 85.00) and Olympic Big Air champ Anna Gasser (AUT: 82.25)
On Sunday, Japan's Taiga Hasegawa, 17, got his second career World Cup medal … and second World Cup win, but first in Slopestyle, scoring 92.00 to edge Canada's Liam Brearly (89.00, his first World Cup medal in two years) and Swede Sven Thorgren (85.00).
American Dusty Henricksen, who won a gold and two silvers in the first three events of the season, won the seasonal title at 296, followed by Hasegawa (186).
● Volleyball ● USA Volleyball announced eight new members of the USA Volleyball Hall of Fame, who will be inducted on 24 May in Dallas, Texas, just prior to the 2023 USA Volleyball Open National Championship. The class includes:
● Men/Indoor: Ryan Millar and Clay Stanley
● Women/Indoor: Liane Sato and Logan Tom
● Men/Beach: Todd Rogers
● Women/Beach: Elaine Youngs
● Men/Sitting: Edgar Laforest
● Women/Sitting: Kari Ortiz
Millar and Stanley were both three-time Olympians, and were members of the gold-medal-winning 2008 team. Sato was a setter on the 1992 Barcelona bronze-medal team while Tom was a four-time Olympian as an outside hitter and won silver medals in 2008-12.
Rogers won an Olympic Beach gold with Phil Dalhausser in 2008, the FIVB World Beach title in 2007 and also competed in the 2012 Olympic Games in London; he played well into his 40s. Youngs won a Worlds bronze with Liz Masakayan in 1999 and an Olympic bronze in Athens in 2004 with Holly McPeak.
The late Laforest was an outside hitter on the U.S. team at the 2016 Paralympic Games and a three-time Parapan American Games medal winner. Ortiz was a three-time Paralympian as a libero, winning silvers in 2008-12 and the 2016 Paralympic gold.
¶
You can receive our exclusive TSX Report by e-mail by clicking here. You can also refer a friend by clicking here, and can donate here to keep this site going.
For our updated, 651-event International Sports Calendar (no. 2) for 2023 and beyond, by date and by sport, click here!