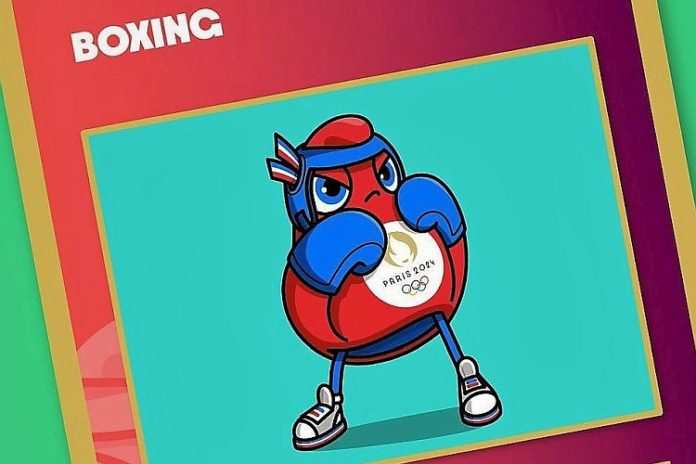 ★ The Sports Examiner: Chronicling the key competitive, economic and political forces shaping elite sport and the Olympic Movement.★
★ To get The Sports Examiner by e-mail: sign up here! ★
≡ THE 5-RING CIRCUS ≡
1. IBA launches attack on IOC ahead of Executive Board meeting
2. Australia's Carroll warns of A$2 billion sport funding shortfall
3. Panam Sports asks specific Russian/Belarusian inclusion details
4. Indonesia refusal to host Israel causes FIFA U20 World Cup draw delay
5. WTA agrees to Ukrainian players meeting over war strife
The International Boxing Association posted a letter ripping the International Olympic Committee for contacting IBA referees and judges without permission, asking for volunteers for the Olympic boxing qualifiers later this year. The fate of the IBA and boxing at Paris 2024 and Los Angeles 2028 will be discussed by the IOC Executive Board this week. Australian Olympic Committee chief Matt Carroll said Australian sport needs another A$2 billion in funding to 2032 to realize the potential for health benefits, tourism and national pride from the performances of elite athletes at the 2026 Commonwealth Games (Victoria) and 2032 Olympic Games (Brisbane). A short statement – in Spanish only – by Panam Sports supported the IOC's exploration of possible avenues to allow Russian and Belarusian athletes to compete in international sports, but asked for specifics. A refusal by the governor of Bali, Indonesia to accept Israel as a team in the FIFA U20 World Cup has led to the postponement of the draw for the event and could cost Indonesia the tournament; reports say Argentina could be a possible replacement host for the event, slated to begin 20 May. Ukrainian players are asking for a meeting with the board of the Women's Tennis Association (WTA) over the presence of Russian and Belarusian players as "neutrals." A WTA spokesperson said a meeting would be arranged, as tensions on the tour are increasing over the Russian invasion of Ukraine.
● Panorama: Athletics (Robertson explains doping that cost him eight years) = Baseball (World Baseball Classic profitable in 2023) = Biathlon (2: Reed sweeps U.S. women's Nationals; Gierhart named US Biathlon chief) = Cycling (Reusser wins women's Gent-Wevelgem over new U.S. star Jastrab) = Football (2: U.S. men; Belgium, Germany and Netherlands in for 2027 FIFA Women's World Cup bid) ●
1.
IBA launches attack on IOC ahead of Executive Board meeting
The International Boxing Association accused the International Olympic Committee of a "lack of transparency and cooperation" in an open letter published on Monday.
The notice accuses the IOC of using contact information for IBA referees and judges to ask for volunteers for the upcoming Paris 2024 boxing qualifiers without the IBA's permission, alleging a breach of a November 2019 agreement for use of data only with regard to the Tokyo 2020 boxing tournament. The notice includes:
● "[T]he IBA Head Office received numerous complaints from our Competition Officials about this unsolicited communication from the IOC.
"Above all, the IBA is truly concerned about the source from which the IOC has obtained these contact details and regarding this, namely integrity, transparency, lack of continuous professional development, skill fade, and [European General Data Protection Regulation laws] as the starting point."
● "The IBA who remains active in its governance reforms has asked that the relevant bodies of IOC, such as the IOC Ethics Commission, take the relevant measures to initiate an internal investigation against those individuals who breached the Agreement and leaked the contact details of our Competition Officials."
The letter also complains of action or inaction of IOC officials such as Sports Director Kit McConnell (NZL), Ethics and Compliance Officer Paquerette Girard Zappelli (FRA), the boxing monitoring team from the PwC professional services firm and others.
Observed: The IBA is doing everything it can to slap the IOC in the face prior to the IOC Executive Board discussions concerning the IBA and boxing's place on the program for the 2024 Olympic Games in Paris and 2028 Games in Los Angeles.
There is a belief among some commentators that boxing is too popular to be kept off the program for 2024 or 2028, but this is hardly the case. Boxing has its own fan base, but the attraction of the Olympic Games is that it's the Olympic Games.
Certainly, the IOC will not miss the IBA and could choose a variety of actions, including calling for a new international federation to be formed that it would recognize in place of the IBA. The obvious starting point would be the members of the Common Cause Alliance, with perhaps 18 federations already aligned.
The IBA's just-completed Women's World Championships in New Delhi (IND) raise multiple questions, such as why only 65 member federations competed, where the IBA reports having 204 national federations. Further, there were astonishing incidents at the Women's Worlds, where IBA President Umar Kremlev (RUS) told the Russian news agency TASS:
"According to the results of DNA tests, we identified a number of athletes who tried to deceive their colleagues and pretended to be women. According to the results of the tests, it was proved that they have XY chromosomes. Such athletes were excluded from the competition."
No further details were provided. Russian coach Albert Mutalibov told TASS:
"The procedure that the IBA has established is great, it allows you to catch unscrupulous athletes. But I want such tests to be carried out at the beginning of the tournament, and not during the competition. The representative of Algeria [welterweight Imane Khelif] has knocked out several athletes from the tournament before reaching the semi-finals. I'm watching the final now, our Azalea is stronger than both participants."
Reuters reported that two-time World Champion Yu-ting Lin (TPE) was disqualified and lost a bronze medal at Featherweight "after she also failed to meet the IBA eligibility criteria."
How can gender confirmation – or testosterone monitoring – not be done prior to the tournament? Mutalibov complained:
"I'm watching the final now, our Azalea [Amineva] is stronger than both participants.
"The Algerian had difficulties with our athlete, Azalea even scored a heavy knockdown. The Algerian had both physical strength and other speed qualities. In fact, she was an athlete with the qualities of a young man."
Khelif defeated Amineva, 4:1, in the round of 16. Khelif won the 2022 IBA Women's Worlds silver medal at Light Welterweight and was the 2022 African and Mediterranean Games gold medalist last year in that class.
A check of the IBA medical and eligibility rules found no regulations on the testosterone levels required for boxing in the women's division, only a check to ensure that a female fighter was not pregnant. So on what basis were Khelif, Lin and others disqualified?
2.
Australia's Carroll warns of A$2 billion sport funding shortfall
"Our analysis, undertaken in conjunction with our Member Sports, shows that based on the Federal Government's forward estimates, there is a $2 billion shortfall in direct investment in Olympic, Paralympic and Commonwealth Games sports in the ten years leading to Brisbane 2032." (A$2 billion = $1.330 billion U.S. today)
That warning bell was sounded by Australian Olympic Committee chief executive Matt Carroll, in a Monday speed to the Australian National Press Club, explaining:
"Without investment, what governments in Australia want sport to achieve for the community is not going to happen and, in all honesty, and openness, unless this situation is rectified, Australia will be staring failure in the face at the 2026 Commonwealth Games and the Brisbane 2032 Olympic and Paralympic Games because our home Teams will have been undermined by inaction."
Australia, like every National Olympic Committee in the world except for the U.S. Olympic & Paralympic Committee, has its activities partially supported by its national government; many are completely subsidized. Carroll noted that his call for investment is not so much for the AOC, but for athlete development, athlete training and sport's role in the country:
● "As an industry sector, we are fiscal contributors to the nation's wellbeing through the critical role Sport plays in our collective health, addressing the nation's obesity crisis, chronic diseases, mental health, and personal development. All issues called out almost daily by government, media and industry as critical to the productivity of Australia's economy. Sport can deliver.
"In addition, sport delivers economy building major events, tourism, hospitality, infrastructure, research, and something that is most important, sporting excellence, building national pride and international status."
● "Investment in Olympic, Paralympic and Commonwealth Games Sports provides government with a highly structured national network of experienced and committed people, largely staffed by volunteers, that reaches all corners of the country. We have more than 13 million participants, more than 50% of the nation's population.
"Such an investment will be far more productive and provide a bigger bang for the government buck than any bespoke specialised program or anti-obesity advertising campaign."
He emphasized the need for a sports curriculum in schools, promotion of sport-for-life programs to increase health and "the ability of sport to harness a sense of national pride can unify the country." As for money:
"This shortfall consists of half a billion dollars for participation and $1.5B for pathways and performance.
"Therefore, the investment required from the Federal Government, based on the work and analysis we have undertaken with our Member Sports, through to FY2032 is $2.7B in partnership with the $3.2B investment the Sports will be making directly from their own means.
"On an annualised basis, this is $200M per year, over 10 years to 2032."
He also called for the various elements of the sports industry in Australia to be formed into a single government agency:
"For an industry that brings a return of positive economic contributions to the country, with a total economic value to the national economy of approximately $83 billion annually and a return to Australian communities of at least $7 for every $1 invested in sport, it is difficult to fathom why we don't have a Department of Sport already. It is clearly an opportunity gone missing – thus far."
The 7-to-1 claim was taken from a 2018 KPMG study on the value of community sport infrastructure in the country. A federal spokesperson noted that the next budget is due in May:
"It is premature to be making claims about a funding shortfall when this comprehensive process to model future investment is proceeding.
"National sport outcomes will be measured beyond medals while ambitious performance goals will be balanced with a culture that prioritises physical, mental, emotional, and cultural wellbeing."
3.
Panam Sports asks specific Russian/Belarusian inclusion details
In advance of the IOC Executive Board meeting discussing possible Russian and Belarusian participation in international sport, Panam Sports issued a two-paragraph statement only in Spanish on Sunday (DeepL.com translation):
"The Executive Committee of Panam Sports expresses its full support to the athletes of Ukraine, who have been affected by the tragic invasion of their country. We believe in the principles of Olympism, in which sport is at the service of promoting a peaceful and harmonious society and we recognize the fundamental principles of the Olympic Charter which establish the inclusiveness, non-discrimination and political neutrality of sport.
"Guided by these principles, the Executive Committee of Panam Sports expects that there will be clear and specific criteria on the possible inclusion of neutral athletes with Russian or Belarusian passports in international sport."
Observed: That's about as neutral a position as can be constructed, giving support to the IOC's current position while not slapping Ukrainian athletes with direct support – yet – for Russian and Belarusian re-inclusion.
Even so, it rings hollow to believe that the re-admission of Russian and Belarusian athletes, many of whom are "employed" by their governments in various capacities can, in any way, be taken as "promoting a peaceful and harmonious society."
But that's up to the IOC Executive Board on Tuesday.
4.
Indonesia refusal to host Israel causes
FIFA U20 World Cup draw delay
"The Indonesian Football Association (PSSI) is calculating the negative impact that could occur on Indonesian football after the cancellation of the FIFA U20 World Cup Drawing in Denpasar, Bali. Initially, the drawing or division of the group of countries participating in the FIFA U20 World Cup will be held on March 31, 2023."
This Sunday announcement by the PSSI concerns the first-time presence of Israel in the tournament, as noted in the statement:
"Previously, the Governor of Bali Wayan Koster refused the presence of the Israeli National Team at the FIFA U20 World Cup event. For PSSI, this can be a reason for FIFA to cancel the FIFA U20 World Cup Drawing. Because, for FIFA, the Governor's refusal is the same as canceling the implementation guarantee that has been issued by the Provincial Government of Bali. …
"PSSI Executive Committee (Exco) member Arya Sinulingga revealed that PSSI would anticipate the worst possible outcome of FIFA's decision. 'We from PSSI are thinking about saving Indonesian football. Because FIFA sanctions can isolate Indonesian football from the world,' he said."
Beyond the draw, the event is scheduled for 20 May to 11 June in six different cities. Indonesia has no diplomatic relations with Israel, and the country's politicians have consistently supported Palestinian positions.
There are reports that Argentina could be willing to step in to host the tournament on short notice, and would have its team included in place of Indonesia, which would lose its place as host. FIFA has made no announcement as of Monday evening.
The event is only modestly popular and therefore not impossible to stage on short notice. Average attendance at the 2019 U20 World Cup was 7,257 per match in Poland, and 7,900 in South Korea in 2017.
5.
WTA agrees to Ukrainian players meeting over war strife
The men's Association of Tennis Professionals (ATP) and the Women's Tennis Association (WTA) have allowed Russian and Belarusian players to compete as neutrals in their tournaments, to the despair of Ukrainian players and their supporters.
The tension within the women's tour has risen this year, with Belarus's Aryna Sabalenka winning the Australian Open in January and multiple reports of bitterness between players over the Russian invasion of Ukraine.
Ukraine's Marta Kostyuk, ranked 38th and an Australian Open Doubles semifinalist in 2023, told reporters after a loss to Russian Anastasia Potapova at the Miami Open last Thursday:
"We wanted to have the meeting with the [WTA] board and we didn't get one. No reply, nothing, just silence."
A WTA spokesperson said that a meeting would be held and that prior meetings had been held. In the meantime, top-ranked Iga Swiatek (POL) said during the BNP Paribas Open in Indian Wells, California earlier this month:
"I feel more should be done to help Ukrainian players because everything we discuss in tennis is about Belarusian and Russian players, if they should be allowed, what's going on with them.
"I don't think that's right, because we should focus more on helping Ukrainian players and providing them everything they need because they basically have to take care of all their families, and there's a lot of baggage on their shoulders."
Russia's Potapova wore a Spartak Moscow football club shirt prior to her third-round BNP Paribas match – interpreted as support for the war – and received a warning.
≡ PANORAMA ≡
● Athletics ● Fascinating interview with New Zealand distance star Zane Robertson, the 2014 Commonwealth Games 5,000 bronze medalist, now serving an eight-year doping suspension. He explained on the "Runner's Only" podcast:
"It's been a pretty depressing and devastating day for me.
"There's many reasons and it's just not one particular reason. I hate it so much that it's just a one-off hit and I got caught. It's been building on me for a few years. Frustration and anger at the sport itself and any elite sports, I just believe it's not a level playing field like they say.
"I started to ask myself this question: why do people like myself always have to be the ones to lose or suffer. In the end, lose our contracts, lose our income, lose our race winnings, and eventually give up not having the ability to have a family … that was one reason."
Robertson, 33, said he also faced financial difficulties during the pandemic and was going through a difficult divorce.
"Some things led to another and a lot of stress was placed on me. I made some bad decisions in a really dark time."
● Baseball ● More on the success of the 2023 World Baseball Classic, with the JohnWallStreet site reporting that revenue for this year's edition was between $90-100 million, making the event profitable.
Contributing to that was the first-ever rights fee for U.S. television, from FOX Sports, which had excellent ratings, especially for the semifinals and finals in Miami. Prior editions had been seen primarily on the MLB Network and used as a way to help grow that channel.
● Biathlon ● The 2023 US Biathlon National Championships were held in Casper, Wyoming over the weekend, with Joanne Reid sweeping the women's Sprint and Pursuit.
Reid, who had two top-30 finishes in the IBU World Cup, dominated both events, winning the 7.5 km Sprint by 22:36.1 (1 penalty) to 25:11.8 (3) for Anna French and then taking the 10 km Pursuit by 33:24.6 (6 penalties) to 35:26.3 (4) for Arana Woods.
Vincent Bonacci moved up from second in the national junior race in 2022 to the top of the 10 km Sprint podium in 2023, winning in 29:10.0 (0), ahead of Scott Lacy (30:21.1/1). They were reversed in the 12.5 km Pursuit, with Lacy winning in 39:10.0 (6) to 39:35.1 (8) for Bonacci.
¶
With long-time US Biathlon chief Max Cobb now the Secretary General of the International Biathlon Union, the federation named Jack Gierhart as its new chief executive. He had been the interim head of the federation since September 2022.
He's no stranger to the U.S. Olympic Movement, having served as the head of U.S. Sailing from 2010-20 and also a one-year term as interim chief executive of USA Fencing in 2021-22.
● Cycling ● Tokyo Olympic Time Trial silver medalist Marlen Reusser became the first Swiss rider to take the famed Gent-Wevelgem in Flanders Fields for women, breaking away with 40 km to go on the mostly-flat 162.5 km course from Ypres to Wevelgem.
She won in 4:16:47, with 21-year-old American Megan Jastrab leading the pack for second, 2:42 back, in her best performance on the UCI Women's World Tour so far.
● Football ● The U.S. men's National Team faced El Salvador in Orlando with a spot in the CONCACAF Nations League final four at stake, and came away with a hard-earned, 1-0 win that moved them on to the semifinals in Las Vegas in June.

The U.S. men had the better of play in the first half, with good chances from Christian Pulisic and Gio Reyna near the 30-minute mark, and a Weston McKennie header that missed in stoppage time at 45+4. But it ended 0-0, with the Americans holding 57% possession and a 6-1 edge in shots.
The home team came out on fire in the second half, with Reyna hitting the post in the first minute of play and then continuing to harass Salvadorian keeper Mario Gonzalez. Then the U.S. broke through on a brilliant lead pass from the American end by McKennie that found substitute striker Ricardo Pepi sprinting through the box and right-footing the ball into the net in the 62nd minute for a 1-0 lead.
Pepi had another chance in the 85th that was saved by Gonzalez as the U.S. kept the pressure on, and just would not let El Salvador get enough time with the ball to make a serious threat. The Americans ended with 58% of possession and a 17-4 advantage on shots.
The U.S. finished with a 3-0-1 record in the three-team Group A4 (10 points), ahead of El Salvador (1-2-1: 5) and Grenada (0-3-1: 1). On to the Nations League semis to defend their 2022 title; the U.S. now has a 20-1-7 record all-time vs. El Salvador and has a 22-match unbeaten streak since 1993.
¶
The first public announcement of a bid for the FIFA Women's World Cup in 2027 has come from Belgium, Germany and the Netherlands as a joint venture. FIFA opened the bidding last week and parties have until 21 April to express their interest.
Germany hosted in 2011, followed by Canada in 2015, France in 2019 and Australia and New Zealand this year.
¶
You can receive our exclusive TSX Report by e-mail by clicking here. You can also refer a friend by clicking here, and can donate here to keep this site going.
For our updated, 651-event International Sports Calendar (no. 2) for 2023 and beyond, by date and by sport, click here!