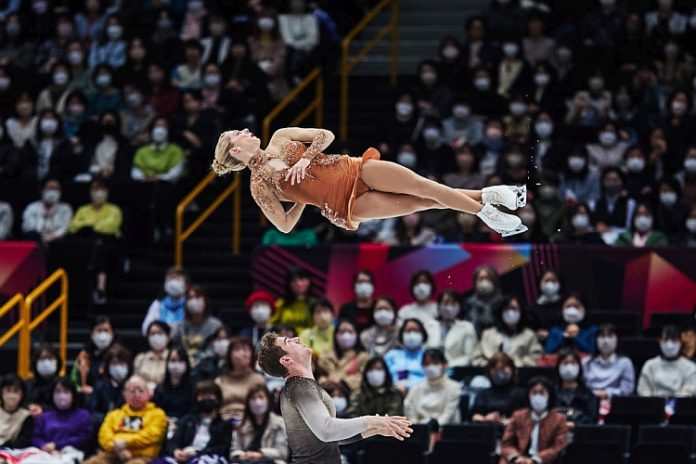 ★ The Sports Examiner: Chronicling the key competitive, economic and political forces shaping elite sport and the Olympic Movement.★
★ To get The Sports Examiner by e-mail: sign up here! ★
★ A revised edition of our exclusive calendar of 651 international and U.S. events for 2023 and beyond, is now available! Click here! ★
≡ THE 5-RING CIRCUS ≡
1. World Athletics reinstates Russia, with lots of conditions
2. World Athletics tightens DSD and transgender regulations
3. Strong World Baseball Classic final-round ratings
4. Matytsin lobbies for Russian re-admission by IOC
5. Miura & Kihara win Worlds Pairs, with Knierim/Frazier second
World Athletics ended its sanctions first imposed in November 2015 against the All-Russian Athletics Federation for "egregious" doping offenses and reinstated the federation, subject to a list of 35 conditions! However, this applied only to doping issues and Russian athletes are still barred in view of the country's continuing invasion of Ukraine. World Athletics also adopted stricter rules for transgenders, eliminating any males who have undergone puberty before transitioning, and reducing the allowable testosterone level for women with Differences in Sex Development to 2.5 nmol/L, now applied to all events and not just from 400 m to the mile. The World Baseball Classic final set a new U.S. telecast record with more than 5.2 million watching Japan edge the U.S., while 42.4% of all Japanese households had the final on, beginning at 8 a.m. on Tuesday morning! Russian sports minister Oleg Matytsin says he wants the IOC Executive Board to allow Russian athletes to compete at Paris 2024 with full national colors and flags, at its meeting next Tuesday. At the ISU World Figure Skating Championships, Japan's Rika Miura and Ryuichi Kihara won the country's first-ever gold in Pairs, with defending champs Alexa Knierim and Brandon Frazier of the U.S. winning silver.
● Panorama: Paris 2024 (video surveillance bill debated in National Assembly) = Athletics (3: Coe to run for third term as President; Shanghai dropped from Diamond League; N.Z.'s Robertson hit with eight-year suspension!) = Football (2: FIFA starts 2027 Women's World Cup bid process; U.S. defender Krieger to retire) ●
1.
World Athletics reinstates Russia, with lots of conditions
At the World Athletics Council meeting on Thursday, the nearly eight-year suspension of the All-Russian Athletics Federation (RusAF) over its "egregious institutional doping violations" was ended, subject to nearly three dozen conditions imposed for the next three years
The Russia Task Force, chaired by Rune Andersen (NOR), reported that its recommendations were solely concerned with doping issues in Russia and not the status of Russian athletes due to the invasion of Ukraine. That's a separate matter.
The reinstatement was approved, subject to multiple conditions – to be enforced for a minimum of three years – mostly aimed at trying to maintain a suitable anti-doping program going in Russia and being able to monitor developments in case more doping is detected:
● Russia is classified in "Category A" for anti-doping monitoring, meaning the Athletics Integrity Unit will conduct special oversight of testing of its athletes and where the samples are processed.
● A list of 35 "Special Conditions" were adopted, including heavy monitoring of RusAF governance; visits by experts every six months; sharing of internal documents and decisions made concerning elections; monthly reporting of anti-doping tests, education, coaching training and qualifications; ethics training; whistleblower programs; funding of the RusAF anti-doping programs, and public reporting of suspensions, doping positives and appeals.
● "If there is a minor breach of [World Athletics anti-doping rules] 15.4 and/or 15.5 and/or of the Special Conditions, the AIU shall decide what corrective action is required."
● "If there is a material breach of WA ADR 15.4 and/or 15.5 and/or of the Special Conditions (whether a breach as to payment of costs owed or otherwise), the AIU shall report the breach to Council, who will decide upon the appropriate measures (which may include, if the circumstances so warrant, a proposal being put to Congress that RusAF be expelled permanently from membership of World Athletics), with the AIU making any recommendations it may see fit as to those measures."
With the reinstatement, the need for an Authorized Neutral Athlete process for Russian athletes is over and the Doping Review Board is disbanded.
But that doesn't mean any Russian athletes can compete, yet. The announcement also noted that sanctions remain in place by World Athletics regarding the invasion of Ukraine, including:
● "Athletes, Athlete Support Personnel, Member Federation Officials and Officials who are Citizens of Russia and Belarus are excluded from World Athletics Series Events for the foreseeable future."
● "The Council recommends to the meeting organisers of the Diamond League, Continental Tour, Label Races and the various other Tours that they take the same approach and exclude Athletes and Officials from RusAF and the Belarus Athletic Federation."
A working group will be created to recommend what conditions would be necessary for Russian and Belarusian athletes to return to competition. Said World Athletics President Sebastian Coe (GBR):
"The integrity of our major international competitions has already been substantially damaged by the actions of the Russian and Belarusian governments, through the hardship inflicted on Ukrainian athletes and the destruction of Ukraine's sports systems. Russian and Belarusian athletes, many of whom have military affiliations, should not be beneficiaries of these actions."
2.
World Athletics tightens DSD and transgender regulations
As expected, the World Athletics Council also adopted a tighter set of regulations concerning athletes wishing to compete as women as transgenders, or with Differences in Sex Development.
For athletes with Differences in Sex Development, the rules were tightened on serum testosterone levels and the number of events expanded, as of 31 March 2023:
"[T]he new regulations will require any relevant athletes to reduce their testosterone levels below a limit of 2.5 nmol/L for a minimum of 24 months to compete internationally in the female category in any event, not just the events that were restricted (400m to one mile) under the previous regulations.
"The principle of restricted events has been removed from the regulations."
This is a significant change from the 5 nmol/L levels previously required for the 400 m-to-mile event group. An interim regulation was adopted for athletes in events not previously regulated (100-200-110 hurdles, events over a mile and field events):
"[A] requirement to suppress their testosterone levels below 2.5nmol/L for a minimum of six months, before they are eligible to compete again."
For transgenders from male to female, the federation's consultations with stakeholders changed the ultimate decision. The announcement noted:
"It became apparent that there was little support within the sport for the option that was first presented to stakeholders, which required transgender athletes to maintain their testosterone levels below 2.5nmol/L for 24 months to be eligible to compete internationally in the female category."
So:
"[T]he Council has agreed to exclude male-to-female transgender athletes who have been through male puberty from female World Rankings competition from 31 March 2023. …
"However the Council agreed to set up a Working Group for 12 months to further consider the issue of transgender inclusion."
This new regulation slams the door on post-pubescent transgenders in the same way that World Aquatics has done with its athletes. The reduction for DSD athletes to a serum testosterone level of 2.5 nmol/L adopts the tighter standard now in force in aquatics, cycling and rowing.
The announcement also reported "there are currently no transgender athletes competing internationally in athletics and consequently no athletics-specific evidence of the impact these athletes would have on the fairness of female competition in athletics."
3.
Strong World Baseball Classic final-round ratings
The World Baseball Classic was an overwhelming success at the gate and now the television ratings are coming in for the semifinals and finals in Miami, setting new viewership records for the tournament in the U.S.
Fox reported total viewers on FS1, Fox Deportes and streaming:
● 2.25 million viewers (TV) for the USA-CUB semi
● 2.55 million viewers (TV) for the MEX-JPN semi
● 5.2+ million viewers (all) for the JPN-USA final
The U.S.-Japan final on Tuesday evening drew a peak audience on FS1 and Fox Deportes of 6.5 million viewers and the average of 4.5 million on FS1 made it the most-watched show on U.S. cable television that night.
The final (on cable) beat all but six games of the NCAA men's Basketball Tournament on CBS and was larger than any game shown on TBS, TNT or TruTV. And the broadcast audience of 4.97 million was 63% higher than the old record of 3.05 million for the 2017 final between the U.S. and Puerto Rico. It was also higher than every regular-season game broadcast since 2011 excepting the "Field of Dreams" game from 2021.
In Japan, the numbers were astronomical. The country has about 55.7 million households as of 2020 and the impact of the Classic was enormous. The share of all households in the country watching the Classic on television for Japan's games:
● 41.9% for pool-play vs. China
● 44.4% for pool play vs. South Korea
● 43.1% for pool play vs. Czechia
● 43.2% for pool play vs. Australia
● 48.0% vs. Italy (quarterfinal)
● 42.5% vs. Mexico (semifinal)
● 42.4% vs. U.S. (final)
The first five games were in Tokyo at 7 p.m., but the semi and final in Miami started at 8 a.m. in Japan on Monday and Tuesday. By contrast, about 38% of all U.S. households watched the Super Bowl in February. Wow.
4.
Matytsin lobbies for Russian re-admission by IOC
The Russian Sports Minister, Oleg Matytsin, decried lobbying by national governments against Russian participation in international sports in an interview on Thursday, then lobbied the International Olympic Committee:
"The Olympic Games are the main competitions for many athletes, and they continue to be. We hope that at the upcoming meeting of the Executive Board of the International Olympic Committee, a decision will be made to recommend that international federations allow Russians to participate in all competitions under their auspices, for selection and participation of our athletes in the Olympic Games.
"We are actively working to develop elite sports together with the Russian Olympic Committee, we maintain a dialogue with international federations through the government. Today, one of our main tasks is to ensure the competitive activity of all our athletes. This is also indicated in the Strategy-2030, which was developed and was adopted long before the mass and unlawful removal of Russians.
"We consistently stand for the preservation of the principles of the international Olympic movement and the neutral position of the IOC. Because we see how the governments of some countries are trying to put pressure on the IOC and international federations. Lobbying threatens the principles of the development of the world sports. I note that we have always had, have and will have the Russian flag, we have no other. We will do our best to ensure that the Russians compete under their own flag at the Games."
Meanwhile, another Paris 2024 qualifying opportunity will apparently be missed, this time by Russian and Belarusian weightlifters. Russian and Belarusians were not allowed to enter the European Weightlifting Championships in Armenia from 15-23 April. The Russian news agency TASS noted:
"If the International Weightlifting Federation (IWF) allows Russian athletes to participate in Asian tournaments, then domestic weightlifters will have a theoretical opportunity to compete in the Asian Championship, which will be held in South Korea from May 3 to May 13 and is also a qualification for the 2024 Games."
Everything will depend on the IOC Executive Board's view of Russian and Belarusian participation, to be discussed next Tuesday (28th).
5.
Miura & Kihara win Worlds Pairs, with Knierim/Frazier second
At the ISU World Figure Skating Championships in Saitama, the home favorites thrilled the crowd as Riku Miura and Ryuichi Kihara became the first Pairs gold medalists ever from Japan.
Already the leaders after the Short Program, Miura and Kihara were outscored in the Free Skate by defending champs Alexa Knierim and Brandon Frazier of the U.S., 142.84-141.44, but held on to win with final scores of 222.16 to 217.48.
It's the second Worlds medal for the Americans, after last year's victory, and a move up from silver for the Japanese from 2022. Italy's Sara Conti and Niccolo Macci won the bronze (208.08), with Americans Emily Chan and Spencer Howe fifth (194.73) and Ellie Kam and Danny O'Shea 12th at 175.59.
Said Knierim, speaking especially of coach Todd Sand, who suffered a heart attack on 2 March:
"This whole week, this whole time, this program, it was all for our coach, and that's where our hearts are. …
"I was very proud of us. We never dreamed that we would have two World medals and for us this is an achievement and the color is beautiful."
In the men's Short Program, Japan's defending champion, Shoma Uno, led the field at 104.63, with 18-year-old American star Ilia Malinin – the 2022 World Junior Champion – right behind with a lifetime best score of 100.38 and Korea's Jun-hwan Cha third at 99.64.
Both Uno and Malinin executed two quads during their skates. American Jason Brown qualified sixth at 94.17 and Andrew Torgashev made it to the final in 22nd at 71.41. The Free Skate will be on Saturday.
≡ PANORAMA ≡
● Olympic Games 2024: Paris ● The French National Assembly continued debate on new laws which will allow specific types of surveillance to be used on a temporary basis during the Olympic and Paralympic Games.
Interior Minister Gerard Darmanin explained, "It's about having a decision-making tool for law enforcement, it is not a question of recognizing people, but situations." Opponents, including Greens Party member Sandra Regol, counterclaimed: "You hide behind the argument that facial recognition will be banned to hide the fact that facial data will be processed by algorithms and archived. This law proposes to transform into guinea pigs the entire population on French territory."
The law, with expiration set as of the end of 2024, passed the French Senate on its first reading. The debate is continuing in the Assembly.
● Athletics ● World Athletics President Coe told reporters after the World Athletics Council meeting that he would be running for a third term as head of the federation. He is most likely to be unopposed.
¶
The 2023 Diamond League schedule was changed again, with the 29 July meet in Shanghai (CHN) canceled and the 3 August meet in Shenzhen (CHN) moved to 2 September.
¶
New Zealand distance runner Zane Robertson, 33, the 5,000 m bronze medalist from the 2014 Commonwealth Games, was given an eight-year suspension for a positive test for erythropoietin (EPO) in 2022 and then giving a false statement about the circumstances.
Drug Free Sport New Zealand imposed the penalty after Robertson – who trains in Kenya – claimed that he had mistakenly been given the drug when trying to get a Covid-19 vaccination. But, according to the decision of the Sports Tribunal of New Zealand:
"[Anti-Doping Kenya]'s statement included an attached letter from the Vice President of the medical facility Mr Robertson claimed to have attended which stated that Mr Robertson was not administered EPO at the facility, that he had not attended the facility on the alleged date, that of the two doctors he claimed had treated him, one was a laboratory technician and the other was not employed at the facility, that the medical notes were not generated at the facility and the patient number on the notes was not Mr Robertson's."
His ineligibility runs to 20 September 2030, with the decision noting that in view of the evidence presented, he "no longer seeks to contest the sanction."
● Football ● FIFA announced the opening of the bid process for the 2027 FIFA Women's World Cup, to be decided by the FIFA Congress in May of 2024.
The final vote will be between up to three candidates, to be selected by the FIFA Council. National federations have until 21 April to signal their interest; the U.S. Soccer Federation is more likely to bid for 2031 than 2027 given the 2026 FIFA World Cup already being organized.
The event will include 32 teams and bidders are required to identify a minimum of 10 stadiums and 70 Team Base Camp training sites, two locations for Fan Festivals in each proposed stadium city and a raft of government guarantees.
¶
Standout U.S. defender Ali Krieger, 38, said Thursday that she will retire at the end of the current NWSL season.
She finishes with 108 national team appearances and was on FIFA Women's World Cup-winning teams in 2015 and 2019.
¶
You can receive our exclusive TSX Report by e-mail by clicking here. You can also refer a friend by clicking here, and can donate here to keep this site going.
For our updated, 651-event International Sports Calendar (no. 2) for 2023 and beyond, by date and by sport, click here!