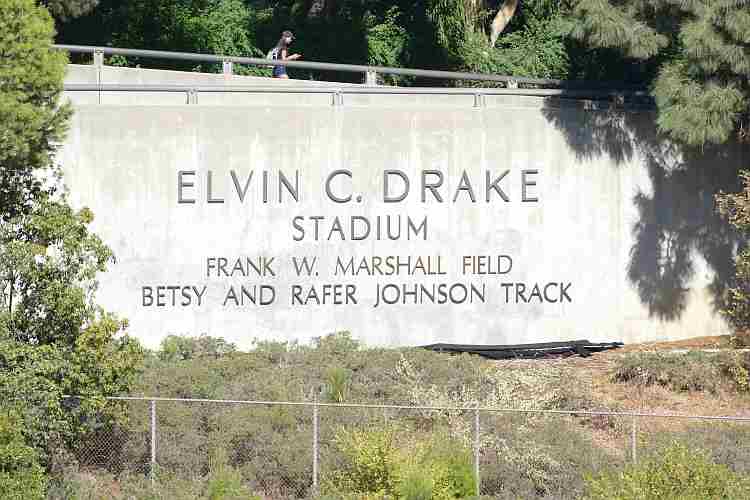 ≡ TSX REPORT ~ 28 October 2019 ≡
● LANE ONE ● UCLA dedicates famed Drake Stadium track to Betsy & Rafer Johnson
Anyone connected with UCLA sports since 1956 knows the name Rafer Johnson. Celebrated not only as the 1960 Olympic Decathlon winner (and 1956 Olympic silver medalist), Johnson is literally a living legend at the Los Angeles campus. His civil rights activism, his founding of Special Olympics California, lighting of the Olympic cauldron to open the 1984 Olympic Games and much more has made him synonymous with UCLA.
UCLA Athletic Director Dan Guerrero came up with the idea to name the track at Drake Track & Field Stadium several months ago and then went to the home of Rafer and his wife Betsy for their approval. The idea of naming the track for the both of them was an extension of the naming of the Pauley Pavilion floor for legendary coach John Wooden, and his wife Nell, back in 2003. The naming would be especially meaningful for Rafer, as the stadium was named for his coach, Ducky Drake.
All three agreed and last Friday, nearly 500 people gathered on the concourse of Drake Stadium to hear from UCLA Chancellor Gene Block and others, but especially from Guerrero, from daughter Jenny Johnson Jordan and from Betsy Johnson.
Said Guerrero, "And I remember Rafer's gratitude was particularly focused on the fact that Betsy would be linked with him forever, together, inside this stadium, at the university they both love. And it's no surprise to any of us that they too raised two wonderful children, in Jenny, and, of course, also in Josh, who are also great Bruins in their own right."
Rafer did not speak, owing to some health difficulties over the past year, but Betsy did (pictured below, with Jenny), expressing her thanks for everyone who had known them and supported UCLA over these many years. At the end of the 30-minute ceremony, the new lettering proclaiming the "Betsy and Rafer Johnson Track" was unveiled.
Never was there a more deserving honor for a more deserving couple.
● ALPINE SKIING ● FIS World Cup opens with Giant Slalom wins for Robinson & Pinturault
The 2019-2020 FIS Alpine World Cup opened in Soelden (AUT) as it has for 20 seasons … with a surprise.
Three-time defending World Cup overall champion Mikaela Shiffrin of the U.S. led after the first of two runs on Saturday, then struggled on the bottom half of the second run and ended up second. The winner was 17-year-old New Zealander Alice Robinson, who not only scored her first career World Cup gold, but was the first Kiwi to win a World Cup race in 22 years!
The men's race was a showcase for French star Alexis Pinturault, who won ahead of countryman Mathieu Faivre. American Tommy Ford finished fourth, his best-ever World Cup placing, but just off the podium, and just ahead of teammate Ted Ligety in fifth. More here.
● FIGURE SKATING ● Hanyu sensational in Skate Canada win … by almost 60 points!
There was no stopping a fully-healthy Yuzuru Hanyu, the two-time Olympic Champion, who performed with sustained brilliance at Skate Canada International. He won both the Short Program and set a lifetime best in the Free Skate, scoring 322.59 in all, the no. 2 performance in history under the current scoring system. That's almost 60 points ahead of Canada's Nam Nguyen (262.77).
His brilliance overshadowed excellent performances by Russia's Alexandra Trusova, who jumped from third to first with an outstanding Free Skate performance and overtook Japanese star Rika Kihira, 241.02-230.33. Russians Aleksandra Boikova and Dmitrii Kozlovskii won the Pairs and Canada's Piper Gilles and Paul Porier upset Americans Madison Hubbell and Zachary Donohue, 209.01-206.31, in Ice Dance. More here.
● SWIMMING ● Australia's Minna Atherton wins thrice, sets Short-Course 100 m Back world record
At the fourth meet in the International Swimming League series, this time in Budapest (HUN), Australia's Minna Atherton was the star, not just winning three events, but setting a world mark in the 100 m Backstroke.
On Saturday, she won the 200 m Back and 50 m Back in speedy times of 1:59.48 – just 0.25 from the 2014 world Short-Course record, and no. 3 all-time – and 25.81, just 0.14 off the world mark by Etiene Medeiros (BRA) from 2014.
On Sunday, she was ready to tackle the 100 m Back, an event in which she had won the silver medal at the World Championships during the summer. She romped through the event and finished in 54.89, bettering the world mark of 55.03 by Hungarian star Katinka Hosszu, also from 2014.
Atherton's swims were the headline, but Hosszu was also strong, winning the MVP award. More here.
● SCOREBOARD ● Olympic champs win big in Paris and Abu Dhabi
A busy weekend included highlights in four sports:
● Badminton: The Rio 2016 Olympic Champion, China's Long Chen defended his men's Singles title at the Yonex French Open in Paris, with a straight-set win over Indonesia's Jonatan Christie.
However, Indonesia had a good tournament, as no. 1-ranked Marcus Fernaldi Gideon and Kevin Sanjaya Sukamuljo won the men's Doubles and Praveen Jordan and Melati Oktavianti upset no. 1-ranked (and defending champs) Si Wei Zhang and Ya Qiong Huang of China in three sets
● Curling: The opening tournament of the Pinty's Grand Slam of Curling – The Masters – took place on the weekend, with happy, new winners in Matt Dunstone and Tracy Fleury, both from Canada.
Dunstone won in the final over former World Champion Brad Gushue and Fleury's squad defeated another surprise finalist, Japan's rink led by Sayaka Yoshimura in the final, 7-5.
● Judo: The Abu Dhabi Grand Slam showcased 551 judoka from 95 countries, but in the end, there were familiar faces on the top of the podium. Rio Olympic champs Majlinda Kelmendi (KOS: 52 kg) and Tina Trstenjak (SLO: 63 kg) won their divisions, as did two-time defending World Champion Daria Bilodid (UKR: 48 kg). Two former world champs – Spain's Nikoloz Sherazadashvili (90 kg) and Guham Cho (KOR: 100 kg) – won in the men's division.
● Sport Climbing: The IFSC World Cup came to a close with the final Lead event of the season, in Inzai (JPN). The winners included Japan's Hiroto Shimizu and Korean star Jain Kim (her 30th career World Cup victory), and the seasonal Lead winners – already decided prior to the event – were Adam Ondra (CZE) and Chae-Hyun Seo (KOR).