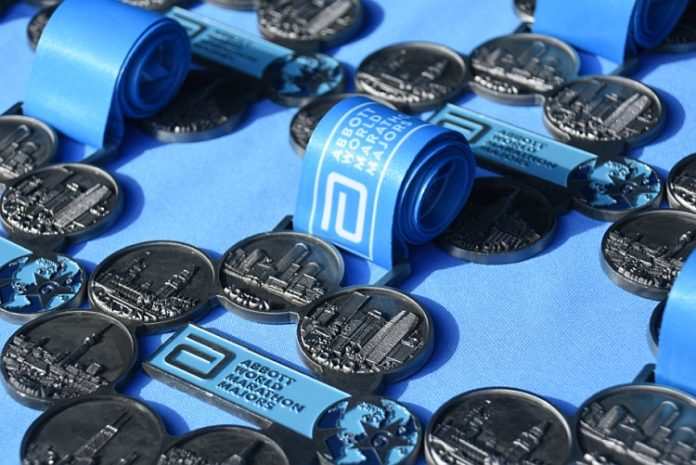 ★ The Sports Examiner: Chronicling the key competitive, economic and political forces shaping elite sport and the Olympic Movement.★
★ Thank you to now 14 donors, who have covered 37% of our technical expenses for the first half of 2023. Please consider a donation. Thank you in advance. ★
★ To get The Sports Examiner by e-mail: sign up here! ★
● Sponsored post: All about the RR Auction on now: An Athens 1896 medal in its original box, 38 Olympic torches and 40 Olympic medals, ending 19 January ●
≡ THE 5-RING CIRCUS ≡
1. Sydney seeing gold in becoming a seventh World Marathon Major
2. RUSADA chief says Russian doping down due to education
3. Anti-Doping Kenya suspends 20 (!), with first-time public naming
4. U.S. District Court rules against ISL in suit vs. World Aquatics
5. NWSL hands down big sanctions in abuse cases
The World Marathon Majors circuit is looking to expand to a seventh race and Sydney, Australia is among the three cities identified as a possibility. Its motivation: money and prestige and it will try to lure Kenyan superstar Eliud Kipchoge to its 2025 race to show it is ready. The head of the Russian Anti-Doping Agency says that educational programs are starting to reduce the incidence of doping in sport there. In Kenya, however, the anti-doping agency publicly posted a list of 20 more doping disqualifications, now allowed under a new law. The long-running lawsuits by the International Swimming League and three swimmers against World Aquatics were dealt a likely death blow when both actions were dismissed in a summary judgement by the U.S. District Court for the Northern District of California, declaring that there was no basis for a trial on either anti-trust or damages grounds in the plaintiff's filings. The National Women's Soccer League handed down sharp disciplinary measures in its player-abuse investigations, including lifetime bans on four coaches and fines of up to $1.5 million against several clubs.
1.
Sydney seeing gold in becoming a seventh World Marathon Major
What motivates companies and governments to spend money on bringing, or mounting, major sporting events to their communities?
Money, for one. Exposure for another.
Take the Sydney Marathon, created in 1999 and which hosted 4,484 finishers in the last pre-Covid year of 2019 and 3,451 in its return in 2022, and now a candidate to be added as the seventh World Marathon Major. Race Director Wayne Larden told the Sydney Morning Herald:
"It's a big deal for a number of reasons. The main one is just the sheer volume of runners that take part in these events. Every single one of the Abbott World Marathon Major events is oversubscribed by between 250,000 and 400,000 runners.
"Which means when we become a major, our numbers are going to leap, with people wanting to get that seventh star. We are expecting a huge boost in numbers, a massive increase in economic impact."
The "seventh star" refers to runners who have completed all of the World Marathon Majors – six so far – with the idea that Sydney would have thousands of runners coming to the race to get their status updated to include the new, seventh race.
The World Marathon Majors group announced in mid-2022 that it was looking to expand. But it won't be easy.
The requirements include an expansion of the number of finishers to 15,000, spectator interest in the event and the entertainment and festival programming. And Sydney is not alone, with Chengdu (CHN) and Cape Town (RSA) also in the running.
Larden thinks that attracting Kenya's Eliud Kipchoge, the greatest marathoner in history and the world-record holder at 2:01:09, could be the catalyst for turning the race into a spectator event:
"We are talking to Kipchoge's management and have been since we got nominated. He wants to finish the six next year, so our goal is to try and get him to Sydney in 2024, as that big drawcard."
Kipchoge is 38 and has said he wants to complete his own tour of the Majors and has yet to run either the Boston Marathon or New York City Marathon. He has won at Berlin and London four times each, once in Tokyo and in Chicago in 2014.
Larden is not alone in all this; he has the backing of state government tourism group Destination NSW [New South Wales] in its quest to be added to the Majors list in 2025.
2.
RUSADA chief says Russian doping down due to education
"Is the anti-doping culture changing in our country? This question worries many people, including those abroad."
That's Russian Anti-Doping Agency chief Veronika Loginova, speaking to the Russian news agency TASS on Sunday. She was optimistic.
"The sociological surveys that have been conducted suggest that it has changed considerably.
"At the last anti-doping forum held by RUSADA a month ago, more than 500 people registered, this never happened at all. Some athletes, while under suspension status, started participating in our anti-doping programs. I would take tennis player Teimuraz Gabashvili as an example, the banned thorasemide was found in his sample. He decided to tell everyone what led him to make the biggest mistake in his life."
Loginova emphasized that preventing doping in the first place is now the focus of the agency's work, while the testing and analysis efforts continue:
"When we find prohibited substances, we analyze almost every case of violation. It is very important to understand the reasons, whether the use of a prohibited substance was accidental, whether the violator had been previously trained in anti-doping. Each case is individual, it even happens that we then adjust our educational programs."
The biggest target for testing so far has been athletics:
"We have about 20 percent of the total number of samples taken are athletics.
"When preparations were underway for the audit of the All-Russian Federation of Athletics, the question arose about the number of anti-doping rule violations in domestic athletics in recent years. is declining, which cannot but rejoice us.
"And I can say with all responsibility that testing is flawless. This applies to both planning and the process of doping sampling. We have very strict rules, everything happens in accordance with the standards of the World Anti-Doping Agency."
Although the sanctions imposed by WADA technically ended in December, Russia's re-admittance still remains in limbo, with WADA continuing to evaluate whether RUSADA is in compliance with its rules. As for athletics, Russia has been suspended since 2015 by World Athletics, but reports from the federation's Russia Task Force indicate it is improving its procedures and will be evaluated again in March.
Even if approved for reinstatement – by WADA or World Athletics – the measures against the participation of Russian athletes due to the invasion of Ukraine remain in place.
3.
Anti-Doping Kenya suspends 20 (!), with first-time public naming
Thanks to a 2021 change in the Kenyan anti-doping laws, the names of 20 athletes provisionally suspended for doping offenses – prior to their appeals – were published by the Anti-Doping Agency of Kenya (ADAK), stretching from November 2021 to December 2022.
The list includes 15 track & field athletes, three bodybuilders, one football player and one judoka, with some notable names:
● Alice Aprot (29, women's 10,000 m): twice national champion, best of 29:53.51 in 2016, fourth at Rio 2016′ for Letrozole.
● Michael Kibet (23, men's 5,000 m): best of 13:11.08 in 2019; for erythropoietin (EPO).
● Michael Saruni (27, men's 800 m): NCAA Indoor Champion 2018, Tokyo Olympian in 2021, best of 1:43.25 from 2018; suspended for refusing a test.
● Matthew Sawe (34, men's high jump): national record holder at 2.30 m (7-6 1/2) from 2018; for the steroid Triamcinolone.
● Kumari Taki (23, men's 1,500 m): World Junior Champion in 2016, best of 3:34.14 in 2020; for erythropoietin (EPO).
The rash of doping positives in Kenya – 58 are on the Athletics Integrity Unit's Global List of Ineligible Persons as of 31 December 2022 has led to consideration of a suspension of the federation. However, a promise to pump $5 million a year for five years into ADAK has staved off such action by World Athletics, at least for now.
As in Russia, more athlete education is seen as the key to reforming the doping situation there.
4.
U.S. District Court rules against ISL in suit vs. World Aquatics
A pair of lawsuits filed in 2018 against World Aquatics – then known as FINA – by the International Swimming League and star swimmers Tom Shields and Michael Andrew of the U.S. and Katinka Hosszu of Hungary was dealt a likely mortal blow by the U.S. District Court for the Northern District of California on Friday.
Judge Jacqueline Scott Corley granted summary judgement to World Aquatics on all counts in both suits, essentially holding that ISL and the swimmers had not stated a case sufficient to even go to trial. They can appeal, but as the holdings were on technical grounds, their chances of success are poor.
The complaints alleged that FINA – as then known – interfered with the right of ISL and the swimmers to compete and earn money in competitions not authorized by FINA directly, and that FINA had interfered with ISL's attempt to put on a prize-money meet in Turin in 2018.
Initially-threatening messages from FINA to its national federations in June 2018 that ISL should not be recognized and that federations could be suspended for doing so were rendered inoperative by a January 2019 directive that "[S]wimmers are free to participate in competitions or events staged by independent organisers, namely entities which are neither members of FINA nor related to it in any way."
The lawsuits, however, continued, as ISL and the swimmers pursued an injunction against FINA for anti-trust violations and damages for the inability to compete in the 2018 meet that never happened. ISL put on full seasons of meets in 2019, 2020 and 2021, but as it is supported by Ukrainian businessman Konstantin Grigorishin, suspended operations in February 2022 due to the Russian invasion.
The Court found:
● On anti-trust grounds, "a reasonable trier of fact could find FINA and its member federations are separate economic actors capable of conspiring and that they actually conspired on a restraint of trade."
However, the evidence did not show that ISL or the swimmers were kept from competing in a meet, but that FINA was well within its rights to control meets organized by its member federations. And:
"It is undisputed that top-tier swimmers are not bound by contract to swim only in FINA-sanctioned competitions. Indeed, the undisputed evidence is that ISL can and does sponsor top-tier swimming competitions without any affiliation with member federations. For example, in 2019, ISL hosted a swimming competition in Naples, Italy without affiliating with FINA or any member federation. And, ISL admits it does not need FINA to conduct its swimming competition business."
● Further, the Court scolded ISL and the swimmers for not defining the "market" which FINA is said to control and prevent access to:
"FINA's rules prohibited its member federations from affiliating with an unapproved entity, and a trier of fact could find that, for a brief time, FINA threatened suspension of any swimmer who participated in an unsanctioned event involving a FINA member federation. There is no rule (and never was) that allows FINA to penalize a swimmer who participates in a competition that is not affiliated with a member federation, and no evidence that FINA ever did, or even threatened to do so."
And:
"The Court acknowledges the record is replete with evidence of FINA's concern about
competition from ISL. But, so what? The antitrust laws do not require one competitor to help another compete with it; instead, they prohibit only unreasonable restraints of trade."
● As to the requests for damages, the Court noted that ISL's demand for damages was based on anti-trust violations which it found non-existent. As for the swimmers not being able to compete in Italy in 2018 and earn money there, there was no identifiable link between a foreign meet and anti-trust conduct in the United States. Game over.
Said World Aquatics President Husain Al-Musallam (KUW), "We are pleased that it brings an end to a period of uncertainty. And we are thankful for the clarity that the Court's decision provides. This is an important decision and also a good decision, not just for World Aquatics, but for the Olympic Movement and beyond."
The suit, when filed in 2018, had a chance of success, but with FINA's change of stance a month later and the fact that ISL staged three seasons of events without interference from FINA, it had little chance of success going forward.
5.
NWSL hands down big sanctions in abuse cases
The National Women's Soccer League handed down some serious sanctions on Monday – called "corrective actions" – against teams and individuals involved in abuse cases across the league. Commissioner Jessica Berman said:
"Those actions are fundamental to the future of our league, especially as we build a league that strengthens our players' ability to succeed and prosper on and off the pitch. As part of our commitment to accountability and deterrence, the league has determined that further corrective action with respect to certain organizations and individuals identified in the Joint Investigative Report is appropriate and necessary."
Four individuals were banned from the league for life:
● Richie Burke (ENG), former coach of the Washington Spirit;
● Rory Dames (USA), former coach of the Chicago Red Stars;
● Christy Holly (NIR), former coach of Racing Louisville;
● Paul Riley (ENG), former coach of the Portland Thorns and North Carolina Courage.
Eight other individuals were either banned for two years (2) or whose employment is conditional (6). Six clubs were fined:
● $1.5 million: Chicago Red Stars
● $1.0 million: Portland Thorns
● $200,000: Racing Louisville
● $100,000: North Carolina Courage
● $50,000: OL [Seattle] Reign and Gotham FC
The Washington Spirit was not penalized as the club was sold, under pressure from the league.
Berman noted, "The league and its clubs have taken meaningful steps to begin this structural reform, and understand and accept the continual commitment to enhancing league standards that are necessary to build a safe and positive environment for our players, staff, fans and partners."
≡ PANORAMA ≡
● Alpine Skiing ● American skiing star Mikaela Shiffrin will go for her 83rd career FIS World Cup win in Flachau (AUT) in a night Slalom on Tuesday (10th) at 6 p.m. local time (noon Eastern).
She's won this race four times previously, and is on a hot streak, having won six of the last seven World Cup races. She is listed, of course, as no. 1 on the start list for the first run, and has won four of the six Slaloms held this season on the women's World Cup tour.
Shiffrin is tied with fellow American Lindsey Vonn for no. 2 all-time in World Cup wins at 82, behind only Swede Ingemar Stenmark, with 86.
● Athletics ● Kenyan Sports Cabinet Secretary Ababu Namwamba said that the country would aim to host the 2029 World Athletics Championships:
"Having lost the bid for 2025, we will prepare for 2029 and we believe we will be in a very strong position to put in a compelling bid. We cannot be such a major athletics powerhouse and we can't bring world athletics to Nairobi. We will be banking on the goodwill from World Athletics, we will come up with a much stronger bid."
Kenya's 2025 bid for Nairobi scored poorly on its facilities compared to the new Tokyo 2020 stadium, and there are the doping issues that have plagued Athletics Kenya. A bid for 2027 is complicated by the country's bid for the 2027 African Cup of Nations football championship.
● Short Track ● This has been a good season for American Kristen Santos-Griswold, with medals in all four ISU World Cup events, and swept to victory in both races of the 500 m, 1,000 m and 1,500 m at the U.S. national championships at the Olympic Oval in Kearns, Utah.
Fellow Olympian Corinne Stoddard finished second to Santos-Griswold in all six races and finished second to her in the overall women's classification.
Brandon Kim won the men's overall classification, ahead of Clayton DeClemente and Marcus Howard. Kim won both of the 500 m races and both 1,500 m races (four total). Howard and Caleb Park won the two 1,000 m races, with Kim and DeClemente second.
● Speed Skating ● New star Jordan Stolz, 18, dominated the U.S. Championships held in Milwaukee, Wisconsin over the weekend, winning all three of his events in the 500 m, 1,000 m and 1,500 m
A Beijing 2022 Olympian, Stolz set track records at the Pettit National Ice Center in all three events, winning by 0.69 (500 m), 1.71 m (1,000 m) and 3.19 (1,500 m). Stolz also finished third in the 5,000 m.
The second 500 m race was won by Beijing Olympian Austin Kleba in 35.09, the same time in which he was second to Stolz in race one. Olympic Team Pursuit bronze medalist Ethan Cepuran won the 5,000 m in 6:19.00, to 6:19.05 for fellow medal winner Casey Dawson. Cepuran won the 10,000 m in 13:09.04, with Dawson second at 13:14.33.
Conor McDermott-Mostowy won the first Men's Mass Start with a time of 7:57.87, with Cepuran second by 0.18 seconds; Cepuran won the second Mass Start, with McDermott-Mostowy second.
Olympic medal winners Erin Jackson and Brittany Bowe starred in the women's events. Jackson, the Olympic Champion, won both 500 m races in 37.48 and 37.76. Bowe, the Beijing '22 1,000 m bronze winner, took that event in 1:14.33, with fellow Olympian Kimi Goetz second in 1:14.73 after being second to Jackson in the first 500 m race (37.63). And Goetz took the national title in the 1,500 m in 1:55.99 for her third medal.
Olympian Mia Kilburg won the 3,000 m in 4:08.23 and Greta Myers won the 5,000 m (7:21.60). Kilburg won both Mass Start events for three wins in the event.
¶
You can receive our exclusive TSX Report by e-mail by clicking here. You can also refer a friend by clicking here, and can donate here to keep this site going.
For our updated, 929-event International Sports Calendar for 2023 and beyond, by date and by sport, click here!