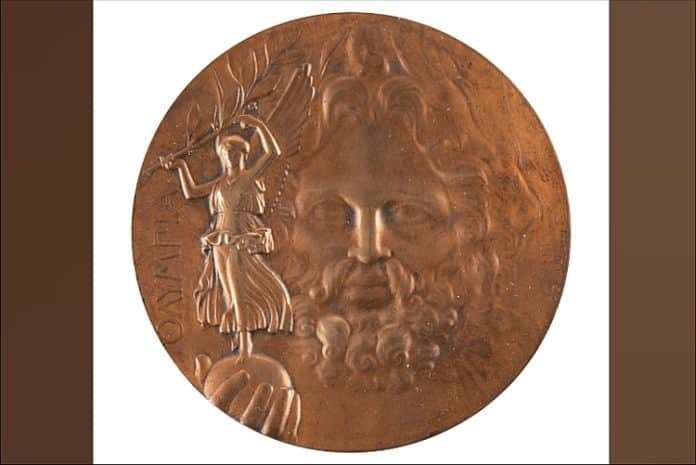 ★ The Sports Examiner: Chronicling the key competitive, economic and political forces shaping elite sport and the Olympic Movement.★
A sponsored post by RR Auction.
It's not every day that you have a medal from the first modern Olympic Games, an Olympic Torch from the very first torch relay and both from the most recent Olympic Games all available at the same time, but that's only part of an impressive, 395-lot offering by RR Auction of Amherst, New Hampshire that will end on 19 January.
It's the company's biggest auction yet, with an original, second-place medal from the 1896 Athens Games the featured lot:
"The front depicts a relief portrait of Zeus holding Nike, the goddess of Victory, in the palm of his hand, with text along left side, 'Olympia'; the reverse bears a detailed view of the Acropolis of Athens topped by the Parthenon, with raised Greek characters to upper and lower portion (translated), 'International Olympic Games in Athens, 1896.' Stamped 'Bronze' on the edge. Complete with its original case lined in deep red velvet."
Only the first and second-place winners received medals in Athens in 1896, with the victors awarded a silver medal and bronze for the runners-up. The condition is amazingly good after 126 years, including the original box. It's expected to bring $70,000.
Five medals from Paris 1900 are on offer, as well as medals from the 1906 Intercalated Games in Athens, Stockholm 1912, Paris 1924, Amsterdam 1928, Los Angeles 1932, London 1948, Melbourne and Stockholm 1956, Rome 1960, Tokyo 1964, Munich 1972, Montreal 1976, Moscow 1980, Los Angeles 1984, Seoul 1988, Barcelona 1992, Beijing 2008, and Tokyo 2020.
The 2020 Tokyo gold came from Cuban superstar boxer Roniel Iglesias, who won the men's Welterweight class. The entire awards package is included: medal, ribbon, wooden presentation case and the framed diploma documenting his victory. It was Iglesias' second Olympic gold – he won the Light Welterweight Class in London in 2012 – and is expected to bring $50,000 or more.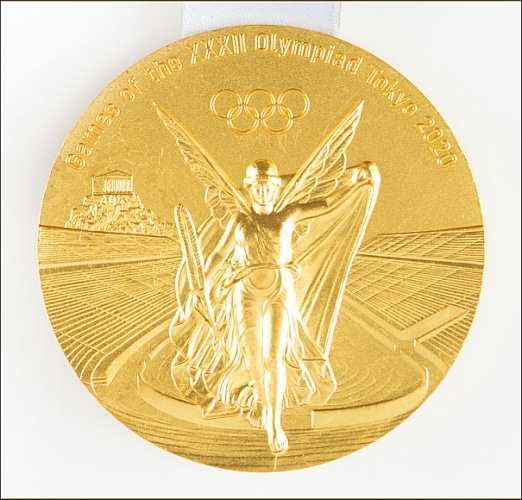 Two exceptionally rare Winter Games medals are being offered, both expected to bring $40,000 or more: a gold from the 1952 Oslo Games – one of just 48 made – and a massive Turin 2006 gold, weighing 1.05 pounds and in its original display case.
The medals are not the only big-ticket items in the catalog, with eight Olympic torches expected to sell for $10,000 or more. At the top of the list is an Albertville 1992 Winter Games Torch, hard to find and expected to bring $50,000+. A torch from the 1980 Lake Placid Winter Games – in excellent condition – is expected to bring $30,000, and a Sapporo 1972 model is estimated to sell for $25,000 or more.
There are torches with expected sale prices as low as $1,000, for those who want to get a collection started, and a Berlin 1936 torch – from the first Olympic Torch Relay – is offered with an expected sale price of $5,000.
Auctions of this type always include at least one lot of hard-to-find badges that used to be used as credentials before the modern accreditation badge was introduced. A set of 10 badges from the Tokyo 1964 Games, including Competitor, N.O.C., Press, Photo-Film, Radio-TV, Technical Official and so on are available, including the original presentation boxes, and expected to go for $10,000 or more.
For those new to Olympic memorabilia, one of the best ways to start is with the "participation medals' which are given to all of the competitors at the Games as a souvenir of their achievement. These go back to the beginning of the modern Olympic Movement and the auction includes a large selection going all the way back to 1896! Some have opening bid prices as low as $100. A huge lot of 20 participation medals from every summer Games from 1936 to 2016 is available, with an expected sale price of more than $6,000.
The most unusual lot? It might be no. 6117, the actual competition swim trunks worn by then-16-year-old Greg Louganis of the U.S. in Montreal in 1976, on his way to the 10 m Platform Diving silver (size 30 by the way). The minimum bid is $200, but it's expected to sell for $1,000 or more.
Or perhaps a 1984 U.S. Olympic Team ring from field hockey goalkeeper Diane Moyer, already receiving a $200 bid, but expected to sell for $500 or more.
RR Auction chief executive Bobby Eaton noted, "RR Auction is proud to open 2023 with our biggest Olympic auction yet!
"A number of scarce and sought-after Winter Olympic relay torches are featured as well, including those from Cortina 1956, Innsbruck 1976, Lake Placid 1980, Calgary 1988, and Albertville 1992—all of which are quite difficult to find in the marketplace. These key pieces are bolstered by an unprecedented variety of Olympic ephemera, IOC badges and pins, participation medals, and souvenirs from the Games."
The auction began on 22 December, with many bids already recorded, and will continue to Thursday, 19 January 2023. The auction catalog and additional details are here.
A sponsored post by RR Auction.
¶
For information about advertising and sponsored posts, please contact us here.
You can receive our exclusive TSX Report by e-mail by clicking here. You can also refer a friend by clicking here.