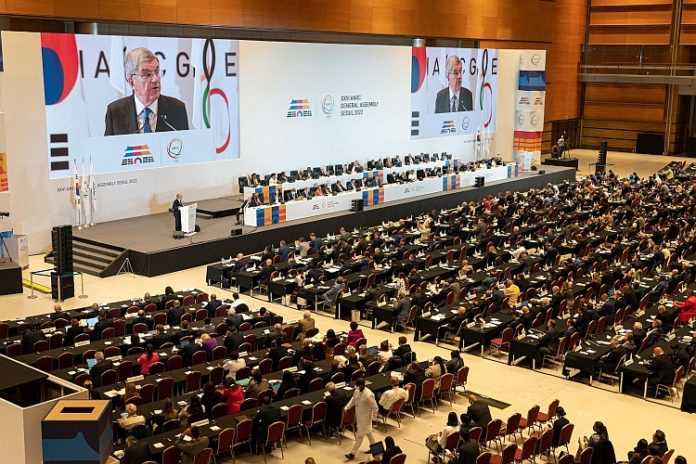 ★ The Sports Examiner: Surveying, monitoring and explaining the key competitive, economic and political forces shaping elite sport and the Olympic Movement. ★
★ Want TheSportsExaminer.com insights for your team? Yes! Click here for info on speaking, research and consulting from editor Rich Perelman. ★
★ To get The Sports Examiner by e-mail: sign up here! ★
≡ THE 5-RING CIRCUS ≡
1. Bach urges continuation of sanctions vs. Russia and Belarus
2. Paris 2024 projects 45,000 volunteers for Olympics & Paralympics
3. Korea leaks start of bid effort for the 2036 Olympic Games
4. Koreans furious over Asian Cup 2023 loss to Qatar
5. "Diana is completely guilty. I am sorry."
In his keynote address to the Association of National Olympic Committees General Assembly in Seoul, Korea, International Olympic Committee President Thomas Bach (GER) asserted that unity is the key to survival for international sport, and that means no changes in the IOC's requested ban on Russian and Belarusian athlete participation in international events. The Paris 2024 organizing committee announced its staffing plan, to use a remarkably sane 30,000 volunteers for the Olympic Games and another 15,000 for the Paralympics, for a total of 45,000; applications will open next March. With the ANOC General Assembly in Seoul, it was leaked that the Korean Olympic Committee will begin efforts to attract the 2036 Olympic Games back to the country, which hosted the Games in 1988 and the Winter Games in 2018. A Korean bid to get the 2023 Asian Cup football championship lost to Qatar and the Korean Football Association railed against an "aggressive attempt to grab control of Asian football" by well-funded Middle Eastern countries. The former agent for now-suspended-for-doping Diana Kipyokei, the Kenyan winner of the women's Boston Marathon in 2021 told LetsRun.com that "Diana is completely guilty."
1.
Bach urges continuation of sanctions vs. Russia and Belarus
"I regret that I have to begin by addressing the position of the Olympic Movement with regards to the war in Ukraine."
That was the start of a lengthy address by International Olympic Committee President Thomas Bach (GER) to the Association of National Olympic Committees (ANOC) General Assembly, meeting in Seoul (KOR) on Wednesday, in which he insisted that sanctions be continued against Russia and Belarus.
"[T]he situation is unique because of the consequences this war has for the sports world: Some governments are interfering in your autonomy. Some governments are interfering in the autonomy of world sport and with this jeopardising the integrity of international sport competitions. …
"We sanctioned the Russian and Belarusian governments by recommending that the International Federation do not organise any international sport events in Russia or Belarus. We recommended furthermore that no national symbols whatsoever of these countries should be displayed at any sport events.
"By recently annexing Ukrainian territory, the Russian government has even deepened its violation of the Olympic Charter.
"This annexation means that the Russian government is claiming authority over the people living in the annexed areas, including athletes. This is a clear violation of the jurisdiction of the National Olympic Committee of Ukraine, which is protected by the Olympic Charter.
"All this means for us: the sanctions against the Russian and Belarusian states and governments must and will remain firmly in place."
But he also made his continuing case to hold athletes blameless:
"On the other hand we had to ensure the integrity of international sport competitions and protect our autonomy by taking protective measures. Therefore we recommended as a principle not to allow Russian and Belarusian athletes and officials to take part in international competitions.
"We needed to do so, because we had to realise that some governments were starting to interfere in the responsibility of sports organisations. We had to react because the autonomy of sport and the functioning of the international sports system is at stake. Governments were and are undermining our autonomy by deciding who would be allowed to participate in international competitions – and who not.
"Some of you here are experiencing this interference first-hand: governments not issuing visas to Russian and Belarusian athletes.
"Some governments threatening your athletes to withdraw funding if they were to compete against Russian or Belarusian competitors.
"Some prohibiting athletes from participating in such competitions.
"Some governments pressuring your athletes and you through public opinion.
"This is why we had to take these protective measures. We did so with a very heavy heart – because they concern athletes and sports officials who did not start this war, who are not responsible for this war. Athletes should never be the victims of policies of their own government. …
"We had to protect the international sports system from the full politicisation of sport. Because: today it is Russia and Belarus. But if we let politics take over sport then tomorrow it will be you."
He trashed the idea that the sanctions are a politicization of sport itself and declared:
"The reasons for the sanctions as well as for the protective measures still exist: this is not the time to change any of our sanctions or protective measures. …
"Keep following the sanctions and protective measures. Do not do less, because doing less means you divide the Olympic Movement. Do not do more, because doing more means you divide the Olympic Movement."
And he also chided those who have asked for Russian and Belarusian sports officials to be sanctioned as well:
"This war has not been started by the Russian people, the Russian athletes, the Russian Olympic Committee or the IOC Members in Russia. Sanctions can and must only be imposed on those who are responsible for something.
"Imagine where the precedence of such a breach of the rule of law would lead to. Every individual, every athlete, every sports official, every sports organisation would have to be punished for any illegitimate political action of their governments."
While reminding the delegates of the IOC's impressive financial stability, he also warned against an uncertain future:
"Therefore each one of you has to be prudent. It is in your own interest to now look into all your actions and now set clear priorities. Review now all your planned activities and decide whether every event, every competition, every meeting is really necessary given the precarious situation the world economy is and will be facing."
He also reminded the assembly of the IOC's primary goals as regards the Olympic Games, to be illustrated by Paris 2024:
"The Olympic Games Paris 2024 will mark the beginning of a new era: Olympic Games inspired by and aligned with Olympic Agenda from start to finish.
"They will be more inclusive, more youthful, more urban, more sustainable and the very first with full gender parity."
The heads of the Russian and Belarusian National Olympic Committees were allowed to be seated in Seoul by ANOC, and a letter from 11 NOCs contesting their attendance was cordially received and dismissed.
2.
Paris 2024 projects 45,000 volunteers for Olympics & Paralympics
The Paris 2024 organizers unveiled their volunteer program for the Olympic and Paralympic Games, with 45,000 staff expected to be used in all,
About 30,000 are projected to be needed for the Olympic Games and another 15,000 for the Paralympics, with recruitment to begin with an online questionnaire, in March of 2023. The requirements are simple enough:
● You must be at least 18 years old as of 1 January 2024;
● Speak English or French;
● Be available during the entire duration of either the Olympic or Paralympic Games and commit to 10 days of work;
● The application portal opens in March 2023 and applicants will be informed of their status beginning in September of 2023.
The volunteer application brochure also characterized the roles that volunteers will play:
● 60% are in "Games experience" roles: greeting, directing, answering questions, driving cars or minibuses or assisting medical staff.
● 35% are in sports performance roles, such as competition assistance, scoring and statistics or doping or medical controls;
● 5% are in accreditation, logistics and technical support roles.
All volunteers will be required to agree to the Olympic and Paralympic Games Volunteer Charter, which "sets out the rights, duties, guarantees, conditions for appeal, role categories and conditions of performance applicable to volunteers." However, the Charter is not provided in the introductory materials.
Some volunteers could also be asked to assist during Paris 2024 test events. Paris 2024 has further committed to a minimum of 3,000 volunteers with disabilities.
Decathlon, the French sporting goods giant – it has stores in 60 countries – will provide help centers at about 50 stories in France beginning next March, to assist applicants with the volunteer process. They won't be too upset if someone buys some Paris 2024 merchandise, of course.
Observed: The 45,000 volunteer total for Paris 2024 reflects some careful planning. The Tokyo Games had planned for 80,000 volunteers and ended up with about 70,000 after the postponement, many more than was needed for a closed Games. The Paris organizers were not tempted into a propaganda strike by trying to create an inflated number of staff for 2024 and the 45,000 number for both Games seems quite reasonable.
Busy volunteers are happy volunteers.
Veteran organizers have long heard the truism, "it takes money to use volunteers" and the cost of background checks, meals, transport and logistical support is not to be ignored, especially with a tight budget. The originator of the volunteer concept, the Los Angeles Olympic Organizing Committee for the 1984 Games, had 33,500 volunteers, a few more than Paris is projecting for its Olympic Games, but with 32 sports, compared to 23 in L.A. That speaks well to the efficiency, at least in planning, of the Paris organizers. 
3.
Korea leaks start of bid effort for the 2036 Olympic Games
With much of the Olympic world attending the ANOC General Assembly in Seoul this week, it was the perfect time for a media leak about a 2036 Olympic bid for Korea in advance of a formal announcement next week in Lausanne.
Korea famously hosted the 1988 Olympic Games in Seoul, with IOC President Juan Antonio Samaranch (ESP) working furiously to undercut a possible second consecutive Warsaw Pact boycott of the Games. In the end, Cuba, Ethiopia, Nicaragua, North Korea and a couple of others didn't come, but a record 159 nations did and the event was considered a success.
The Koreans also successfully hosted the 2018 Winter Games in PyeongChang, even under a possible attack by North Korea, which happily never came. And the Koreans will host the 2024 Winter Youth Olympic Games in Gangwon.
The newest Korean bid, according to local reports, is supported by 72.8% of Seoul residents in a recent poll.
According to GamesBids.com, many of the 1988 facilities will be used and updated:
"By using university sports properties and private sector investment the Games budget has been estimated at about 5.5 trillion won (USD $3.86 billion) with the largest cost being the Athletes Village which would be subsequently sold."
Korean site Donga.com noted that city planners believe that with sites outside of Seoul to host nine sports, only two sports facilities (plus the Village) need to be built for a 2036 Games.
The polling data showed respondents expected economic benefits from foreign visitors, improved sports facilities and that Korea's profile would be enhanced, but also included concerns over costs, the legacy of the new and revamped facilities and traffic.
4.
Koreans furious over Asian Cup 2023 loss to Qatar
A very sound bid from South Korea for the 2023 Asian Cup was passed by as the Asian Football Confederation awarded the event to FIFA World Cup host Qatar on Monday, which will delay the event to January of 2024 for cooler weather.
Korea had not hosted the event since 1960, where Qatar has been host in 1988 and 2011 and the UAE had hosted in 1996 and 2019. After the award to Qatar for 2023 (2024), the Korean Football Association made its view known:
"Even though we are a powerhouse in Asian football, we haven't had the Asian Cup for 63 years, and we felt that it was a logical thing to bring the Asian Cup to East Asia to ensure more regional balance.
"We thought we had put together a strong bid, based on stadiums, transportation, accommodations and our people's passion for the sport. But we had a tough battle against Qatar, with their abundant financial, human and material resources. …
"We believe Middle Eastern countries' aggressive attempt to grab control of Asian football has influenced this decision. Saudi Arabia, which hopes to hold the 2027 Asian Cup, also pledged financial support for the AFC if a Middle Eastern nation won the right to host the 2023 tournament."
The Korean Yonhap News Agency further reported:
"The KFA noted Qatar had pledged substantial financial backing for the AFC, which has been dealing with some difficulties in light of the COVID-19 pandemic, by way of corporate sponsorship and broadcasting rights fees. Qatar's plan to use new stadiums built for the 2022 World Cup for the Asian tournament also worked in the country's favor, the KFA said."
5.
"Diana is completely guilty. I am sorry"
Stunning reporting by Jonathan Gault of LetsRun.com, with an interview with Italian Gianni Demadonna, the former agent for Kenyan distance runners Diana Kipyokei – the 2021 Boston Marathon winner (for now) – and Betty Wilson Lempus, both of whom were provisionally suspended by the Athletics Integrity Unit for doping, last Friday.
Demadonna said he was not involved in the doping efforts of either athletes and continued with some pretty frank comments:
"We establish a policy: they have to tell us every time they take a medicine. If they don't tell us, they are guilty. What can I do? I cannot stay with the athletes. I cannot live with them…After 30 years, I am working this business and nobody can say to me you are not correct or you are doing things that are not correct. I can defend myself always without any problem. I am so, so sad about this situation that spoiled my name and spoiled the name of [clean] athletes that are doing their own training – not with something else. …
"I don't know if she's afraid of consequences. But as far as we understood, she was trying to cheat us…She gave us some stories, and we said, sorry, but you changed three times the name of the doctor. …
"Diana is completely guilty. I am sorry. She has done something very bad."
He has discontinued his representation of both athletes, but also noted that the incentive is more than to simple cheat: it's to win. He noted that the difference between the winner's purse at Boston in 2021 and 10th place was $150,000 vs. $5,500, "so it's true that with one race you can change your life."
≡ WORLD CHAMPIONSHIPS ≡
● Football ● The quarterfinals are set at the 2022 FIFA Women's U-17 World Cup in India, with Colombia winning Group C and Japan finished 3-0 in Group D.
In the elimination round on Saturday, Colombia (2-1-0) will play Tanzania (1-1-1) and Japan (3-0) will face Spain (2-1-0). The U.S. (2-0-1), winner of Group A, will play Nigeria (2-1), and Germany (3-0) will play Brazil (2-0-1), on Friday. The semis are on the 26th.
● Shooting ● China is dominating the ISSF World Championships in Rifle and Pistol being held in Cairo (EGY), with 20 golds and 43 total medals so far in senior and junior competitions.
In the senior 25 m Pistol, an Olympic event for women, Tokyo 2020 bronze medalist Jiaruixuan Xiao moved up to the top of the podium, with a 575-573 victory over India's Rhythm Sangwan, with fellow Chinese star Yan Chen (572) third.
The men's 25 m Pistol is not an Olympic event, but Rio 2016 men's Rapid-Fire Pistol gold medalist Christian Reitz (GER) won his third career World Championships silver in the men's final, won by Ukraine's Pavlo Korostylov, 582-575.
Reitz came back to score a gold in the 25 m Standard Pistol Mixed Team event with Doreen Vannekamp – the 2018 Worlds bronze winner – with a 17-5 win over Korea.
In other non-Olympic events, Serbia's Damir Mikec outscored China's Bowen Zhang for the men's 50 m Pistol gold, with China's Ranxin Jiang defeated Austria's Sylvia Steiner, 550-543 for the women's title.
Swiss Jan Lochenbihler won the 50 m Rifle/Prone title by 631.0 to 630.6 over China's Yukun Liu, and the U.S. duo of Sagen Maddalena and Ivan Roe won the 50 m Rifle/Prone Mixed Team gold by 16-8 over Ukraine.
Competition continues through the 27th.
≡ PANORAMA ≡
● Association of National Olympic Committees ● The ANOC General Assembly program in Seoul also included the ANOC Awards, given for the best performances at the Beijing 2022 Olympic Winter Games:
● Best Male Athlete of Beijing 2022: Dae-heon Hwang (KOR), gold medalist in the men's Short Track 1,500 m, and men's 5,000 m relay silver medalist.
● Best Female Athlete of Beijing 2022: Eileen Gu (CHN), gold medalist in the Freestyle Skiing Big Air and Halfpipe and silver medalist in Slopestyle.
● Best Male Team of Beijing 2022: Sweden Men's Curling Team (represented by Daniel Wilhelm Magnusson).
● Best Female Team of Beijing 2022: Canada's Women's Ice Hockey Team (represented by Ann-Renee Desbiens).
● Best Mixed Team of Beijing 2022: Nick Baumgartner and Lindsay Jacobellis (USA), gold medalists in the Snowboard Mixed Team Cross.
● Outstanding Athletic Career: Sven Kramer (NED), nine-time Winter Olympic medal winner in speed skating, with victories in 2010 (5,000 m), 2014 (5,000 m, Team Pursuit) and 2018 (5,000 m), plus two silvers and three bronzes in five Winter Olympic appearances.
Other awards were given to the Chinese Olympic Committee for its contribution to the Winter Games and to Craig Reedie (GBR) for his contribution to the Olympic Movement as the President of the World Anti-Doping Agency.
● 2020 Olympic Games: Tokyo ● New charges surfaced in the Tokyo 2020 sponsorship bribery scandal, as the ADK Holdings advertising agency saw its president arrested for monies transferred to then-Tokyo 2020 Executive Committee member Haruyuki Takahashi.
ADK President Shinichi Ueno, 68, and two other ADK staff members were detained on charges that the agency paid Takahashi ¥47 million (~$313,683 U.S.) for his influence to get a sponsor to select the agency as its marketing agent.
ADK is the fifth entity accused of paying bribes to Takahashi, a former senior director of ad giant Dentsu and a key marketing advisor for the Tokyo organizers. The so-far-disclosed total of the bribes paid has passed ¥196 million or about $1.31 million U.S.
● Curling ● USA Curling chief executive Jeff Plush joined the organization in 2020, after serving as the Commissioner of the National Women's Soccer League from 2015-17. Having been mentioned unfavorably in the U.S. Soccer Federation-commissioned report by former Deputy U.S. Attorney General Sally Yates for a lack of response in the widespread NWSL abuse scandal, elements of the U.S. curling federation are now questioning his continued service.
The USA Curling Board of Directors reviewed the Yates Report and did its own inquiry on Plush's involvement, issuing a statement of support, stating it "is confident in Jeff's ability to continue as an effective leader of the organization."
Eight of the 12 members (and three former members) of the federation's Diversity, Equity and Inclusion Task Force feel Plush should be removed. The Athletes Advisory Council is withholding comment until an ongoing investigation by the NWSL Players Association is completed.
● Football ● "Kanjuruhan Stadium in Malang … we will demolish it and rebuild according to FIFA standards."
That was Indonesian President Joko Widodo after a meeting with FIFA President Gianni Infantino (SUI) in the aftermath of the stampede at the Kanjuruhan Stadium in Malang (INA) on 1 October. The incident, following a league football match, saw at least 132 die, with 96 seriously injured, and 484 with lesser injuries.
A government report noted multiple errors that contributed to the deadly situation, including more spectators than the facility could hold, locked exit doors, the holding of the match at night instead of in daylight (as requested by police) and the indiscriminate use of tear gas.
Indonesia is to host the 2023 FIFA men's U-20 World Cup next May, an event that will draw considerably less interest than the rivalry match between Arema FC and Persebaya Surabaya, where the tragedy occurred.
● Gymnastics ● The Netherlands became the seventh national gymnastics federation to remove itself from the Federation Internationale de Gymnastique Congress in Istanbul (TUR) over the presence of Russian and Belarusian officials. Dutch Gymnastics Federation President Monique Kempff wrote:
"We support the position of European gymnastics, which has unanimously refused to communicate with the Russian and Belarusian gymnastics federations as the brutal, genocidal Russian war in Ukraine continues. As long as Russia continues this war, it is impossible to involve Russian athletes and officials in international sports. We hope that this war will end as soon as possible and that we can all be part of the Olympic Community in peace."
● Sport Climbing ● The protests in Iran over the death of Mahsa Amini, 22, on 16 September, while in police custody after being arrested for "allegedly wearing her headscarf too loosely," have now become an issue in Sport Climbing.
Iranian climber Elnaz Rekabi, 33, competed at the Asian Climbing Championships in Seoul (KOR) on 16 October and did not wear the headscarf (hijab) required by Iranian law. An AIPS report noted:
"By deciding not to compete wearing a headscarf, an obligation since the Iranian Revolution in 1979, Rekabi made a strong statement in defiance of the restrictions for female athletes in her country, but now could face prosecution if she chooses to return to Iran."
On Tuesday, a statement from Rekabi on her Instagram page included, "I must comment on the sensitivities that happened during the Asian Championships finals held in Seoul; due to improper timing and an unpredictable call for me to climb the wall, I unintentionally had a problem with my headcover."
The International Federation of Sport Climbing posted a statement on Tuesday:
"The International Federation of Sport Climbing (IFSC) is fully aware of the news regarding Iranian athlete Elnaz Rekabi.
"There is a lot of information in the public sphere regarding Ms Rekabi and as an organisation we have been trying to establish the facts. We have also been in contact with Ms Rekabi and the Iranian Climbing Federation.
"Our understanding is that she is returning to Iran, and we will continue to monitor the situation as it develops on her arrival.
"It is important to stress that athletes' safety is paramount for us and we support any efforts to keep a valued member of our community safe in this situation."
A Wednesday IFSC statement confirmed that Rekabi had returned home to Iran and was with her family, including:
"A joint meeting took place in Seoul, South Korea, today, between the International Olympic Committee (IOC), the IFSC, and the Iranian National Olympic Committee, during which the IOC and the IFSC received clear assurance that Ms Rekabi will not suffer any consequences and will continue to train and compete. After the meeting, a phone conversation also took place between her, the IOC, the IFSC, and the Iranian National Olympic Committee.
"The IFSC, in close coordination with the IOC, the Iranian National Olympic Committee, and the IMSCF, will continue monitoring the situation and will wait for her to return to the IFSC circuit of events at the beginning of the 2023 season."
¶
You can receive our exclusive TSX Report by e-mail by clicking here. You can also refer a friend by clicking here, and can donate here to keep this site going.
For our updated, 620-event International Sports Calendar for 2022 and beyond, by date and by sport, click here!