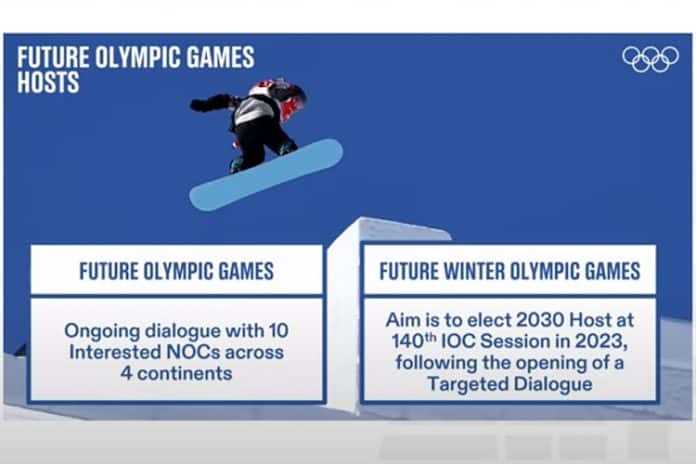 ★ The Sports Examiner: Surveying, monitoring and explaining the key competitive, economic and political forces shaping elite sport and the Olympic Movement. ★
★ Want TheSportsExaminer.com insights for your team? Yes! Click here for info on speaking, research and consulting from editor Rich Perelman. ★
★ To get The Sports Examiner by e-mail: sign up here! ★
≡ THE 5-RING CIRCUS ≡
1. IOC still sees 2030 Winter Games selection in 2023
2. IOC says Esports games should not be medal events
3. USADA chief Tygart ready to forgive Lance Armstrong
4. FIFA rejects European TV bids for 2023 Women's World Cup
5. L.A.'s 2016 bid legacy Ready, Set, Gold! expands 364% in two years
At the Association of National Olympic Committees General Assembly in Seoul, Korea, a lengthy presentation by the International Olympic Committee confirmed that the plan to award the 2030 Winter Games to either Sapporo, Salt Lake City or Vancouver in 2023 is on track. The IOC also advised that it is not in favor of Esports events being included in multi-sport Games – such as the Pan American Games – as medal events; the 2023 Asian Games has scheduled eight medal events in Esports. In an interview with Germany's SID, U.S. Anti-Doping Agency head Travis Tygart said the anti-doping situation in cycling is much improved, and since Lance Armstrong has confessed to doping, he could forgive him. FIFA rejected several offers from European broadcasters for rights to the 2023 FIFA Women's World Cup in Australia and New Zealand, saying they were insufficient; FIFA is selling the rights to the Women's World Cup on a stand-alone basis for the first time in many countries. Ready, Set, Gold!, a legacy program from the failed bid by Los Angeles for the U.S. candidate for the 2016 Olympic Games, has expanded greatly during the pandemic and its online program is now being used in 20 U.S. states and reached an unprecedented 40,500 students in the 2021-22 school term.
1.
IOC still sees 2030 Winter Games selection in 2023
The International Olympic Committee made a significant presentation during the Association of National Olympic Committees General Assembly, with IOC Director General Christophe De Kepper (BEL) explaining in detail the current status of bids for future Games:
"Thanks to the new approach to electing Olympic hosts, we have been able to build a strong community of interested parties, and we constantly have new potential hosts coming to the table as part of the continuous and open dialogue.
"Interested NOCs have told us they appreciate the reforms of this new approach, in particular, the fact that it helps them reduce costs, to emphasize the benefits for their communities and to keep their Games vision relevant, exciting and forward-thinking. …
"In respect of the summer Games, we are currently working with 10 NOCs and regions across four continents, without making any commitment and using minimal resources. Taking full advantage of the flexibility of the new approach, these projects are at very different stages, and are developing their missions according to their own regional or national timelines.
"The outlook for future Games, thanks to these reforms, is very positive.
"With regards to the Olympic Winter Games, the IOC is currently in continuous dialogue with three city-regions, with a declared interest for 2030, and their respective NOCs: British Columbia, Hokkaido-Sapporo and Salt Lake City, Utah.
"As part of this dialogue, the IOC is conducting a thorough feasibility assessment of each project, to inform the work of the Future Hosts Commission for the Olympic Winter Games. The Future Hosts Commission, chaired by IOC member Octavio Morariu [ROM] will meet in November to review the feasibility assessments, with a view to the opening of a targeted dialogue for the Olympic Winter Games 2030, to be in position to elect a host for 2030 at the 140th IOC Session, which is planned to be held in October 2023."
The bids from Sapporo (host in 1972) and Salt Lake City (host in 2002) are considered to have a more complete project thus far than Vancouver (host in 2010). A selection of Sapporo would follow closely behind the Tokyo 2020 Games, while the U.S. Olympic & Paralympic Committee has stated its preference for the 2034 Winter Games, six years after the Los Angeles 2028 Olympic Games instead of two (and possibly in a better economic environment).
2.
IOC says Esports games should not be medal events
De Kepper also discussed with clarity the IOC's view of Esports at present. While it is expanding cooperation with online gaming as standalone programs, the IOC declared its position that now is not the time for Esports as medal events:
"We support NOC continental associations in promoting virtual forms of sports, but there should be no medal events for these in multi-sports Games, as we will still need to ensure that all of the areas of athlete protection, anti-doping and integrity considerations and others need to be fully respected.
"Equally, any separate Esports championships or exhibitions need to strictly reflect the Olympic values, in the games selected and must also promote virtual and simulated sports, as we are doing through the Olympic Esports Series.
"Any non-sport titles should only be considered when they strictly respect our values and should not be included as medal events in your multi-sport Games."
That's clear enough, but it is also in direct conflict with, for example, the Asian Games, which in 2023 in Hangzhou (CHN), will have eight medal events and two demonstration events. The medal events will include competitions in Arena of Valor, Dota 2, Dream of the Three Kingdoms 2, FIFA, Hearthstone, League of Legends, PUBG Mobile, and Street Fighter V.
Esports were also a demonstration program at the 2022 Commonwealth Games in Birmingham (ENG), but not part of the medal events.
De Kepper has outlined the IOC's position; it will be fascinating to see how seriously it is taken.
3.
USADA chief Tygart ready to forgive Lance Armstrong
Travis Tygart, the intense head of the U.S. Anti-Doping Agency, told the German sports-news service SID that disgraced American cycling star Lance Armstrong, stripped of seven Tour de France title due to doping, should be forgiven in view of his disclosure.
Tygart told SID that the situation in cycling has improved:
"Compared to back then, it's a difference like day and night. We're seeing a culture of clean sport returning to cycling," although there are those in the sport today who would hardly agree with him.
Tygart also cited the improved vigilance of the Union Cycliste Internationale under its new leadership, compared to the early 2010s:
● "President David Lappartient [FRA] has recognized that clean sport is overrun by corrupt practices if it is not protected accordingly."
● "They initially actively tried to prevent witnesses from cooperating with us and withheld important documents from us. We therefore felt it necessary to publish our evidence."
The USADA famously pursued Armstrong for years and banned him from cycling in October 2012, a decision which was supported by the World Anti-Doping Agency and the UCI, which nullified his results from August 1998 on, including his seven straight Tour de France wins from 1999-2005. He made a confession of doping in a televised interview in January 2013, saying the stopped doping after 2005. (He rode in the 2009 Tour de France and finished third, and 23rd in 2010.)
In something of a surprise, Tygart told SID that Armstrong and other former dopers need not be persona non grata forever:
"Many of the riders at the time were victims of the system, and it is true that they were able to come back over time – also in another capacity. And we should also forgive Lance Armstrong after his confession."
4.
FIFA rejects European TV bids for 2023 Women's World Cup
"This is not a case of being priced out, but rather testament to a lack of willingness of broadcasters to pay what the women's game deserves."
That's Italian Romy Gai, FIFA's Chief Business Officer, telling Bloomberg that the federation rejected television rights offers for next year's FIFA Women's World Cup from broadcasters in France, Germany, Great Britain and Italy, and expects to do so in Spain.
Gai points out that the 2019 Women's World Cup – held in France – attracted 1.12 billion viewers – on all platforms – for the Netherlands-U.S. final.
"Audience figures show that the Women's World Cup 2019 in France was a catalyst for change in terms of TV audience.
"We know the opportunity for women's football is there. Now, together, we need to capture it."
However, the time zone difference between a European-hosted Women's World Cup and one in Australia and New Zealand is severe; Sydney is nine hours ahead of Paris, so an evening match would end up in the late morning in Europe.
Gai, however, points out that rights fees for the FIFA Women's World Cup have been 2% of those for the FIFA World Cup for men, where the viewership is about 20%. Bloomberg's story noted that FIFA's reports showed about $3 billion in broadcast revenue for the 2018 FIFA World Cup in Russia vs. $300 million for the 2019 women's event in France.
The 2023 FIFA Women's World Cup rights for the U.S. have already been acquired by FOX Sports and Telemundo.
The draw for the 2023 FIFA Women's World Cup comes Saturday (22nd) in Auckland (NZL), with the U.S. going in as the no. 1-ranked team in the world.
5.
L.A.'s 2016 bid legacy Ready, Set, Gold!
expands 364% in two years
In 2007, the Los Angeles bid to be the U.S. candidate for the 2016 Olympic Games failed, when the U.S. Olympic Committee selected Chicago. But out of that bid came a remarkable new program called Ready, Set, Gold! that placed Olympic and Paralympic athletes with schools to teach Olympic values.
More than 15 years later, the RSG! program – as it is locally known – has not only survived the Covid-19 pandemic, but has thrived and due to the pandemic, has gone national.
The program, originated by the Southern California Committee for the Olympic Games, was originally based on in-person visits to Los Angeles-area schools by an Olympian or Paralympian multiple times during an academic year. By relating their own experiences of success and failure, the athlete's story could become a launch point for the students to believe in themselves and their future.
Before the pandemic, RSG! reached about 12,000 students a year through 29 schools in the Los Angeles Unified School District. That shrunk to 8,725 in 2020 as school lockdowns came on and just 4,500 at 18 schools in 2021-22.
But the pandemic created the need for online programming, which has become a stunning success. While the in-person program in 2021-22 – aimed at grades 5-9 – reached 18 schools across four school districts in Southern California, the online project featuring stars like Tokyo beach volleyball gold medalist April Ross and Mexican tennis Olympian Giuliana Olmos – a Women's Doubles quarterfinalist at the 2022 U.S. Open – has reached 36,000 students in 20 states, as far away as New York, Virginia and Florida. Sponsorship by The Foundation for Global Sports Development and Sidewinder Films was the key to creating this project.
The 2022-23 RSG! in-person program will bring Paralympians into seven Special Education centers in Southern California through a partnership with UCLA Health, further expanding its reach. And with in-person education finally returning in California, the projection for the new school year is for 32 schools to be involved, reaching more than 8,000 students.
The roster of 44 Olympians and Paralympians include recognizable stars like boxing gold medalist Henry Tillman (1984), Pairs world champion skater Tai Babilonia (1979), five-time Paralympic medalist Rudy Garcia-Tolson (2004-20: swimming), two-time Olympic hurdles medalist Mark Crear (1996-2000), 2015 World 10 km Open Water gold winner and Rio and Tokyo Olympian Jordan Wilimovsky, and many more.
It's a remarkable legacy of any bid, let alone a failed one, and has the potential to expand even further.
≡ CALENDAR ≡
● Alpine Skiing ● It's a little hard to believe, but the 2022-23 FIS Alpine Skiing World Cup opens this weekend with Giant Slalom racing for men and women on Saturday and Sunday.
The site will be, as usual, the Rettenbach Glacier at Soelden (AUT), with Swiss star Marco Odermatt the men's defending champion in the race and the reigning World Cup overall champion.
American Mikaela Shiffrin won her second Soelden title in 2021 and won her fourth overall World Cup title. Still just 27, Shiffrin owns 74 World Cup wins, no. 3 all-time, trailing only Ingemar Stenmark (SWE: 86 from 1973-89) and fellow American Lindsey Vonn (82 from 2001-19).
The FIS Snowboard World Cup season will open with a Big Air event in Chur (SUI). Canada's Max Parrot and New Zealand star Zoi Sadowski-Synnott won the only Big Air events held last season. Both ended up winning Olympic medals in the event, with Parrot taking bronze and Sadowski-Synnott a silver.
● Swimming ● The three-stage FINA World Cup begins in Berlin (GER) on Friday, with the final two legs in North America, in Toronto and Indianapolis.
The three-day Europa-Sportpark meet includes some excellent fields, swimming in a 25 m (short course) pool, in advance of December's 25 m Worlds in Melbourne. Among the entries are Rio 2016 men's 100 m Free champ Kyle Chalmers (AUS), men's 2022 World 100 m Back champ Thomas Ceccon (ITA), London 2012 men's Olympic 50 m Free winner Florent Manaudou (FRA), Olympic men's 10 km Open Water winner Florian Wellbrock (GER), with women's stars including 50 m Back World Champion Kylie Masse (CAN), double Olympic Freestyle silver medalist Siobhan Haughey (HKG), London 2012 100 m Breast winner Ruta Meilutyte (LTU) and a lot more.
Americans stars confirmed for the entire series include Shaine Casas, the 2021 World 25 m Champion winner in the 100 m Breast; veteran Tom Shields, a 17-time World 25 m Champs medal winner; Nic Fink, the 2022 50 m Breast World Champion; Hali Flickinger, the Tokyo 200 m Butterfly bronze medalist, and others.
The FINA Diving World Cup is also underway in Berlin, continuing through Sunday.
≡ PANORAMA ≡
● Olympic Games ● Also during the ANOC General Assembly was a short presentation by IOC Member Kirsty Coventry (ZIM), who is the head of the new Games Optimisation Working Group. She shared the immediate goals of the group, primarily looking ahead to Paris 2024 and Milan Cortina 2026:
"One of the goals we have is to ensure we have full stadia; that is our ultimate goal. How are we going to achieve that? Well, we believe we need to have a little bit more visibility on where our stakeholders will be prior to the event. This will not only allow us to sell tickets more effectively and efficiently but it will also allow us to provide better service levels to all of our stakeholders.
"We then spoke about transport. Transport was focused on being effective and sustainable, and making the best use of existing infrastructure. We want to focus on breaking the system down to ensure, at the end of the day, you have the effective means to get to where you want to go in the time that you have."
As if getting the National Olympic Committee executives present ready for some significant changes to come, she closed with:
"The Games of the future may look different, but if we collectively work together, we will ensure that we remain relevant, positive and successful."
● Olympic Winter Games 2022: Beijing ● The IOC announced that the estimated global television audience for the 2022 Winter Games was 2.01 billion unique viewers, up five percent from the 2018 Winter Games in Korea.
The rights-holding broadcasters showed a Winter Games record 120,670 hours of coverage on broadcast and digital platforms, with the average viewer watching about 5.9 hours of the Games, up 12% from 2018. Television still dominates, with 92% of all viewers watching the Games on TV, with only 8% watching on digital devices only.
● Paralympic Games 2024: Paris ● The Opening Ceremony of the 2024 Paralympic Games – slated for 28 August – will be held in the center of Paris, along the Champs-Elysees and at the historic Place de la Concorde at its eastern end.
It's the first Paralympic opening not to be held in a stadium and the plan is for 30,000 spectators to watch for free along the Champs-Elysees and then 35,000 in temporary (ticketed) stands in the plaza.
● Association of National Olympic Committees ● Fiji's Robin Mitchell was elected as ANOC President, running unopposed. Qatar's Sheikh Joaan bin Hamad Al-Thani was elected as senior Vice President, also running unopposed.
● Russia ● The head of the Russian Olympic Committee, Stanislav Pozdnyakov said on a social media post that the ROC has been meeting with other National Olympic Committee officials during the ANOC General Assembly and will sign coaching and education support agreements with Mali, Peru and South Africa:
"It can be firmly said that the Russian Olympic Committee is expanding the circle of partners and friends. And just today we held meetings with the NOCs of several countries, including the Republic of Korea, South Africa, Mali, Mauritania, Namibia and Peru."
As for the sanctions against Russian athletes, underscored by IOC chief Thomas Bach in the keynote address in Seoul, Pozdnyakov sees it differently:
"[W]e are grateful for the support of everyone who publicly speaks out for the lifting of sanctions against our athletes. And this opinion is getting louder."
¶
Anastasia Davydova, 39, the five-time Olympic gold medalist in artistic swimming and former Secretary General of the Russian Olympic Committee, left the country at the end of September with no plan to return.
However, she recently told the Russian artistic swimming federation that she does not plan to give up her citizenship. According to federation Executive Secretary Valentina Nemogaeva:
"I don't know the reasons for her departure from the country. The only question I asked was whether they are renouncing Russian citizenship? She wrote to me that she does not renounce her citizenship. And that this does not mean that they left forever."
● Athletics ● More Kenyan doping positives, as the Athletics Integrity Unit announced a three-year ban on Marius Kipserem, 34, the two-time winner of the Rotterdam Marathon, with a best of 2:04:04 from 2021, for use of the prohibited hormone Erythropoietin (EPO). His ban runs from 22 September 2022.
Two more provisional suspensions were announced, of Ibrahim Mukunga Wachira (1:09:55 half marathon '21) and Kenneth Kiprop Renju, the 2022 Kenyan 10,000 m national champion and a 58:35 half-marathoner, both for steroid use.
Just in the month of October, the AIU has so far posted suspensions of six Kenyan runners!
● Cycling ● The UCI announced that 49 riders will contest the 2022 women's national road championships of Afghanistan, which will take place on Sunday (23rd) in Aigle, Switzerland.
Given the situation in Afghanistan, where the Taliban government continues to restrict women's sports, the UCI is organizing the event with the Afghan federation, the Tour de Pays de Vaud and the Commune of Aigle, to start and finish at the UCI World Cycling Centre, with two laps of 28.5 km route (57 km total).
Afghan women now living in Switzerland, Italy, France, Germany, Canada and Singapore have entered. The UCI said that it, working with other partners, was able to get 165 Afghans out of the country and re-settled.
● Football ● Swiss federal prosecutors filed an appeal against the dismissal of corruption charges against former FIFA President Sepp Blatter (SUI) and UEFA President Michel Platini (FRA).
This was a major case in the football world, at the end of a seven-year inquiry. The prosecutors contended that a 2011 payment, arranged by Blatter and paid by FIFA, to Platini of CHF 2.0 million (about $1.99 million U.S.) for "consulting services" was fraudulent, but judges at the Swiss Criminal Court said last July they saw no wrongdoing in the arrangement.
Prosecutors have asked that the verdict "be set aside in its entirety."
● Sport Climbing ● The Associated Press reported that the head of the Iranian National Olympic Committee said climber Elnaz Rekabi will not face any disciplinary measures since her failure to hear a headscarf was "unintentional."
"It's a small issue. I'm surprised that it is being talked about so much," said Iranian Olympic Committee President Mahmoud Khosravi Vafa, on the sidelines of the ANOC General Assembly in Seoul.
● Swimming ● USA Swimming announced its team for the 2022 FINA World 25 m (Short Course) Championships to be held from 13-18 December in Melbourne.
The roster shows 15 men and 16 women, including defending Short Course individual champions Shaine Casas (men's 100 m Back), Nic Fink (men's 50-200 m Breast) and Rhyan White (women's 200 m Back).
Familiar Olympic stars such as Ryan Murphy (four Backstroke golds), Lilly King (two Olympic Breast golds in Rio, three Tokyo medals), Michael Andrew (Tokyo relay gold), Hali Flickinger (two Tokyo bronzes), Torri Huske (Tokyo relay silver) and several more are on the team.
Andrew is entered in five individual events and Casas in four; sprinter Claire Curzan has the heaviest women's workload with five events.
¶
You can receive our exclusive TSX Report by e-mail by clicking here. You can also refer a friend by clicking here, and can donate here to keep this site going.
For our updated, 620-event International Sports Calendar for 2022 and beyond, by date and by sport, click here!