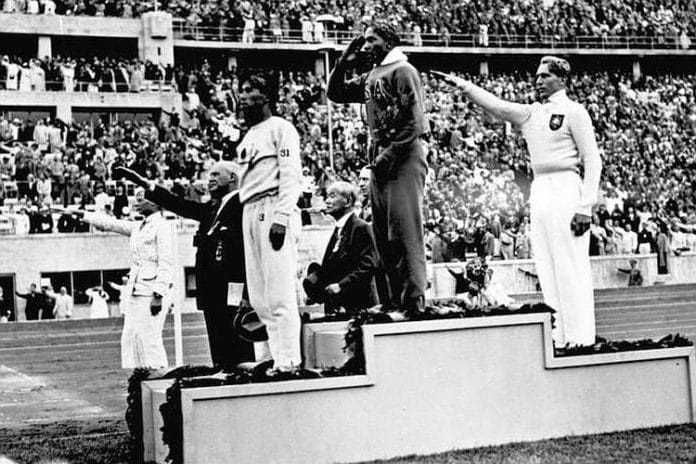 ★ The Sports Examiner: Surveying, monitoring and explaining the key competitive, economic and political forces shaping elite sport and the Olympic Movement. ★
★ Want TheSportsExaminer.com insights for your team? Yes! Click here for info on speaking, research and consulting from editor Rich Perelman. ★
★ To get The Sports Examiner by e-mail: sign up here! ★
≡ THE 5-RING CIRCUS ≡
1. Luz Long's Berlin long jump silver sells for $488,435
2. Qatar 2022 ready to go with a month remaining; '23 Asian Cup to Qatar
3. Takahashi to be arrested for fourth time on bribery charges
4. Modern Pentathlon federation and athlete group talking … sort of
5. Mauritius swimmer suspended for three years for "disrespectful words"
The silver medal won by German Luz Long at the 1936 Berlin Olympic long jump, behind American star Jesse Owens, sold at auction for $488,435 over the weekend, along with 31 other items that belonged to Long. FIFA and the Qatar World Cup organizers said they are ready to go with a month remaining, with Qatar awarded the Asian Cup for 2023 (to be held in January 2024). Former Tokyo 2020 Executive Committee member Haruyuki Takahashi will be arrested for a fourth time on bribery suspicions related to sponsor selection for the Tokyo Games. The international federation for modern pentathlon and the athlete group Pentathlon United are communicating – at least – and appear to be ready to meet to discuss their differences; the future of their sport on the Olympic program for 2028 depends on it. An 18-time national record setter for Mauritius was suspended for three years for "gross misconduct" at last summer's Commonwealth Games in Birmingham, England. He can't believe it.
1.
Luz Long's Berlin long jump silver sells for $488,435
The hammer came down on Saturday (15th) on a remarkable piece of Olympic memorabilia: German Luz Long's Olympic silver medal in the Berlin 1936 Olympic long jump, where he finished second to American icon (and friend) Jesse Owens.
SCP Auctions offered a trove of Long items, but the centerpiece was his Olympic silver. The opening bid was $50,000 and the item was expected to go for between $500,000-1,000,000 and very nearly got there. Owens' 1936 long jump gold sold for $1,466,574 in 2013.
All 32 of the items in the Long archive sold; beyond the Berlin silver, the highest-prices sales went for (including the buyer's premium):
● $6,684 for Long's Berlin 1936 identification card;
● $4,147 for Long's Berlin 1936 participant's badge (and ribbon);
● $3,691 for the 1936 German national long jump championships gold medal;
● $2,339 for Long's German passport for 1935-40;
● $2,185 for a set of six Berlin 1936 photos of Long and Owens.
Long's 1938 European Championships third-place medal and participant's medal sold for a $600. Seven of the items went for the minimum bid prices, but for all 32 to sell was impressive.
2.
Qatar 2022 ready to go with a month remaining;
'23 Asian Cup to Qatar
The FIFA World Cup organizers in Qatar are busy and will remain busy after the tournament ends on 18 December with a major new tournament coming in 2024. But at a news conference on Monday, FIFA and the organizing committee said they are ready. Per FIFA's Chief Operating Officer/World Cup, Colin Smith (GBR):
"We operate over 168 official sites through the compact nature of Qatar, and each one of these sites is essential to the running and successful delivery of this World Cup. Way beyond testing the eight stadiums, the volunteers and accreditation centres are now fully operational, with the ticketing centre at the [Doha Exhibition and Convention Center] opening tomorrow and the [International Broadcast Center] and Main Media Centre to follow.
"I can only reiterate FIFA's confidence and deep appreciation for all the work behind delivering the best FIFA World Cup ever in just over one month's time."
Ticket sales have reached 2.89 million and accommodations are still being added for visitors. The strong ticket demand has been from Qatar, the U.S.,, Saudi Arabia, England, Mexico, the United Arab Emirates, Argentina, France, Brazil, and Germany. Sales of hospitality packages have reached a record 240,000, with 63% purchased by international buyers.
On Sunday, the organizers announced that between 1.5 and 1.7 million people have applied for the required Hayya Card, required of all visitors to Qatar during the World Cup period. The card is a sort of omnibus credential incorporating a visa, match ticket (if purchased), transport pass and allows access to some fan zones.
Qatar has a resident population of about 2.99 million, but expects a million total visitors for the FIFA World Cup, which started on 20 November.
But while the World Cup will end on 18 December, the work will continue as Qatar was awarded the 2023 Asian Cup, originally assigned to China, but re-awarded in view of China's ultra-strict anti-Covid policies.
Qatar beat out bids from Indonesia and South Korea for the 18th Asian Cup, held quadrennially, with 24 teams. In view of the hot weather, the 2023 event is projected to be held beginning on 24 January 2024. It will be the third Asian Cup in Qatar, after 1988 and 2011, and Qatar is the reigning champion from 2019.
3.
Takahashi to be arrested for fourth time on bribery charges
The Tokyo 2020 sponsorship bribery scandal will see a fourth arrest warrant served on former organizing committee executive board member Haruyuki Takahashi, according to Kyodo News.
Takahashi has already been arrested on bribery allegations involving Olympic sponsorship designations for clothier Aoki Holdings, publisher Kadokawa Corporation, Daiko Advertising as an agent for an English-language school operator and now for Sun Arrow, Inc., a maker of plush toys. Per Kyodo:
"Haruyuki Takahashi, 78, who has been at the center of a growing corruption scandal over the selection of Summer Games sponsors, is believed to have received a total of 8 million yen ($54,000) in cash from stuffed toy maker Sun Arrow Inc., the sources said."
The total amount of money funneled to Takahashi, either directly or through third parties, is estimated at more than $1 million. Takahashi has admitted receiving money for consulting services, but denied these were bribes.
The companies paid Takahashi, a former senior director of the Japanese advertising giant Dentsu, for his assistance in obtaining not only the designation as an "Official Supporter" or licensee, but at favorable terms.
4.
Modern Pentathlon federation and athlete group talking … sort of
You have to start somewhere. The Pentathlon United athlete group has been asking for a serious, face-to-face discussion with the leadership of the Union Internationale de Pentathlon Moderne (UIPM) about its plans to replace riding with obstacle course racing.
In the aftermath of a clear statement from International Olympic Committee Sports Director Kit McConnell (NZL) that it is well aware of the Pentathlon United group, the UIPM appears to be moving toward a meeting.
However, instead of simply asking for preferred dates and locations, UIPM Legal Council Fulvia Lucantonio (ITA) sent a message on 11 October asking for Pentathlon United's legal status, whether its leadership is elected and a list of its members. As for location, only Monaco was offered.
Better than nothing, so Pentathlon United sent back a next-day letter to UIPM Secretary General Shiny Fang (CHN), characterizing Lucantonio's message as "legalistic and not constructive, which is a shame because dialogue is essential."
After describing the group as a free association of hundreds of pentathletes, with no legal or elected structure, that is dissatisfied with the UIPM:
"The very reason Pentathlon United was formed and continues to exist was that the UIPM had lost the trust and respect of their athletes. If UIPM appropriately engaged the community that it is supposed to represent, then Pentathlon United would not exist.
"UIPM's response to Pentathlon United ha varied between ignoring, denying, insulting and threatening our movement. … PU's letter of 26 August 2022 raised questions that are critically important to the modern pentathlon community. You ignored them and did not reply, despite repeated requests."
Pentathlon United's letter further states that it is ready to meet in Monaco, subject to (1) a list of attendees is confirmed ahead of the meeting, including UIPM President Klaus Schormann (GER) in person, (2) that Pentathlon United "is allowed to provide a proposed agenda" and that sufficient time for discussion is allowed, and that (3) the meeting "is video recorded with a time code."
Pentathlon United has asked for three dates to be offered, and is willing to have the meeting to open to news media if the UIPM is "amenable."
That was from 12 October, but as of Monday evening, no reply had been made by the UIPM.
Observed: A meeting between the federation and the athlete group is important and critical to the sport having any chance to be reinstated on the program of the 2028 Olympic Games in Los Angeles.
As the riding vs. obstacle debate has completely dominated the discussion, the IOC's other, crucial questions to the sport appear to have been poorly addressed, if at all. Beyond the question of the fifth discipline, IOC chief Thomas Bach (GER) said last December that the sport "demonstrate a significant reduction in cost and complexity and show improvements in safety, accessibility, universality and appeal for youth."
Those issues must be addressed if modern pentathlon is to have a chance for 2028. That the two sides are on the verge of talking face-to-face is a positive, if overdue, development.
5.
Mauritius swimmer suspended for three years for
"disrespectful words"
In Mauritius, apparently, small actions can have large consequences.
The National Olympic Committee of Mauritius, an island nation of about 1.3 million in the Indian Ocean located 1,200 miles off the southeast coast of Africa, has suspended 2016 Olympian and 18-time national record setter Bradley Vincent for three years. Per the announcement:
"This decision was taken upon the submission of the Disciplinary Committee, which was held on 05 October 2022. The Disciplinary Committee found that both charges which were leveled against Bradley Vincent established by the [Mauritius Olympic Committee]. He was found liable of gross misconduct for having used disrespectful words against the representative of the Commonwealth Games Association Mauritius and having negligently and/or recklessly failed to attend the flag raising ceremony, during the recent Commonwealth Games, in Birmingham."
Three fellow swimmers – Gregory Anodin, Tessa Ip and Alicia Kok Shun – received a "severe warning" after also missing the flag-raising ceremony, but blamed transportation difficulties.
Vincent, 30, a two-time African Championships Freestyle medal winner, denies the charge of misconduct:
"I did not dope, nor made racist or discriminatory remarks. However, I am suspended for three years. Athletes found guilty of doping or acts of discrimination, which are much more serious, from a sporting point of view, have less severe sanctions or are suspended for less than three years."
He described the incident of "using disrespectful language against a member of the Commonwealth Games Association Mauritius" as innocent:
"There were other people on the bus who can be questioned. I simply asked what had happened with the £100 which was to be given to the sportsmen as pocket money. Because the others had already received the money. I asked the person who was in charge of the village where we were staying about the swimmers' pocket money. It was completely legitimate to ask him for such information."
Vincent said he does not have the money to appeal the sanction to the Court of Arbitration for Sport, and hopes the Mauritius NOC will reconsider.
≡ WORLD CHAMPIONSHIPS ≡
● Football ● The U.S. women's U-17 national team stomped Morocco, 4-0, in its final group-stage match at the 2022 FIFA Women's U-17 World Cup being played in India.
Charlotte Kohler's goal in the 24th minute was the only first-half scoring, but Samantha Smith made it 2-0 in the 68th minute, Kohler got a second in the 73rd and Smith scored again in the 81st for the 4-0 final.
The win gave the U.S. a 2-0-1 record and first place in Group A with a 13-1 goals-against record. Brazil was also 2-0-1 and outscored its opponents by 7-1.
Germany (3–0) won Group B, and the other final group matches will be played on Tuesday. The U.S. will meet Nigeria (2-1-0) in the quarters on the 21st.
● Shooting ● The ISSF World Championships for Rifle and Pistol roll on in Cairo (EGY), with finals in the Mixed Team events for both disciplines.
China's Yuting Huang – the women's silver medalist – and Haoran Yang – on the Tokyo gold medalist team – won the Mixed Team 10 m Air Rifle title over Korea, by 16-6, while Austria's Sylvia Steiner and Richard Zechmeister took the Mixed Team 10 m Air Pistol gold, also by 16-6, again over Korea.
In the non-Olympic women's 50 m Rifle/Prone, Germany's Jolyn Beer won with 627.0 points, to 626.7 for Sarina Hitz (SUI) and 625.7 for American Mary Tucker. Competition continues through the 27th.
≡ PANORAMA ≡
● Volleyball ● The International Volleyball Federation announced that future editions of the quadrennial World Championships for men and women will be expanded to 32 teams and eliminate the odd advancement formulas used this year.
In the men's Worlds won by Italy in Poland in September, 24 teams competed in six groups of four, with the top two in each pool advancing to the round of 16, along with four of the six third-placed teams. This led to some complex tie-breakers, down to the ratio of points scored vs. points allowed.
The just-completed women's Worlds, won by Serbia in the Netherlands, had 24 teams in four pools of six, with the top four advancing into a second round of round-robin play, with two groups of eight. The top four in each advance to the quarterfinals.
Now, with 32 teams, eight groups of four will play round-robin matches and the top two teams from each pool will advance to the elimination round of 16. Simple, and therefore better.
¶
You can receive our exclusive TSX Report by e-mail by clicking here. You can also refer a friend by clicking here, and can donate here to keep this site going.
For our updated, 620-event International Sports Calendar for 2022 and beyond, by date and by sport, click here!