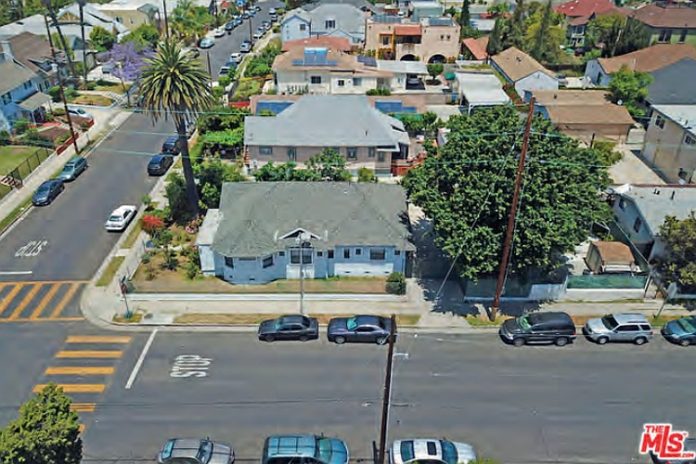 ★ The Sports Examiner: Surveying, monitoring and explaining the key competitive, economic and political forces shaping elite sport and the Olympic Movement. ★
SO GRATEFUL to our 22 donors, who have covered 31% of our summer funding goal for operating costs. Can you help? Please donate here. Comments? Click here.
★ To get The Sports Examiner by e-mail: sign up here! ★
≡ THE 5-RING CIRCUS ≡
1. Cornelius Johnson home & Olympic Oak recommended as monument
2. Report: nine sports considered for LA28 additions
3. Brittney Griner sentenced to nine years in Moscow-area court
4. New stars from Jamaica and Kenya at the Commonwealth Games?
5. USA Gymnastics asking for bankruptcy case closure
The Los Angeles Cultural Heritage Commission unanimously approved a recommendation to the Los Angeles City Council to declare the former home of Berlin 1936 men's high jump gold medalist Cornelius Johnson, including the backyard Olympic Oak, as a Cultural-Historic Monument. But whether the oak can survive until a new owner is found is unknown. A report from Spain says that nine sports have been selected for final review for possible inclusion as added sports for the Los Angeles 2028 Games. American basketball star Brittney Griner was sentenced to nine years in prison for "drug smuggling" as her trial ended in Russia; the closure of the trial could open the negotiations for her release with the U.S. government. The 2022 Commonwealth Games continued in England with new stars from Jamaica and Kenya on the track, and USA Gymnastics is asking for its bankruptcy – now almost four years old – to be declared over.
1.
Cornelius Johnson home & Olympic Oak recommended for monument status
The Los Angeles Cultural Heritage Commission voted, 5-0, on Thursday to recommend to the City Council that the Cornelius Johnson home and Olympic Oak be declared a Cultural-Historic Monument.
The house and the tree, at 1156 S. Hobart Boulevard in what is now the Koreatown District, was built in 1903 and was the home of Johnson, who competed in the 1932 Olympic Games in Los Angeles as a high schooler and then won the men's high jump at the 1936 Olympic Games in Berlin.
He received, as did all gold medalists, an oak sapling as a gift to take home and plant. Johnson passed away in 1946, but his home remained in the family until its sale in 1994. The family who followed the Johnsons maintained the tree in good shape, but it has fallen into distress since the sale in 2019 to KLD Investment, LLC, which had plans to develop the property, but now wants to sell it.
Owner representative Simon Hong spoke briefly at Thursday's meeting-by-Zoom, asking the Commission: "We want to know what kind of options do we have after you guys make a decision? That's all we need to know."
Commission President Barry Milofsky explained, "The process is, after we make a decision … it goes on to the Planning and Land Use Management Committee of City Council, and then to City Council for their final action." He noted that the remainder of the process will likely take 6-8 weeks and referred Hong to meet further with the City's Office of Historic Resources.
Hong added, "That property was on the market for sale. We cannot afford to hold it any more. We put it in the market for sale. But we also waiting for the final decision."
An online check of the site status shows that the property is for sale for $1.29 million, but that a sale is pending: "The seller has accepted an offer, and this property is now pending or under contract."
While the Johnson home is in reasonably good shape, the Olympic Oak is not. A presentation on the property noted that the tree has deteriorated badly during the last year and desperately needs a watering program to begin within 4-10 weeks, or it could die.
Milofsky told Hong, "I would also encourage you to do whatever is required to bring the tree back to health, in the process, as the process will probably take more than the 8-10 weeks that the presenter initially mentioned."
During a visit by Commission members to the site, the owners were informed that the value of the property to preservationist organizations will be reduced if the tree dies, and were urged to begin a watering program, but nothing has apparently been done.
Ken Bernstein, a Principal City Planner and Manager of the Office of Historic Resources, added:
"There are a number of organizations who have expressed interest in participating in a potential purchase of the property, in order to preserve the tree and the residence. We have been in touch with a number of non-profit organizations, and most notably the organization the Los Angeles Neighborhood Land Trust, which is among a consortium of organizations and has expressed interest in taking a lead role in purchasing the property and holding it for a period of time until an ultimate plan and program for its re-use can be put forward.
"We would be happy to facilitate discussions with the owner, or the ownership team, with some of those organizations."
There was no other opposition to the recommendation to have the home and tree designated for monument status and the vote was unanimous. Said Milofsky, "I think one of the important things about the historic designation in the city is the ability to tell stories. This isn't about architecture, necessarily, this is about the stories of the people and the places that make the city of Los Angeles unique."
Whether Johnson's 86-year-old Olympic Oak will survive depends now on whether the owners will take actions to save it, or more likely, whether one or more organizations will acquire it in time for the tree to be saved.
2.
Report: nine sports considered for LA28 additions
The Spanish site Marca reported Tuesday:
"Nine international federations have been invited to bid for LA28, with the ICC cricket federation, for example, set to present its sport and competition model this month.
"But there are eight more in the running and they are: Breakdancing (World DanceSport Federation), Baseball/softball (WBSC), Flag football (IFAF), Lacrosse (World Lacrosse), Karate (WKF), Kickboxing (WAKO), Squash (WSF) and Motorsport (FIA)."
The Los Angeles 2028 Olympic program has 28 sports already, with the International Olympic Committee reserving judgement on boxing, modern pentathlon and weightlifting – each of which have governance or competition format issues – which could bring the total to 31.
The LA28 organizers have the option to add sports which they wish to stage at the Games, with baseball and softball long expected to be added to the program in view of their local popularity. One of the issues that will play into the decisions will be the overall quota of 10,500 athletes for the 2028 Games.
If boxing, modern pentathlon or weightlifting are added back, the number of athlete spots will be reduced for everyone else. Same for any added sports.
Of the nine reported possible additions, baseball and softball have been part of the Olympic medal program multiple times, in 1992-96-2000-04-08-20, but will not be part of Paris 2024. Break dancing will debut in Paris 2024; cricket was played at Paris 1900 only; lacrosse was in St. Louis 1904 and London 1908 only; karate debuted at Tokyo 2020. Flag football, kickboxing, squash and motorsports have not yet been medal sports at the Olympic Games.
3.
Brittney Griner sentenced to nine years in Moscow-area court
The Russian "drug smuggling" trial of two-time American Olympic basketball gold medalist Brittney Griner concluded with the court in Khimki finding her guilty – she had entered a guilty plea – and sentencing her to nine years in prison plus a fine of one million rubles (about $16,700).
Her defense pointed out numerous flaws in her arrest, but the conviction and long sentence were widely expected. Her attorneys plan to appeal the sentence.
Griner, 31, was arrested on 17 February and has been held since then. The U.S. government considers her "unlawfully detained" and has been discussing her release with the Russian government.
The Russians have said that no negotiation of a prisoner swap or other arrangement could proceed until the court proceedings concluded, which has now taken place. The Associated Press reported:
"White House Press Secretary Karine Jean-Pierre told reporters Monday that Russia had made a 'bad faith' response to the U.S. government's offer, with a counteroffer that American officials don't regard as serious."
A joint statement from the NBA and WNBA included:
"Today's verdict and sentencing is unjustified and unfortunate, but not unexpected and Brittney Griner remains wrongly detained. The WNBA and NBA's commitment to her safe return has not wavered and it is our hope that we are near the end of this process of finally bringing BG home to the United States."
In a fairly unbelievable comment, former Russian player and coach Vladimir Gomelsky told the Russian news agency TASS:
"At one time I carefully studied the criminal code. There is an article that describes the crime committed by Greiner, the same article provides for sentencing. I was not surprised at the verdict, a fine of a million rubles for her is nothing. As for the American players who remained in Russia, this story can frighten the stupid and illiterate, but it shouldn't scare those who can read."
Former Russian women's coach Boris Sokolovsky told TASS: "Many drugs are allowed in the USA, but this does not mean that we must follow their rules. In addition to the fact that foreign athletes bring a new level of skill to our championship, many vices also come with them."
4.
New stars from Jamaica and Kenya at the Commonwealth Games?
Perhaps a new Jamaican hurdles star? The Commonwealth Games men's 110 m hurdles in Birmingham was won by 21-year-old Rasheed Broadbell, timing 13.08, a lifetime best and now no. 5 on the 2022 world list (wind: +0.9 m/s).
He easily defeated Shane Brathwaite (BAR: 13.30) and Britain's Andrew Pozzi (13.37) for his first major international win.
Australia's Matthew Denny scored a lifetime best of 67.26 m (220-8) to win the men's discus, staying no. 8 in the world for 2022. He was well ahead of Lawrence Okoye (ENG), at 64.99 m (213-2). Laquan Nairn (BAH) and Sreesh Sreeshankar (IND) both jumped 8.08 m (26-6 1/4) in the men's long jump, but Nairn had the better back-up and was awarded the gold medal.
Australia swept the cycling road time trials, with Rohan Dennis winning the men's 37 km race in 46:21, 26 seconds up on Fred Wright (ENG) and 28 seconds ahead of 2018 Tour de France winner Geraint Thomas (WAL). Grace Brown won the women's 29 km race in 40:05, way ahead of Anna Henderson (ENG: +0:34).
5.
USA Gymnastics asking for bankruptcy case closure
With the processing of abuse and related claims now well underway by an independent trustee, USA Gymnastics has filed a motion with the U.S. Bankruptcy Court for the Southern Division of Indiana for a final decree to close its bankruptcy case.
The matter will be heard on 17 August; there is still an open matter in a dispute between USA Gymnastics and Liberty Insurance Underwriters and there is a provision to re-open the case under the U.S. Bankruptcy Code.
If agreed, it will bring to an end nearly four years of wrangling since 5 December 2018, when the federation filed for voluntary Chapter 11 protection in the wake of the Larry Nassar abuse scandal and related events. A total of 14 insurers agreed to fund a settlement program of $339.48 million plus attorney's fees and ancillary costs, estimated to total about $380 million in all.
≡ PANORAMA ≡
● Athletics ● More Jamaican sprint stars at the World Athletics U-20 Championships in Cali (COL), as Tina Clayton and Serena Cole went 1-2 in Wednesday's women's 100 m final in 10.95 and 11.14 (-0.1 m/s).
American Shawnti Jackson – the daughter of 2005 World 400 m hurdles champ Bershawn Jackson – tied for third with N'Ketia Seedo (NED) with a lifetime best of 11.17.
American Roisin Willis, the U.S. high school indoor record-setter from Stevens Point (Wisconsin) HS, won the women's 800 m from the front, leading at the bell at 59.41 and holding off Audrey Werro (SUI), 1:59.13-1:59.53. That's the second-fastest ever by an American prep, albeit after the high school season has concluded. High school record holder Juliette Whitaker (Mt. de Sales of Catonsville, Maryland) won the bronze in 2:00.18.
There's a new Kenyan Cheruiyot to watch out for, as Reynold Kipkorir Cheruiyot dominated the men's 1,500 m, winning in 3:35.83, with Ermias Girma (ETH) second in 3:37.24 and Daniel Kimaiyo (KEN) third in 3:37.43.
On Thursday, American Akala Garrett won the women's 400 m hurdles in 56.16, with teammate Michaela Rose taking the bronze. Stephen McElroy of the U.S. won the men's 400 m silver (45.65), behind Lythe Pillay (RSA: 45.28).
The shocker of the day was in the men's 200 m final, as Israel's Blessing Afrifa – born in Israel to parents from Guinea – upset Botswana's Letsile Tebogo, with both timed in 19.96! American Brandon Miller was fifth in 20.64. Afrifa and Tebogo moved to no. 3 all-time on the World Junior List, just 0.03 off Usain Bolt's junior best from 2004.
● Football ● English enthusiasm for its women's European Championship team was reflected in the selling of all available tickets for the friendly with the top–ranked U.S. women on 7 October within just one day.
The match, to be played at London's Wembley Stadium, site of England's 2-1 win over Germany in the UEFA 2022 final – before 87,192 – will kick off at 8 p.m. The English team's Twitter feed noted: "A reminder that all available general admission tickets have sold out, with only limited hospitality options remaining on sale at this time."
● Weightlifting ● Colombia and the U.S. led the medal parade at the 2022 Pan American Championships in Bogota (COL) that ended on 29 July, with the American squad winning five overall golds.
Host Colombia won seven class (five men, two women) and the U.S. got wins from Hampton Morris in the men's 61 kg class, and four women's golds: Hayley Reichardt at 49 kg; Shayla Moore at 55 kg; three-time Worlds medalist Mattie Rogers at 76 kg and 2017 World Champion Sarah Robles at +87 kg. The U.S. also won two women's silvers, from Cicely Kyle at 45 kg and Jourdan Delacruz at 49 kg.
All together, counting only medals for the combined weight of both lifts, Colombia led with 16 medals (7-7-2), followed by the U.S. (10: 5-2-3) and Mexico with seven (1-2-4).
¶
You can receive our exclusive TSX Report by e-mail by clicking here. You can also refer a friend by clicking here, and can donate here to keep this site going.
For our updated, 620-event International Sports Calendar for 2022 and beyond, by date and by sport, click here!