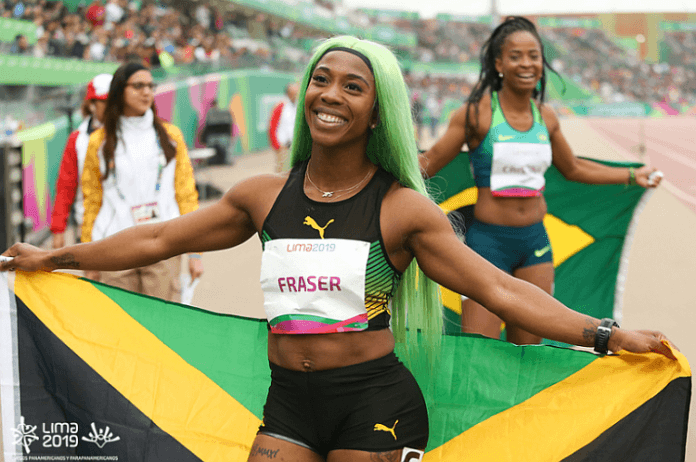 ★ The Sports Examiner: Surveying, monitoring and explaining the key competitive, economic and political forces shaping elite sport and the Olympic Movement. ★
Thank you to our 22 donors, who have covered 31% of our summer funding goal for operating costs. Can you help? Please donate here. Comments? Click here.
★ To get The Sports Examiner by e-mail: sign up here! ★
≡ THE 5-RING CIRCUS ≡
1. Fraser-Pryce zooms 10.66 for world leader in Chorzow
2. World Champs Amusan and Barber win at Commonwealth Games
3. Griner appeal to take three months, but has little chance
4. WADA chief Banka says NCAA could sign on to international rules
5. Low interest in Modern Pent obstacle test events?
The amazing Shelly-Ann Fraser-Pryce, five times the World Champion at 100 m, wrote another headline at the Diamond League meet in Poland on Saturday, winning in a world-leading 10.66, at age 35! U.S. athletes got six wins, including three from Eugene world champs Michael Norman (men's 400 m), Chase Ealey (women's shot) and Brooke Andersen (women's hammer). At the Commonwealth Games, only two Eugene champs won in Birmingham, including Nigeria's Tobi Amusan (women's 100 m hurdles) and Australia's Kelsey-Lee Barber (women's javelin), with Australia leading the medal count over England with the event ending on Monday. American basketball star Brittney Griner's appeal will take three months, said her Russian lawyers, but has almost no chance to succeed. World Anti-Doping Agency chief Witold Banka of Poland told Reuters that the NCAA might consider adopting the World Anti-Doping Code, but not the U.S. professional leagues. The Union Internationale de Pentathlon Moderne is continuing its plan to use obstacle-course racing as a new, fifth discipline, but its touted test events have drawn only modest interest and participation.
1.
Fraser-Pryce zooms 10.66 for world leader in Chorzow
The Wanda Diamond League resumed on Saturday in Chorzow (POL), with Jamaican star Shelly-Ann Fraser-Pryce claiming the only world-leading performance with a startling 10.66 win in the women's 100 m.
Matched against a good, but not great field, Fraser-Pryce got her patented super start, but no one could make up any ground against and she won easily in 10.66 to 10.94 for American Aleia Hobbs (wind +0.5 m/s). Marie-Josee Ta Lou (CIV) was third in 11.00 and Americans Kayla White, Melissa Jefferson and TeeTee Terry were 6-7-8 in 11.15-11.18-11.20.
It's the no. 12 performance in history for Fraser-Pryce, and her third-fastest ever, after her 10.60 and 10.63 in 2021. In her four finals in 2022, she has run 10.67, 10.67, 10.67 and 10.66!
Fellow Jamaican star Shericka Jackson likewise dominated the 200 m, winning in a runaway in 21.84, the no. 9 performance of the year (+0.2; Jackson has four of the nine). World 400 m champ Shaunae Miller-Uibo founded a late charge from lane nine to get second in 22.35, with American Jenna Prandini third in 22.39. Fellow Americans Tamara Clark and Gabby Thomas finished 6-7 in 22.82-22.86.
Americans won six events on the lengthy, 21-event program. Worlds bronze medalist Trayvon Bromell got out best and was never headed in a tight men's 100 m, winning in 9.95 to 10.00 for Marvin Bracy, with Christian Coleman fourth (10.13), Elijah Hall sixth (10.14) and Kyree King ninth (10.29). World 400 m champ Michael Norman pulled away on the final straight to win his event in 44.11 over Kirani James (GRN: 44.55) in a re-run of the Worlds final. Americans Bryce Deadmon, Vernon Norwood and Champion Allison were 3-4-5 in 44.68, 45.20 and 45.35; Michael Cherry was seventh in 45.45.
Joe Kovacs won the men's shot at 21.79 m (71-6) ahead of New Zealand's Tom Walsh (21.70 m/71-2 1/2) and Worlds bronze medalist Josh Awotunde (21.35 m/70-0 1/2).
World Indoor 800 m Champion Ajee Wilson finished last in the Worlds final in Eugene, but she was strongest on the home straight and won the women's 800 m over fellow American Sage Hurta, 1:58.28-1:58.40. American Allie Wilson was fifth in 1:59.35.
World Champion Chase Ealey took the lead in the women's shot with her first throw of 19.84 m (65-1 1/4) and then improved to her winning throw of 20.38 m (66-10 1/2) in round three. Americans Maggie Ewen and Jessica Ramsey were seventh (18.50 m/60-8 1/2) and eighth (18.22 m/59-9 1/2). Fellow World Champion Brooke Andersen led a U.S. 1-2 in the women's hammer with Worlds bronze medalist Janee Kassanavoid, 75.76 m (248-7) and 74.89 m (245-8).
Sweden's Mondo Duplantis have the crowd a thrill in the early part of the program, winning at 6.10 m (20-0); American Worlds silver winner Chris Nilsen was fifth (5.53 m/18-1 3/4). Fellow World champ Alison Dos Santos (BRA) was a clear winner in the 400 m hurdles (47.80) over Khallifah Rosser (USA: 48.30); fellow Americans Amere Lattin (48.79) and C.J. Allen (49.01) were fourth and sixth.
In the men's long jump, Steffin McCarter of the U.S. was second (8.09 m/26-6 1/2) to World silver medalist Miltiadis Tentoglu (GRE: 8.13 m/26-8 1/4).
The women's 400 m was an impressive win for Dutch 400 m hurdles star Femke Bol in a national record 49.75, equal-third on the world list for 2022. Equally imposing was Ethiopia's Diribe Welteji, fourth in the Worlds 800 m, charging past star Gudaf Tsegay to win the women's 1,500 in 3:56.91, now no. 4 for 2022; Tsegay was second in 3:58.18, with American Heather MacLean fourth in a lifetime best 4:01.38. Double Olympic winner Sifan Hassan took the lead on the final straight to win the women's 3,000 m in 8:39.27, with American Alicia Monson fourth in 8:41.61.
Olympic champ Jasmine Camacho-Quinn (PUR) was a decisive winner in the women's 100 m hurdles on 12.34 (+0.8) over Keni Harrison and Tia Jones of the U.S. (12.37 and a lifetime best 12.49). It's the equal-fifth-best performance of the year for Camacho-Quinn and equal-eighth for Harrison.
The show goes on in Szekesfehervar (HUN) on Monday for a Continental Tour Gold meet, in Monaco on Wednesday (10th) with another all-star cast, then takes two weeks off for the European Championships.
2.
World Champs Amusan and Barber win at Commonwealth Games
The XXII Commonwealth Games in Birmingham will conclude on Monday (8th), but with most of the competitions finishing on Sunday. The event has been a popular success, especially with full houses of 30,000-plus at the Alexander Stadium for track & field.
It looked like none of the 2022 Eugene World Champions entered in the meet would win a Commonwealth title, until Sunday. Nigeria's Tobi Amusan, the women's 100 m hurdles winner and world-record setter, dominated the final, winning on 12.30 (-0.2) and javelin World Champion Kelsey-Lee Barber (AUS) won on her last throw, defeating teammate Mackenzie Little, 64.43 m (211-4) to 64.27 m (210-10).
It looked like Scotland's Jake Wightman might be able to pull off a World Championships/Commonwealth double, leading into the final straight of the men's 1,500 m. But he was overhauled by Australia's Olli Hoare (3:30.12) and Timothy Cheruiyot (KEN: 3:30.21), all breaking the famed 3:32.16 meet record by Tanzania's Filbert Bayi from 1974! Wightman won the bronze in 3:30.53.
Same in the men's javelin, with Grenada's Anderson Peters a big favorite. But despite an impressive 88.64 m (290-10) effort in the fifth round, he was passed by Pakistan's Arshad Nadeem – fifth at Eugene – who scored a national record 90.18 m (295-10) in the fifth round and won in a total shocker. Among the other highlights:
Uganda's Jacob Kiplimo completed a 5/10 double with a final sprint to win Saturday's 5,000 m in 13:08.08, ahead of Kenyans Nicholas Kimeli (13:08.19) and Jacob Krop (13:08.48). Jereem Richards moved to no. 5 on the 2022 world list with his 19.80 win in the 200 m. Kenyan Abarham Kibiwot won the 3,000 m Steeple in 8:11.15 and Kyron McMaster (IVB) took the 400 , hurdles in 48.93.
New Zealand's Tom Walsh won the men's shot at 22.26 m (73-0 1/2), followed by a lifetime best from teammate Jacko Gill (21.90 m/71-10 1/4). Grenada's Lindon Victor, fifth at the Worlds, defended his 2018 Commonwealth title with a win with 8,233 points.
Jamaican sprint star Elaine Thompson-Herah completed her double, following up her 100 m win with a victory in the women's 200 m in 22.02, way ahead of Favour Ofili (NGR: 22.51) and Christine Mboma (NAM: 22.80). Sada Williams of Barados, third at the Worlds, won the women's 400 m in a meet record of 49.90.
Kenyan Mary Moraa won an seemingly impossible, come-from-behind win in the 800 m on Saturday, sprinting from a well-back fourth with 140 m to go to pass favored Kelly Hodgkinson (ENG), 1:57.07-1:57.40, as Scotland's Laura Muir out-leaned Natoya Goule (JAM), 1:57.87-1:57.88 for the bronze. Muir came back on Sunday to win the 1,500 easily, in 4:02.75. Fellow Scot Eilish McColgan lost out on a 5/10 double, settling for silver in the 5,000 m (14:42.14) behind Beatrice Chebet (KEN: 14:38.21).
Meet records were set in the women's steeple and the triple jump on Friday, by Jackline Chepkoech (KEN: 9:15.68) and Shanieka Ricketts (JAM: 14.94 m/49-0 1/4). On Saturday, Jamaica's Lamara Distin upset World Champion Eleanor Patterson (AUS) in the high jump, 1.95 m (6-4 3/4) to 1.92 m (6-3 1/2). Worlds silver medalist Cam Rogers (CAN) won the hammer easily, at 74.08 m (243-0). On Sunday, Nigeria's Worlds bronze medalist Ese Brume won the long jump at 7.00 m (22-11 3/4), a mark only she and three others have reached this season.
In beach volleyball, the women's final was a rematch of the 2018 Commonwealth final between Canada's Sarah Pavan and Melissa Humana-Paredes (also 2019 World Champions) and Australia's Mariafe Artacho and Taliqua Clancy (also Tokyo silver medalists). This was a battle royal, with the Australians taking the first set, 24-22, but the Canadians tied it with a 21-17 second-set win. The third set went from 9-9 to a 14-10 lead for the Canadians en route to a 15-12 win and a second Commonwealth Games gold.
In the tightly-contested men's final, Paul Burnett and Chris McHugh (AUS) defeated Canadians Dan Dearing and Sam Schachter, 21-17, 17-21, 20-18.
In cycling, Australia's Georgia Baker won the mass sprint to take the 112 km women's Road Race in 2:44:46 over Neah Evans (SCO) and Sarah Roy (AUS). The men's race of 160 km was won by Aaron Gate (NZL) in 3:28:29, with Daryl Impey (RSA) and Finn Crockett (SCO) close behind.
In hockey, the women's final pitted no. 3 Australia vs. no. 4 England, with the English scoring twice early, in the 22nd minute from Holly Hunt and in the 26th, by Tess Howard. The English defense and keeper Madeleine Hinch kept the Hockeyroos scoreless until an Ambrosia Malone goal with just 20 seconds left and England captured its first Commonwealth hockey title, 2-1.
With medal events in five sports remaining for Monday, Australia has a 174-166 lead on England. The Aussies have 66 golds (55-53) to 55 (59-53) for the English; Canada is an easy third with 91 (26-31-34).
3.
Griner appeal to take three months, but has little chance
"I talked to her after the meeting. Brittney is in a depressed state. We don't agree with such a harsh sentence. In normal judicial practice, under this article, five to six years, and from a third to half of the cases, suspended sentences. This is an extraordinary sentence. in our jurisprudence."
That was Alexander Boykov, one of the Russian lawyers for imprisoned American basketball star Brittney Griner, after a Moscow-area court sentenced her to 10 years for "drug smuggling."
He added, "In practice, three months is considered normal. After such a strict verdict, there is little chance of satisfying the appeal, but it's worth trying."
With Griner's conviction and sentencing, the way is clear from the Russian government point of view to discuss a prisoner exchange with the U.S. government. Foreign Minister Sergey Lavrov said last week in Cambodia that Russia is ready, "but only within a channel":
"If the Americans once again decide to resort to public diplomacy and to make loud announcements that they plan to take some steps, then that is their business, and I would even say, their problem. The Americans often do not comply with agreements on a quiet professional work on this and many other topics."
4.
WADA chief Banka says NCAA could sign on to international rules
World Anti-Doping Agency President Witold Banka (POL) told Reuters that he believes that the National Collegiate Athletic Association, not currently a signatory to the World Anti-Doping Code, could join in.
Interviewed during a visit to the Commonwealth Games, Banks told the news service:
"Maybe the major leagues are more problematic, a different animal, because they are private business but the NCAA is a good example of an institution that should be a co-signatory.
"We proposed some road maps for them. It was our initiative to encourage them and to start working the NCAA. It should be one of the main goals of USADA (United States Anti-Doping Agency), it is their responsibility, it is their own backyard."
Banka has regularly chided professional leagues such as Major League Baseball, the National Football League, National Basketball Association, National Hockey League and others that they do not follow the World Anti-Doping Code. But the vast majority of NCAA athletes compete in Olympic sports and therefore are already subject to the Code once their collegiate seasons are over and they compete in other meets – such as those held by USA Swimming and USA Track & Field – which are subject to the Code.
Said Banka, "I told them we are very open to start working with you but the ball is in their court now."
Observed: The inclusion of NCAA programs with the World Anti-Doping Code makes a lot of sense, given the number of athletes participating in Olympic sports. However, Banka always omits one important point when needling the U.S.-based professional leagues: the "voice of the athlete."
In all of the large U.S. pro leagues, the drug testing and sanctions policies are collectively bargained between the leagues and the player associations. That's the "voice of the athlete" in action. So if WADA really wants to make inroads with MLB-NFL-NBA-NHL and others, perhaps it should be talking with the player unions in these leagues. If the unions are in favor – and they will not be happy about full-year, two-year and four-year bans for doping violations – then some agreement with the leagues will be forthcoming. But that's not how it is now.
When Banka criticizes the U.S. pro leagues, he is complaining about the stance of the athletes as well as the team owners.
5.
Low interest in Modern Pent obstacle test events?
The Union Internationale de Pentathlon Moderne has controversially removed riding from its program and is testing two forms of obstacle-course racing as a replacement to try to be re-instated to the sports program for Los Angeles 2028. But it is continuing to draw harsh criticism from dozens of its own athletes, who are campaigning to retain riding, but under much different competitive conditions than currently used.
Undeterred, the UIPM completed its second "test" of an obstacle-course event over the weekend, this time in Manila (PHI), on the fringes of a non-UIPM Ninja World Cup event there. The participation in these test events was interesting:
● Test I followed the UIPM World Cup Final in Ankara (TUR) from 21-26 June, which had 35 men and 36 women participating for a total of 71 athletes. But only 36 stayed on for the obstacle test and of these, only 28 answered a UIPM survey, which – incidentally – did not ask them if they preferred riding.
● Test II in Manila was not attached an a UIPM event and had considerably less participation from pentathletes. According to the athlete group PentUnited – in favor of retaining riding – 38 athletes from nine nations were registered, but only 27 competed and 24 completed the fourth (18 men and six women, from seven nations). Their conclusion: "athletes didn't want to attend/participate." There were 59 obstacle-course racers who competed on the course.
PentUnited continues to promote its own survey of 213 pentathletes from 40 nations, of whom 92% want to retain riding.
Observed: With such small numbers on its test programs and a third test coming in September and aimed at youth athletes, can the UIPM really say it has athlete buy-in for the change? Will the International Olympic Committee be enthusiastic about admitting the sport for the LA28 program with this level of athlete dissent, as well as the cost of creating a Modern Pentathlon venue, including a temporary pool and a custom-built obstacle course for a week?
≡ PANORAMA ≡
● Athletics ● The World Athletics U-20 Championships finished in Cali (COL), with Jamaica winning 16 medals (6-7-3) to 15 for the U.S., with the American team having the most victories with seven (plus four silvers and four bronzes).
The Jamaican women's 4×100 m team to Serena Cole, Tina Clayton, Kerrica Hill and Tia Clayton set a World U-20 Record of 42.59, with the U.S. second (Jayla Jamison, Autumn Wilson, Iyana Gray and Shawnti Jackson) in 43.28, a national junior record. Japan won the men's 4×100 m at 39.35, with the U.S. third (39.57).
The U.S. women's 4×400 m team of Mekenze Kelley, Jackson, Akala Garrett and Roisin Willis won easily in 3:28.06, with Jamaica second at 3:31.59. The U.S. men did likewise, with Steven McElroy, Ashton Schwartzman, Charlie Bartholomew and Will Sumner finishing in 3:04.47, with Jamaica at 3:05.72.
A noteworthy field-event mark was the 17.27 m (56-8) win by Jaydon Hibbert (JAM) in the men's triple jump, moving him to no. 8 on the 2022 year list.
In the eight-deep placing table, the U.S. was the top scorer at 166 points to 126 for Jamaica and 116 for Ethiopia. This was a large event, with 1,533 competitors from 145 countries, with an impressive 70 winning medals.
● Luge ● The Federation Internationale de Luge announced that the canceled World Cup season opener in November in Innsbruck (AUT) – due to the lack of television coverage availability due to the FIFA World Cup – has been replaced.
The end of the season has been extended by a week and the final FIL World Cup event will be in Winterberg (GER) from 24-26 February, following up on the prior Winterberg races from 10-12 February. No television broadcast issues are anticipated.
● Swimming ● Whether you're a fan of swimming or not, the raw enthusiasm of three-time Olympic gold medalist Rowdy Gaines is infectious. Now 63, he shared once again the NBC clip of him going crazy – while on air – during the Tokyo Olympic men's 4×100 m Freestyle Relay, an event in which he won an Olympic gold medal himself.
Gaines has been the principal swimming analyst for NBC from Atlanta 1996 forward and is still going strong. He's now celebrating the 38th anniversary of his three 1984 golds in Los Angeles, in the 100 m Free, 4×100 m Free Relay and the 4×100 m Medley Relay.
¶
You can receive our exclusive TSX Report by e-mail by clicking here. You can also refer a friend by clicking here, and can donate here to keep this site going.
For our updated, 620-event International Sports Calendar for 2022 and beyond, by date and by sport, click here!