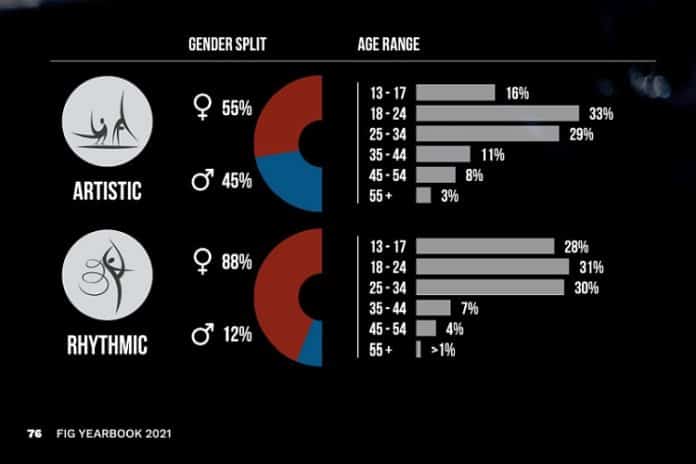 ★ The Sports Examiner: Surveying, monitoring and explaining the key competitive, economic and political forces shaping elite sport and the Olympic Movement. ★
Wow! Thanks an exceptionally generous contribution, our 22 donors have now covered 31% of our summer funding goal for operating costs. Can you help? Please donate here. Comments? Click here.
★ To get The Sports Examiner by e-mail: sign up here! ★
≡ THE 5-RING CIRCUS ≡
1. First FIG yearbook shows most gymnastics fans are women
2. World Triathlon adopts stringent transgender policy
3. U.S. Women's National Team books UEFA champs England
4. Future of the Rose Bowl under discussion in Pasadena
5. McKeon finishes with Commonwealth Games record 14 golds
According to the International Gymnastics Federation, 68% of its fans are women and it released a lot more data in its first-ever Yearbook, posted Tuesday, including better-than-expected financial results. World Triathlon joined the aquatics and cycling federations in announcing a strict standard for participation by transgender women, based on serum testosterone levels. The U.S. and English soccer federations wasted no time arranging a friendly between the newly-crowned European champions and the American women, for October. The future of the famed Rose Bowl, slated for football matched at the LA28 Games was discussed in depth by the Pasadena City Council this week; at issue is the $206 million debt the facility is dealing with. And Australia's Emma McKeon wrapped her 2022 Commonwealth Games efforts with another gold medal, giving her eight medals for the event and a record career total of 20, of which a record 14 are gold.
1.
First FIG yearbook shows most gymnastics fans are women
The International Gymnastics Federation (FIG) published its first-ever Yearbook, covering the events of 2021, including the Tokyo Olympic Games, with the usual, heavy self-promotion and full-page ads given to federation sponsors.
Of considerable interest was a market research project completed in 2021 which broke down the audiences for the FIG disciplines:
● Artistic: 55% women, 45% men
● Rhythmic: 88% women, 12% men
● Trampoline: 67% men, 33% women
● Acrobatic: 71% women, 29% men
● Aerobic: 74% women, 26% men
● Parkour: 89% men, 11% women
Overall, 68% of all gymnastics fans were women, and in Artistic Gymnastics, the prized 18-34 age demographic comprised 62% of all fans (men and women combined). Interestingly, even with so many female competitors who are teenagers, only 16% of fans were aged 13-17.
The FIG saw a major increase in its social-media accounts in 2021 due to an athlete who stopped competing:
"The decision of USA's Simone Biles to withdraw from five finals in Tokyo – including the Team and the All-Around finals – to focus on her mental health drew a spike in activity on the FIG Facebook account. It was also one of the three most popular posts of the year on the FIG's Twitter account.
"According to a FIG media analysis, interest in Biles's story also caused a surge in traffic on the governing body's website with more than 350,000 users recorded in August. Biles's withdrawal was the focus of 20% of the FIG's online media mentions."
At the end of 2021, FIG had 828,000+ followers on Facebook, 140,000+ on Instagram and 80,500+ on Twitter.
In terms of finances, FIG showed reasonable reserves of CHF 35.57 million and total assets of CHF 71.9 million For 2021, income was CHF 21.03 million vs. expenses of CHF 10.82 million for a surplus of CHF 10.21 million, much better than expected. It's still a remarkably small financial footprint for one of the top-three federations in Olympic popularity.
2.
World Triathlon adopts stringent transgender policy
Following a wide survey of its own committees and outside experts, World Triathlon's Executive Board adopted a transgender participation policy on Wednesday:
"To compete in the female category in an Elite or Age-Group triathlon competition, a Transgender athlete must demonstrate that the concentration of testosterone in the athlete's serum has been less than 2.5 nmol/L continuously for a period of at least 24 months. Also, at least 48 months must have elapsed since the Transgender athlete has competed as a male in any sporting competition."
This is a pretty stringent policy, adopted with two votes against by the 17-member Executive Board. It follows the basic approach of the swimming (FINA) and cycling (UCI) federations in limiting serum testosterone in transgender women to 2.5 nmol/l. However, the time requirements for transition and maintenance are fairly long.
Said World Triathlon President Marisol Casado (ESP):
"The policy that we have just approved shows that we are prioritizing the fairness principle but showing inclusiveness. It is fully aligned with the IOC's recommendation, and similar to what other IFs have done in the last months. We will of course monitor the situation and the evolution of this policy, and we are open to reviewing and discussing it as much as necessary over time, as this subject is still evolving and we need to be flexible."
3.
U.S. Women's National Team books UEFA champs England
The English women's football team caused a national sensation with a 2-1 win in extra time over Germany on Sunday to win the 2022 UEFA Women's Championship before 87,192 at Wembley Stadium.
Not wanting to miss out on a good thing, U.S. Soccer and the England Football Association announced on Tuesday that the no. 1-ranked American women will play the Lionesses at Wembley on Friday, 7 October, to be televised in the U.S. on FS1. The match is dependent on England qualifying for the 2023 FIFA Women's World Cup, but this seems a formality with matches against Austria and Luxembourg remaining.
The teams last met in 2020, a 2-0 U.S. win at the SheBelieves Cup in Orlando. There have been 18 games between the sides, but only two in England: a 2-1 England win in 2011 and a 1-0 U.S. win in 2015.
The U.S. will play one other match in Europe as a tune-up for the 2023 FIFA Women's World Cup in Australia and New Zealand.
4.
Future of the Rose Bowl under discussion in Pasadena
The iconic Rose Bowl, site of cycling at the 1932 Olympic Games, football at the 1984 Olympic Games and the memorable 1994 FIFA World Cup final and the 1999 Women's World Cup final, is slated to once again host football matches at the Los Angeles 2028 Games.
But the stadium and the City of Pasadena are struggling under the weight of $206 million in debt that the Rose Bowl absorbed from a huge renovation (completed in 2018), a lack of revenue due to Covid restrictions in 2020 and 2021 and poor attendance at UCLA football games for the past four seasons.
On Monday, the Pasadena City Council debated whether the stadium – which will celebrate its centennial on 28 October of this year – should be sold, or leased to a private operator. These options have been considered before, but the Council voted by 6-1 to direct the facility's management to explore eight revenue concepts, including (1) a family golf center on adjacent grounds, (2) a campus marquee and sponsorship program, (3) signage on or near the 210 Freeway, (4) alignment of interests in contracts with UCLA and the Tournament of Roses, (5) a south end zone seating project, (6) analysis of a potential city-wide parking tax on paid parking spaces, (7) a potential increase of transient occupancy tax, and (8) third-party funding opportunities related to future capital improvements.
While the stadium is nearing its 100th birthday, and has had to deal with the defection of some events to the new SoFi Stadium in Inglewood, it retains plenty of appeal, as evidenced by the massive crowd of 93,702 who came to see a friendly between European club powers Real Madrid and Juventus last Sunday (31st).
Verdict: it's still a special place.
5.
McKeon finishes with Commonwealth Games record 14 golds
Australia's Emma McKeon, 28, extended her career Commonwealth Games record for most medals won with a speedy third leg on the winning women's 4×100 m Medley Relay on Wednesday, giving her 20 total medals and 14 golds.
She won six golds, a silver and a bronze in Birmingham to lead all medal winners so far with eight. That's only one more than teammate Mollie O'Callaghan won (5-2-0) and two more than teammate Kaylee McKeown (4-1-1).
Aussie distance star Ariarne Titmus completed her triple, winning the 400 m Free showdown with Canadian teen (15) sensation Summer McIntosh, 3:58.06 to 3:59.32. Titmus's mark is the eighth-fastest swim ever, in an event where she holds the world record.
World Champion Kylie Masse (CAN) won the women's 50 m Back in 27,31, beating both O'Callaghan and McKeown.
Tokyo silver medalist Duncan Scott (ENG) won his second Birmingham gold in the men's 200 m Medley (1:56.88) over teammate (and Tokyo 200 m Free winner) Tom Dean (1:57.01). Teammate Ben Proud won his third Commonwealth 50 m Free title in a row at 21.36, with teammate Lewis Burras second (21.68).
In the first major day of track & field finals, Kenya's Ferdinand Omanyala – who had so much trouble with his visa for the Eugene Worlds – won the men's 100 m in 10.02, well ahead of South Africa's Akani Simbine. Jamaican star Elaine Thompson-Herah was the clear winner in the women's 100 m in 10.95, beating Julien Alfred (LCA), who was one of those disqualified for a questionable false start in Eugene in the semifinals.
New Zealand's Hamish Kerr won the men's high jump at 2.25 m (7-4 1/2); Scotland's Eilish McColgan won the women's 10,000 m (30:48.60); Nina Kennedy (AUS) took the vault at 4.60 m (16-1); Sarah Milton of Canada won the women's shot at 19.03 m (62-5 1/2); Chioma Onyekwere (NGR) took the discus (61.70 m/202-5) and England's Katarina Johnson-Thompson defended her heptathlon title at 6,377.
Halfway through the Games, Australia and England are dueling as expected, with the Aussies at 123 medals (46-38-39) and the English at 105 (39-37-29) so far. Canada is a distant third with 57 (16-20-21). The Games continue through the 8th.
≡ PANORAMA ≡
● On Screen ● More television viewing data from Sunday (31st), with the finale of the Tour de France Femmes drawing a small audience of 71,000 on CNBC at 9:30 a.m. Eastern time.
Previously noted was the 573,000 viewers on NBC for highlights of the USA Swimming National Championships from Irvine, California. A re-run of the highlights show on CNBC at 5 p.m. Eastern drew 77,000 viewers.
● World University Games ● A three-person delegation from the International University Sports Federation (FISU) is in North Carolina this week to review the area's bid for the 2027 World University Games.
In addition to the North Carolina legislature's allocation of $25 million for the WUG if North Carolina is selected, the bid has now drawn 47 sponsors and supporters. Pretty impressive for an event most of these supporters had never heard of, but which might well come to the area, which also impressively hosted the 1987 U.S. Olympic Festival (remember that?).
North Carolina and the ChungCheong region of South Korea are the two candidates for 2027, with the selection to be made later this year.
● Athletics ● The World Athletics U-20 Championships are underway in Cali (COL), with a World Junior Record in the books on day two.
Botswana's Letsile Tebogo had already set the World U-20 men's 100 m mark of 9.94 at the Eugene World Championships, but he did even better, winning in 9.91 (wind: +0.8 m/s) while celebrating the last 30 meters. How fast could he have run? He's headed to the University of Oregon in the fall.
The U.S. team of Charlie Bartholomew, Madison Whyte, Will Sumner and Kennedy Wade won the Mixed 4×400 m in 3:17.69 to 3:17.76 for India, with anchor Rupal closing the gap on the final lap, but fell short of Wade at the tape.
● Figure Skating ● The International Skating Union issued its entry limits for the 2023 World Championships on Tuesday and if Russian skaters are allowed to compete at all, they will be limited to only one skater in each event: men, women, Pairs and Ice Dance.
By virtue of performance, Russia would normally have been entitled to three skaters in each division, but "protective measures" instituted by the ISU as of 1 March limit its participation. Same for the World Junior Championships as well.
Said famed Russian coach Tatyana Tarasova, who has choreographed routines for champion skaters including Americans Michelle Kwan, Evan Lysacek and Johnny Weir: "They want to see the death of figure skating in Russia."
¶
You can receive our exclusive TSX Report by e-mail by clicking here. You can also refer a friend by clicking here, and can donate here to keep this site going.
For our updated, 620-event International Sports Calendar for 2022 and beyond, by date and by sport, click here!