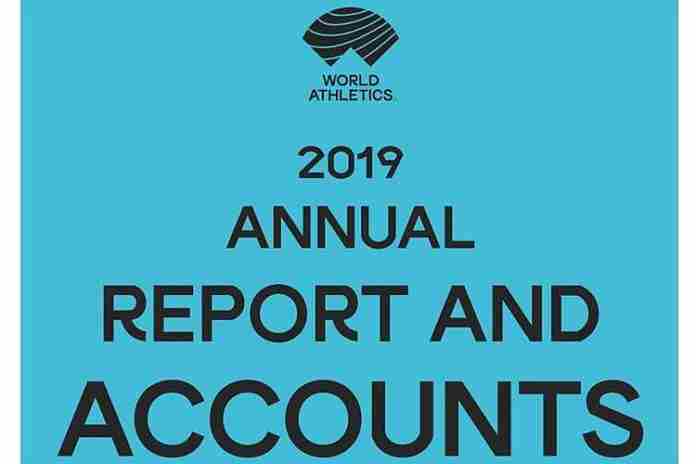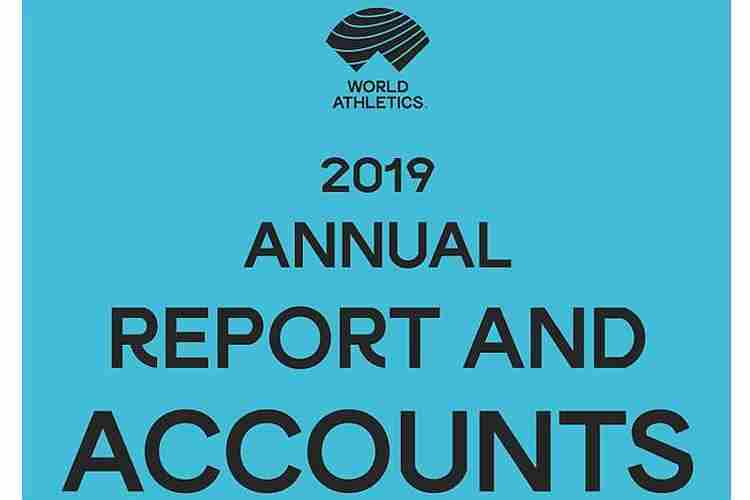 (★ Friends: Your 65 generous donations have paid our semi-annual server and support costs, and started to help with December's bill. If you would like to help, please donate here. Your interest and support are the reasons this site continues. ★)
On Thursday, World Athletics finally joined all of the other Olympic-sport federations in making their financial statements public and actually showed better results than expected.
Founded as the International Amateur Athletic Federation in 1912, the federation had never made its finances public, although its audited 2018 statements were made available by The Sports Examiner back in June (here and here).
The 88-page "World Athletics Annual Report" included an overview of the federation's activities as well as the financial statements. At first glance, the financial report from 2019 looks fairly grim:
● $51.14 million revenues in 2019
● $67.84 million expenses in 2019
● $17.42 million loss for the year
That's pretty bad, but not as bad as had been expected!
At the 2019 IAAF Congress in Doha, the Council Report showed the budget for 2019 with a forecasted loss of $26.12 million! Yikes! Income was expected to be just $36.75 million and operating expenses of $62.87 million.
In fact, revenues were much higher at $51.14 million and expenses only slightly higher than forecast. So the federation ended 2019 with reserves of $34.30 million, much better than the projections, which showed reserves down to about $20 million.
That's a long way from the $93.81 million on hand at the end of 2016, which was reduced to $73.78 million by the end of 2017 and $46.16 million at the end of 2018. During the 2017-18-19 period, the federation has posted losses of $20.03 million-$27.61 million-$17.42 million for a cumulative loss of -$65.06 million. Ouch.
(These figures are slightly different that previously reported, due to a change in accounting standards; World Athletics changed from the U.S.-based General Accepted Accounting Principles (GAAP) to the international-standard International Financial Reporting Standards (IFRS) reporting system, endorsed by the European Union.)
Expenses for the federation went down from $72.46 million in 2018 to $67.84 million in 2019 – that's good – but revenues remained low. The revenue total of $51.14 million was better than the $45.21 million in 2018, but most of that was due to the $3.38 million in reimbursements from Russia for doping investigations expenses and $1.00 million contributed to the Athletics Integrity Unit anti-doping efforts in road racing by races, agents and athletes.
Revenue from television rights and sponsorships was up only slightly: $43.86 million in 2019 vs. $42.40 million in 2018. The notes to the financials explained:
"The exclusive broadcast partners payment is received twice per year and covers the broadcast rights for all World Athletics events for the year. The current agreement was signed in April 2018 and covers the period from 1 January 2018 to December 31, 2023.
"Commercial sponsorship income is split in three parts: the first part corresponds to the commercial rights and yearly invoices amounts to $11m per year. The second part relates to the TV rights in Japan and generates a revenue of $7m per year. The third part corresponds to commission based on the value in kind under sponsoring contracts."
Also:
"During 2018, an amendment to the agreement for the period of 2020-2029 was signed. This new agreement calls for a minimum guarantee over the 10-year period of $130m. The agreement with commercial sponsorship also includes a profit-share income clause."
This isn't going to be enough. True, if the Tokyo 2020 Olympic Games are held, World Athletics will receive about $39.5 million or so from the International Olympic Committee, but no one knows if the Games will take place (or in what form, which could impact rights fees).
For a federation whose sport is practiced in thousands of meets and races annually, the $14.73 million in television rights and $22.79 million in sponsorships ($18.0 million rights + $4.79 million in profit-sharing for 2019) just seems low. The Annual Report shows just four World Athletics sponsors: Asics, Qatar National Bank, Seiko and TDK, three television distribution partners: Eurovision, Tokyo Broadcasting and ESPN, and one supplier (Mondo). There is also the Wanda sponsorship of the Diamond League, which is a technically separate entity.
But World Athletics got through 2019 reasonably well and if the Tokyo Games are held, the federation's finances should hold well enough to allow for a more energetic marketing effort in the post-pandemic era. The now-under-discussion World Running Championships – showcasing the World Athletics World Championships in the road events – could become a significant new revenue source.
It's worth noting that the federation put $4.55 million into the Diamond League in 2019, along with $8.32 million for the Athletics Integrity Unit and $2.41 million in legal fees; the latter should go down now that the appeals against the women's competition regulations have concluded.
The release of the financials this late in 2019 was not what was hoped for. The coronavirus pandemic caused some delays, but there was also a time-consuming shift from GAAP to IFRS as noted above. If you're starting to doze off, you only need to know that the two systems create only minor differences in reporting, but in order to make the change, transactions back to 2017 had to be reviewed so that meaningful comparisons with 2018 could be made. That's done now, but it explains some of the delay.
This is a big step forward for World Athletics, which has significant challenges ahead, but no longer in secret.
¶
The Tour de France has moved into the central mountain region and Slovenia's Primoz Roglic took another significant step toward a possible victory in a little more than a week.
On Friday's misery-inducing Stage 13, with seven climbs and finishing uphill at the Pas de Peyrol, it was Roglic who was able to maintain momentum among the race leaders and extended his overall lead once. He finished 12th, 6:05 behind winner Daniel Felipe Martinez (COL), but 38 seconds ahead of defending champion Egan Bernal (COL) and even with countryman Tadej Pogacar.
With just eight stages left, Roglic now leads Pogacar by 44 seconds and Bernal by 59. Only seven riders are within two minutes of Roglic; behind Bernal are three more Colombian riders: Rigoberto Uran (-1:10), Nairo Quintana (-1:12) and Miguel Angel Lopez (-1:31). Early leader Adam Yates is seventh, 1:42 back.
The sprint stages earlier in the week also produced a shake-up, especially to the hopes of Slovakian star Peter Sagan, looking for an eighth straight Tour Points title. Irishman Sam Bennett won Tuesday's 168.5 km dash to Ile de Re, ahead of Caleb Ewan (AUS), but then Ewan won on Wednesday, ahead of Sagan and Bennett in the 167.5 km route to Poitiers.
At the finish, Sagan was penalized for a too-aggressive push at the finish, last Belgium's Wout van Aert. The sanction dropped him from second to 85th (!) and put Bennett in the green jersey of the Points leader.
Thursday's hilly stage from Chauvigny to Sarran saw Tour rookie Marc Hirschi (SUI) win his first professional race with a brilliant breakaway, finishing 47 seconds clear of Pierre Rolland (FRA).
Saturday's stage has one major and two minor climbs, but finishes downhill to Lyon. Sunday is a horrific triple climb that finishes uphill at Grand Colombier and rises from 237 m to 1,497 m at over the final 18.5 km. Whomever conquers that route may well be the overall winner, even with three more climbing stages on Tuesday-Wednesday-Thursday of the final week.