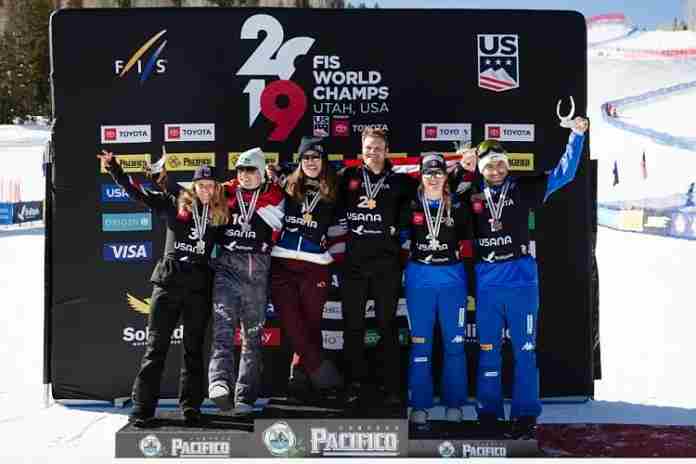 It was a good opening day for the U.S. at the FIS Freestyle and Snowboard World Championships being held in Utah, as Mick Dierdorff won the world title in Snowboard Cross, along with Czech Eva Samkova for the women.
Dierdorff, 27, was hot right through the rounds, winning each of his three races heading into the final. He's been on the World Cup circuit since 2009, but had only won a couple of medals: a bronze in September 2017 and a silver in March 2018.
But in his first World Snowboard Championships, he had the lead by the first corner and was never headed on the way to his first international win, and a wild celebration with his American teammates at the finish line.
"I don't even know where my emotions are right now," said Dierdorff. "I'm in the clouds and I'm not sure if this moment will ever sink in. This is craziest moment I have had in my life. This past year for me, I trained super hard with the ultimate goal of making it to the Olympics and I made that goal happen. After checking that box, I just thought, what's next, let's keep going.
"I know I'm one of the best out there and if I work as hard or harder than everybody I can end up on top. It's my first win on the World Cup level at the World Championships! I can't even comprehend all the support I have had and have here today. I tried to keep it loose up there, but then get in the zone once I got in the gate. I'm fired up that I ended up on top."
In the 12 editions of the Snowboard Worlds, this was only the second win for the U.S., after Seth Westcott in 2005
In the women's Snowcross, the U.S. had high hopes for five-time World Champion Lindsey Jacobellis. However, she ended up third in her semifinal and was consigned to the Small Final, which she won to finish fifth overall.
But the Big Final had experienced stars, including 2017 bronze medalist Michela Moioli (ITA). But Samkova, who won her semifinal, jumped to the front and was never headed.
The Olympic champ in Sochi and bronze medalist in PyeongChang, she had never had much success at the World Championships, but she claimed the top of the podium this time, ahead of Charlotte Bankes (GBR).
"I just tried to do my best," she said. "I think it's almost better that I had to wait for this victory. My first World Championships was in 2011, so it took a while to get this win, but it's good like this.
"I still believe that our sport isn't all about medals. You can have fun and have a great day of riding even without winning a medal. I tried not to put pressure on myself before the race and just try and enjoy it, and I think that's the good way to do it. But I was fifth in 2011 and then got worse and worse (at World Championships) after that, so I'm happy that I made it today."
Bankes won the first-ever British Worlds medal in SnowCross. Italy's Moioli has to get some kind of special award: she finished with the bronze medal for the third World Championships in a row!
The Freestyle and Snowboard Worlds continues through the 10th. Look for results here. Summaries:
FIS Snowboard World Championships
Park City, Utah (USA) ~ 1-10 February 2019
(Full results here)
Men's Snowboard Cross/ Big Final: 1. Mick Dierdorff (USA); 2. Hanno Douschan (AUT); 3. Emanuel Perathoner (ITA); 4. Lucas Eguibar (ESP). Small Final: 5. Jake Vedder (USA); 6. Baptiste Brochu (CAN); 7. Paul Berg (GER); 8. Leon Beckhaus (GER).
Women's Snowboard Cross/ Big Final: 1. Eva Samkova (CZE); 2. Charlotte Bankes (GBR); 3. Michaela Moioli (ITA); 4. Francesca Gallina (ITA). Small Final: 5. Lindsey Jacobellis (USA); 6. Raffaella Bruto (ITA); 7. Chloe Trespeuch (FRA); 8. Carle Brenneman (CAN).