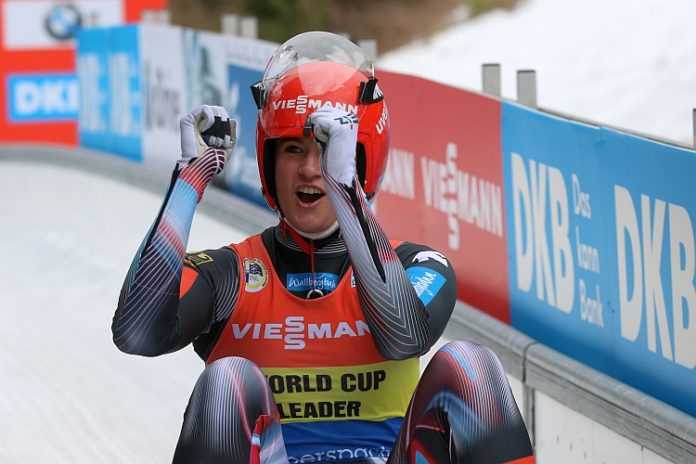 With the World Championships completed., we're into the final third of the FIL World Cup season, with racing remaining in Altenberg (GER) this week, followed by Oberhof (GER) next week and Sochi (RUS) two weeks later. The situation:
● Men's Singles:
1. 473 Johannes Ludwig (GER) ~ One win, one silver, one bronze this season
2. 440 Wolfgang Kindl (AUT) ~ Three wins
3. 437 Felix Loch (GER) ~ Two medals
4. 435 Reinhard Egger (AUT) ~ One win, two bronzes
5. 433 Semen Pavlichenko (RUS) ~ One win, one silver
● Men's Doubles:
1. 725 Toni Eggert/Sascha Benecken (GER)
2. 576 Tobias Wendl/Tobias Arlt (GER)
3. 552 Thomas Steo/Lorenz Koller (AUT)
4. 451 Andris Sics/Juris Sics (LAT)
5. 385 Vladislav Yuzhakov/Yuri Prokhorov (RUS)
● Women's Singles:
1. 697 Natalie Geisenberger (GER) ~ Four wins, three silvers
2. 634 Julia Taubitz (GER) ~ Two wins, three silvers, two bronzes
3. 485 Summer Britcher (USA) ~ Two silvers, one bronze
4. 434 Tatiana Ivanova (RUS) ~ One win
5. 390 Dajana Eitberger (GER) ~ One win, one bronze
The men's race is too close to call, but Loch has found a way to win in six of the last seven seasons. Eggert and Benecken are on their way to their third straight World Cup seasonal title and fourth in total. Geisenberger is working on a streak of six straight World Cup titles; she already holds the record for most seasonal titles (with six).
Loch, Geisenberger and Eggert and Benecken are the defending champions from the Altenberg stop in 2018. Look for 2019 results here.