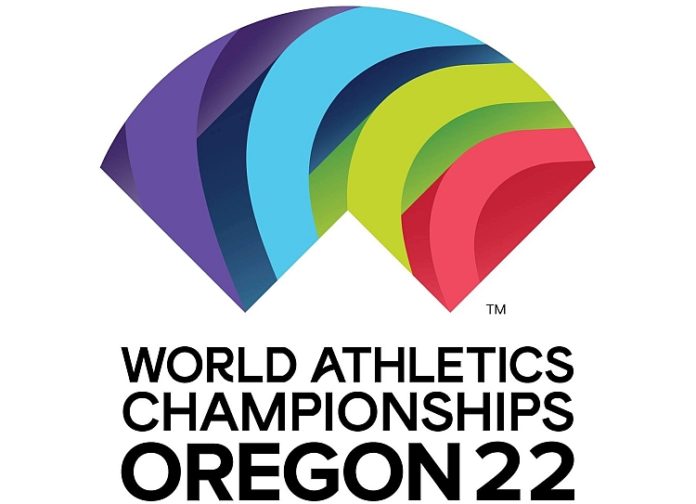 (★ So grateful to our 38 donors, who have covered 65% of our site costs for services for the first six months of 2022. If you enjoy this coverage, please donate here. ★)
(For our Highlights of the weekend's top competitions, click here.)
● Plus: Paralympics: China strong in opening days, Covid under control = Russia looks to lawyers vs. federations = Athletics: Kamaka, Lindeman passings = Football: Cone wins USSF Presidency, horrific riot in Liga MX = Gymnastics: Russia's Kuliak investigated for supporting invasion = Handball: IHF bans Russia & Belarus = Shooting: ISSF bans Russia & Belarus = SCOREBOARD: Cycling: Paris-Nice and Tirreno-Adriatico underway = Shooting: ISSF World Cup closes in Cairo ●
News, views and noise from the non-stop, worldwide circus of Olympic sport:
≡ SPOTLIGHT ≡
More details on the financing of the Oregon22 world track & field championships came from Jeff Manning of The Oregonian on Sunday, explaining that the organizers expect to run the event on about $75 million.
Some $40 million came from the state of Oregon, including $20 million from the state's tourism authority, another $10 million from the Oregon Lottery, $1 million from the state's "strategic reserve" and then a $9.15 million grant from the U.S. Economic Development Administration. In addition:
"The state contribution is by far the largest to the Eugene event. Organizers are counting on total revenue of $75 million. Besides the state's contribution, [Oregon22 chief Niels] de Vos (GBR) said they will get $10 million from USA Track & Field, the sport's national governing body, $10 million from individual donations and $15 million from ticket sales."
The $10 million coming from USA Track & Field is interesting as the organization showed reserves of $9.3 million as of 31 December 2020. Cash and investments totaled $18.4 million and the organization has borrowed $5.7 million on its line of credit and still owes $14.1 million in commissions on its long-term sponsorship deal with Nike.
The $75 million in revenue for the 2022 Worlds described by de Vols is quite a bit lower than the only detailed budget seen to date of $85.59 million from 2017.
≡ THE 5-RING CIRCUS ≡
● XIII Winter Paralympic Games: Beijing 2022 ● Amidst the tumult, the Winter Paralympics are continuing, with China enjoying a sensational performance so far.
China has a delegation of 96 athletes, fully 17% of all athletes at the Games, and leads the medal table after 34 of 78 events with 25 total medals (7-8-10) compared to 12 for Canada (4-2-6) and eight for several countries, including the U.S. (1-5-2).
The lone American gold came from Oksana Masters in the Sitting 6 km Biathlon, winning in 20:51.2, with American Kendell Gretsch third.
Masters, 32, is an amazing story. She was born in Ukraine when it was part of the USSR in 1989, suffered birth defects – apparently from the 1986 Chernobyl nuclear disaster – then was orphaned by her birth parents, and adopted by an American woman in 1997.
She competed in her first Paralympics in London in 2012 and has won two Para-Cycling golds at the Tokyo Paralympics last year and three golds in the Winter Paralympics; two in Para Cross Country Skiing and the one in Beijing in Biathlon. She also took a silver in the Beijing 15 km Sitting Cross Country race to run her overall Paralympic medal total to 12 (so far).
¶
The Chinese authorities are continuing their rigorous anti-Covid measures, with 20 total positives through the 11 days of the Paralympic Games period.
Most of these – 15 – have come at the airport, with the other five in the closed-loop system (three among athletes). The positivity rate at the airport was just 0.67% and within the closed loop less than 0.01%.
The Paralympics continue through Sunday.
¶
A study published just prior to the Winter Paralympics in the International Journal of Sports Physiology and Performance indicated, according to lead author Tomas T. Freitas (POR) that for elite sprinters in track & field:
"We observed that the main diff btwn able-bodied and Paralympic [athletes] seemed to be related to their ability to apply force at low movmnt velocities."
● Russia ● The Russian Sports Minister, Oleg Matytsin said Sunday:
"By today, we have received no formal resolutions explaining the reasons for the bans from many international federations. Our defense challenging these resolutions will rest on these reasons. I don't think it will be quick procedure – it will take quite a lot of time. It cannot be ruled out that the process will be politicized and we must bear it in mind.
"Now, jointly with experienced lawyers and experts we are looking at challenging the IPC decision. Of course, it is the prerogative of the Russian Paralympic Committee, but I think such decisions will be made soon. Then, our positions will be clearer, as will be our positions on the decisions by other international federations.
"It is difficult to say when as this is an unprecedented case in history."
¶
From the Russian Paralympic world: "Special competitions will be organized for Russian and Belarusian Palaympians in Sochi, a source in the Russian sports ministry told TASS on Friday."
The International Paralympic Committee banned Russian and Belarusian Paralympic athletes in a reversal of their original position just prior to the opening of the Games last Friday.
● Athletics ● Sadness in the Southern California track & field community as Mt. San Antonio College head cross-country and track & field coach Ron Kamaka passed away on Sunday (6th) at just 59 years old.
A 2.22 m (7-3 1/4) high jumper at Arizona State, he came to Mt. SAC in 2008 and became head coach in 2013; wheelchair-bound due to a surfing accident, his men's teams won the California CC state track & field titles in 2015-16-18. He was lost due to complications from Covid-19.
¶
Also on Sunday, the U.S. Air Force Academy announced that 33-year head track & field coach Ralph Lindeman passed away. Also an Arizona State graduate, Lindeman's teams won eight Mountain West Conference men's championships and his athletes won 42 Western Athletic Conference titles and 170 in the Mountain West Conference.
He was a U.S. Olympic assistant coach in 2004 and head coach for the U.S. World Indoor Championships team in 2018, among many international assignments.
● Basketball ● American WNBA star Britney Griner was arrested in Russia in the last few days of February, stopped at an airport in Moscow, reportedly for carrying a vape pen with hashish oil. The Russian customs service statement included:
"As a US citizen was passing through the green channel at Sheremetyevo Airport upon arriving from New York, a working dog from the Sheremetyevo customs canine department detected the possible presence of narcotic substances in the accompanying luggage.
"The customs inspection of the hand luggage being carried by the US citizen confirmed the presence of vapes with specifically smelling liquid, and an expert determined that the liquid was cannabis oil (hash oil), which is a narcotic substance."
A two-time Olympic gold medalist for the U.S., Griner, 31, has played in Russia for several years and reportedly earns much more there for playing then in the U.S. Many WNBA players have participated in Russian basketball over the last decade or more.
Penalties for carrying prohibited substances include prison sentences of up to 10 years; the U.S. State Department pledged assistance where possible.
● Football ● Former U.S. National Team star Cindy Parlow Cone was elected for a full term as President of the U.S. Soccer Federation on Saturday, receiving 52.9% of the contested, weighted vote:
● Cindy Parlow Cone: 785.12 votes
● Carlos Cordeiro: 698.26 votes
Cone succeeded Cordeiro, who was elected in 2018 and resigned in 2020 after a court filing in the U.S. women's team's equal-pay class-action suit that included sexist language and arguments. Cordeiro ran on a platform of more support for grass-roots programs, saying Parlow Cone was too focused on the national-team level. However, the apparent settling of the women's equal-pay suit and a new television agreement for the USSF were significant factors in Parlow Cone's election to a full term of her own.
She acknowledged the closeness of the vote in her remarks afterwards:
"Now is the time for all of us to work together. No more divisions. We don't have time for all of that. Our moment is now and I promise you that each and every one of you have a friend and a partner and as president of U.S. Soccer."
The USSF's Annual General Meeting also agreed on a preliminary resolution banning "discriminatory chants" at matches, similar to the ban now in place in Mexico. FIFA has penalized Mexico repeatedly over anti-gay chants during matches there, despite the ban; there was no such rule in place in the U.S.
A three-part resolution on gender equity was tabled so that it could be studied further; it would have required more women to be interviewed for senior positions, require women coaches on all U.S. national teams and to increase the number of licensed women coaches.
¶
A major riot broke out on Saturday during the Liga MX match between visiting Atlas and Queretaro at the Estadio Corregidora after the 60th minute of the match.
There was confused reporting from the site, with some reports of deaths, but Jalisco Governor Enrique Alfaro said on Saturday night that there had been no deaths, but two people were seriously injured. Police said that 26 people were injured, with 23 still hospitalized on Sunday.
The fighting first broke out in the stands between "fans" of the two teams and became so severe that officials allowed spectators onto the field to escape the violence … which then spilled out onto the field. The Atlas players quickly returned to their locker room, while some Queretaro players tried to calm people down.
Sunday's three league matches were canceled and five officials were dismissed on Monday, as well as the security contractor for the stadium.
FIFA issued a statement on Sunday, including:
"FIFA is shocked at the tragic incident that took place at La Corregidora stadium in the city of Queretaro during the fixture between Queretaro and Atlas. The violence was unacceptable and intolerable.
"FIFA joins the Mexican Football Association and Concacaf in condemning this barbaric incident and encouraging the local authorities to bring swift justice to those responsible."
● Gymnastics ● "The International Gymnastics Federation confirms that it will ask the Gymnastics Ethics Foundation to open disciplinary proceedings against male artistic gymnast Ivan Kuliak (RUS) following his shocking behaviour at the Apparatus World Cup in Doha, Qatar."
Kuliak, 20, won a bronze medal on Parallel Bars at the Doha World Cup, and the Associated Press reported:
"Kuliak taped the 'Z' symbol to his vest at a World Cup event in Qatar. The symbol has been seen on Russian tanks and military vehicles in Ukraine and embraced by supporters of the war."
CNN reported that "the organization that oversees Russian gymnasts acknowledged in a statement that Kuliak's display violated FIG rules, but expressed the organization's support for his actions."
Russia competitors were banned by FIG as of today (7th), but were allowed to compete at events where they were already present through the weekend.
● Handball ● Not much had been heard from the International Handball Federation, but on Monday, the IHF announced:
"With immediate effect and until further notice, the IHF bans all teams, officials, referees, lecturers and experts from Russia and Belarus from taking part in IHF events and activities."
This will eliminate teams from the 2022 IHF Women's Junior (U-20) and Youth (U-18) World Championships and the 2022 IHF Men's Beach Handball World Championship this summer.
● Shooting ● On Monday, the International Sport Shooting Federation posted:
"The ISSF Executive Committee supports the IOC recommendation published on February 28th, 2022 with the aim to protect the integrity of global sports competitions and to ensure the safety of all participants. The ISSF fully supports any policy against wars as well as the IOC recommendations to not allow athletes from the Russian Federation and Belarus to take part in the ISSF Championship until further notice."
This is especially noteworthy since both the ISSF President (billionaire Vladimir Lisin) and General Secretary (Alexander Ratner) are Russian. Competitors from Russia did take part in the now-concluded ISSF Grand Prix for Rifle and Pistol in Cairo (EGY), which concluded on Monday.
The Russian invasion of Ukraine was formally condemned and humanitarian assistance for Ukraine will be provided as well.
≡ SCOREBOARD ≡
● Athletics ● In better times, sensational performances in San Juan Capistrano and Serbia would be today's highlights, but unfortunately, only a sideshow:
● Sweden's Mondo Duplantis finally got another world indoor vault record with a clearance in Belgrade (SRB) of 6.19 m (20-3 3/4) on his third try in a World Indoor Tour Silver meet.
He was the winner with his first-try clearance of 5.61 m (18-4 3/4), then cleared 5.85 m (19-2 1/4) and 6.00 m (19-8 1/4) on his first attempts.
Said Duplantis: "I think I've tried 6.19 m 50 times. It's been a long time coming. I've never had a height that has given me that much trouble, so it's a very good feeling. It was really hard fought over these past two years. I'm really happy."
It's his third world record in the event: 6.17 m (20-2 3/4) and 6.18 m (20-3 1/4) in 2020 and now 6.19 m in 2022: the three highest vaults in history. And he will compete in the same arena in a couple of weeks at the World Indoor Championships!
● At a special distance meet called "The Ten" in San Juan Capistrano on Sunday evening, Olympic finalist Grant Fisher of the U.S. mauled the American Record with a sensational 10,000 win in 26:33.84, destroying Galen Rupp's 26:44.36 mark from 2014 in near-perfect conditions.
Fisher needed all of his speed to pass Canada's Moh Ahmed in the final meters, with Ahmed claiming a national record in 26:34.14; Fisher's last lap was 57.99 to Ahmed's 58.08!
Jack Rayner of Australia got a national record as well in third (27:15.35) and American Sean McGorty was fourth in 27:18.15 in his debut at the distance. An astonishing 18 men broke 28 minutes.
The win moves Fisher into the no. 7 slot all-time, with the 12th-fastest mark in history. Ahmed is now no. 9 on the all-time world list.
In the women's 10,000 m, American Elise Cranny won in 30:14.66, less than a second off the American Record, the no. 2 performance in U.S. history. She ran alone for the last quarter of the race, with Dominique Scott of South Africa second in 31:00.10.
¶
At Saturday's USATF 15 km National Championships in Jacksonville, Florida, Emily Sisson defended her title with a 47:28 victory, well ahead of Emily Durgin (49:27) in second. Nico Montanez charged over the final 1,500 m to win the men's race – and his first national title – in 43:10, beating Leonard Korir (43:14) and Hillary Bor (43:14). Early leader Galen Rupp finished seventh (43:31).
● Cycling ● Two of the sport's famed races are going on concurrently in France and Italy:
The 80th edition of Paris-Nice started on Saturday with the first of eight stages at Mantes-la-Ville, with home favorite Christophe Laporte (FRA) edging Primoz Roglic (SRB) and Wout van Aert (BEL) at the line to win the first stage.
Dutch sprinter Fabio Jakobsen won a mass finish on Monday, over van Aert and Laporte, but Laporte has a five-second lead on the field through a quarter of the event. The first four stages are flat, but the last four hilly and mountain stages will decide the overall winner.
The 57th Tirreno-Adriatico cuts across Italy and started with a time trial on Monday, won by 2020 and 2021 World Time Trial Champion Filippo Ganna of Italy, ahead of Remco Evenpoel (BEL) by 11 seconds. The seven-stage ride will conclude on Sunday, with the difficult sixth stage likely decisive.
● Shooting ● On the final day of the ISSF World Cup for Rifle and Pistol in Cairo (EGY), Germany defeated India, 17-7 in the final of the men's 25 m Pistol Team event. The Czech Republic shut out Indonesia, 16-0 in the bronze-medal match.
India thrashed Thailand in the Mixed Team 25 m Rapid-Fire Pistol final, 17-7, with Singapore taking the bronze.
The final medal tally showed India on top with seven (4-2-1), followed by Norway (3-1-2) and Germany (2-3-1), each with six. The U.S. ended up with two (0-1-1).
You can receive our exclusive TSX Report by e-mail by clicking here. You can also refer a friend by clicking here, and can donate here to keep this site going.
For our 832-event International Sports Calendar for 2022 and beyond, by date and by sport, click here!