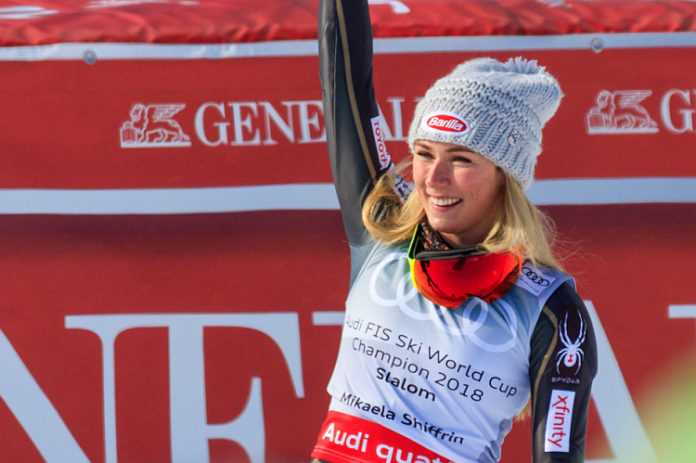 (★ So grateful to our 38 donors, who have covered 65% of our site costs for services for the first six months of 2022. If you enjoy this coverage, please donate here. ★)
Headline results of noteworthy competitions around the world:
It hardly seems important to report on sporting events while Ukraine is under attack, but competitions continued around the world, mostly (but not totally) without Russian, Belarusian or Ukranian entries:
● Alpine Skiing ● The 2021-22 FIS World Cup season is heading toward the close, with three races in Kvitfjell (NOR) and two crazy Downhills on Friday and Saturday.
In the first race, Canadian Cameron Alexander got his first-ever World Cup medal with a gold, but in a tie with Swiss Niels Hintermann, who got his second career World Cup gold and first in Downhill, both at 1:44.42. Austrian star Matthias Mayer (1:44.54) was third.
On Friday, Italian star Dominik Paris won his 17th career World Cup Downhill in 1:43.92, followed by Aleksander Aamodt Kilde (NOR) in second (1:44.47) and then Hintermann and Swiss Olympic gold medalist Beat Feuz in a tie for third!
Finishing fifth was American Ryan Cochran-Siegle and fellow American Travis Ganong tied for eighth.
Finishing in 52nd was Norwegian star Kjetil Jansrud, who said he was retiring at age 36. The winner of the Sochi Olympic Super-G and four other Olympic medals and the 2019 Worlds Downhill, he won 23 World Cup races and collected a total of 55 World Cup medals across 18 seasons.
Sunday's Super-G was the seventh win of the season for Kilde, timing 1:25.91 to edge Canada's Beijing Combined bronze medalist James Crawford (1:25.98) and Mayer, who won another bronze in 1:26.03. Cochran-Siegle tied for 11th (1:26.91).
¶
The women's tour continued in Lenzerheide (SUI) with a Super-G and a Giant Slalom … and Mikaela Shiffrin's first World Cup medal since 11 January.
Saturday's Super-G was won by France's Romane Miradoli, 27, who won her first individual World Cup medal – a gold – in 1:19.87. She was trailed by Shiffrin (1:20.25) with Beijing Super-G winner Lara Gut-Behrami (SUI: 1:20.75) third. It's Shiffrin's third medal of the season in the Super-G.
Sunday's Giant Slalom saw the second win of the season for France's two-time World Champion Tessa Worley (2:02.35), ahead of Beijing silver medalist Federica Brignone (ITA: 2:02.64) and Olympic gold medalist Sara Hector (SWE: 2:02.66).
Finishing fourth was Shiffrin (2:03.12), who had a good weekend and extended her lead in the overall World Cup to 1,156-1,039 over Slovakia's Petra Vlhova with two weeks to go.
● Athletics ● He is still the greatest.
Kenya's Eliud Kipchoge, twice Olympic gold medalist, added another title in a triumphant return to Tokyo, winning the Tokyo Marathon in an outstanding 2:02:40, the no. 4 performance in history.
Fellow Kenyan Amos Kipruto, the 2019 Worlds bronze medalist, was with Kipruto through 36 km and finished second in a lifetime best of 2:03:13, with Ethiopia's Tamirat Tola third in 2:04:14. Japan's Kengo Suzuki was fourth in 2:05:28.
Kipchoge now owns three of the top four performances ever and has now run 16 career marathons, winning 14. Kipruto moves to equal-9th on the all-time list with his runner-up mark. A sensational 27 runners finished under 2:10.
The women's title went to Kenyan world-record holder Brigid Kosgei in 2:16:02, the third-fastest performance on record. She ran away from Ethiopians Gotytom Gebreslase and Ashete Bekere after 35 km and won easily, with Bekere second in 2:17:58 and Gebreslase at 2:18:42.
Bekere scored a lifetime best and is now equal-11th on the all-time list. American Sara Hall was eighth at 2:22:56, her fourth-best marathon ever.
Kipchoge has said he wants to win all six of the World Marathon Majors races, so he still has Boston and New York to go. Wow.
¶
South African distance star Stephen Mokoka won the Nedbank #Runified 50 km (31.1 miles) road race in 2:40:13 for a world record on home turf at Gqeberha (formerly Port Elizabeth) on Sunday. He improved the initial record of 2:42:07 by Ketema Negasa (ETH) set in 2021.
Mokoka has run 2:07:40 for the marathon (42.2 km) and won by almost four minutes. His reaction? "I'm tired. It's a long way and I don't know how I'm going to feel later, but I enjoyed it."
Ethiopia's Amelework Fikadu Bosho won the women's 50 km in 3:04:58, not far off the women's world mark of 3:04:24.
¶
At the World Athletics Race Walking Team Championships in Muscat (OMA), the racers survived hot conditions to produce several surprises, including two team titles for Ecuador.
Japan's Toshikazu Yamanishi, the 2019 20 km World Champion, triumphed in Saturday's race, finishing in 1:22:52, ahead of teammate (and Olympic silver medalist) Koki Ikeda (1:23:29) and Kenyan Samuel Gathimba (1:23:52), who claimed the first medal for his country at this event. Ecuador's Brian Pintado (1:24:35) was fourth and led his squad to the team title, 25-26, over Japan, with China third at 45.
The men's 35 km race was an impressive win for Sweden's 2019 Worlds 20 km bronze medalist Perseus Karlstrom, who won by 40 seconds in 2:36:14 over Spain's Alvaro Martin and 1:13 ahead of Miguel Lopez (ESP). Karlstrom put on his trademark faux-Viking hat with 1,000 m to go and then embraced his mother, Siv Gustavsson at the finish; she was the winner of the 5 km Walk at the 1981 World Race Walking Cup! Spain won the team title, scoring 16 points, to 29 for China and 48 for Germany.
Friday's women's 20 km was a 1-2 for China, with Zhenxia Ma winning in 1:30:22, well ahead of world-record holder Jiayu Yang (1:31:54) and Peru's Kimberly Garcia Leon (1:32:27). The top U.S. finisher was Robyn Stevens in 37th (1:49:14). China won the team title with 10 points, ahead of Greece (30) and India (61).
The women's 35 km was dominated by Ecuador, a surprise winner of the race and the team title. Tokyo Olympian Glenda Morejon won in her debut at the distance in 2:48:33, well ahead of China's Maocuo Li (2:50:26) and Katarzyna Zdzieblo (2:51:48). Ecuador finished 1-5-6-7-9 and won the team race with just 12 points, with Spain at 28 and China at 29.
¶
Sensational vaulting at the Perche Elite Tour in Rouen (FRA) on Saturday, with Tokyo Olympic silver medalist Chris Nilsen of the U.S. getting a lifetime best 6.05 m (19-10 1/4) to not only win, but join Mondo Duplantis (SWE) at the top of the world list for 2022.
Nilsen's lifetime best moves him to equal-sixth on the all-time world list – indoors and out – and to no. 2 on the all-time combined U.S. list with an American Indoor Record. Nilsen had shared the indoor mark at 6.02 m (19-9) from earlier this year with Jeff Hartwig from 2002.
Philippine star Ernest John Obiena was second at 5.91 m (19-4 3/4), setting a national indoor record, with Rio 2016 gold medalist Thiago Braz third at the same height.
Slovenia's Tina Sutej, fifth at the Tokyo Games, won the women's competition with a national indoor record of 4.80 m (15-9).
¶
Poland's Ewa Swoboda, already the world leader in the women's 60 m at 7.00, won the Polish Indoor Championships in 6.99 in Torun. It makes her the 10th woman to break 7.00 all-time, the first since 2018 and the fifth this century!
¶
It's only an early-season meet in Grenada, but Twitter was full of replays of a season-opening, world-leading 44.47 (!) 400 m win by Tokyo 100 m silver medalist Fred Kerley of the U.S. His reaction: "Great day at the office 44.47."
● Biathlon ● The IBU World Cup circuit resumed in Kontiolahti (FIN), with France's Quentin Fillon Maillet back to his winning ways. He took the 10 km Sprint in 23:21.0 (no penalties), ahead of Filip Andersen (NOR: +18.3) and German Johannes Kuehn (+29.7). It's Fillon Maillet's eighth win of the season, including his two Olympic golds.
He got no. 9 on Sunday in the 12.5 km Pursuit, winning in 32:55.0, ahead of Erik Lesser (GER: +8.2) and Lukas Hofer (ITA: +8.8).
The women's 7.5 km Sprint was won by Olympic 15 km Individual gold medalist Denise Hermann (GER: 20:08.6; one penalty) for her seventh career World Cup victory (and second at Kontiolahti!). She was 5.0 seconds ahead of Norwegian star Tiril Eckhoff and 5.6 up on Sweden's Stina Nilsson.
Eckhoff got her 27th career World Cup win on Sunday in the 10.0 km Pursuit, winning in 31:40.8, some 15.9 seconds up on Italy's Dorothea Wierer and 19.5 seconds ahead of Hermann. Seasonal leader Marte Olsbu Roeiseland of Norway – who won this event in Beijing – was fourth.
● Cross Country Skiing ● The season-ending World Cup finals were canceled as they were scheduled for Tyumen (RUS), so the tour will end next week in Falun (SWE). This week, the skiers were in Norway for sprint and super-distance racing.
On Thursday (3rd), the sprint in Drammen produced the first win of the men's season for France, with Richard Jouve winning in 2:32.84, just ahead of Qiang Wang (CHN: 2:34.43) and Lucas Chanavat (FRA: 2:35.16). It's Jouve's 13th individual World Cup sprint medal, but his first win! Wang won his first career World Cup medal.
On Sunday was the famed 50 km Freestyle at Oslo's Holmenkollen course, with the home fans in a lather over a Norwegian sweep! The winner was unheralded Martin Nyenget, 29, who won only his third career World Cup medal and his first gold!
Nyenget won in 2:03:27.3, with countryman Sjur Roethe (2:03:27.9) just 0.6 behind – after 31.1 miles – and Didrik Toenseth third (2:03:30.8), the latter's first World Cup medal in three years.
¶
The women's Classical Sprint in Drammen was a minor upset for Norwegian star Maiken Caspersen Falla – the 2014 Olympic champ – who won for the first time this season, in 2:52.31, ahead of Swede Jonna Sundling (2:52.84) and Slovenia's Anamarija Lampic (2:54.28). Swedes had won five of the seven Sprints this season, but Falla's 22nd career World Cup win and first of the season.
The Oslo 30 km Free was another brilliant triumph for Norway's triple Beijing Olympic gold medalist Therese Johaug (1:19:22.8), who won decisively against Finn Krista Parmakoski (1:19:42.2) and Sundling (1:19:55.1). American Rosie Brennan was an impressive seventh (1:20:35.1).
Johaug, 33, announced her retirement in Oslo, and finishes as one of the greatest skiers in history. She won six Olympic medals – four gold – and took 14 World Championships victories and five other medals. Over 14 seasons, she won a staggering 81 races and collected 148 total medals.
● Cycling ● The 16th Strade Bianche in and around Siena (ITA) continued to underline the brilliance of Slovenian superstar Tadej Pogacar. Still just 23 and already a two-time Tour de France winner, he broke away from an excellent field – and in very windy conditions – with about 49 km remaining on the hilly, 184 km course and won in 4:47:49, fully 37 seconds up on Spain's Alejandro Valverde and 46 seconds ahead of Kasper Asgreen (DEN).
American Quinn Simmons finished seventh, 1:21 behind.
The 136 km women's Strade Bianche had 12 contenders heading into the last 1,000 m and ended with a sprint to the line between Belgium's Lotte Kopecky and Dutch two-time winner Annemiek van Vleuten, won by Kopecky in 3:39:14, with van Vleuten given the same time. South Africa's Ashleigh Moolman was third, ahead of Kasia Niewiadoma (POL), +0:10 to +0:19.
● Fencing ● The Westend Grand Prix in Epee in Budapest (HUN) was a showcase for London 2012 Olympic champ Ruben Limardo Gascon (VEN), who won his first Grand Prix gold by defeating Hungary's David Nagy, 13-5 in the final.
It's the first-ever international medal for Nagy, 22, who defeated equally-unknown Niko Vuorinen (FIN) in his semifinal, 12-11. Limardo Gascon sailed past Italian Gabriele Cimini, 13-9, in his semi.
The women's title went to Italy's Alberta Santuccio by 15-7 in the final against Hungarian Anna Kun, as both won their first Grand Prix medals. Santuccio, 27, had won two World Cup bronzes – in 2014 and 2018 – but took home the grand prize in Budapest. Kun, 26, won her first major international medal!
Estonia's Tokyo bronze winner Katrina Lehis, and Injeong Choi (KOR) shared the bronze.
¶
The women's Sabre World Cup in Athens (GRE) saw Anna Bashta (AZE) get her second career World Cup victory – both in the last six weeks – with a 15-12 win over Spain's Lucia Martin-Portugues. It was Martin-Portugues's first ever World Cup medal.
Sara Balzer (FRA) and Sylwia Matuszak (POL) shared the bronze medal.
In the team event, Italy won over Japan, 45-43 in the final, while the U.S. – Chloe Fox-Gitomer, Elizabeth Tartakovsky and Honor Johnson – defeated Poland, 45-44, for the bronze.
● Football ● The CONCACAF Women's U-20 Championship is continuing in the Dominican Republic, with the U.S., Mexico, and Canada all undefeated in their group matches (3-0) and Guatemala (2-0-1) winning the final group.
The Round of 16 is now underway, with the U.S. trouncing Surinam, 14-0 and Canada stomping the Cayman Islands by 13-0. The quarterfinals will be held on 8 March, with the U.S. facing Haiti and Puerto Rico vs. Guatemala in the upper bracket, and Canada vs. Panama and El Salvador vs. Mexico in the lower half.
The semis are on 10 March and the championship on 12 March.
● Freestyle Skiing ● The Slopestylers were in a dangerous part of the world in Bakuriani (GEO), with the Swiss sweeping the men's event and Canada's Megan Oldham taking the women's title.
Qualifying was canceled and 2021 World Champion Andri Ragettli, brothers Colin Wili and Thierry Wili went 2-3: 73.75-64.11-64.06 in the final in a small field of 10 riders.
Oldham, the 2021 Worlds bronze medalist, won her second career World Cup, scoring 75.41 to best 2018 Olympic champ Sarah Hoefflin (SUI: 72.38) and Germany's Alia Delia Eichinger (67.00) in a field of only four competitors.
● Gymnastics ● The FIG Apparatus World Cup was in Doha this week, for men's and women's competitions.
On the men's side, Tokyo Olympic Floor Exercise champ Artem Dolgopyat took the Floor title at 14.733, ahead of Illia Kovtun of Ukraine (14.333) and Aurel Benovic (CRO: 14.166). Kovtun won the Parallel Bars (15.166), well in front of Milad Karimi (KAZ: 14.566) and Russian Ivan Kuliak (14.533). Russian competitors were barred by FIG beginning on Monday (7th).
Kovtun won his third medal with a bronze in the Horizontal Bars (13.933), with Israel's Alexander Myakinin winning (14.333) and Robert Tvorogal (LTU: 13.933) second.
Nariman Kurbanov (KAZ: 15.200) won on Pommel Horse, ahead of Ireland's Rhys McClenaghan (14.933), and Armenia won on Rings with Vahagn Davtyan (14.700) and on Vault, with Artur Davtyan (15.033), with Ukraine's Nazar Chepurnyi (14.833) second.
The women's events starred 46-year-old Oksana Chusovitina of Uzbekistan – who once competed for the USSR and won a 1992 Olympic gold for the Unified Team – who won the Vault at 13.433. The other three events were won by Russians: Viktoriia Listunova on Uneven Bars (14.566), Vladislava Urazova on Beam (13.200) and Marila Minaeva on Floor (12.666).
● Nordic Combined ● The penultimate weekend of the World Cup season started with Norway's Jarl Magnus Riiber showing he is recovered from injury and making a late charge at a fourth straight seasonal title.
Riiber won in Oslo, leading in the jumping, then finishing first in the 10 km racing in 23:00.2, ahead of Austria's Johannes Lamparter (+53.9) and Beijing Large Hill silver medalist Jens Oftebro (NOR: +1:05.4). It was Riiber's 11th win of the season in 17 events.
On Sunday, again on the 134 m hill and 10 km race, Riiber won again in 24:00.9, ahead of Austrian Mario Seidl (24:18.7) and Oftebro (24:32.2). With two races left in the season, Lamparter is holding on to a 1,202-1,183 lead over Riiber with everything to be settled in Schonach (GER) next week.
● Shooting ● The ISSF World Cup in Rifle and Pistol in Cairo (EGY) concludes on Monday, with Norway surprising at the top of the medal table so far.
In the men's 10 m Air Pistol, Indian star Chaudhary Saurabh defeated Michael Schwald (GER), 16-6, in the final; Russian Artem Chernousov was third. The Team 10 m Air Pistol was won by Germany, 16-0, over Turkey.
Olympic champ Jean Quiquampoix (FRA) took the 25 m Rapid-Fire Pistol final on Sunday, 17-14 in the final against Ruslan Lunev (AZE), with Czech Martin Strnad third.
The 10 m Air Rifle was a 16-14 win for Danilo Dennis Sollazzo (ITA) over Patrik Jany (SVK), with Czech Jiri Privratsky third. Jany came back to win the 50 m Rifle/3 Positions, 16-10, over Zalan Pekler (HUN), with Croatia's Peter Gorsa third.
The men's Team 10 m Air Rifle was a win for Croatia over Italy, 16-10, and Austria won the Team 50 m Rifle/3 Positions event, 16-6 against the Czech Republic.
The women's 10 m Air Pistol was won by Greece's 2018 World Champion Anna Korikaki, who routed India's Esha Singh in the final by 16-4. The 25 m Pistol was a 16-15 cliff-hanger for Mathilde Lamolle (FRA) over Veronika Major (HUN), with Korakaki third.
In the 10 m Air Rifle, French star Oceanne Muller won the tournament, 16-14, in the final against Russian Anastasiia Galashina, competing as a neutral. American Alison Weisz won the bronze. Norway's Jeanette Duestad took a 17-13 win in the 50 m Rifle/3 Positions final over Sofia Ceccarello (ITA), with fellow Norwegian Jenny Stine taking third.
The women's 10 m Air Pistol team event was a gold for India, 16-6 over Germany. India won the women's Team 25 m Pistol final by 17-13 over Singapore, with Chinese Taipei third.
Hungary defeated Norway, 17-13 in the women's Team 10 m Air Rifle, and Slovenia overcame the U.S. trio of Mary Tucker, Katie Zaun and Sagen Maddalena in the Team 50 m Rifle/3 Positions final, 17-15.
In the Mixed Team events, Serbia defeated Turkey, 17-9 in the 10 m Air Pistol final; Norway won over Italy in the 10 m Air Rifle final, 17-15, and the Norwegians won the 50 m Rifle/3 Positions on Sunday over Germany, 16-8.
Monday has the finals of the Men's Team 25 m Rapid-Fire Pistol and the Mixed 25 m Air Pistol.
● Ski Jumping ● The six-stage Raw Air Tournament is on in Norway, with midweek jumping in Lillehammer and then two World Cups in Oslo on the weekend.
Although the Raw Air tournament counts the qualifying marks toward the overall standings, the first World Cup competition in Lillehammer was won by three-time World Champion Stefan Kraft (AUT), ahead of seasonal leader and Beijing Normal Hill gold winner Ryoyu Kobayashi (JPN), 294.1-289.0. German Karl Geiger was third (286.2).
On Saturday in Oslo, home favorite Marius Lindvik won for the fourth time this season, scoring 270.4, just ahead of Markus Eisenbichler (GER: 268.8) and Robert Johansson (NOR: 268.7).
On Sunday, Norwegian veteran Daniel Andre Tande – an Olympic Team gold medalist from 2018 – got his first win of the season, scoring 271.2, followed by Anze Lanisek (SLO: 267.1) and Kraft (266.9). And Kraft won the overall Raw Air title, ahead of Geiger and Kobayashi.
¶
The women were also in Lillehammer and Oslo, with Japan's Sara Takanashi winning the first of two events in Lillehammer, for her 62nd World Cup win, extending her own record. She scored 295.1 points to edge Slovenians Nika Kriznar (285.1) and Ursa Bogataj (282.3).
Seasonal leader Marita Kramer (AUT) won the second Lillehammer event at 299.9, just a point ahead of Kriznar (298.9) and Bogataj (291.1), who were 2-3 again, with Takanashi fourth (279.0).
Norway got a win in Oslo for its home fans, with Silje Opseth getting her first World Cup win in his 94th World Cup start! She scored 249.7 off the 134 m hill, to 271.1 for Kriznar and 237.7 for Takanashi.
Takanashi came back to win on Sunday, scoring 263.9 to edge Bogataj (259.3) and Japan's Yuki Ito (254.6), with Kriznar fourth.
Kriznar won the Raw Air title, besting Takanashi and Bogataj. In eight competitions in 2022, Kriznar has won twice and been second four times. She trails Kramer, 1,226-1,031, with two events next week remaining in the season.
● Snowboard ● Sunday's Slopestyle event in Bakuriani (GEO) had 13 starts for men and six for women, not surprising given the geography of the event and the war in Ukraine.
With many stars absent, the men's winner was Leon Vockensperger (GER: 84.75), over Valentino Guseli (AUS: 81.00) and Leon Guetl (GER: 77.00). Canada's 2017 World Champion Laurie Blouin won the women's event at 76.25, beating teammate Jasmine Baird (70.00) and Bianca Gisler (67.25).
These were the first World Cup medals of the season for everyone except Blouin.
● Speed Skating ● The ISU World Speed Skating Championships were on in Hamar (NOR), with the Sprint Championship on Thursday and Friday and the Allround program on Saturday and Sunday.
In the Sprint events, the two 500 m races went to Canada's Olympic 1,000 m silver medalist Laurence Debreuil (34.58) and Beijing 500 m bronze medalist Wataru Morishige (34.77). Japan's Tatsuya Shinhama was second both times and American Jordan Stolz (17) was an encouraging sixth in the first race and fifth in the second.
In the two 1,000 m races, Beijing Olympic champ Thomas Krol (NED) won the first (1:08.16), ahead of Olympic bronze winner Havard Lortentzen (NOR) and Dubreuil, with Stolz fifth. Then Krol (1:08.51), Lorentzen and Stolz (!) finished 1-2-3 in the second race.
Norway won the men's Team Sprint over Poland, 1:20.01-1:20.80.
The total times showed Krol as the overall Sprint World Champion at 138.705, with Lorentzen second (139.375) and Stolz third (139.485) for his first career Worlds medal! American Austin Kleba was 12th (141.805).
The women's Sprints had Femke Kok (NED: 37.78) winning the first 500 m race over Vanessa Herzog (AUT), and then Kok won again (37.93) ahead of Andzelika Wojcik (POL: 38.00) in round two. The 1,000 m winners were Olympic silver medalist Jutta Leerdam (NED: 1:14.88) over Kok and American Kimi Goetz in the first race and then Leerdam (1:14.96) ahead of Kok, Herzog and Goetz in the second.
The combined standings crowned Leerdam (151.140) as champ, with Kok (151.215) a very close second, Herzog third (152.225) and Goetz fifth (153.515).
The Netherlands took the women's Team Sprint, 1:27.42-1:20.09 over Poland.
In the men's Allround events, Dmitry Morozov (KAZ) won the 500 m in 36.12, and Sweden's double Olympic gold medalist Nils van der Poel won the 5,000 m in 6:13.45 on the first day. American Ethan Cepuran finished fourth (6:22.47) in the 5,000 m.
Sunday's 1,500 m was won by Olympic Mass Start champ Bart Swings in 1:46.03, with Dutch star Patrick Roest second and American Emery Lehman third (1:46.72). Casey Dawson of the U.S. was ninth. In the men's 10,000 m, van der Poel set a track record, winning in 12:41.56, more than 27 seconds ahead of Swings (13:09.21), with Davide Ghiotto (ITA) third.
That gave van der Poel the Allround title with 148.969, ahead of Roest (149.836) and Swings (150.218). Cepuran, Lehman and Dawson finished 8-9-11.
Japanese star (and Olympic silver winner) Miho Takagi won the women's 500 m (38.31) and triple Olympic winner Irene Schouten (NED) took the 3,000 m (3:58.00) on Saturday.
Takagi came back on Sunday to win the 1,500 m in 1:55.03 over Ragne Wiklund (NOR) and Antoinette de Jong (NED) and then Czech star Marina Sabilkova – a five-time Allround champion – won the 5,000 m in 6:51.75, beating Schouten, Wiklund and Takagi.
The scoring showed Schouten with a narrow win overall, 158.974 to 159.305 over Takagi, with de Jong third (159.798). American Mia Kilburg-Manganello was 12th. It's Schouten's first World Allround title, to go along with her three Olympic golds.
● Swimming ● The Tyr Pro Swim Series meet in Westmont finished on Saturday with Katie Ledecky taking her third win and world leads in four marks over the last two days of the meet.
Ledecky won the 800 m Free in 8:21.31 – she is already the world leader – to go with her earlier victories in the 1,500 m and 400 m Frees. Worlds 2017 bronze medalist Leah Smith of the U.S. was second and moved to second on the 2022 world list at 8:26.28.
Tokyo Medley Relay silver medalist Claire Curzan, 17, had a big day on Friday, moving to no. 2 in the world for 2022 with a 2:07.31 win over Olivia Smoliga (2:09.35) in the 200 m Back finals, then took the world lead in the 100 m Fly final, winning in 56.89 over Kelsi Dahlia (57.53).
Curzan came back on Saturday to win the 100 m Back in 58.94, no. 2 in the world this year, with Smoliga second (59.53) and Hali Flickinger third (59.78). Then she won the 50 m Free in a world-leading 24.59, ahead of Abbey Weitzeil (24.73), who had the world lead from her 24.84 in the prelims!
Tokyo double bronze medalist Flickinger got her second win of the meet in a star-studded 400 m Medley, winning in 4:36.46, 0.01 off the world lead for 2022. She finished ahead of Smith (4:39.78: no. 5 in 2022) and Ledecky (4:40.28).
Annie Lazor scored a solid, world-leading win over fellow U.S. stars Lilly King and Lydia Jacoby in the 200 m Breast final, 2:22.59-2:24.65-2:28.22. Leah Hayes posted the no. 2 time in the world for 2022 in the 200 m Medley prelims (2:11.22) and then won the final in 2:11.27.
Michael Andrew took a solid win in the men's 100 m Fly final, swimming the no. 2 mark in the world this year – 51.74 – ahead of Shaine Casas (51.77: no. 3) and Tokyo superstar Caeleb Dressel (51.79). Andrew also won the men's 50 m Free to end the meet in 21.73, tops in the world for 2022, beating Ian Ho (HKG: 22.22), Ryan Held (22.29) and Dressel (22.37).
Double Rio backstroke gold medalist Ryan Murphy won the men's 200 m Back with an impressive 1:56.78-1:58.09 swim over Casas on Friday and doubled up with a 53.03-53.28 win over Casas in the 100 m Back. Both marks moved Murphy to no. 2 in the world for 2022.
Will Licon won the 200 m Breast over Nic Fink, 2:11.75-2:12.20 and Sam Stewart took the 200 m Medley in 2:00.71.
Egypt's Marwan Elkamash got his third win in Westmont with a tight, 1:48.59-1:48.63 win over Jake Mitchell in the 200 m Free and then a fourth in the 800 m Free, winning in 7:58.65.
¶
In Australia, the New South Wales State Open produced several world-leading marks, including sprinter Shayna Jack on a tear, returning from her doping suspension.
Jack went to the top of the world list for 2022 in the women's 50 m Free (24.42) and 100 m Free 53.13), the latter a lifetime best. Still only 23, she once again appears to be a serious contender for medals in multiple future events.
Double Olympic gold medalist Ariarne Titmus took the world 400 m Free lead from Ledecky, winning in 4:00.03 and equaled Ledecky's world-leader in the 200 m Free at 1:54.66. Triple Tokyo gold medalist Kaylee McKeown won the 200 m Medley in 2:10.64, also the best in 2022.
Among the men, Elijah Winnington won the 400 m Free in 3:47.05 to top the year list.
In Marseille (FRA), Swedish sprint star Sarah Sjostrom took the world lead from Jack, winning the women's 50 m Free at the FFN Golden Tour in 24.33. British breaststroke star Adam Peaty won the 50 m Breast in a world-leading 27.16.
At the Canadian Trials Prep Selection Invite in Toronto, 15-year-old Summer McIntosh took the world lead in the 400 m Medley at 4:29.12, moving to no. 3 on the all-time list. She followed up with a world-leading 2:05.81 to win the 200 m Fly on Saturday. Wow!
You can receive our exclusive TSX Report by e-mail by clicking here. You can also refer a friend by clicking here, and can donate here to keep this site going.
For our 832-event International Sports Calendar for 2022 and beyond, by date and by sport, click here!