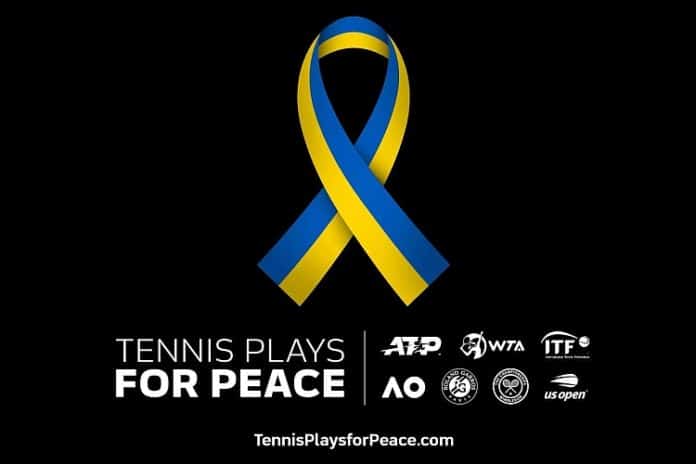 (★ So grateful to our 40 donors, who have covered 66% of our site costs for services for the first six months of 2022. If you enjoy this coverage, please donate here. ★)
● Plus: Winter Paralympic Games: Good U.S. ratings on NBC, not on USA = Aquatics: FINA does not ban Russians, Belarusians now, but might later = Football: Russian Football asks for stay of ban; FIFA advances Poland over Russia in World Cup qualifier = Gymnastics: Russian Kuliak would wear "Z" again = Tennis: $700,000 for Ukranian relief and Ukranian ribbons for BNP Paribas players = SCOREBOARD: Cycling: Mads Pedersen and Tim Merlier win at Paris-Nice and Tirreno Adriatico ●
The ongoing Russian invasion of Ukraine has overtaken the world of sport as it has so many other sectors of life outside of Eastern Europe. Since the incursion started four days after the close of the already-controversial Beijing Olympic Winter Games, most of the headlines in sport have been announcements by governing bodies of various sizes and types of sanctions against Russian and Belarusian athletes and teams.
Does this make a difference? Is it a waste of time?
Yes, it does. Sanctions are not a waste, and more are needed.
In the simplest terms, the Russian government has invaded a neighbor country with the goal of taking over and making it a puppet state. Although certainly not a European democracy in the style of Britain, France or Germany, Vladimir Putin's government still depends on the willingness of its 144 million people not to revolt against it. The Romanov dynasty ruled the country from 1613-1917, when it was overthrown by a popular revolt led by the Bolsheviks. Putin knows this history, as well as the 1989-91 implosion of the USSR, all too well.
The worldwide reaction to Russian aggression against Ukraine has been far different than the ineffective calls for peace during the Soviet military repression of reform movements in Hungary in 1956 or Czechoslovakia in 1968, or the limited response to Putin's invasion of Georgia in 2008 or the occupation of the Crimea region from Ukraine in 2014.
In a world now tied together by instantaneous communications, Russia's war against Ukraine is being shown, in real time, continuously around the globe. That means that the furor against it is also felt worldwide, even in Russia, where communications are tightly controlled.
So, in a country that hosted the Olympic Winter Games as recently as 2014, Russian athletes were not able to compete under their national flag in Beijing, wear national uniforms or hear its national anthem after its five uncontroverted gold-medal performances because of continuing sanctions following the state-sponsored doping scandal of 2011-15.
In a country that hosted the last FIFA World Cup – in 2018 – Russia will not play in 2022 because the country has been banned from international competitions. Same for its women's team at the 2023 FIFA Women's World Cup.
And on down the line. In most autocratic states, sports champions are used as proof of the validity of the controlled political and social system. So it is in Russia as well. And when their athletes are absent from competitions, or notably restricted, people take notice.
Would Americans be aware of such a situation if similar sanctions were placed on U.S. athletes? You bet we would. But our sports landscape is primarily domestic and not international. But it will be instructive to see how the audience in Indian Wells, California responds to Russia's world men's tennis no. 1 Daniil Medvedev – competing as a neutral – at the gaudy BNP Paribas Open that began yesterday.
Medvedev removed the Russian flag from his Instagram page and made a plea for peace on Twitter last week.
It is true that sport only goes so far, but in a world dealing with a continuing pandemic and war, emotions matter and influence our behavior. The observation – apparently from an official of the Mormon Church – of "They may forget what you said – but they will never forget how you made them feel" applies.
And sport deals in feelings. It matters when the world says: "we don't want you."
And in international sports, it is the International Olympic Committee that said it loudest.
Its 28 February request to "not invite or allow the participation of Russian and Belarusian athletes and officials in international competitions" has been picked up by many (but not all) of the International Federations. The request carries so much weight that all three Olympic-program International Federations whose presidents are Russian eliminated them from their events:
● International Boxing Association (Umar Kremlev): banned Russian or Belarusian participation on 4 March.
● Federation Internationale de Escrime (Alisher Usmanov): banned Russian and Belarusian participation on 2 March. Usmanov stepped away from the federation presidency on 1 March.
● International Sport Shooting Federation (Vladimir Lisin): banned Russian and Belarusian participation on 7 March.
Beyond the Olympic federations, even the International Sambo Federation – whose sport is a style of wrestling promoted by Russia – responded, by allowing Russians and Belarusians to compete without national symbols, flags or anthems at its events. This is certainly not a ban, but is remarkable considering that Russian Vasily Shestakov is not just the ISF President, but is a member of the Russian Parliament, the Duma!
Governments are getting into the sports sector as well. The British Culture Secretary, Nadine Dorries, organized a 3 March teleconference attended by government officials from 26 countries and International Paralympic Committee President Andrew Parsons (BRA) with the aim that all of them would (eventually) ban Russian and Belarusian athletes from competing in their countries.
Small things matter and in the face of war, sport is a small thing. But sport is relevant and it tells the aggressors (and their populations) that they are unwelcome on the field of play in many sports where Russians or Belarusians have been winners, and – at a minimum – not as Russians or Belarusians in others.
Rich Perelman
Editor
≡ THE 5-RING CIRCUS ≡
● XIII Winter Paralympic Games ● Modest interest has been shown in the Winter Paralympics by U.S. audiences on NBC and USA Network.
The two NBC broadcasts did well, with 1.273 million watching last Saturday in primetime and 659,000 watching on Sunday at noon Eastern.
On USA Network, the viewership was a lot less (all times Eastern):
● 4 Feb.: 6:30 a.m.: 96,000 (Opening live)
● 4 Feb.: 9:00 p.m.: 153,000 (Opening tape)
● 5 Feb.: 9:00 p.m.: 139,000
The USA Network coverage on Sunday (6th) was not in the top 150 shows viewed on cable that day.
● World Anti-Doping Agency ● WADA issued new guidance for testing in Ukraine, Russia and Belarus, starting with "As it relates to testing, WADA understands that testing in Ukraine is simply not possible," but that testing of Ukrainian athletes who live elsewhere should continue.
As for Russia:
● "WADA has been in contact with the Russian Anti-Doping Agency (RUSADA) and confirms that its anti-doping program continues to operate.
● "Regarding testing of Russian athletes, despite the ban on Russia imposed by a number of [anti-doping organizations], WADA encourages all ADOs to continue to conduct testing on Russian athletes, whether in Russia or abroad, based on their risk assessment and test distribution plans."
Testing in Belarus has apparently not been impacted so far.
● Aquatics ● On Tuesday, FINA announced that it will continue to permit Russian and Belarusian competitors to participate in FINA events, but as neutrals. But there was more:
"[T]he FINA Athletes' Committee which confirmed its opposition to a blanket ban of Russian and Belarusian athletes. The FINA Bureau recognised, however, that concerns about the safety of athletes and the viability of events might warrant the exclusion of athletes and or teams in some circumstances.
"Further to their commitment to monitor the grave situation and make further decisions as appropriate, the FINA Bureau added to the measures at FINA's disposal and passed a new bylaw that now provides FINA with the power to review the participation of athletes and officials at FINA events on a case-by-case basis in emergency situations, such as the current war in Ukraine.
"With this legal basis now in place, FINA could potentially prevent athletes and officials from Russia and Belarus from attending any upcoming FINA event if their attendance threatens the safety and wellbeing of athletes or places the conduct of competition at risk."
● Football ● The Court of Arbitration for Sport noted the filing of an appeal by the Russian Football Union against FIFA and UEFA to remove all Russian teams and clubs from participation in their events.
The RFU is asking for both bans to be overturned, but in the meantime, a stay of execution of both bans in order to allow its teams to compete until the appeal is fully heard.
¶
In the meantime, FIFA gave Poland – scheduled to play Russia on 24 March – a bye into the European Path B final of the 2022 FIFA World Cup qualifying tournament. Poland will meet the winner of Sweden vs. Czech Republic on 29 March.
The Ukraine vs. Scotland match in Path A is being postponed to June.
● Gymnastics ● Ivan Kuliak, the 20-year-old Russian gymnast who placed third on the Parallel Bars at the FIG Apparatus World Cup in Doha (QAT) last week, defended his placement of a "Z" on his uniform, a symbol which has pro-invasion meanings. He was referred for disciplinary action by the Federation Internationale de Gymnastique, but defended his action to Russia Today television:
"If there was a second chance and I had a choice whether to go out with the letter 'Z' on my chest or not, I would do the same.
"I saw it on our military and looked at what this symbol means. It turned out to be 'for victory' and 'for peace'. I just wanted to show my position.
"As an athlete, I will always fight for victory and play for peace."
The FIG has banned Russian and Belarusian athletes from participation in international events from 7 March.
● Tennis ● The International Tennis Federation announced a joint donation of $700,000 for Ukrainian relief, in concert with the men's tour (ATP), women's tour (WTA) and the Grand Slam tournaments:
"Today each of the seven entities has donated $100,000 USD to the humanitarian relief efforts, with donations supporting Global Giving's Ukraine Crisis Relief Fund which will provide immediate help on the ground across the region, as well as the Ukraine Tennis Federation.
"The seven bodies will also signal support via their social and digital platforms by prominently featuring the Ukraine ribbon icon, with everyone in the tennis ecosystem encouraged to use the hashtag #TennisPlaysforPeace. In addition, physical ribbons will be distributed for ATP & WTA players to wear at the upcoming BNP Paribas Open tournament in Indian Wells."
It will be fascinating to see which, if any, of the Russian players at Indian Wells wear the blue-and-yellow ribbons.
≡ SCOREBOARD ≡
● Cycling ● Another mass finish in stage 3 of the 80th Paris-Nice race, with Danish star Mads Pedersen getting to the line first in 4:23:29 for the 190.8 km course from Vierzon to dun-le-Palestel.
Pedersen got the best of Bryan Coquard (FRA) and Wout van Aert (BEL), who has finished 3-2-3 in the stages so far and sits second overall, trailing France's Christophe Laporte by one second. The race continues through Sunday.
At the second stage o the 57th Tirreno-Adriatico in Italy, Belgium's Tim Merlier won another mass sprint at the end of a hilly, 219.0 km route from Camaiore to Sovicille. Olav Kooij (NED), Kaden Groves (AUS) and Slovakian icon Peter Sagan were 2-3-4 among 156 riders given the same time.
You can receive our exclusive TSX Report by e-mail by clicking here. You can also refer a friend by clicking here, and can donate here to keep this site going.
For our 832-event International Sports Calendar for 2022 and beyond, by date and by sport, click here!