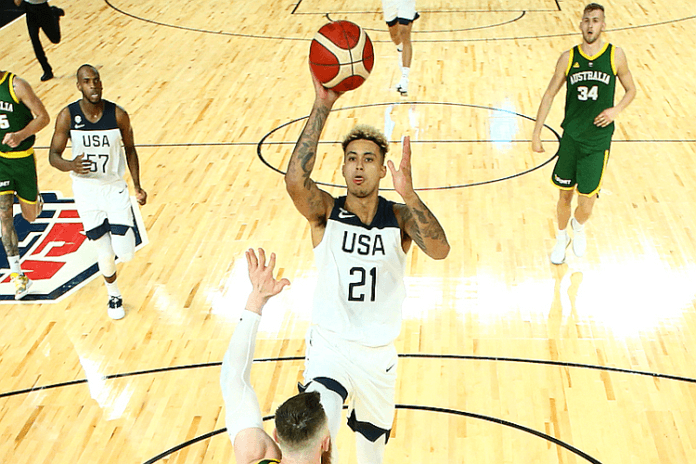 The U.S. men's World Cup team took another step forward on Thursday with a convincing 102-86 win over Australia at the Marvel Stadium in Melbourne.
Normally used for Australian Rules Football, a basketball court was installed in the middle of the field and the huge crowd of 51,218 – reportedly the largest to see a basketball game in the country – saw a tight game into the third quarter before the American squad took over.
"We have guys that are just starting to play with each other," said U.S. guard Donovan Mitchell, who had 13 points. "We got off to a little bit of a rough start in the first half, but the third quarter, we really picked it up defensively."
The U.S. had a 22-20 lead after a quarter and moved out to a 42-31 lead with 2:38 to play in the first half, but Australia roared back on three-pointers by reserve guard Chris Goulding and six points from Patty Mills to close the half down only 44-43.
The third quarter was another story. Australia took a 45-44 lead on an Aron Baynes layin, but then the U.S. scored 13 points in a row for a 57-45 lead and had control of the game from then on. Myles Turner scored five and Harrison Barnes and Donovan Mitchell both had three-pointers and the U.S. closed the period with a 76-61 lead.
The fourth-quarter lead reached 20 at 93-73 and the final was 102-86. Kemba Walker led the U.S. with 23 points (21 in the second half) and six players reached double figures: Turner had 15, Mitchell, 13; Kyle Kuzma, 12; Jayson Tatum and Jaylen Brown both had 11.
The U.S. shot 48% from the floor and 43% from the three-point line, while holding the Boomers to 40% shooting. The U.S. again showed excellent rebounding strength, with a 54-36 edge and turnovers were way down, from 23 vs. Spain to just 13 this time. The full box score is here.
Said U.S. head coach Gregg Popovich, "We got used to the physicality, and changed up a couple things and we had some guys that did a good job. Myles Turner came in and gave us a big punch there, he was great.
"Obviously Kemba in pick-and-roll is pretty tough to guard, so we're learning what we should be running offensively and what we should be doing based on our personnel. We're obviously not an experienced team, these guys have never played together, so I think they're doing a really good job of trying to come together quickly and learn about each other."
The Associated Press reported that "The roof of Marvel Stadium was closed and the court was placed in the middle of the field surrounded by hundreds of white chairs, more than 20 rows deep, for fans who paid for floor seating."
Mills and Goulding led Australia with 19 points each. The two teams will play again at Marvel Stadium on Saturday. The game will start at 2:00 p.m. local time and will be shown on NBA TV at 12 a.m. Eastern time on Saturday morning in the U.S.