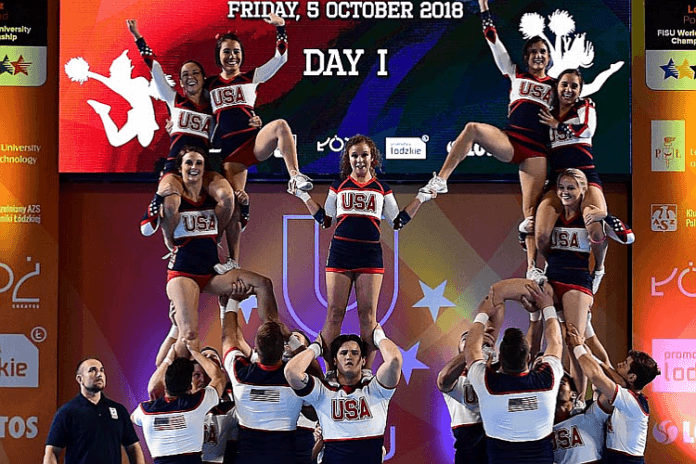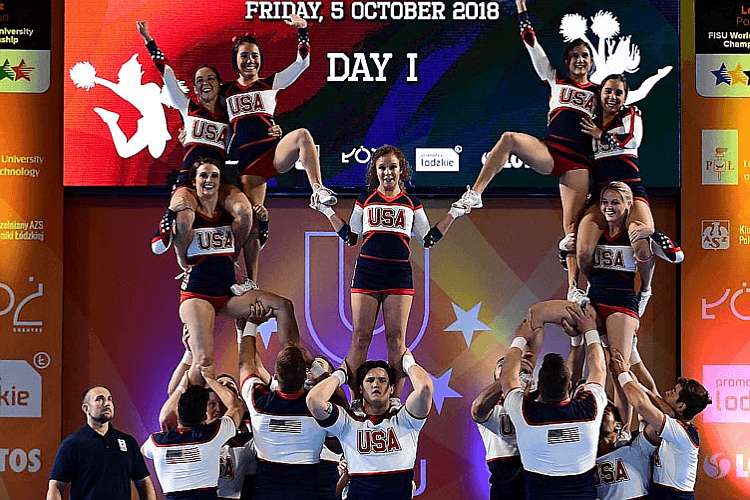 ≡ TSX DAILY ~ 22 August 2019 ≡
| 1. |  UNIVERSITY SPORT: FISU slowly moving toward college vs. college championship matches
Fans of American collegiate sports already flock to see spectacles such as the Rose Bowl and the College Football Playoff championship games held in the U.S., but what if there was an even bigger game out there?
Like a world championship, open to universities around the world?
It could happen. Slowly but surely, the international governing body of university sports, the Federation Internationale de Sports Universitaire, or "FISU" – is moving toward this model, following informal consultations with the National Collegiate Athletic Association (NCAA) in the U.S.
On Monday, the FISU announced that it was creating a new "University World Cup" series which would match collegiate teams, starting in two years:
"From 2022 onwards, the competitions in American Football, Floorball, Handball and Cheerleading will be held as University World Cups – a competition between university teams rather than national squads – instead of a Championship." 
FISU Secretary General-CEO Eric Saintrond (BEL) explained that "These events create an alternative set-up to regular competition between national teams. In fact, to maximise the potential of the university sports movement, we believe this format of university teams competing against each other is crucial. It will increase participation in these sports even further, not just at our events but in universities worldwide as the finalists come through continental qualifiers."
The choice of sports is interesting, with American Football and Cheerleading obvious nods to the U.S., but Floorball and Handball are much more popular in Europe than in the U.S.
Nonetheless, it's an interesting pilot program and could pave the way for more intense competitions in sports such as Beach Volleyball and Cross Country, which now have World University Championships, based on national teams.
It's not too difficult to see into the future to sports with much larger commercial potential such as Basketball and Gymnastics, pitting – perhaps – North Carolina and the University of Sydney on the hardwood or Oklahoma or UCLA against Lomonosov Moscow State University in women's gymnastics!
This is a long-term project, but an impressive show of progress for the FISU and its Russian President, Oleg Matytsin, himself a long-time professor and author about psychology and sport. There are many who have wondered what FISU could do to make itself actually relevant to the world of sport, beyond the minor role it has now. This could be it.
| 2. | SPORT CLIMBING: Tomoa Narasaki and Janja Garnbret confirmed as Tokyo favorites
The IFSC World Championships concluded in Hachioji, Japan on Wednesday with the finals of the Combined events, the ones that will be contested at the Olympic Games in Tokyo next year.
Comprised of a Speed race, a Bouldering trial and a Lead event, each athlete's placements are multiplied against each other to calculate their point total. In Hachioji, Slovenia's Janja Garnbret had already won the world titles in Bouldering and Lead, so she was a big favorite going into he Combined (in which she was already the defending World Champion).
She was sixth out of eight finalists in Speed – no surprise there – then was second in Bouldering and first in Lead, so she scored 12 points (6*2*1). Japan's Akiyo Noguchi was seventh in Speed, but won the Bouldering event over Garnbret and had a chance to win in Lead, but missed a jump and ended up third. That gave her 21 points (7*1*3) and the silver medal.
The men's event was a showcase for Japan's World Bouldering Champion Tomoa Narasaki (pictured). He was good on the Speed test, making to the final match before falling (and therefore finished second). He won Bouldering easily – the only one to complete all three problems – and then managed a second–place finish in Lead to generate a score of just four points (2*1*2)!
Austria's Jakob Schubert (7*5*1) scored 35 points for second and surprising Kazakh Rishat Khaibullin, a Speed star, was third with 40 (1*8*5).
There's no doubt of Garnbret's favorite status in the women's Combined and Narasaki was impressive in Hachioji, but will be challenged by Schubert and possibly Czech Adam Ondra. The latter didn't qualify for the finals after a low score in Lead, which he protested, but lost. He will have future opportunities to get into the Tokyo field. More coverage here.
| 3. | SNOWBOARD: Corning in New Zealand to defend 2018 title in Winter Games NZ Big Air
It's hard to believe, but the 2019-2020 FIS Snowboard World Cup season really is starting in Cardrona (NZL) this weekend with a Big Air competition.
This is the third year that a World Cup program has been held in New Zealand, in conjunction with the Winter Games NZ. Last year, Snowboard Big Air was also held and the top two finishers ended up being at the top of the seasonal standings as well.
American Chris Corning (pictured) is in Cardrona to defend his 2018 title, where he finished ahead of eventual World Cup seasonal winner Takeru Otsuka (JPN). Corning is the reigning World Champion in Slopestyle from the 2019 Worlds held in Utah last February (Big Air was canceled due to bad weather). Also on the trip is American Red Gerard, who famously won the 2018 Olympic Slopestyle title in PyeongChang.
The women's Snowboard Big Air in Cardrona last year was a 1-2 finish for Japan, with Reira Iwabuchi winning ahead of Miyabi Onitsuka, and they finished 1-2 in the seasonal standings as well.
The Snowboarders will lead off, to be followed next week by a Freestyle Skiing Big Air competition. Check out our preview here.
| 4. | BASKETBALL: U.S. men's World Cup team plays first of three exhibitions in Oz
Fresh from the nerves-settling 90-81 win over no. 2-ranked Spain at the Honda Center in Anaheim last week, the U.S. men's World Cup team is in Melbourne for the first two exhibition games against Australia.
Ranked 11th in the world, Australia has a veteran roster, which includes current or recent NBA veterans including Andrew Bogut, Patty Mills, Aron Baynes, Matthew Dellavedova and others. The first game is on Thursday (22nd) with a 5:30 a.m. start time in the Eastern time zone (7:30 p.m. in Australia). The game will be played at the Marvel Stadium, usually used for Australian Rules Football and a crowd of up to 45,000 is expected, with the basketball floor placed in the center of the field!
The U.S. will play Australia again on the 24th, also in Melbourne, then move on to Sydney to play Canada in a final exhibition on the 26th. The World Cup will start on 31 August in China, with the U.S. starting on 1 September in Shanghai against the Czech Republic. More coverage here.
| 5. | COMING ATTRACTIONS: Rhythmic Gymnastics in Romania; Cycling in Hamburg
Also on tap this week:
● The second FIG Rhythmic World Challenge Cup is on for Cluj Napoca in Romania. Israel's Linoy Ashram is the likely star, but there will be interest in the newest Russian sensation, 16-year-old Daria Trubnikova, the 2018 Youth Olympic Games All-Around gold medalist. American champion Laura Zeng, the first to ever win a Rhythmic World Cup medal, will look to add a first World Challenge Cup medal. Preview here.
● The 24th EuroEyes Cyclassics Hamburg brings the top sprinters not in Spain for La Vuelta a Espana together on a flat course on Sunday. Italy's Elia Viviani has won the last two in a row and no one has ever won more than that, so he will be looking for both a win and a new record. Preview here.
Look for an in-depth preview of 2019's La Vuelta a Espana later this week.
| 6. | FIGURE SKATING: Noted coach Richard Callaghan banned by U.S. Center for SafeSport
On Wednesday, U.S. Figure Skating posted the declaration of the U.S. Center for SafeSport, including:
"On March 6, 2018, U.S. Figure Skating adopted the measure issued by the U.S. Center for SafeSport suspending the membership of Richard Callaghan. On August 21, 2019, the U.S. Center for SafeSport issued the following Sanction regarding Richard Callaghan which is subject to appeal:
"Sanction: Permanent Ineligibility
"Respondent Richard Callaghan is permanently prohibited from participating, in any capacity, in any activity or competition authorized by, organized by, or under the auspices of the United States Olympic Committee, the national governing bodies recognized by the United States Olympic Committee, and/or a Local Affiliated Organization of a national governing body recognized by the United States Olympic Committee."
Callaghan is a famed coach, who assisted 1996 World Champion Todd Eldredge and 1998 Olympic Champion Tara Lipinski to their career-defining performances. He was accused of misconduct back in 1999 by former student and coaching assistant Craig Maurizi, but the case did not result in any sanctions.
On 9 August of this year, former skater Adam Schmidt filed suit against Callaghan, alleging sexual assaults from 1999-2001, when Schmidt was still a minor.
There is no indication yet whether Callaghan will appeal his sanction.
| 7. | SKI JUMPING: Norwegian superstar Lundby injured in training, but not in a jump!
Norway's Maren Lundby (pictured) has been the best women's ski jumper in the world for the past two seasons, winning the 2018 Olympic gold and the 2019 World Championships. But she was injured during a training session last week in Lillehammer (NOR), but not during a jump.
"In order to move the starting bar, you have to climb over to the other side of the inrun. I was holding on to the bar, climbed over and then I lost my footing. It was raining a lot in the morning so it was very wet on the side of the inrun track. All of a sudden I was lying on my back and sliding down the inrun. I tried everything I could to slow down, with both arms and legs. I just could not stop and so I fell over the edge of the take-off table. I landed on one leg/knee and then my head hit the concrete. Fortunately, I was wearing a helmet."
Lundby was fortunate, as subsequent imaging showed no broken bones, but she did suffer a concussion and a bruised knee. It's estimated that the effects might last for more than a month, but as of now, her 2019-20 season is not threatened.
A FIS Ski Jumping World Cup is the U.S. once again is becoming a possibility. The State of Michigan has appropriated funds to create a year-round jumping facility on its Upper Peninsula as a training and tourism attraction that could be open as early as 2021.
The last FIS World Cup was held at Park City, Utah in February of 2004. Two World Cups have been held previously at Iron Mountain, Michigan, in 1996 and 2000, Said longtime FIS Race Director Walter Hofer, head of the Ski Jumping program for the federation, "Bringing an event back to North America has been a priority for us."
| 8. | SWIMMING: Court hearing on doping allegations vs. Yang Sun will be public
The next act in the continuing circus over doping allegations against China's superstar Freestyler Yang Sun will be played out in public, according to the announcement by the Court of Arbitration for Sport:
"The Court of Arbitration for Sport (CAS) is conducting an appeal arbitration procedure brought by the World Anti-Doping Agency (WADA) against the Chinese swimmer Sun Yang and the Fédération Internationale de Natation (FINA) in relation to a decision issued by the FINA Doping Panel dated 3 January 2019 whereby Sun Yang was found not to have committed an anti-doping rule violation following an out-of-competition doping control."
Originally scheduled for September, the date will be sometime in October, almost certainly in Switzerland. As the Court noted, "This will be the second time in the history of CAS that a hearing is held in public. The first public hearing, which took place in 1999, was also related to the sport of swimming, in the matter Michelle Smith De Bruin v. FINA."
A triple Olympic gold medalist in the 200-400-1,500 m Freestyles, Sun has been highly scrutinized over doping since a 2014 incident in which he was banned for three months by the Chinese Swimming Association. The positive finding and subsequent penalty were not disclosed until after the penalty period was concluded, and there was an inference of a cover-up.
In 2018, Sun was reported to have acted improperly during an out-of-competition test at his home last September, including the smashing of blood sample vials. FINA investigated the matter and cleared Sun, but the World Anti-Doping Agency appealed the matter to the Court of Arbitration for Sport.
The question of Sun and doping became a cause celebre at the recent FINA World Championships in Korea, when Australian silver medalist Mack Horton refused to stand on the awards podium with Sun after his win in the 400 m Free, and Britain's Duncan Scott refused to shake his hand after Sun won the 200 m Free, his 11th World Championships victory.
Now WADA's appeal, and Sun's defense, will seen publicly. Who holds the television rights to the Court of Arbitration for Sport?