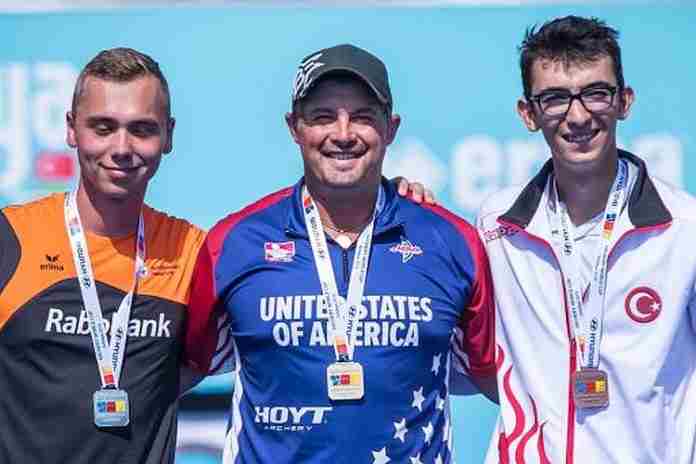 "From the very first arrow I shot on the practice field I just knew I was gonna be on, and that I was gonna have a good day.
"I shot eight 30s in a row on the practice field right before that match, and then got out there and everything hit exactly where I thought it would. I caught that last arrow and I couldn't be happier."
That was American shooting star Brady Ellison, who dominated the men's Recurve division at the World Archery World Cup in Antalya (TUR). He defeated Dutch star Steve Wijler, 6-0, in the final.
Ellison has now won two of the three World Cup stages this season and has won two stages in a single season for the first time since 2011. It was his 12th World Cup gold – including four World Cup Finals – and moved him to no. 4 on the World Archery rankings. He's in a good spot with just a couple of weeks left until the World Archery Championships in the Netherlands.
That gave the U.S. a sweep of the men's classes, as 21-year-old James Lutz, shooting in his first World Cup, won the gold medal with a 150-149 decision – a perfect score – over fellow American Kris Schaff.
"I feel good still a little bit jittery. It was fun it was hot out there, a lot hotter out there than the practice field that's for sure," said Lutz afterwards. "It's always hard beating a teammate, I mean he shot a 149. I knew he wasn't going to give me any room so I just had to hit every shot. But he shot very well and I am proud of him, too."
The U.S. also won a Team Recurve bronze with Ellison, Jack Williams and Tom Stanwood, and Alexis Ruiz – who had won two World Cup bronzes this season – moved up to silver, losing in the women's Compound final to South Africa's Danelle Wentzel, 144-141.
The U.S. women's Compound squad of Ruiz, Paige Pearce and Cassidy Cox won gold, defeating Russia, 229-226 in the final.
In the women's Recurve final, China's Yichai Zheng won her first career World Cup with a tight, 6-4 victory over Russia's Sayana Tsyrempilova. Summaries:
World Archery World Cup
Antalya (TUR) ~ 20-26 May 2019
(Full results here)
Men
Recurve: 1. Brady Ellison (USA); 2. Steve Wijler (NED); 3. Mete Gazoz (TUR); 4. Mauro Nespoli (ITA). Semis: Wijler d. Gazoz, 6-4; Ellison d. Nespoli, 6-4. Third: Gazoz d. Nespoli, 7-3; Final: Ellison d. Wijler, 6-0.
Team Recurve: 1. China (Feng, Ding, Wei); 2. Italy; 3. United States (Brady Ellison, Jack Williams, Thomas Stanwood); 4. Ukraine. Semis: China d. Ukraine; Italy d. U.S., 5-4 (shoot-off: 27-27). Third: U.S. d. Ukraine, 6-2. Final: China d. Italy, 5-1.
Compound: 1. James Lutz (USA); 2. Kris Schaff (USA); 3. Mike Schloesser (NED); 4. Daniel Munoz (COL). Semis: Lutz d. Munoz, 149-146; Schaff d. Schloesser, 148-148 (shoot-off: 10-10, closest to the center). Third: Schloesser d. Munoz, 150-147. Final: Lutz d. Schaff, 150-149.
Team Compound: 1. Denmark (Stephan Hansen, Martin Damsbo, Mads Knudsen); 2. Turkey; 3. India; 4. Russia. Semis: Turkey d. India, 234-233; Denmark d. Russia, 237-235. Third: India d. Russia, 235-230. Final: Denmark d. Turkey, 232-230.
Women
Recurve: 1. Yichai Zheng (CHN); 2. Sayana Tsyrempilova (RUS); 3. Ya-Ting Tan (TPE); 4. Alejandra Valencia (MEX). Semis: Zheng d. Tan, 6-2; Tsyrempilova d. Valencia, 7-1. Third: Tan d. Valencia, 6-5 (shoot-off: 10-8). Final: Zheng d. Tsyrempilova, 6-4.
Team Recurve: 1. Chinese Taipei (Tan, Lei, Peng); 2. Mexico; 3. Russia; 4. Spain. Semis: Chinese Taipei d. Spain, 6-2; Mexico d. Russia, 5-3. Third: Russia d. Spain, 5-4 (shoot-off: 27-27, closest to the center). Final: Chinese Taipei d. Mexico, 5-1.
Compound: 1. Danelle Wentzel (RSA); 2. Alexis Ruiz (USA); 3. I-Jou Huang (TPE); 4. Viktoria Balzhanova (RUS). Semis: Ruiz d. Balzhanova, 146-145; Wentzel d. Huang, 147-143. Third: Huang d. Balzhanova, 144-143. Final: Wentzel d. Ruiz, 144-141.
Team Compound: 1. United States (Paige Pearce, Alexis Ruiz, Cassidy Cox); 2. Russia; 3. Great Britain; 4. India. Semis: U.S. d. Great Britain, 234-232; Russia d. India, 232-232 (shoot-off: 30-29). Third: Great Britain d. India, 228-226; Final: U.S. d. Russia, 229-226.
Mixed
Team Recurve: 1. Elia Caneles/Miguel Alvarino Garcia (ESP); 2. Elena Osipova/Erdem Irdyneev (RUS); 3. Yasemin Anagoz/Mete Gazoz (TUR); 4. Fanxu Meng/Hao Feng (CHN)
Semis: Spain d. China, 5-1; Russia d. Turkey, 5-3. Third: Turkey d. China, 6-0. Final: Spain d. Russia, 5-3.
Team Compound: 1. Jeanine van Kradenburg/Reuben Brent-Meek (RSA); 2. Tanja Jensen/Stephan Hansen (DEN); 3. Turkey; 4. Italy. Semis: Denmark d. Italy, 155-153; South Africa d. Turkey, 156 (shoot-off; 20-20, closest to the center). Third: Turkey d. taly, 154-152. Final: South Africa d. Denmark, 158-157.