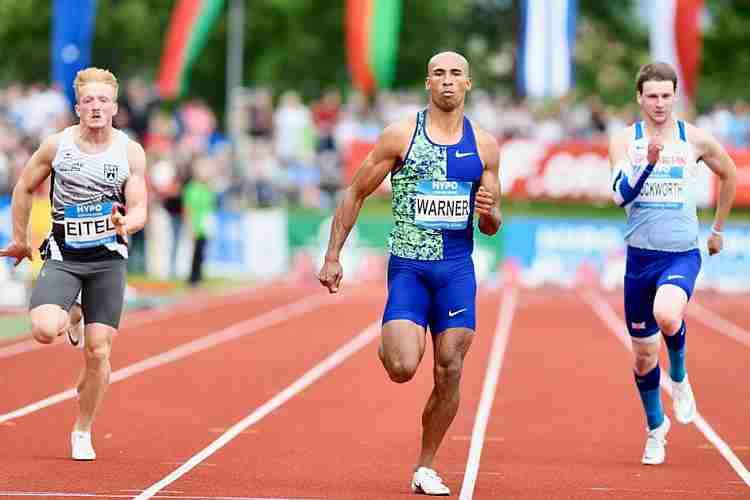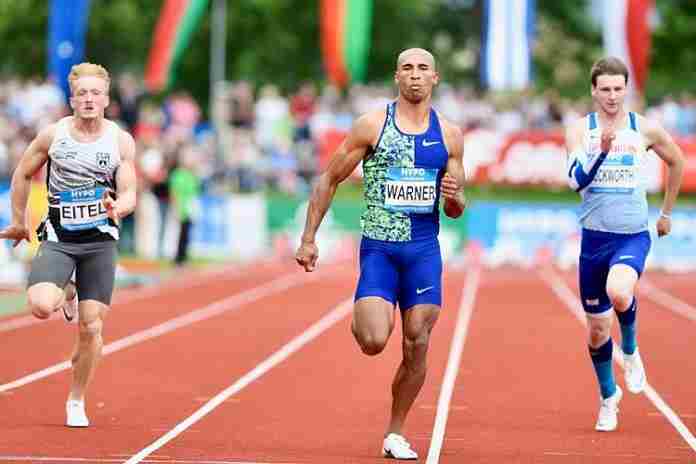 It's no guarantee of success at the World Championships later this year in Doha (QAT), but Canada's Damian Warner and Britain's Katarina Johnson-Thompson stamped themselves as strong medal favorites with impressive wins at the 45th Hypomeeting in Gotzis (AUT).
For decades, Gotzis has been one of the special venues for the combined events and Warner equaled former world-record holder Roman Sebrle (CZE) with his fifth win there. He led from start to finish, running a startling 10.12 in the 100 m, the fastest ever run in decathlon competition! It better Warner's own mark of 10.15, also run at Gotzis, back in 2016.
He hardly let up and led, 4,596-4,436 over Ashley Moloney (AUS) after the first day. Warner won the 110 m hurdles in 13.64 to start day two and finished with an 8,711-8.473 win over Grenada's Lindon Victor. That's short of Warner's lifetime best of 8,795 from his 2018 win in Gotzis, but is his second-best score ever and the 2019 world leader.
Johnson-Thompson's winning score of 6,813 was not only a personal best and a world leader, but moved her to no. 18 all-time and no. 3 all-time in British history.
She sailed into the lead with the fastest 200 m in the field to close the first day with a 4,034-3,857 lead over Kendell Williams of the U.S. On day two, Johnson-Thompson crushed everyone in the long jump at 6.68 m (21-11) and was on her way to victory.
Latvia's Laura Ikauniece took over second after the javelin and Williams and Erica Bougard of the U.S. faded to fifth and sixth overall at the end. Germany's Carolin Schaefer, expected to challenge Johnson-Thompson, finished fourth (6,426) behind a lifetime best of 6,469 for Xenia Krizsan (HUN). Summaries:
IAAF Combined Events Challenge/Hypomeeting Gotzis
Gotzis (AUT) ~ 25-26 May 2019
(Full results here)
Men/Decathlon: 1. Damian Warner (CAN), 8,711; 2. Lindon Victor (GRN), 8,473; 3. Maicel Uibo (EST), 8,353; 4. Niklas Kaul (GER), 8,336; 5. Pieter Braun (NED), 8,306. Also: 19. Devon Williams (USA), 7,924; … 25. Tim Ehrhardt (USA), 6,856.
Women/Heptathlon: 1. Katarina Johnson-Thompson (GBR), 6,813; 2. Laura Ikauniece (LAT), 6,476; 3. Xenia Krizsan (HUN), 6,469; 4. Carolin Schaefer (GER), 6,426; 5. Kendell Williams (USA), 6,412. Also: 6. Erica Bougard (USA), 6,374; … 12. Annie Kunz (USA), 6,098; … 18. Chari Hawkins (USA), 5,972; … 21. Allison Reaser (USA), 5,902; … 28. Lindsay Schwartz (USA), 4,947.
¶
In Saturday's NCAA regionals, the hot marks came in the sprints:
East Regional at Jacksonville, Florida:
● Men/200 m: LSU's Joseph Flournoy impressed with a 20.09 win in quarterfinal two, with Florida's Abdul Hakim Sani Brown (JPN) winning quarterfinal three in 20.13 with Andre Ewers (Florida State) at 2014. Nick Gray of Ohio State won quarterfinals one in 2014.
● Men/110 m hurdles: SEC foes Grant Holloway (Florida) and Daniel Roberts (Kentucky) continued running well. Holloway won his quarterfinal in 13.10; Roberts won his in 13.13, both with legal wind.
● Women/200 m: Cambrea Sturgis and Kayla White of North Carolina A&T went 1-2, running 22.52 (equal-third in the world for 2019) and 22.56 (White had already run 22.52).
West Regional at Sacramento, California:
● Men/200 m: Texas Tech teammates Andrew Hudson (USA) and Divine Oduduru (NGR) won quarterfinals one and two in 20.04 and 20.08. Oduduru is already the world leader at 19.76, but Hudson moved to equal-seventh on the 2019 world list.
● Women/200 m: USC's Angie Annelus posted the no. 2 time in the world for 2019, winning her quarterfinal in 22.36. Jamaica's Janeek Brown (Arkansas) ran 22.47 in the third quarterfinal to move to no. 3 in the world a few minutes later.
You can find the full results here.