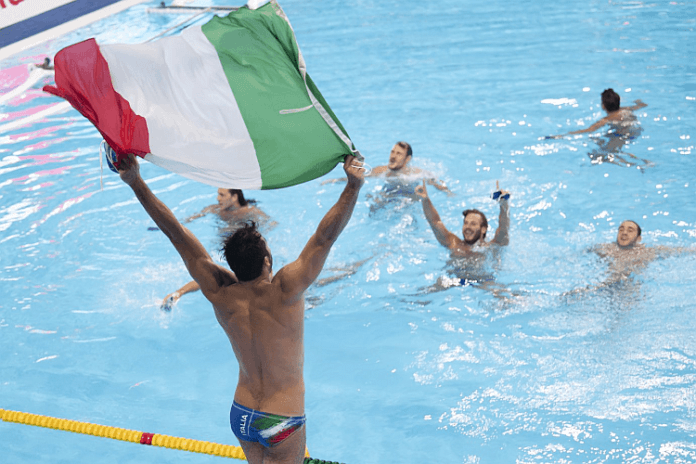 The big powers in men's water polo this century have been Serbia, Croatia and Hungary, but the men's gold-medal match pitted two of the traditional star teams in the sport: Italy and Spain. The Italians had won the world title in 1978, 1994 and an overtime win over Croatia in 2011, while Spain had gold medals from 1998 and 2001.
Italy won the weakest group with a 3-0 record and then squeezed past Greece, 7-6, in the quarterfinal and then Hungary, 12-10 in the semi. Spain was 2-1 in its group, losing to Hungary (13-11), but then beat Serbia, 12-9, and Croatia, 6-5, to reach the final.
With wins over the two Balkans powers, did that make Spain the favorite?
It didn't matter, as Italy led 5-3 at halftime and 8-4 after three quarters, on the way to a 10-5 victory and the gold medal. Vincenzo Dolce scored twice for the Italians, who maintained pressure throughout the match and won decisively.
Amazingly, Italy when defeated Spain for the 1994 world title, the score was also 10-5.
Croatia defeated Hungary, 10-7, for the bronze medal. The tournament honors included.
● Most Valuable Player: Francesco Di Fulvio (ITA)
● Most Valuable Goalkeeper: Daniel Lopez (ESP)
The tournament All-Stars:
● Daniel Lopez (ESP) ~ Goalkeeper
● Roger Tahull (ESP)
● Francesco Di Fulvio (ITA)
● Aleksandar Ivovic (MNE)
● Maro Jokovic (CRO)
● Dusan Mandic (SRB)
● Gergo Zalanki (HUN)
The leading scorers included Ivovic with 21, followed by Jokovic (19) and Zalanki (18). Summary:
FINA World Aquatics Championships
Gwangju (KOR) ~ 12-28 July 2019
(Full results here)
Men/Final Standings: 1. Italy; 2. Spain; 3. Croatia; 4. Hungary; 5. Serbia; 6. Australia; 7. Greece; 8. Germany; 9. United States; 10. Montenegro; 11. Japan; 12. South Africa; 13. Brazil; 14. Kazakhstan; 15. Korea; 16. New Zealand. Semis: Spain d. Croatia, 6-5; Italy d. Hungary, 12-10. Third: Croatia d. Hungary, 10-7. Final: Italy d. Spain, 10-5.