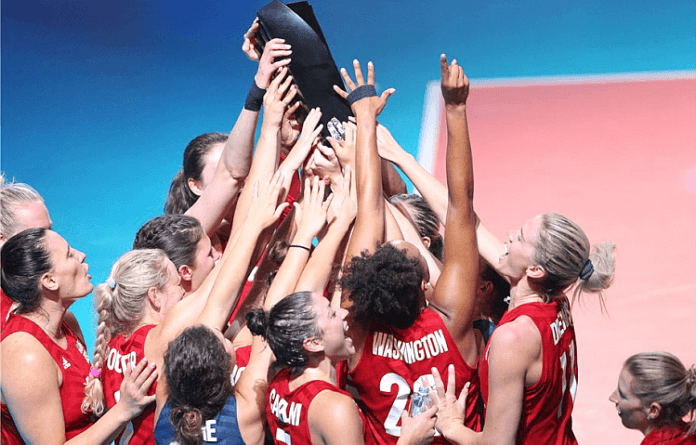 "I'm proud of us and how we made a lot of nice changes throughout the match and come up with a win.
"Being down 0-2 is really constricting but also it's now or never. If you're not swinging and your not going out after it like a house on fire, then what have do you have to lose at that point. We all kind of just buckled up and kind of made big swing and it paid off."
That was U.S. attacker Andrea Drews, who kept swinging and scored a game-high 33 points to power the United States women's National Team to a five-set win over Brazil in the final of the 2019 FIVB Women's Nations League in Nanjing (CHN).
The U.S. and China (both 12-3) had the best records in the round-robin schedule and then the U.S. hammered Poland (3-1) and Brazil (3-1) to reach the semis. There, the U.S. zipped by China, 2-1, for another match with the perennially-powerful Brazilians.
Brazil won the first two sets in the final, 25-20 and 25-22 and the U.S. was in trouble. But the American women rebounded with a 25-15 third-set win and then made a comeback in the fourth set to win, 25-21 and send the match to a tiebreaking set.
The U.S. ran off three points to build an 8-5 lead and nursed it to 14-13, when Brazil touched a side antenna, giving the U.S. the final point in their title defense from 2018.
Drews was named as the Most Valuable Player in the tournament and the U.S. placed four on the eight-member "Dream Team":
● Outside hitters: Liu Yanhan (CHN), Gabriela Guimaraes (BRA)
● Middle blockers: Ana Beatriz Correa (BRA), Haleigh Washington (USA)
● Opposite: Ebrar Karakurt (TUR)
● Setter: Macris Carneiro (BRA)
● Libero: Megan Courtney (USA)
● Most Valuable: Andrea Drews (USA)
It's an impressive win for the U.S. and establishes the American women as at least a medal favorite – if not for the gold medal – for Tokyo 2020. Summaries:
FIVB Women's Nations League Final
Nanjing (CHN) ~ 3-7 July 2019
(Full results here)
Final Standings: 1. United States; 2. Brazil; 3. China; 4. Turkey; 5. Poland; 6. Italy; 7. Belgium; 8. Dominican Republic; 9. Japan; 10. Germany; 11. Netherlands; 12. Thailand, 13. Serbia; 14. Russia; 15. South Korea; 16. Bulgaria.
Finals ~ Pool A: Turkey d. China, 3-1; Turkey d. Italy, 3-0; China d. Italy, 3-1. Pool B: U.S. d. Poland, 3-1; Brazil d. Poland, 3-2; U.S. d. Brazil, 3-1. Semis: Brazil d. Turkey, 3-0; U.S. d. China, 3-1. Third: China d. Turkey, 3-1. Final: U.S. d. Brazil, 3-2 (20-25, 22-25, 25-15, 25-21, 15-13).