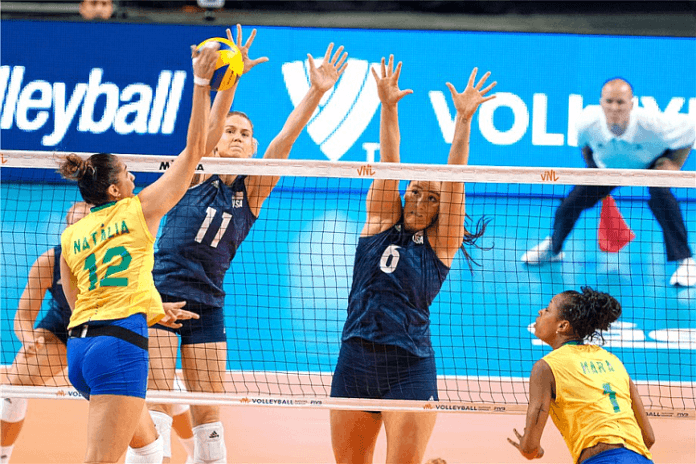 The United States women's National Team won the inaugural FIVB Nations League with a come-from-behind, 3-2 win over Turkey, completing a 17-2 season with six straight wins.
They have a chance to do almost exactly the same this season, sporting a 12-3 record, equal-best with China during round-robin play and will now defend their title in the Nations League final at the Olympic Sports Centre Gymnasium in Nanjing (CHN).
The final round is played in pools of three teams, with the top two to advance to the semifinals. The schedule:
● 3 July: Pool A ~ China (12-3) vs. Turkey (11-4); Pool B ~ U.S. (12-3) vs. Poland (9-6)
● 4 July: Pool A ~ Italy (11-4) vs. Turkey; Pool B ~ Brazil (11-4) vs. Poland
● 5 July: Pool A ~ China vs. Italy; Pool B ~ U.S. vs. Brazil
The semis will be played on 6 July and the medal matches on 7 July. Look for the match scores here.
Against the other finals teams in round-robin play, the U.S. beat Poland (3-1) and lost to Brazil (0-3) in Group B match-ups; beat China (3-0), beat Italy (3-2) and lost to Turkey (0-3).
U.S. coach Karch Kiraly has five players back from last season's champs, including captain Jordan Larson, 2018 Most Valuable Player Michelle Bartsch-Hackley, Tetori Dixon, Kelsey Robinson and this season's leading scorer, Andrea Drews.