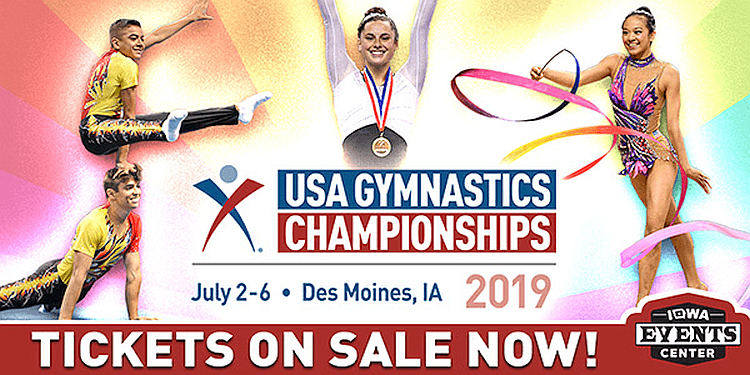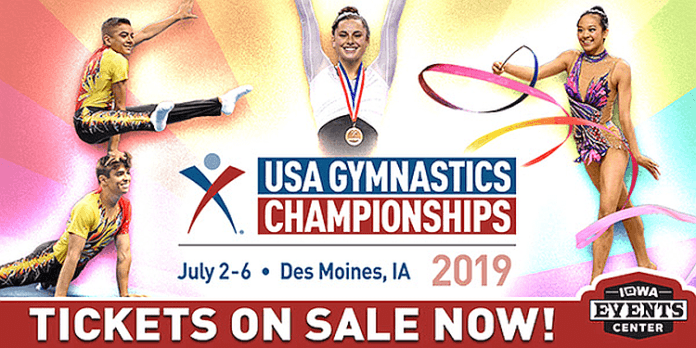 Although Artistic Gymnastics dominates the headlines, the other elements of the sport – Rhythmic, Trampoline & Tumbling and Acrobatic – have brought more than 1,600 athletes to the Iowa Events Center for competitions through Saturday at the USA Gymnastics National Championships.
More than half – about 817 – are in Trampoline & Tumbling, in which only Trampoline is an Olympic event. The Rhythmic program includes about 240 competitors, and is also on the Olympic program.
The headliner this week will likely be Rhythmic star Laura Zeng, who has won four straight U.S. All-Around titles, the first to do that since Sue Soffe won six in a row from 1976-81. In addition to her All-Around wins, she has been a national title machine since debuting on the senior level at the 2015 Nationals:
● 2015: All-Around, Hoop, Clubs, Ribbon
● 2016: All-Around, Hoop, Ball, Ribbon
● 2017: All-Around, Clubs
● 2018: All-Around, Hoop, Clubs, Ribbon
That's 13 national titles in four years, and Zeng is still just 19!
The one event she didn't win last year was Ball, and defending champion Evita Griskenas is back as well. She also finished second in Hoop and tied for second in Ribbon last year.
In Trampoline, five-time national champion Jeffrey Gluckstein is back once again, having won in 2011-13-14-17-18, and trying for three in a row. Nicole Ahsinger, the 2017 women's champ and Charlotte Drury, who won in 2014, are the returning women's titlists.
The competition is for more than pride; the U.S. teams for the Pan American Games and FIG World Championships will be selected based on the results.
The event includes competitions for athletes even under 10 years old and will finish on Saturday. Look for results here.